Tiger Watch
Masters 2023: 'It's still got that Tiger sound'—Jason Day impressed by Woods' Sunday range session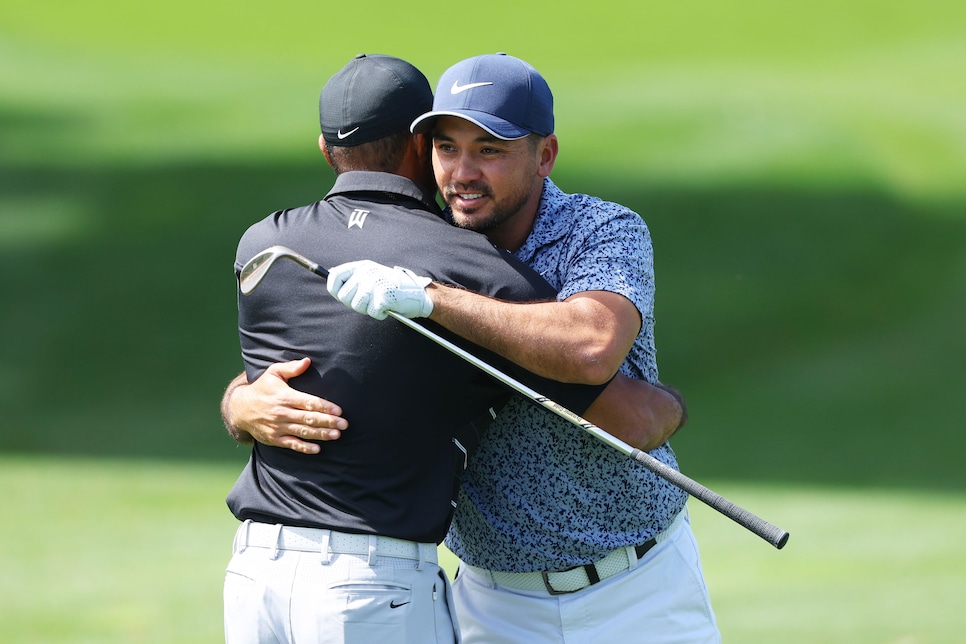 But former World No. 1 Day certainly heard them.
"It's still got that Tiger sound; it's a different noise," Day told Golf Digest. Day hit balls next to Woods as the five-time Masters champion prepares to play just his second event of the year. Woods, 47, had a good showing during a made cut at his own Genesis Invitational at Riviera in February.
"Tiger is one of only a few players on tour who have their own sound, and it's still got that power in it," Day said. "You can hear in the strike that Tiger still has the speed; it wouldn't surprise me if Tiger was in the top 20 or 30 players on the PGA Tour for clubhead and ball speed."
During a 30-minute warm-up session Sunday, Woods hit a handful of wedge, short iron, fairway metal and driver shots. He appeared comfortable working the ball both ways with draws and fades. With the driver, Woods appeared to favor a draw. Woods, whose last major win came at Augusta National in 2019, now plays a schedule limited to the four majors and select PGA Tour events. Last year Woods made his return to golf at Augusta National following a 17-month absence due to injuries sustained in a 2021 car accident. He made his only cut of 2022 at Augusta.
This year will mark Woods' 25th appearance in the Masters, with his debut coming as an amateur in 1995.
Day and Woods have long been friends. The pair had a conversation before Woods began his warm-up. Woods' limp was noticeable, but he looked in good spirits as he stood with his caddie, Joe LaCava, and also close friend, Rob McNamara. Augusta National chairman, Fred Ridley, and PGA Tour pro, Billy Horschel, were among those who came up to greet Woods.
"I asked him about his [right] foot, and he said his foot was feeling good," Day said. "It's good to see him."
Day also noticed Woods appeared taller, both as he walked onto the range and at address while hitting golf balls. "I said to him he looks taller, and he looks really in shape," Day said. "Just with my injuries to my back and doing some elongation work, I am aware of that sort of stuff. Tiger just said he had been working on his posture."
The conversation then moved onto both players' children, and Woods told Day that 14-year-old son Charlie had prolonged Woods' playing career.
"I was having a chat to him about Charlie and he said Charlie has kept him in the game a lot longer than if he didn't have Charlie [playing junior golf]," Day said. "It's good to see because it's keeping him young and fired up to compete. As a father I can understand where he's coming from."
Day is making his own return to Augusta National thanks to moving into the top 50 on the Official World Golf Ranking this spring after having missed out on invitation to the 2022 Masters. The Australian has four top-10s at Augusta, including a tie for second on debut in 2011 and two other top-five results.
MORE MASTERS PREVIEW STORIES: