Locked into the Action
Masters 2023: Our 9 favorite pairings for the first two rounds at Augusta National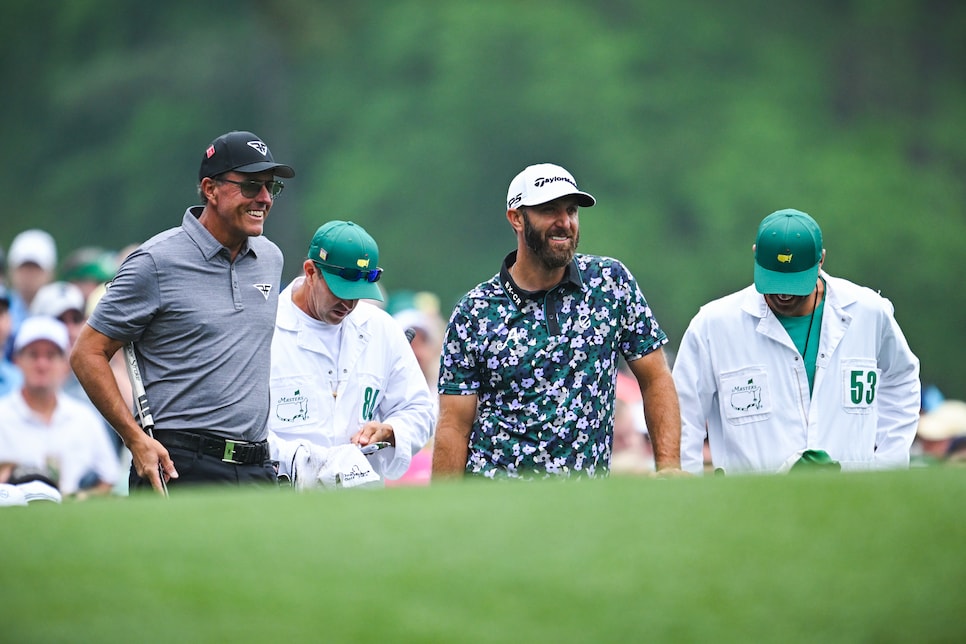 You don't need us to tell you how intriguing this Masters week is. With 18 LIV players in the field, plus Tiger Woods and a litany of other storylines, it's a tournament with so much potential for firepower—we cannot wait to see how it unfolds.
We are here to help digest the newly announced pairings for the first and second rounds. Of course, Tiger Woods' group is always going to have the most eyeballs, but that doesn't mean there aren't other players who we're keeping our eye on starting Thursday morning.
Here are our favorite pairings for the first two rounds of the 2023 Masters:
Thurs. 10:18 a.m./Friday, 1:24 p.m.: Tiger Woods, Viktor Hovland, Xander Schauffele
Not to say there aren't interesting golfers playing before 10:18 a.m. (shoutout to Keith Mitchell, Sergio Garcia and Kazuki Higa). But in this post, we're only highlighting nine pairings. And Thursday morning is highlighted by Tiger Woods making his second start of 2023—and his second start at Augusta National since his 2021 horrific car accident.
Tiger made the cut here last year before struggling in tough conditions. He'll face similarly difficult winds and cold weather projected for Saturday, which he acknowledged in his press conference on Tuesday. Tiger did say, though, that his game is in a better place than it was a year ago—and also that he feels better physically than he did a year ago. Those things should translate to another made cut (we think, gambling folks) at Augusta, but it all starts with his group with Hovland and Xander, who are also intriguing in their own rights.
Thurs. 10:42 a.m./Friday: 1:48 p.m.: Jon Rahm, Justin Thomas, Cameron Young
Talk about firepower. We have two players who have been ranked No. 1 in the world (Rahm and JT), and one of the best young players in the world in Cameron Young, who contended in two majors last year. Nobody would be surprised if the winner of the Masters comes out of this group. And dang, these guys are going to hit the ball a farrr ways.
Thurs. 10:54 a.m./Friday: 2 p.m.: Cameron Smith, Hideki Matsuyama, Sungjae Im
We have the highest-ranked LIV player paired with 2021 Masters champion and Sungjae Im. Of course, Cameron Smith has been very close a number of times at Augusta—finishing runner-up in 2020 (along with Sungjae) and third last year while in the final pairing with Scottie Scheffler. And the Aussie earned the last major title we saw in that epic Sunday at St. Andrews. So will he enter this Masters with nothing to lose—at a course he has called his favorite? Or will the distraction of LIV and a lack of more competitive reps possibly hinder his chances of winning? That's just a small part of what makes this pairing so interesting.
Thurs. 11:54 a.m./Friday: 8:48 a.m.: Brooks Koepka, Danny Willett, Gary Woodland
This probably wouldn't have counted as one of the nine most interesting groups had Brooks Koepka not won last week's LIV event, but here we are. His betting odds were slashed more than in half, and now he enters with some hope that he could contend yet again at a major. The four-time major champion has been close at Augusta, too, nearly forcing a playoff with Tiger Woods in 2019.
Whether Koepka's victory translates to any sort of competitive form at a major is the thing that makes this pairing worthy of belonging in this article.
Thurs. 12:24 p.m./Friday 9:12 a.m.: Phil Mickelson, Tom Hoge, Si Woo Kim
Depending on how you look at it, Augusta National was either very kind to Phil for pairing him with two somewhat innocuous players, Si Woo Kim and Tom Hoge, or perhaps they slighted him a little by not giving him more of a marquee pairing.
Sure, we would've loved to have seen Phil with someone a little more exciting, possibly like Tiger Woods or Rory McIlroy. But the reality is that expectations are low for Phil, so we're not sure Augusta would've seriously considered pairing him with a top-15 player in the world. Tom Hoge or Si Woo Kim could absolutely play nicely and finish in the top 20, so we're more on the side of Augusta being kind to Phil. We will track his progress anyway.
Thurs. 1:24 p.m./Friday 10:18 a.m.: Collin Morikawa, Will Zalatoris, Matt Fitzpatrick
These are three of the brightest young stars in golf who are in vastly different places right now.
Matt Fitzpatrick, the reigning U.S. Open champion, has been battling a neck injury and has only one top-15 finish this season. We would guess the lack of form is indicative of him fighting a nagging neck injury, plus some changing of his team. This is a big week for him.
Will Zalatoris is also obviously both recovering from injury and making some swing changes that clicked at times in 2023 (fourth-place at Riviera) but have also looked quite inconsistent (his best finish in three starts since March was a T-53). He loves Augusta, though maybe he'll conjure up those positive vibes again.
Then, of course, Collin Morikawa, who has improved in all three of his previous Masters appearances, including a fifth-place finish this year. His season has been so up and down—with close calls at Kapalua and Torrey Pines. The two-time major champion is also looking for his first victory since his Open Championship in 2021, a fact that can't be overlooked.
Thurs. 1:36 p.m./Friday 10:30 a.m.: Scottie Scheffler, Max Homa, Sam Bennett
This group kind of goes without saying. Scottie Scheffler has the chance to become just the fourth golfer in Masters history to go back-to-back at Augusta National. In this modern era with such parity at the top of the game, he'll have a chance to enter a different stratosphere this week. A bunch of eyes will be on the World No. 1.
Made even better is the fact that fan favorite Max Homa is now a top-five player in the world. Homa hasn't done much of anything at a major, but his calm but intense demeanor, plus a well-rounded game, should be a match at Augusta National, despite the fact we haven't seen it yet.
Thurs. 1:48 p.m./Friday 10:42 a.m.: Rory McIlroy, Tom Kim, Sam Burns
Let us be the very first people to tell you Rory McIlroy has a chance to achieve the career Grand Slam this week at Augusta. We jest. Obviously, you know that Rory is teeing it up this week making his ninth attempt to join the most upper echelon of golf achievements. He'll do it in a very relaxed pairing with Tom Kim, who has shown his admiration for Rory in the past, and Sam Burns, one of the nicer top players in the game who should like playing fast, like Rory does.
Thurs. 2 p.m./Friday 10:54 a.m.: Jordan Spieth, Tony Finau, Tommy Fleetwood
This loaded last few groups ends with another great one. Jordan Spieth and Tony Finau both love Augusta, and experts are picking them to win. Tommy Fleetwood has shown some better form, too, so the last group of the day on Thursday should deliver some quality golf.