Grimace-Worthy Stuff
Masters 2023: Brooks Koepka describing his gruesome knee injury is not for anyone with a weak stomach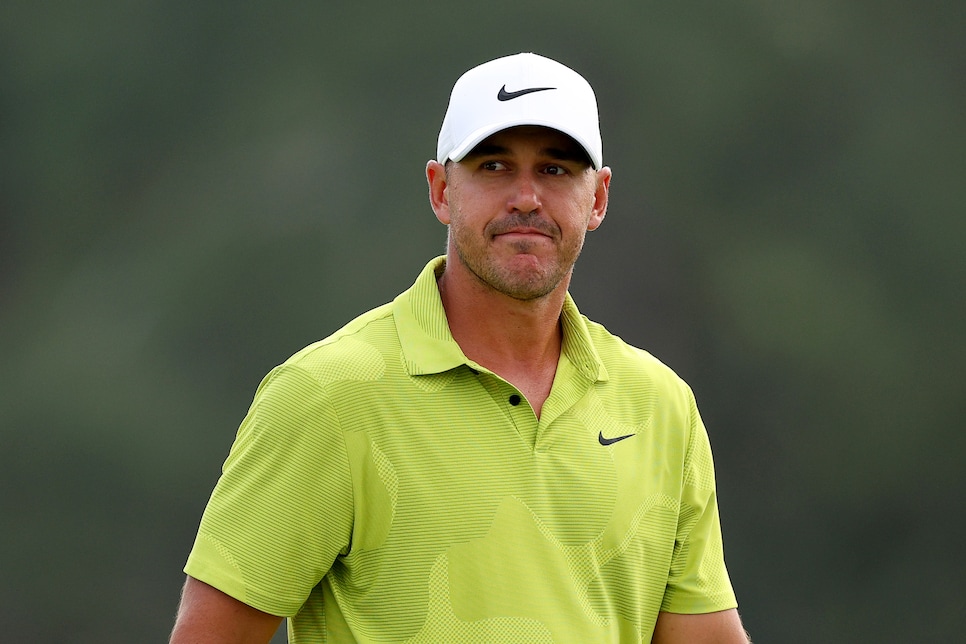 AUGUSTA, Ga. – Credit Brooks Koepka for addressing the media after his stellar opening-round 65 that his him tied for the lead after Day 1 of the Masters. It would've been easy to decline and dodge any questions about LIV, his injuries, lack of recent major form, etc. But Koepka spent quite awhile chatting with us scribes—and much of his press conference was spent describing the details of his gruesome right knee injury.
He first discussed how he injured the knee in some quotes after his LIV win in the fall, but he talked in greater detail on Thursday at Augusta.
The injury stems from him falling in his home shortly after his win at the 2021 WM Phoenix Open—and then attempting to snap his knee back into place (!), leading to him … shattering his kneecap:
"I just slipped. I was at home. I dislocated my knee and then I tried to put it back in and that's when I shattered my kneecap and during the process tore my MPFL.
"So the next time I tried to -- you know, my leg was sideways and out. My foot was turned out, and when I snapped it back in, because the kneecap had already shattered, it went in pretty good. It went in a lot easier (big grin)."
This specific injury was officially a medial patellofemoral ligament rupture.
He's had a myriad of other injuries in the past few years, here's what we know about (apologies if we missed any):
A torn patella tendon in his left knee in 2019, after which he tried stem cell treatment in the hopes of repairing it.
He actually reinjured the knee at the CJ Cup that year, forcing him to miss the Presidents Cup.
In 2020, he also had a labrum injury in his left hip.
He says his surgery took place just three weeks before the 2021 Masters and he gutted out playing despite doctors saying the recovery would be a year to a year and a half:
"[In 2021], it was all about -- I was just trying to figure out the best areas to talk because this place is quite hilly.
"For me, it was downhill was a killer because my knee would get in front of my heel and that's where the MPFL that's stitched is still in there would just tighten, and everything was quite painful.
"But I don't have to worry about that anymore, which has been great. It's nice not having to think about where to walk around this place."
He also talked about the doctor who performed the surgery, which comes with an interesting story:
"Dr. Neal ElAttrache is the best in the world at what he does, I think. It was funny, I was trying to get in touch with him, and it was a funny story. So I somehow got his number from -- I think it might have been Saquon Barkley's agent. And called him, and he just so happened to be at Jupiter, and he was at Jimmy Dunne's house. So that was kind of ironic that he was right there, looked at it. We flew back to L.A.
"Look, I have a lot confidence with him. We have a great relationship. I still talk to him today. His daughter was out here today. I feel like I'm pretty close with him and his family. He did a hell of a job. I think he said it was the first time that surgery had ever been done. I think the closest to it was probably Travis Scott when he dislocated his kneecap. I don't think he shattered it.
"It was nice to know that he was the one operating on me. That was the one I wanted."
He has a very rigorous pre- and post-round routine to rehab his knee, not quite on the level of Tiger, but also very intense:
"Work with Marc before, work with Marc [Wahl, Koepka's physical therapist] after. Work with [Andrew Cummings, a sports performance therapist] in the gym in the morning. And then we get done, we get to -- I forget what it's called -- anyway, it's like a cold thing that goes over my knee, I sit on it for like 30 minutes and do that about two, three times a night to make sure the swelling is down and make sure everything -- if it swells up, it's tough to move because there's still quite a bit of -- some fluid in there that -- we've been able to flush out a lot of it, but there's still some in it.
"It will never -- my knee modeling days are over. It's not a good-looking knee, but it looks about as good as it's going to look."
Well, we're not sure we care about Koepka's knee-modeling career. We are now invested in watching whether he can contend on the weekend this year.