Student Of The Game
Masters 2023: Jon Rahm's regard for history is more than just words. It's a tool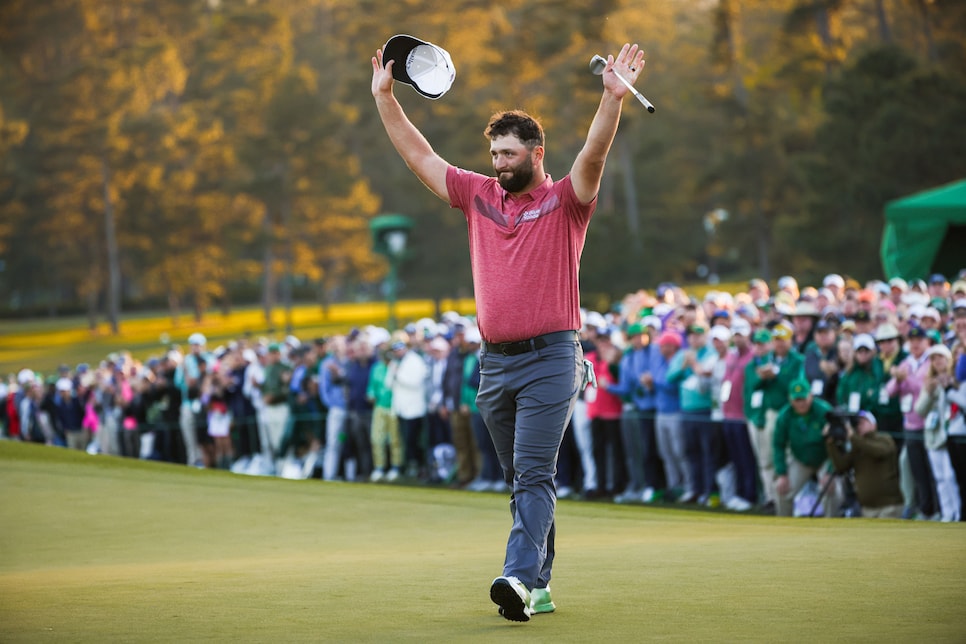 Photo By: Christian Iooss
Almost 12 full years after the death of Seve Ballesteros, the mystique of the Spanish legend lives on, and you didn't have to listen to CBS' Masters broadcast on Sunday for very long to hear his name: This was was the 40th anniversary of his second victory at Augusta, April 9 would have been his 66th birthday, and as it happened, another Spanish player, Jon Rahm, was going to win the tournament on Easter Sunday just like Seve had done for his win. After Rahm donned the green jacket for the first time in Butler Cabin, Jim Nantz asked him about all these signs and portents, and Rahm revealed a little bit about himself that many didn't know.
"The history of the game is a big part of why I play and one of the reasons why I play," he said.
For Rahm, that's no idle statement. I learned this personally for the first time in February 2021, while covering the WGC-Workday Championship at the Concession Golf Club in Florida. That club was named after a famous act in golf history, when Jack Nicklaus conceded a short putt to Tony Jacklin in the final match of the 1969 Ryder Cup to ensure a 14-14 tie rather than making him attempt the putt, which would have opened the possibility of an outright U.S. win, but also of great humiliation for Jacklin. The two men designed and opened the club in Bradenton, Fla., and named it after their moment of historic sportsmanship. I was covering the event for Digest and also working on a book about the Ryder Cup, and I thought it would be interesting to ask the players there if they would have done what Nicklaus had done—would they have conceded that putt?
Two players, Justin Thomas and Tyrrell Hatton, had no idea what I was talking about. Others seemed a little confused, or not very interested in the hypothetical. Only two players both knew the history and were engaged in the question. One was Xander Schauffele, who gave a thoughtful response about how the concession would be impossible today. The other was Rahm.
"I'm an avid history fan, especially history of the game, so I know all about Tony and Jack," he said. "I'll go as far as saying there's not many players other than Jack Nicklaus that can get away with that in a Ryder Cup. If that happened nowadays, you might get chewed out by some people on your side."
What came next, though, was most impressive of all, and showed that Rahm was more than just a repository of facts; he had analyzed the moment, what it meant to the game, and what it said about the players.
"I think Jack had the future vision," Rahm said, "giving Great Britain, an island, a tie instead of a loss, which I think benefited the event itself, the future generations of the event, because if the U.S. kept winning every year, it's not fun, right? It's no fun to watch for both sides. So I think Jack had that vision. And nobody wants to see somebody miss a three-footer to lose a tournament, that's just an awful feeling. … I wouldn't argue with what he did at all. Again, it's a stamp in history, one more of the reasons he is who he is."
Later that year, in New Jersey at the last Northern Trust, I asked Rahm about his history of watching the Ryder Cup, and he spoke about watching the 2012 European comeback at Arizona State's team golf facility, and another reporter asked for his favorite Ryder Cup YouTube moment. He didn't single out one in particular, but instead mentioned another that he couldn't find.
"I still want to see—I believe it was the Ryder Cup—was there one at PGA National? In '83, I would love to see it. I heard of the shot that Seve hit, the 3-wood out of the bunker."
Rahm was referring to Ballesteros' 3-wood out of the bunker on 18 against Fuzzy Zoeller to earn a halve, which Jack Nicklaus, among others, called the greatest shot he had ever seen. I had to be the bearer of bad news—ABC's coverage window was only two hours that day, and because Ballesteros went out early in singles, the cameras never captured that shot. In other words, he would never see it. You could see that loss play out on Rahm's face.
"Whoever was in charge of it, my God. It's Seve on 18!" he said. "I wish … God."
It's no coincidence, of course, that in his speech at the green jacket ceremony Sunday, he concluded with "rest in peace, Seve," made the sign of the cross, and pointed to the sky.
It's not just that Rahm knows about history and enjoys it, either—his intelligence as a human and a golfer is such that he learns from it. We saw a couple examples of that on Sunday alone, and the history in this case was recent. As he mentioned in a Spanish-language interview, a moment from the Wimbledon final in 2008, experienced by his countryman Rafael Nadal, informed how he behaved when it became clear that he had a chance to win the green jacket.
"I didn't want to believe it until it was something fixed," he said. "I remember Rafa Nadal's book, when he talks about the 2008 Wimbledon final with Federer, when he hits a big shot and for the first time he let himself think about victory. I think it was the fourth set and then they went to the fifth set. He explains that allowing himself to think about the victory made him lose the set. That's why you have to stick to what is important at the moment."
Then, when reporters asked him about playing with Tiger Woods at a previous Masters, he pivoted to something he had learned from Tony Finau earlier that week, stemming from Finau's shot into the water on 12 when he had a chance to contend for the 2019 green jacket that Tiger eventually won.
"I played nine holes with [Finau] on Wednesday," he recalled, "and I asked him when him and Francesco [Molinari] hit those shots in the water, 'Did you actually hit a good shot?' He said, 'Yeah, it was I good shot, it was just a yard too far right and spun in the water.' Then he mentioned Tiger's shot went left of the bunker to that Sunday pin. So when I got there today, dry land is mission no. 1."
These are little moments, little bits of stored knowledge, that may have had a massive effect on the perspective and strategy that went into winning his second major. For Rahm, history is more than a dead artifact; it's inspiration, and it's guidance. And all the strange, serendipitous bits of numerology that bridge the decades and entwine him to Ballesteros' past victories bring to mind an axiom attributed to Mark Twain. It's one that Rahm might not know word for word, but that he understands intuitively and uses to his advantage:
"History doesn't repeat itself, but it often rhymes."