WGC-Workday Championship
The concession before The Concession: What do today's players think about Nicklaus' famous act of sportsmanship?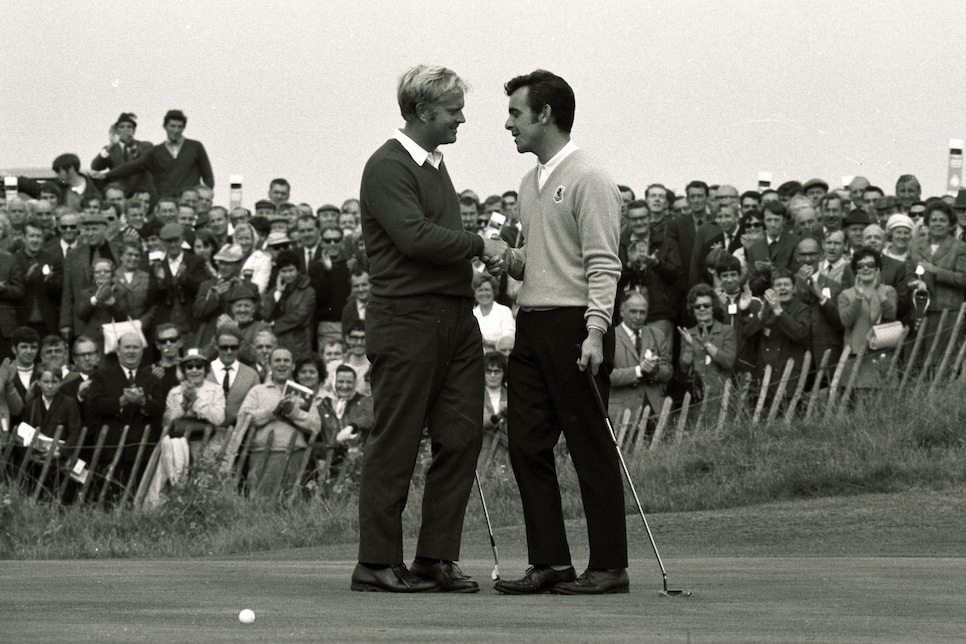 BRADENTON, Fla. — On Tuesday, just for fun, I posted a simple yes-or-no question in an online chat room populated by about 40 golf fans: Before this week, did you know what "the concession" was?
Keep in mind that these were not casual golf fans, but people who had purposely sought out a golf channel in an online forum, and—to varying degrees of zealotry—love the sport. The results surprised me: Of the 26 who responded, 12 knew about the concession, and 14 did not. If those numbers are at all representative, that means there's a roughly 50 percent chance that you, anonymous reader of this article, have any clue what I'm talking about.

This week's WGC-Workday Championship is being held at The Concession Golf Club. The course wasn't what I wondered if anybody knew about. It's what inspired the name of the course—the famous conceded putt at the 1969 Ryder Cup. And if you're hip to the origin of the name, there's still a question of exactly how much you know about that moment.
Many fans can reel off the central drama at Royal Birkdale, where Jack Nicklaus conceded a short putt to Tony Jacklin on the 18th hole in the final match of the event. They probably know that if Jacklin missed the putt, Great Britain would have lost, but because it was conceded, the overall competition ended in a 16-16 draw with the U.S. retaining the Cup based on its 1967 victory. They might even be aware of Nicklaus' words to Jacklin in the aftermath: "I don't think you would have missed that putt, but in these circumstances I would never give you the opportunity." (When Nicklaus and Jacklin collaborated to build the Florida course years later, naming it The Concession seemed apt.)
True history buffs might know more, like the fact that while Nicklaus' gesture is considered one of the highest examples of sportsmanship in golf history, some of Jack's teammates were furious with him, U.S. captain Sam Snead being the angriest of all. And the real fanatics might know some of the arcana, like the fact that Jacklin's putt was only about two feet, or that, far from a figure of pity, Jacklin was the reigning Open champion and posted a 4-0-2 record at that Ryder Cup, one of the best performances ever. Or that before Nicklaus' famous act, it had been an incredibly tense Ryder Cup in which an actual fistfight nearly broke out on Saturday, and where 17 of the 32 matches went to the final hole. (It was, in fact, one of the few—perhaps the only—really great Ryder Cup match in the pre-European era of American dominance.)
Perhaps it's personal bias, but I tend to think of golf fans as more concerned with history than your average sports nut, which is why the results of my informal poll were eye-opening. But what about today's PGA Tour players, all of whom were born well after the concession? Would they have a clue, much less an opinion? When posing the question to a few of the pros in Bradenton on Tuesday and Wednesday as they came in for the pre-tournament pressers, I didn't frame it as a quiz. I thought it was a given they'd know the story, and what I really wanted to know was whether they would have conceded the putt.
It quickly became apparent, however, that that wasn't necessarily the case. Justin Thomas and Tyrrell Hatton were two who had no idea what I was saying, and told me so in the politest terms possible. This isn't a knock on them—they're professional golfers, not historians, and there's nothing in the job description that says they have to know what happened in England in the fall of 1969. Still, this felt reminiscent of the story about the late Frank Robinson, the hall-of-famer, 14-time all-star, two-time MVP, rookie of the year, triple crown winner, and two-time world champion ... i.e., one of the greatest baseball players to ever live. Robinson managed the Washington Nationals late in his life, and during his tenure, several of his young players asked him the same question: Skip, did you ever play?
Thomas, when I translated my gibberish, replied with no trace of uncertainty that no, he would not have conceded the putt. When I tried to explain myself to Hatton, though, it was pure, undistilled awkwardness.
(The next question went to a British reporter, who joked that Padraig Harrington had just called to boot him off the team.)
Patrick Reed knew about the concession, but wasn't aware of the exact details, and didn't profess a strong opinion on whether it was the right move. That became funny when Rory McIlroy later identified Webb Simpson as the player most likely to concede a putt in that situation, and Reed as the least. (Xander Schauffele would later designate Rory as the most likely.) McIlroy found it unlikely that anything similar could happen today—"feels like there's a lot more on the line than there was back then," he said, perhaps underestimating the mutual loathing at that moment—and even brought up the sheer number of gamblers who would be furious at that sort of late twist. Will Zalatoris had recently read about the concession before playing at the namesake course, and said that he "definitely" would have done the same thing, while Dustin Johnson allowed that he'd "probably give it to him."
The two foremost scholars of the concession, though, were Schauffele and Jon Rahm. Schauffele started his answer by correctly listing off all the pertinent facts as they happened in '69, and gave his endorsement of the "honorable thing" Nicklaus did on the 18th green.
"Golf was a gentleman's game," he said. "I still think it is a gentleman's game. … Can I see it happening now? In all honesty, no, not really. Would I be the one to do it? I don't know. ... I think it's just a different time and it's sort of a different deal here where there's, whatever you want to call it, more blood between the teams. And us getting our asses kicked so many times, I don't really see a concession happening."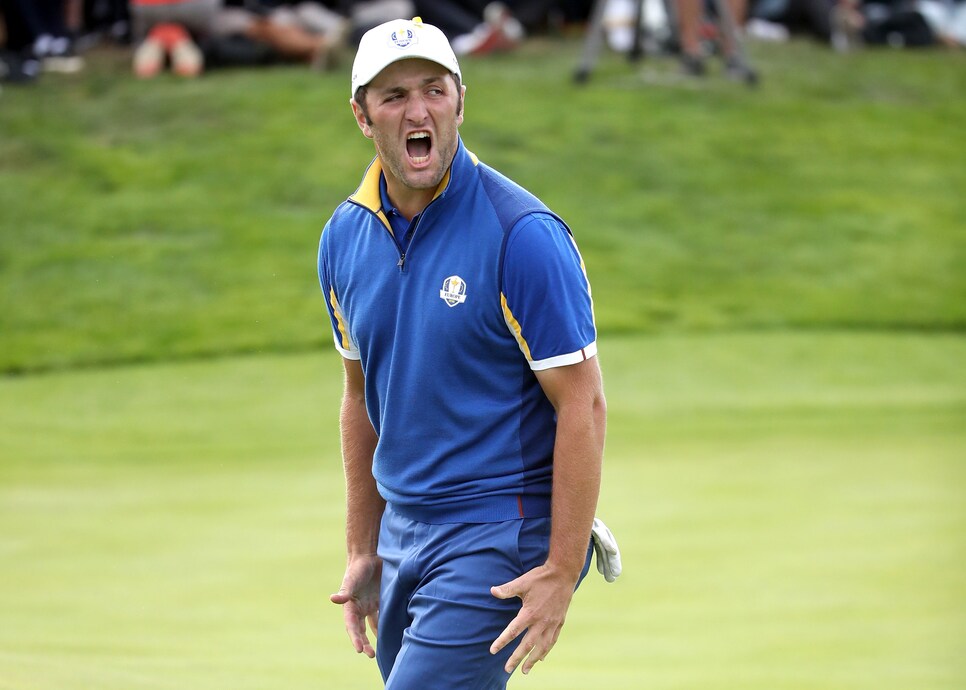 Jon Rahm passion for the Ryder Cup was evident when he played in the event for the first time in 2018, fueled perhaps by a knowledge of its history.
Christian Petersen
When asked, Rahm seemed almost insulted as to whether he knew about it or not, and interrupted to make himself abundantly clear.
"I do know," he said. "I'm an avid history fan, especially history of the game, so I know all about Tony and Jack. I'll go as far as saying there's not many players other than Jack Nicklaus that can get away with that in a Ryder Cup. If that happened nowadays, you might get chewed out by some people on your side."
Rahm then interestingly pinpointed an aspect of the concession that doesn't have so much to do with the conceded putt itself—though that was undeniably stunning, even to Jacklin—but about the foresight, empathy and sheer sense of the moment, in the midst of incredible tension and playing in his first Ryder Cup, that Nicklaus had to possess to even think about making this move.
"I think Jack had the future vision," Rahm said, "giving Great Britain, an island, a tie instead of a loss, which I think benefited the event itself, the future generations of the event, because if the U.S. kept winning every year, it's not fun, right? It's no fun to watch for both sides. So I think Jack had that vision. And nobody wants to see somebody miss a three-footer to lose a tournament, that's just an awful feeling. … I wouldn't argue with what he did at all. Again, it's a stamp in history, one more of the reasons he is who he is."
And if you believe in the golf gods, who smile on those who honor what came before them, watch out for Schauffele and Rahm at The Concession Golf Club.