Q&A
Masters 2023: Could Augusta National's second course actually happen? An inside look at the club's future plans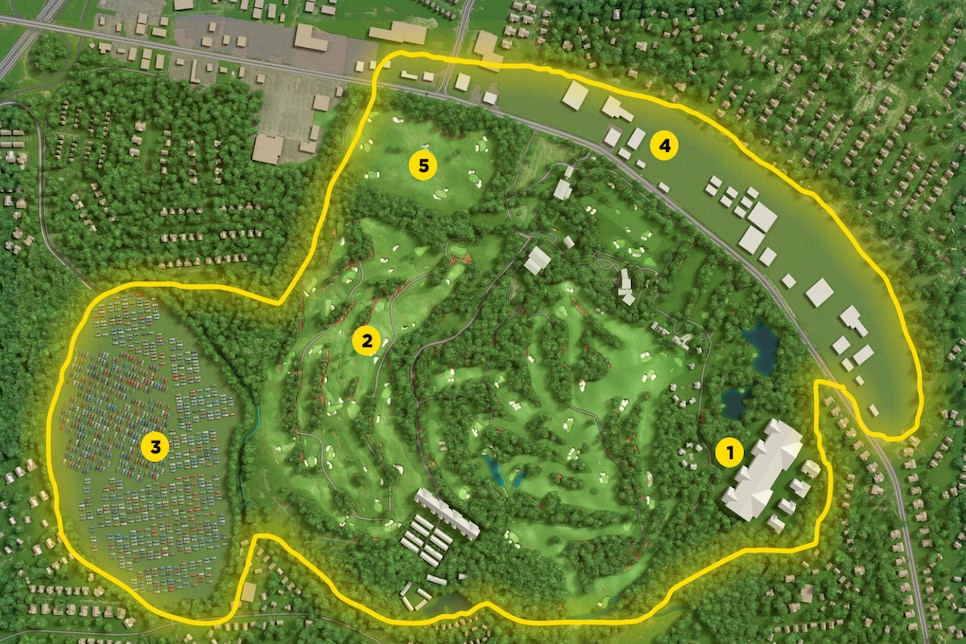 It's possible no entity in golf has been written about more than Augusta National, which is incredible considering no entity in golf is also more difficult to write about. The club doles out information in carefully packaged increments, very often through one voice, its chairman, leaving much else open to speculation. That's what makes Joel Beall's feature for this month's Golf Digest, in which he convinced a number of members and former employees to speak to him about the club's ambitions and ongoing growing pains, so compelling. The story is an inside look at Augusta National's lofty plans and how it arrived at such a unique position in the game; while certainly still a force, Beall also acknowledges how the club is hardly immune from the worldly pressures of LIV, a pandemic, and more. We talked to Beall, a Golf Digest senior writer, about the story, and how he reported this story across so many sources.
Your story explores how Augusta National has grown in terms of its physical footprint, but also its influence in the game. Which of those do you think founders Clifford Roberts and Bobby Jones would be more surprised by?
Probably influence. The original blueprints for the club were ambitious, calling for two other courses (an executive design for women and a nine-hole "approach and putt"), a golf Hall of Fame, tennis courts, horse stables and residential plots. Funding issues, the Great Depression and war ultimately sidetracked these efforts, but they were in the vision, so I don't think the founders would be surprised to see the club's physical growth. (Editor's Note: Golf Digest recreated the original ambitious plans for Augusta National in this interactive feature).
But it's not just by default I pick influence. The club defaulted on its creditors and was in danger of foreclosure barely after its opening in the 1930s. As a bit of a Hail Mary play, Jones petitioned the USGA to host the 1934 U.S. Open at Augusta in hopes of saving the club, a request that was denied. In response the club hosted its own invitational and cajoled a reluctant Jones out of retirement to drum up interest. So, in a way, you could say the Masters was born out of desperation and disrespect.
Some of the juiciest nuggets in the story surround some potential future developments for the club, including a second 18-hole course. Is that really going to happen, and how do you think it'd be used?
Going into the reporting, I believed the second course was just gossip, nothing more than a fantasy, and feared earnestly asking about it was akin to asking someone their thoughts on leprechauns. But then it organically came up in conversations with a half dozen or so sources I talked to, and going forward when I inquired about the second course it wasn't met with eye rolls or disdain.
I do think a second course will come to fruition. Though I don't think it's going to be announced in the next year or two, I do gather it's closer to coming together than some may believe. The common response for its use was for the first two rounds of the ANWA, which I don't doubt and would be a nice nod to the past ambitions of Jones and Roberts to build a women's course. However, it's worth noting ANWA is a more recent development and from what I've been told plans for a second course stretch far back, so to say a potential course would be used just for that is misguided. As for those other uses, one answer that was echoed by several people was a course geared towards juniors. There is one prominent member who believes a new course should allow limited public access, showing the grow-the-game initiatives like Drive, Chip and Putt are not just one-off endeavors. Some members just would like another course to play.
The reporting for this story stretches back to the fall of 2021, and of all the topics covered a potential new 18-course elicited the most emotional responses. While members are not exactly against it, there's certainly worry that no matter how good a new course is, it may be seen as a disappointment, because how do you replicate how people think and feel about Augusta National with a course that doesn't have the benefit of having so many Masters memories attached with it? Who would possibly design the course was another hornet's nest; I had one member spend almost an hour stumping for why one firm shouldn't get the chance, almost as if I would have say on the matter. There's definitely a bigger story to be told about this prospect, and hopefully we'll get the chance to tell it.
What about some of these other ideas—on-site housing for all the players, a new steakhouse? Is this just the club having more money than it knows what to do with, or does it serve a larger purpose?
Don't think there is an either/or answer here. I found it interesting that, to a person who we interviewed about the inner workings of current and future projects, the club's ability to reinvest its wealth into its own capital to avoid paying a larger percentage of taxes was brought up when discussing the why. In hindsight it makes sense; you have some of the savviest, entrepreneurial businessmen and businesswomen in the world at a club with a deep war chest of assets and resources at their disposal.
But I also don't think the tax component is the primary catalyst for these projects. To the club, the Masters, the lore, the traditions and sentiments towards them are things to be protected. Yet those traditions, lore, sentiment also have to be cultivated and updated, and as the story discusses, pioneering is in the club's DNA. Any new project has to embrace that spirit while simultaneously preserving what makes that spirit special in the first place. One former worker summed it up best when he said there's a fine line between something being historic and something being antiquated, and once something feels like it belongs in a museum, that's a corner you can't turn back around.
People in golf are fascinated by Augusta National's membership, and the club keeps so much of its inner workings under wraps. Yet you got a number of members and former club employees to speak to you for this story. What is a perception of the club you had before that was altered by reporting this story?
Growing up, the Masters was it for me. Still is; when my wife asked about Oct. 7 as a potential wedding date, I remember thinking, "Hmmm, think that's Herman Keiser's birthday," which I only knew because the 1946 Masters winner served on the USS Cincinnati during World War II, and Cincinnati is my hometown. She was not impressed that this was my first response.
That said I also read anything Masters related I could get my hands on, and I was well aware this was the most private of all the private clubs in the world, something that, as a kid who worked and played at a public course, was kind of the antithesis of what I thought the game should be. And as you mentioned, the club is known for its privacy. So while I had been lucky enough to make some connections over the past nine seasons or so working for the company—connections that provided the idea and initial groundwork for this story—I was worried that a) I was going to get stonewalled at every corner and b) I might be talking with stuffy folks, a crowd which I remain uncomfortable around.
I say all that to say this: To a person, those associated with the club—either members or current and former workers—were relentlessly cordial and sincere. Even when I was told no, which was a lot, it never felt malicious or cold. They were also modest across the board. Sometimes when you talk to people of importance, you have to put up with a good deal of name-dropping and humble bragging, who never let you forget who they are and that you are below their station. With 90 percent of my in-depth discussions, it felt like I was talking golf with a buddy. I figured out why late in the reporting process. When I was asking about the membership qualifications, one member told me, "Easy: No turkeys." Which is to say, no jerks allowed.
If I'm being totally honest, through this process I realized I've been prejudiced against folks from the upper class, that I think or assume certain things just because someone comes from money, and the process showed how wrong the assumptions can be.
There appears to be an ongoing tension between those who want to protect the club's essence, and those who want the club to continue to innovate and grow. Naive question, is it possible it can do both?
That question was the genesis for this story, and while I was hoping to find an answer, I don't think one answer is right or wrong. I will say, going in, the initial voices I heard from said these were conflicting ideologies. But the deeper I got into the reporting I realized the club has been doing this since its existence, and though certain things have changed (for better or worse, depending on who you ask), I haven't heard one person say the soul of the place or the tournament has been compromised. Obviously that fear exists, which is why we were able to get so many people to talk with us. But, as an outsider, it seems like Augusta National has gotten almost everything right, and I wouldn't want to bet against them to break that streak.
I also think it's important to note a version of this tension exists at every course and every club in the world. Many golfers see their courses and clubs as extensions of family, and anyone with a family knows arguments will arise. But arguments and differences don't always have a negative connotation, and I think that's true at Augusta National. Members may not agree on where they want the club to go, but the sense I get is that as long as they do it together, they'll be alright.
Last question, without giving away state secrets, how did you get so many members to talk to you?
The initial entrance points were a story I wrote in 2019 about playing Augusta National, and then the 2020 Masters, which was attended by just media and members. That pandemic-delayed Masters, which remains surreal, allowed person-to-person interactions that I don't think otherwise would have happened.
The hardest part was conveying true intentions. A good contingent of people I contacted, understandably so, believed I was trying to do a tell-all, slash-and-burn hit piece on the club. The three things I think helped: 1) Two prominent members vouching for me 2) Oddly enough, a story I did about attending a LIV Golf event; after it published I had half a dozen members who I had been chasing talk to me in the following days 3) My motto, which I borrowed from an old Tom Callahan piece: "True to me, fair to you."
There was a lot I gathered which I ultimately left out-including some tidbits that would have been aggregated to the moon-because I feel like it didn't hold up to that Callahan standard. I knew this story could receive backlash, so whatever went in the story I had to back up with and stand by multiple sources, and I hope that echoes through the piece.