That's more like it
Masters 2021: Bryson DeChambeau lurking—and learning—after finally shooting a "par" 67 at Augusta National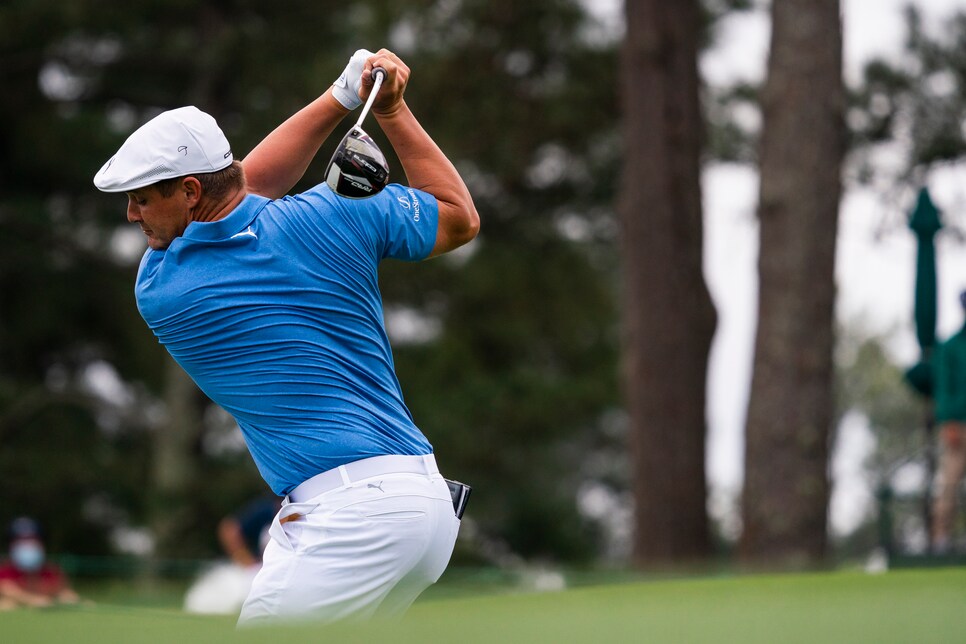 AUGUSTA, Ga. — Five months ago, Bryson DeChambeau might not have been too happy with shooting five under at the Masters. After all, he famously declared then that Augusta National would play as a par 67 for him.
Well, things have changed.
DeChambeau finally matched that target score during Friday's second round of the 2021 Masters—and he was in great spirits after.
"Clearly the par was 74 for me last year," DeChambeau said with a laugh when asked about his 67 comment. "But I would say for the most part, I would say this golf course is an amazing, spectacular, challenging venue and championship. One of the most amazing things about this place is that it can turn on you real quick when you least expect it. For example, last year in November you had a lot of guys going low and this year, that's not the case."
No, it's not. Although, the course did play more than two strokes easier than a brutal opening round. DeChambeau, however, improved by much more than that, shedding nine shots from Thursday's score to move into red numbers heading into the weekend.
"I finally felt like I was seeing lines out there for the first time in five years it feels like or the five times I've played it in tournament conditions," DeChambeau said. "That excites me for sure. I think if I can ball-strike it a little better . . . and I can keep myself in a positive mindset, and working toward making a lot of birdies, you never know."
DeChambeau is six shots behind leader Justin Rose at the midway point, but crazier things have happened. Jackie Burke Jr. holds the record for the biggest 36-hole comeback when he won in 1956 tournament despite trailing by eight shots through two rounds.
DeChambeau has had to get used to being without the detailed green-reading books that he (and most tour pros) use at other events because Augusta National doesn't allow them. But the reigning U.S. Open champ says he's enjoying the extra challenge in trying to figure out the Masters venue.
"It's my biggest match, for sure," DeChambeau said of Augusta National. "Not having the help that sometimes I have on the golf course at other venues with greensbooks and, you know, not having the calibration tools that I usually use. It's definitely a test and something I'm willing to stand up to and try to face the challenge and try to conquer it. It's an interesting challenge for me and I love it."
If he shoots "par" a couple more times over the weekend, he's going to love it even more.