Course Strategy
Masters 2021: Augusta National as a 'shotmaker's course?' Maybe not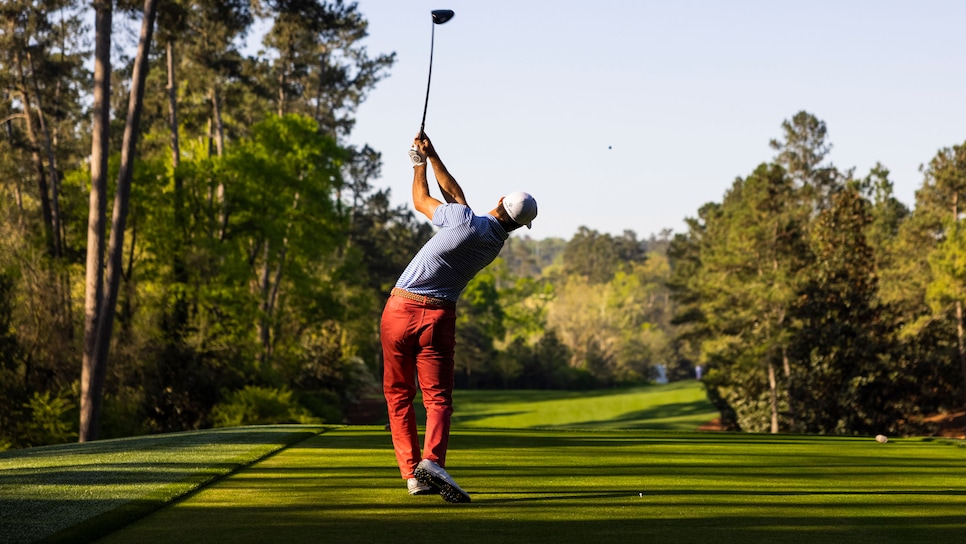 AUGUSTA, Ga. — On the driving range at the Floridian Golf Club a few months back, Claude Harmon III asked his star pupil a simple question: "How many times a year do you try and hit a draw with the driver?"
Dustin Johnson didn't hesitate: "Never."
Never. Not even once. The No. 1 player in the world plays a cut on every single driver tee shot, all year. This will surely perplex the 8-handicap who's always thought the pros have "all the shots," that they're constantly shaping their tee balls and approaches to fit the contours of a specific hole.
For DJ, it's an admirable commitment to sticking to his guns, but surely being so one dimensional hurts him on "shotmaker's courses"—the ones where ski-slope fairways and undulating greens force a player to hit certain shots. You know, like Augusta National.
Try again. Johnson hit cut after cut after cut last year and fared … well, better than anyone ever has. His 20-under 268 was good for a five-shot win and set the 72-hole Masters scoring record by two. DJ trusted his left-to-right flight that week; contrast that with fellow fader Collin Morikawa, who finished 20 shots back in a tie for 44th.
"Last year I tried working in a draw, and I wasn't playing my game," Morikawa said. "I almost tried to, like, tailor my game to how the course fit instead of playing my game and if the hole didn't hit me, find another way."
Granted, last year's one-off fall Masters took place on a much gentler Augusta National than we've probably ever seen. Four-iron approaches sat politely on greens and balls refused to tumble down hills like they do in April.
For example, it's much easier to hit a cut with your tee shot on 10—where the fairway turns hard left but the right side of it actually kicks the ball right—if you know the ball is going to take an extremely soft bounce upon landing.
That won't happen this week. Player after player has noted just how firm and bouncy the course is.
"It's like playing on Washington Road," said Billy Foster, caddie for Matt Fitzpatrick.
And it's only Wednesday. Typically, Augusta continues to get dryer and more slippery as the week wears on, but the greens simply haven't been as firm in recent years as they were in decades past.
"I would say for the last decade, the greens here are in the top 25 percent of softest we play on tour," said three-time Masters winner Phil Mickelson, "and the golf course's only defense is the greens.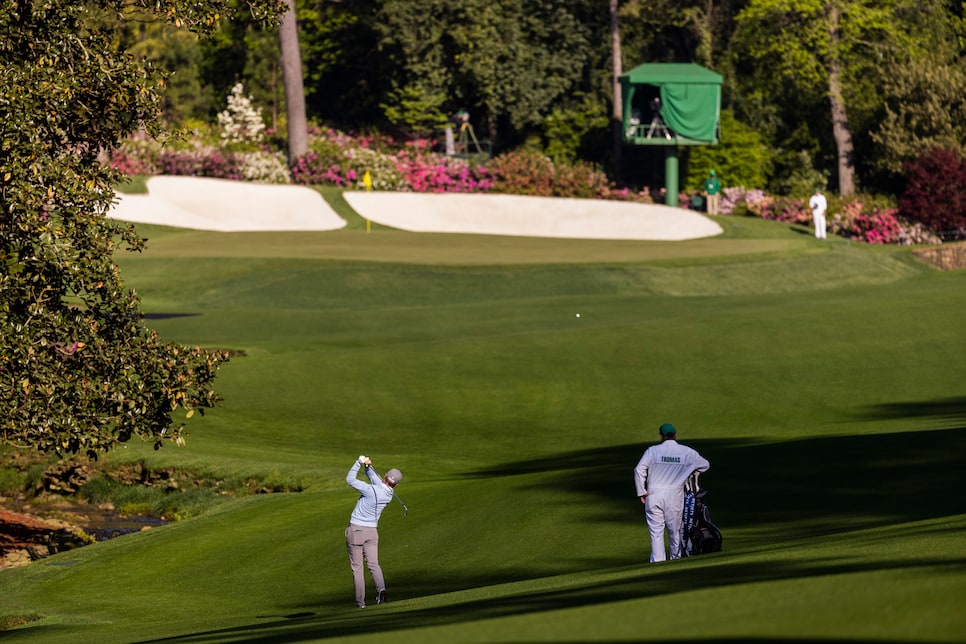 "So when the greens are firm, the precision, the course management, the angles, the leave where the ball is left, all of this stuff becomes incredibly important in your ability to play this course effectively. When the greens are soft, it's irrelevant because you can fly the ball over all the trouble. Angles don't matter. I plugged a 5-iron last year or last November into the second green. It plugged.
"The guys are so precise in their ability to fly the golf ball the correct yardage with every club that if you have soft receptive greens, it's like having a military and then not giving them any weapons, right. It's defenseless. With firm greens, that's the defense."
So if the greens are indeed firm this year, perhaps that will bring back the importance of shotmaking. Tiger Woods, the ultimate shotmaker, has won five times here and constantly shapes his approaches to fit the shot at hand. Bubba Watson is famous for curving his ball, and he's got two Masters victories. So does Seve Ballesteros, who was allergic to the straight ball. The guy who wins this week will be someone who has the gusto to hit draws to left pins and cuts to right ones.
Not necessarily, says Scott Fawcett, creator of the DECADE course management system that's rapidly growing in popularity among tour players. The system focuses on not losing shots rather than hunting birdies—on playing the percentages and avoiding costly mistakes, like penalty strokes and short-siding yourself. On a course that's so firm, surely controlling your golf ball trumps trying to hit the picture-perfect shot for that hole.
"If you work the ball one way and stick to your stock shot, your shot pattern will be materially smaller," Fawcett says. "Guaranteed. That is not even remotely up for debate. Look, what's the purpose of a golf lesson? It's to make your shot pattern smaller. And sticking to your shot will tighten your dispersion.
"If you try to shape the ball the opposite way that you're comfortable with, your miss is likely a double cross. So say you're a fader and you decide to hit a draw to a left pin on 12. Your miss is going to be a ball that starts right and curves right, and those balls that start away from the target and move further away from the target are always the biggest misses."
And therein lies the crux of the stick-to-your-shot argument. Sure, there is a benefit to hitting a shot that curves toward the flag. If you want to birdie every hole, it's going to give you a leg up. But major championship golf isn't about birdieing every hole, and focusing only on the perfect outcome—in this instance, pulling off a draw when you're primarily a fader—ignores the very real possibility of the big miss. There's a reason Woods is considered perhaps the greatest iron player of all time; his ability to almost never double-cross himself is the exception, not the rule.
Dustin Johnson isn't one to check spreadsheets or overlay Google Earth images with dispersion charts, but he seems to innately understand the accuracy-over-shape concept. DJ was asked on Tuesday whether switching to playing a fade helped him play Augusta National better.
"I think just once I started hitting the fade, it wasn't—it's not really better suited for here. I just started driving it straighter, so I don't get into as much trouble.
"I mean, that's about it. I mean, because obviously if you draw the ball, the course sets up fantastic, but for me, yeah, just hitting the fade, I just started hitting it a little bit straighter."
Translation: It's not that hitting a fade is better at Augusta; it's that hitting your shot, whatever that may be, is always a better play at any golf course.
And keep in mind that these are the best players in the world, so their stock fade isn't the same as the weekend warrior's stock fade. It's, say, a 10-yard cut instead of a 30-yard slice, and a 10-yard cut can work anywhere—so long as you accept that you're not going to birdie every hole.
There are, of course, a few shots at Augusta that truly demand you to shape one a certain way. You essentially have to hit a draw off the 10th and 13 tees (which Johnson will do—with a 3-wood) … but that's about it.
"I noticed a lot of shots around here, I almost imagined being a shot-maker almost too much, and so now just getting comfortable with my stock shot wherever it fits," said Patrick Cantlay, who has top 20s in each of his past two Masters appearances. "The golf course is so big that there's a lot of space for your stock shot.
"So just really realizing that you don't need to curve the ball as much as you would imagine growing up watching it on TV."
MORE MASTERS 2021 STORIES FROM GOLF DIGEST: