News
Masters 2018: A minute-by-minute recap of Friday's action at Augusta National in our live blog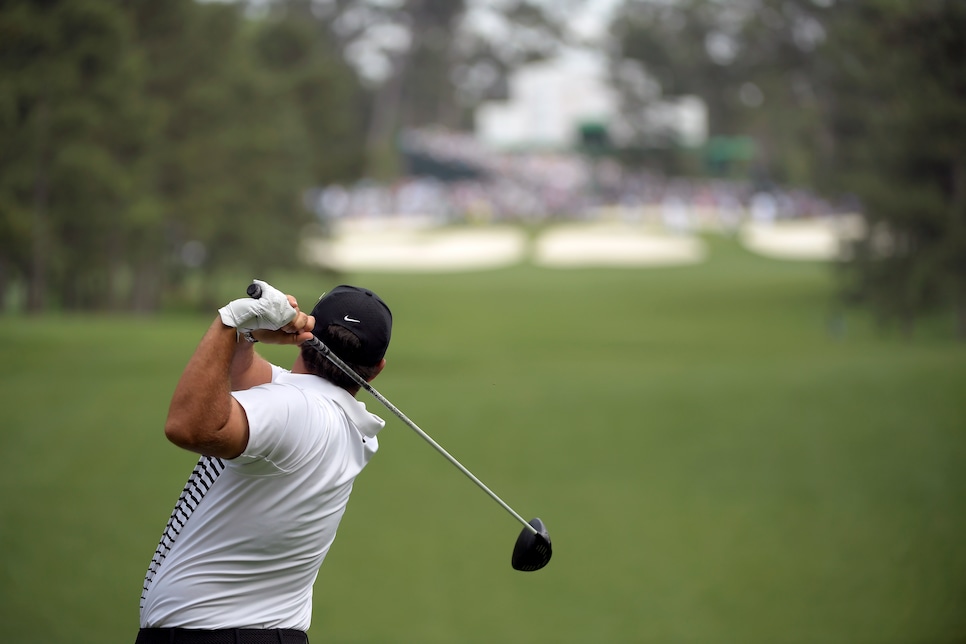 Day 2 is underway at Augusta National—coming off an exciting Thursday afternoon at the Masters. We saw Jordan Spieth do something he had never done here, birdieing five straight holes (13 through 17), before a miraculous bogey save at 18 to take the lead at 6-under. We also saw defending champion Sergio Garcia make a mess out of the par-5 15th hole; his octuple-bogey 13 is the highest-ever recorded score on that hole in Masters history. Not exactly the start Sergio expected from his return walk around Augusta National.
What was clear was the late groups got the edge in terms of conditions. Some cooler, windy conditions in the morning didn't generate too many low scores, or fireworks, for that matter. But the afternoon groups had clear and calmer weather to play through. And we saw a number of the low scores come through the afternoon wave. We'll see how that shakes out on Friday—with another great, sunny day expected the Masters.
Also worth watching is how some of the world's best players, who aren't on the top of the leaderboard but just lurking five or six shots back, and whether they can make a move on Friday. Most of the top-10 players in the world are within earshot of the lead. Rory McIlroy starts the day three back of Spieth. Rickie Fowler starts the day just four back—as does his playing partner, Phil Mickelson. Justin Rose is even-par and starts the day six back. Dustin Johnson, Hideki Matsuyama, Bubba Watson, and the four-time Masters champion, Tiger Woods, are all 1-over and not nearly out of this. Friday should be another exciting day at Augusta.
Masters 2018, Day 2 Live Blog:
7:42 p.m.: A brilliant chip on the 18th hole has given Patrick Reed a second-round 66—and a two-shot lead heading into Saturday at Augusta National.
Reed played spectacular golf on Friday—carding nine birdies (against three bogeys)—to shoot the round of Day 2. He and Marc Leishman will be the last pairing of the day.
Your leaderboard going into Saturday, including pairings for Day 3:
Reed (-9) /Leishman (-7) Henrik Stenson (-5)/Rory McIlroy (-4) Jordan Spieth (-4)/Dustin Johnson (-3) Justin Thomas (-3)/Tony Finau (-2) Rickie Fowler (-2)/Louis Oosthuizen (-2) Justin Rose (-2)/Bubba Watson (-2)
This will be fun—and probably very rainy and windy, folks.
7:25 p.m.: Though he didn't have an easy shot for his second at the 17th hole, Patrick Reed missed in the right spot -- and set himself up for a good opportunity to save par. That he did, as the last group (finally) heads to the 18th hole.
This group teed off at 2:00 ... so we're going to be over five-and-a-half hours. That's rough.
7:09 p.m.: Patrick Reed has bogeyed his third hole of the day—this one at the 16th hole—to bring him back down to 9-under. He still leads by two.
7:05 p.m.: Tiger Woods is in with a disappointing second-round 75 with a missed chance for a birdie at the 18th hole. He's currently 14 back of Patrick Reed's lead. He'll be safe to make the cut, as the top 50 and ties will ensure +5 currently gets in. Tiger, at +4, will see the weekend at Augusta National, but he will not be happy with his start.
Meanwhile, his playing partner, Marc Leishman, holed a solid seven-footer for his par to remain at 7-under. That was an impressive par after his wayward drive left him blocked out for his second.
Leishman has ensured he'll be in the final group on Saturday, most likely alongside Patrick Reed.
6:57 p.m.: Anddd we have our first player to double digits. Patrick Reed now has three birdies in a row with yet another circle on his scorecard at the par-5 15th. That's nine birdies today from Reed. NINE!
He has a three-shot lead on Marc Leishman, with Leishman's drive at 18 getting caught up in the trees. Tiger's tee shot with 3-wood was perfectly placed up the left side.
6:40 p.m.: Another smoked "Smokewagon" drive from Tiger Woods at the par-4 17th hole led to a 314-yard tee shot. And he'll give himself a chance to get one back, putting his approach 14 feet from the hole at the challenging 17th green.
We'll see if Tiger can make his third birdie of the back nine.
6:33 p.m.: Justin Thomas now has three straight birdies after an impressive up-and-down at the 15th hole. JT is now 3-under for the tournament, and 5-under for the day. It's just one behind Patrick Reed for the round of the day.
6:28 p.m.: There goes the momentum Tiger Woods had put together. A bad three-putt bogey there at the par-3 16th hole leads to a bogey that moves TW back to 4-over.
Tiger ran his second shot seven feet past the hole, then failed to make the come-backer. Not a good unforced error there. He'll do well to par in to stay at 4-over.
6:23 p.m.: There it is: Patrick Reed converts on the shortie for birdie on 14. That's eight birdies in 14 holes today. (He also bogeyed the fourth and 10th holes.) But this is an exhibition of stellar golf from Reed, of which we haven't seen from him at Augusta National.
6:17 p.m.: Marc Leishman converts the eagle putt at 15! What a job by the Aussie to get to 7-under. He's one back of the current lead by Patrick Reed, but Reed stuck it TIGHT at the 14th. It looks pretty likely Reed will move to 9-under. Wow ... what an exhibition on Friday from Reed.
Leishman's playing competitor, a chap named Tiger Woods, also birdied the 15th to get to 3-over par. That gives him a little wiggle room to stay inside the cut line.
6:10 p.m.: Patrick Reed just made one of the most impressive birdies of the day at 13. With his drive deep in the pine straw to the right, he played it smart and just punched out to set himself up for his third.
Then he drained the 18-footer for birdie. Hat tip to Charley Hoffman for the read from a similar line.
Reed's lead is now THREE over Marc Leishman. The former golfer at Augusta State cannot be stopped right now.
6:05 p.m.: Marc Leishman just hit one of the more impressive shots we've seen on Friday. It seemed like the trees on the left side of the fairway at 15 might've prevented him from getting to the green in two. Not so fast.
Leishman hit one of the sweetest draws around the corner, which hit the front of the green perfectly, and kept rolling all the way to the left hole location.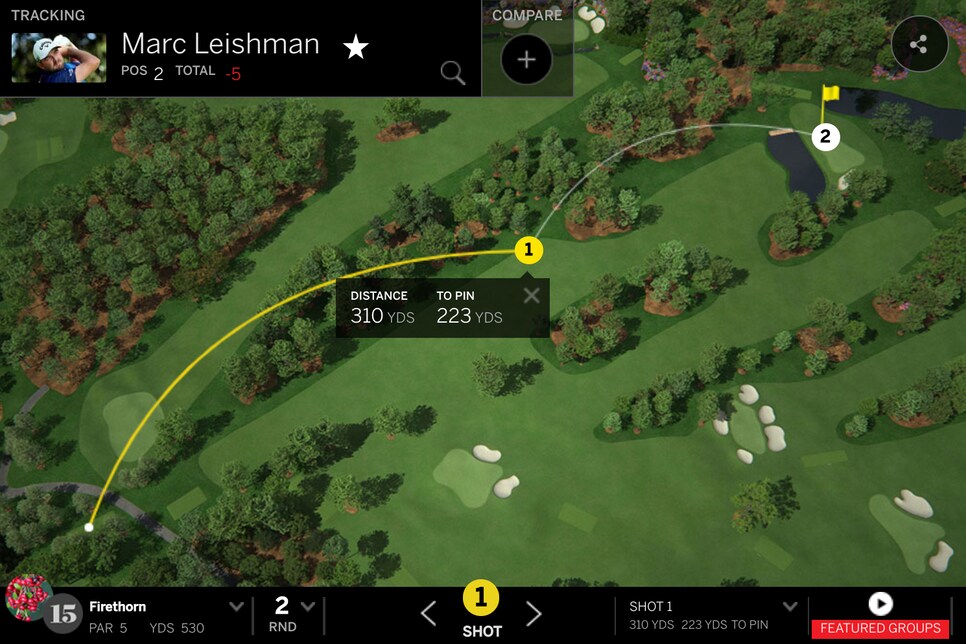 The shot-tracker doesn't do it justice -- picture that ball flight slinging in all the way from the right.
5:56 p.m.: Bubba Watson has gone from lurking to officially in the mix. A two-putt birdie at the par-5 13th has put the two-time Masters champion just four back of Patrick Reed's lead (-7).
Meanwhile, Justin Thomas has gone from in the pack to officially lurking! An awesome chip-in birdie at the 14th hole, his second straight birdie, has brought last year's PGA champion to 2-under. Now five back! It's all happening here!
5:53 p.m.: Huge par save for Patrick Reed at the par-3 12th. He now has 17 one-putts in 30 holes this week. One of his playing partners, Charley Hoffman, makes double bogey and drops to three under for the week.
Up at the 14th, Marc Leishman drops his first shot of the day and falls back to five under. Tiger Woods makes par to stay at four over.
Hideki Matsuyama joins the group of marquee names in red figures with an 18-foot birdie conversion at No. 15. He's at one under with Justin Thomas, Adam Hadwin and Zach Johnson. Austria's Bernd Wiesberger finishes off a one-over 73, getting him in the clubhouse at one under alongside Jon Rahm, Matt Kuchar and Cameron Smith. Anything under par is looking just fine heading into Saturday.
5:45 p.m.: The ESPN broadcast hasn't shown much of Justin Thomas, but he's working on a three-under round through 13 holes. Thomas is back in red figures at one under, six back of Reed, who just played a fine bunker shot at No. 12 and has a good look to save par.
5:34 p.m. Marc Leishman pours in a birdie on top of Tiger's at 13, and he's now at six under, just one back of Patrick Reed, who makes a big par save at No. 11 to stay at seven under. Par feels like birdie today at the 11th:
5:32 p.m.: Birdie alert! Tiger makes his first birdie of the day, and his first on a par 5 all week at No. 13. He's back to four over, safely inside the cut line. A few more on his way in and maybe he can build off this round.
5:28 p.m.: Tiger's second at the par-5 13th finds the green, leaving him a 40-footer for eagle. Some life, finally!
5:15 p.m.: Woods' short game has actually been solid today, and it was again at the 12th, where he gets up-and-down from the other side of Rae's Creek to save a bogey. He falls to five over, which is right on the cut line right now. We'd say he's going to be okay with the two par 5s coming up, but he hasn't made a birdie on a par 5 this week.
The action has come to a standstill late on Friday afternoon, with the leaders mostly saving pars or dropping shots, including Patrick Reed, who just bogeyed 10 to come back to seven under. Marc Leishman has now made nine straight pars after opening with three straight birdies, keeping him at five under, two back of Reed in a tie with Charley Hoffman, who is through 10 holes. If you're Rory McIlroy (-4), Jordan Spieth (-4) or Dustin Johnson (-3), you've got to be happy with how this afternoon is playing out, Reed's front-nine 31 not withstanding.
We did forget to mention Louis Oosthuizen earlier, as the South African posted a one-under 71 to join the two under group in the clubhouse. Not surprising that he's lurking at a major.
Well, we just got a nice roar thanks to Henrik Stenson, who follows a bogey at the 10th with a chip-in birdie at No. 11 to get back to four under. There was also this roar earlier provided by Jhonattan Vegas, who holed this chip for a three-under 69, the second-lowest round of the day:
5:02 p.m.: Tiger Woods played a fantastic second shot at the par-4 11th, but it's another two-putt par, his sixth in a row. At No. 12, Woods rinses one for the second straight day and holds back from throwing his club in disgust. This round is in danger of unraveling.
4:52 p.m.: Hard to keep up with all the action, and that's why we've completely slept on Bubba Watson's round on Friday. The two-time Masters champion turned in three-under 33 and just bombed one down the fairway at the 10th. He's lurking at two under.
Watson was promptly outdone by Patrick Reed though, who just turned in five-under 31 to get to eight under. He now leads by three. What a round.
4:38 p.m.: The second 68 of the day comes from world No. 1 Dustin Johnson, who holed a 10-footer for birdie at the 18th to get into the clubhouse at three under. Justin Rose two-putts for par and a two-under 70, putting him one back of Johnson at two under for the tournament. Solid day from those two.
Meanwhile, Patrick Reed extends his lead to two with a birdie at No. 8. He's at seven under, while Marc Leishman and Charley Hoffman are at five under. Henrik Stenson and Adam Hadwin, also make birdie at the eighth, which gets Stenson to four under and Hadwin to three under.
Tiger Woods makes his par at the 10th to remain at four over, now 11 back.
4:23 p.m.: Somehow, Tiger saves par at No. 9, holing a slick, downhill 15-footer to turn in three-over 39. He's 10 back of Patrick Reed, who regained the solo lead at six under with a birdie at No. 7. Marc Leishman's two-putt par at nine keeps him at five under, one back.
Joining Rory McIlroy in the clubhouse at four under is Jordan Spieth after carding a two-over 74, which, all things considered, was a heroic round after going out in four-over 40. And it could have been a 73 had he not missed a very good look at birdie at No. 18. But he should be in one of the final groups tomorrow, and how exciting would it be if its he and McIlroy together on Saturday at Augusta? Sign us up.
Meanwhile, Dustin Johnson continues to display some short-game prowess, getting up-and-down for par from 72 yards at the 17th. He's at two under along with playing partner Justin Rose, who has got himself back in the mix after dropping shots at 11 and 12. The third member of that group, Rafa Cabrera Bello, has fallen to even par after getting to four under through 10 holes.
4:09 p.m.: After walking away with par at No. 8, Tiger leaves his approach short at the par-4 ninth, which will provide a testy up-and-down for par. With the projected cut at five or six over, he can ill-afford any more dropped shots.
4:03 p.m.: Your new clubhouse leader is Rory McIlroy, who just misses birdie a 18 and cleans up the par for a one-under 71. He's at four under, one back of Marc Leishman and Patrick Reed. McIlroy's playing partner Jon Rahm just finished off the round of the day, a four-under 68 and get to one under through 36. Big move from the young Spaniard.
Also in the clubhouse is Rickie Fowler, who posted an even par 72 and sits two back of McIlroy at two under along with Tony Finau. Matt Kuchar three-putted for bogey at 18 for a three-over 75, but he's still in red figures heading into the weekend, joining Rahm and Cameron Smith in the clubhouse at one under.
Back at the 17th green, Jordan Spieth gets up-and-down from a greenside bunker to remain at four under. A birdie at 18 could make him the clubhouse leader. Also at four under is Charley Hoffman, who made a birdie at the fifth and backed it up with a par at the par-3 sixth. At 16, Dustin Johnson's birdie effort rolled down the green and 44 feet away from the hole, but he somehow made the next putt to save par. Johnson is two under with two to play.
3:42 p.m.: Tiger saves par at No. 7, then smokes a drive at the par-5 eighth. It's time to get rolling. Safe to say he absolutely needs a birdie or better here.
3:33 p.m.: Putts are starting to fall just as the ESPN broadcast gets going. Right after Jordan Spieth holed a 13-footer for birdie at the 15th to get to four under, Rickie Fowler drops a 13-footer of his own to get back to two under. In the same group, Matt Kuchar makes his 10-foot par save to remain at two under.
How could we forget about Vijay Singh, who has vaulted up the leader board with three birdies in his last six holes. The Big Fijian is now three under for the tournament, two back of Marc Leishman and Patrick Reed, who made bogey at the par-3 fourth.
Justin Thomas is also mounting a comeback, opening his round with three birdies on his first six holes, including a chip-in at the par-3 sixth. It's all happening now: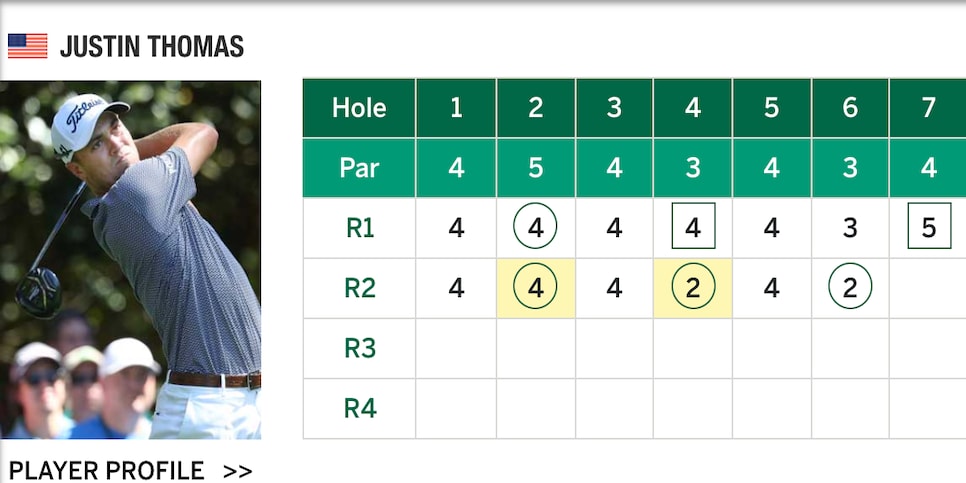 3:22 p.m.: At the sixth, Woods hits it over the green again but was able to get up-and-down for par to remain at four over. Marc Leishman also makes par to stay at five under, as well as Tommy Fleetwood, who is at two under.
Rory McIlroy just found the green at the par-3 16th, but he'll have a long look at birdie to get to five under. At the par-5 15th, Jordan Spieth hits the green in two, but has 72 feet left for eagle. He's at three under with Louis Oosthuizen, Zach Johnson, Henrik Stenson and Charley Hoffman.
Quietly making a charge is Dustin Johnson, who is three under on the day and two under for the tournament. He's made just one bogey so far, and is coming up the 15th now with a chance to gain some more ground. The world No. 1 is officially lurking.
3:04 p.m.: Tiger "saves" double bogey at the fifth and he falls to four over, 10 shots back of Patrick Reed. It's going to take a miracle just to get back to even par the way this round has started.
3:00 p.m.: We have a new leader. Patrick Reed has continued his blazing hot start with another birdie at the third. He's at six under, one ahead of Leishman.
Rory McIlroy just made back-to-back birdies at 13 and 14, putting him one off the lead at four under along with Henrik Stenson. Louis Oosthuizen and Jordan Spieth also just birdied 13, and now they are tied at three under.
2:56 p.m.: Welp. Woods' drive at five was okay, but his second shot found the woods on the left. He's in jail, and will likely need to take an unplayable.
2:47 p.m.: Wow! Tiger gets up-and-down for par from the fifth tee box, holing an 11-footer for par to stay at two over. To steal Billy Kratzert's quote from the Masters.com coverage, it was "magical." Maybe this could get some momentum going in his favor.
Marc Leishman also gets up-and-down from off the green, giving him his first par of the day. He's now a co-leader as Patrick Reed has opened his round with back-to-back birdies to get to five under. The Augusta State alum might have finally figured out how to play this course. Anything inside the top 22 would be his best finish in five appearances here, but we're sure he's got his sights set on the green jacket.
Also making birdie at No. 2 was Henrik Stenson, who is alone at four under after Rafa Cabrera Bello made double at No. 11 and bogey at No. 12 to drop to one over. Ouch. Rory McIlroy, Matt Kuchar, Zach Johnson and Charley Hoffman round out a talented group at three under.
Then there's Tony Finau, who didn't light the world on fire on Friday, but his two-over 74 was good enough to stay in contention. He's your leader in the clubhouse at two under.
2:37 p.m.: If Tiger is going to turn this day around, it's not going to start at the par-3 fourth. He just sailed his tee shot more than 10 yards over the green. Not good!
2:30 p.m.: If you haven't noticed, Augusta is playing pretty tough on Friday:
Low score in the clubhouse so far? Jimmy Walker with a one-under 71. He's in the mix at even par through 36, just five back.
How about this round from Russell Henley, who started the day at one over, fell all the way to five over, and still shot 72. Check out this wild card:

Four under on his final four holes. That'll play on Friday. Putts like this one at 15 helped:
2:26 p.m.: After nearly driving the green at the short par-4 third, Woods hits a chip to six feet and misses the putt for birdie. He's not going to have much of a chance if he doesn't capitalize on opportunities like that.
Meanwhile, his playing partners Marc Leishman and Tommy Fleetwood are running away from him. Leishman makes his third bird in a row to take the solo lead at five under, and Fleetwood makes his second in a row to get to two under. Tiger needs to join the party soon.
Back at No. 1, Patrick Reed opens his round with a birdie and gets to four under with Cabrera Bello. One behind them is Matt Kuchar, who two-putted for birdie at the par-5 13th.
2:12 p.m.: Tiger's third at No. 2 went well past the hole and didn't spin back, leading to a two-putt par. He's yet to birdie a par 5 this week, reminiscent of his par 5 performance earlier in the year.
With all eyes on Woods, Marc Leishman quietly birdies the first two holes and grabs a share of the lead with Rafa Cabrera Bello, who just birdied the 10th hole for the second straight day. Could we have back-to-back years of a Spaniard winning the green jacket?
Up at the 18th, Fred Couples cleans up his bogey for a two-over 74, and he sits at two over through 36 holes. It'll be his 30th made cut in his Masters career, the second most in tournament history. Guy knows his way around Augusta, bad back and all.
1:53 p.m.: Tiger's tee shot at the second hole was lucky to kick out to the fairway. And he just hit a nice slinging hook shot round the corner to set up his third.
Meanwhile, Phil Mickelson's round is all over the place. After the bounce-back birdie at 10, he bogeyed 11 and now rinsed his shot at 12, like Tiger did yesterday. He'll have to make a long putt, like Tiger did, to save bogey.
1:44 p.m.: From the middle of the fairway on the first hole, Tiger has bogeyed—bringing him back to 2-over and five off the lead.
Tiger's approach went over the green, and he failed to get it up and down from there. A bad bogey with an opportunity to start his round in positive fashion. Tiger hasn't been immune to making a bogey the difficult first hole—but he's often not playing from the fairway.
1:31 p.m.: Tiger has teed off in his second round—and he's just four back, which is remarkable, considering Jordan Spieth was 6-under par before the day started.
Tiger went with driver off the tee and found the fairway—hitting it 339 yards at No. 1.
1:25 p.m.: What a bounce-back from Phil! After that ugly triple bogey at the ninth hole, Phil has birdied the tough 10th hole to get back to even par for the tournament.
1:04 p.m.: Phil Mickelson is making a mess of things at the ninth hole. His drive went way left. Then his recovery nailed a tree in front of him, which has led to a BIG number upcoming.
His fourth shot, an attempted lob shot from the right side of the green, didn't carry far enough on the heavily sloped ninth green, so it rolled all the way down to the front edge. He rammed his next, a putt that was his sixth stroke, past. He then made a 5-footer to save triple... Ouch.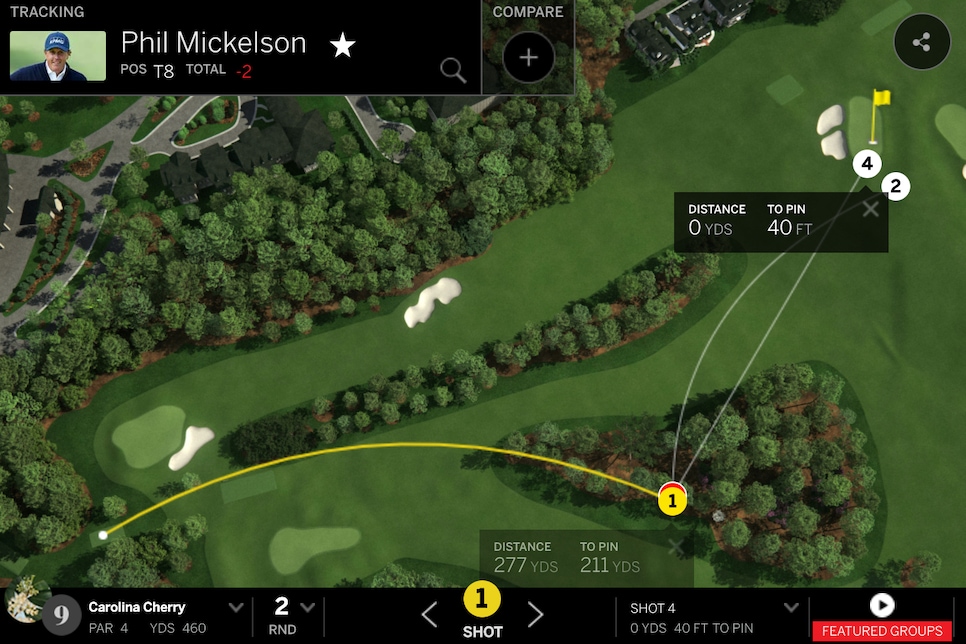 12:55 p.m.: Just as Rickie Fowler had birdied No. 8 to move within a share of the lead, a couple of minutes later, he is no longer a co-leader. Austria's Bernd Wiesberger has started his round with birdies at Nos. 2 and 3 to move to 4-under—in a lead all by himself.
If anyone would've called Wiesberger leading by himself before 1:00 ... we're calling bull.
Meanwhile Jordan Spieth continues to fall back on the leader board. Another bogey, this at the seventh hole, has moved him two back of Wiesberger's lead.
12:35 p.m.: One of the results of the lead moving all the way down to 3-under? The number of players who are inside the cut line (as of now).
The Masters has its own cut rules, in which the top-50 and ties, plus anybody within 10 shots of the lead, make the cut. Right now? Only 13 players out of the 87-player field would be cut. Remarkable ... Jordan Spieth has prevented a lot of private jets from gassing up early out of Augusta airport.
Even Sergio Garcia, who isn't going anywhere, needing to stick around for Sunday's green-jacket ceremony, now has a real chance to make the cut. He sits at 9-over par after his opening 81—but he's only two off the cut line right now. That is a really unlikely reality, given his Tin Cup moment at the 15th hole, leading to a 13, yesterday.
12:20 p.m.: Bogeys by Rory McIlroy and Rafa Cabrera-Bello have dropped them out of the lead, as they move back to 2-under. One of those players at -2, Phil Mickelson, had a great chance at the seventh hole for a birdie to grab a share of the lead. But his 10-footer missed on the high side. He'll remain one back.
12:10 p.m.: OK, it's officially all happening now. Dustin Johnson chipped in for eagle on the second hole to get within two shots of the lead. DJ sat seven back of Jordan Spieth's lead after Day 1. Now all of a sudden he's within a couple of the lead. Wow!
Rickie Fowler just drained a 66-footer to save par at the seventh hole. Yes, 66 feet. WHAT! Rickie gave the patrons a bow after a rounding ovation.
Another name in red numbers early is Louis Oosthuizen, who is playing alongside Jordan Spieth. Oosthuizen is 1-under in his round, so he's now 2-under for the week and in a crowded group one back of the lead (along with Phil Mickelson, Rickie and Tony Finau).
12:01 p.m.: Make that EIGHT golfers tied for the lead! Rafa Cabrera-Bello righted an early bogey with a birdie at the third hole to join the leaders at 3-under. What a wild morning.
There are now 37 golfers that are within four of the lead. Wow ... nobody expected that after Jordan Spieth's stellar back nine on Thursday.
11:54 a.m.: What a busy start to play for the featured groups.
Matt Kuchar owned sole possession of the lead for about three minutes. Then a bogey by him, and Rory McIlroy, has dropped the lead back to 3-under. That means seven golfers are tied for the lead—four of whom have yet to tee off: Patrick Reed, Henrik Stenson, Adam Hadwin and Charley Hoffman.
Jordan Spieth has parred the third hole, righting the ship after starting double-bogey, bogey. He's now tied for the lead.
And we're just going to leave this right here: Tiger Woods is just four back of the lead right now. In fact, 37 (!) golfers are within four of the lead right now. Just a reminder there's a TON of golf left to play.
11:33 a.m.: Nobody would've expected Jordan Spieth to lose his lead after two holes early at the Masters. But that's what has happened. Double bogey-bogey, and the young Texan has fallen back to 3-under.
Your current leaders? Rory McIlroy and Matt Kuchar. Rory has birdied the second and third holes, after he bogeyed No. 1, to grab a share of the lead.
You might've heard that Rory is in pursuit of the career Grand Slam this week. He has done his best to put himself in position for a chance there so far.
11:20 a.m.: Phil just burned the left edge with a chance to grab a share of the lead on the third hole. The par keeps Lefty just one back of the new lead with Jordan Spieth's double bogey, as Mickelson heads to the ultra-difficult stretch of holes 4 and 5.
11:11 a.m.: That errant tee shot from Jordan Spieth has led to a double bogey. The first hole is playing as one of the toughest on the course, but it was a bad drive that led to the poor score.
All of a sudden, Matt Kuchar is tied with Spieth for the lead. And Phil Mickelson, Tony Finau, and the plethora of others at 3-under are one back.
There's a lot of golf to be played by Spieth. But this is a really poor start.
11:03 a.m.: Meanwhile, Phil Mickelson is in red numbers early in his second round with a nice birdie at the par-5 second hole. He's now just three back of the lead at 3-under. Lefty made a sporty birdie at the third hole on Thursday—driving it wayward, but hitting a great recovery on the green. Lefty is firmly in the thick of things here early on Friday.
Rory McIlroy bogeyed the challenging first hole to start his round. He's back to 2-under—but with Jordan Spieth in trouble at No. 1, too, he might not lose much ground to the lead.
10:54 a.m.: Fore please. Now driving—and going waaaay right—is our leader, Jordan Spieth. Fore! Here's shot-tracker of his tee shot at the first hole. Spieth was disappointed with the way he drove the ball on Thursday, despite scoring so well and leading at 6-under.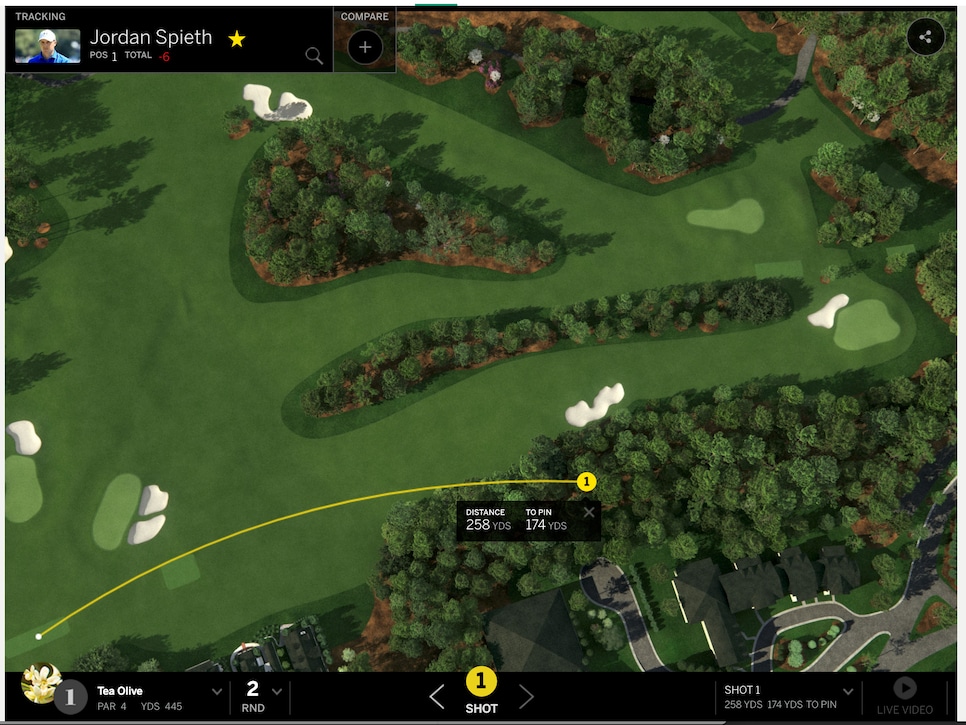 Apparently, he still hasn't figured out his driving. That one looks like it was headed closer to Mamie's Cabin than the first fairway. This could be trouble early.
10:40 a.m.: Phil Mickelson is off with an impressive par at the first hole. On Thursday, he made a 46-foot bomb for birdie to kick off his round. Today, it was a rope slice of an iron shot from the pine straw that ran up to the green that helped him save par, to stay at 2-under. Matt Kuchar also did the same, saving par after an errant shot—he stays at 4-under.
Kuchar's now in sole position of second place, with Tony Finau dropping down to 3-under. The top of the leader board is now comprised of Kuchar and Jordan Spieth. That's a familiar site—it wasn't too long ago that those two were duking it out at Royal Birkdale at the Open.
Rickie Fowler bogeyed from the middle of the fairway to fall to 1-under.
Meanwhile, Haotong Li has bogeyed his second hole in a row to fall to 1-under.
10:20 a.m.: This morning's wave of players got lucky with the conditions on Thursday. It seems like the wind is picking up, and might be blowing hard all day. So far, only one player is under par out of everyone on the golf course (Jimmy Walker, who is 1-under through his first four holes.)
Haotong Li and Tony Finau have both dropped a shot so far, Li dropping one at the fourth hole and Finau at the first hole.
The featured groups, starting with Phil Mickelson (-2), Rickie Fowler (-2) and Matt Kuchar (-4) are about to start teeing off No. 1. We'll see how the conditions treat these groups.
9:55 a.m.: Tony Finau's second round is underway. And it did not begin the way he wanted.
The bomber found the fairway bunker to the right—but hit a great third shot to three feet for a chance to save par. Putting has been Finau's weakness, and Finau missed the short putt to drop to 3-under. A disappointing start—but you'd expect him to threaten to bounce back with a birdie at the par-5 second hole.
9:47 a.m.: Haotong Li has been an escape artist of sorts in his first two holes. His first drive was way left—and his tee shot at No. 2 also soared way left into this lie.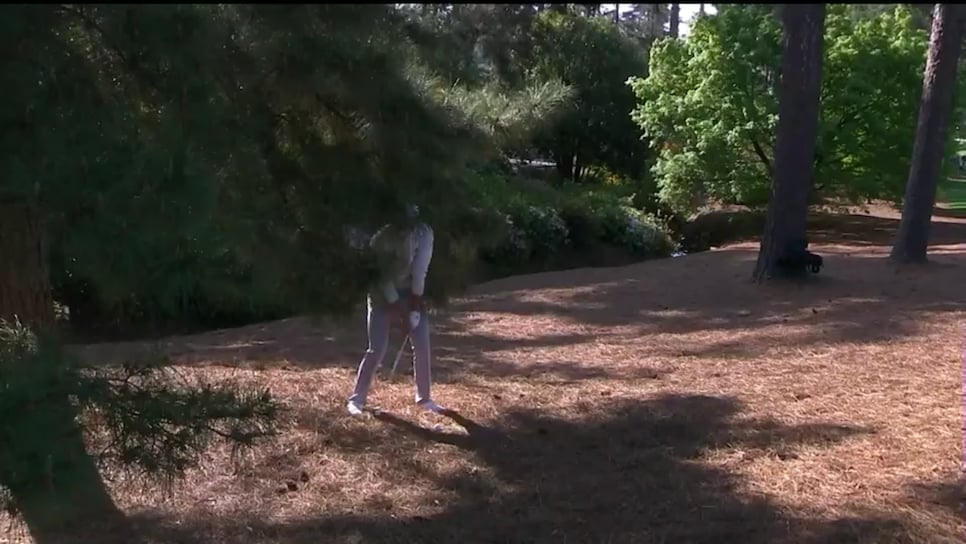 Li hit a tremendous hooking iron shot back into the fairway. Li will make a par after a nice third shot. That's a solid start after such poor tee shots to start with.
9:33 a.m.: As Tony Finau's making his way to the tee, Haotong Li and Fred Couples are finishing up on the first green. Couples, back injury and all, hit a terrific tee ball (289 yards) and hit it to nine feet for a chance at birdie. It was a disappointing par, perhaps, but still impressive for the 1992 Masters champion to sit at even-par so far through the tournament.
Li did very well to make par from the way left-hand side at No. 1. He has hit another errant tee shot at No. 2.
9:23 a.m.: What an amazing shot by Li at No. 1. It looked like he might've been in trouble with an errant tee ball. But his drive went so far left, he had a clear approach over the trees. And the two-time European Tour winner hit a fantastic recovery to find himself a birdie putt. Well done by the world's 42nd-ranked golfer.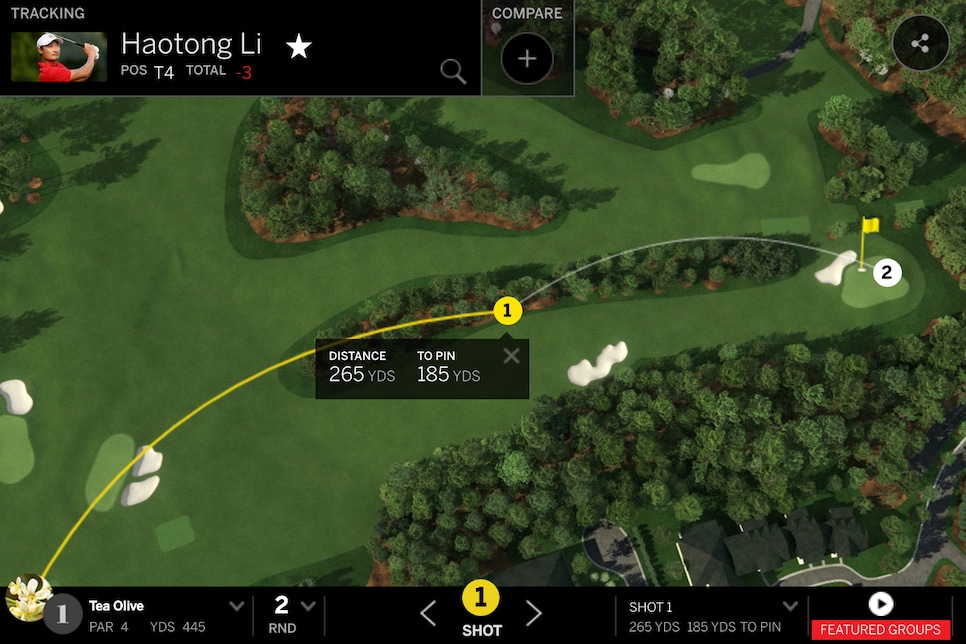 9:15 a.m.: China's Haotong Li, the 22-year-old who sits at 3-under par, has teed off at No. 1—and his tee shot has went way left. He'll have his work cut out for him to save par on the opening hole, which has played as the fifth toughest hole on Day 1.
8:58 a.m.: Cam Smith is playing in his first Masters, having secured a spot by sneaking into the top-50 in the world after the WGC-Match Play. Smith has had a great 2018, and would be someone whose game you might expect would translate to success at Augusta National—his ball flight with his irons is super high, and he hits the ball far and straight with the driver. The young Aussie is currently 1-under and five back of hte lead, bogeying the first hole but getting it back with a birdie at No. 2.
8:45 a.m.: Tony Finau is back in the practice area as he prepares for his 9:36 a.m. tee time. He was walking gingerly as he started his practice routine, but he's now ripping driver pretty freely. Golf Channel's Todd Lewis reported that he spoke to Finau's agent, and Finau apparently feels better today than he did on Thursday. It seems his ankle is responding very well to the treatment he's receiving. We'll see how he handles the pressure of being around the lead now here on Friday. As you wait for the leaders to tee off, read Dave Kindred's piece, in which he puts Finau's spectacular 4-under 68 on Thursday in perspective.
8:30 a.m.: The second round has officially started! Billy Horschel, Cam Smith and Chez Reavie have teed off No. 1 to kick things off.
Though some of the more exciting pairings this morning at Augusta won't tee off until about 10:30, there will be leaders on the course early this morning. Some of those are: Haotong Li, who starts the day 3-under par and three back, tees off at 9:14 a.m.; Tony Finau, who had one of the more amazing rounds of Thursday, given his nasty-looking ankle injury during Wednesday's Par 3 Contest, shot an opening 4-under 68. Finau tees off at 9:36 a.m.
Here are the featured groups to watch this morning: 10:31 a.m. -- Phil Mickelson, Rickie Fowler, Matt Kuchar; 10:42 a.m. -- Adam Scott, Rory McIlroy, Jon Rahm; 10:53 a.m. -- Jordan Spieth, Alex Noren, Louis Oosthuizen; 11:04 a.m. -- Justin Rose, Dustin Johnson, Rafa Cabrera Bello.