News
Masters 2018: Jordan Spieth confidently takes the reins in Round 1 at Augusta National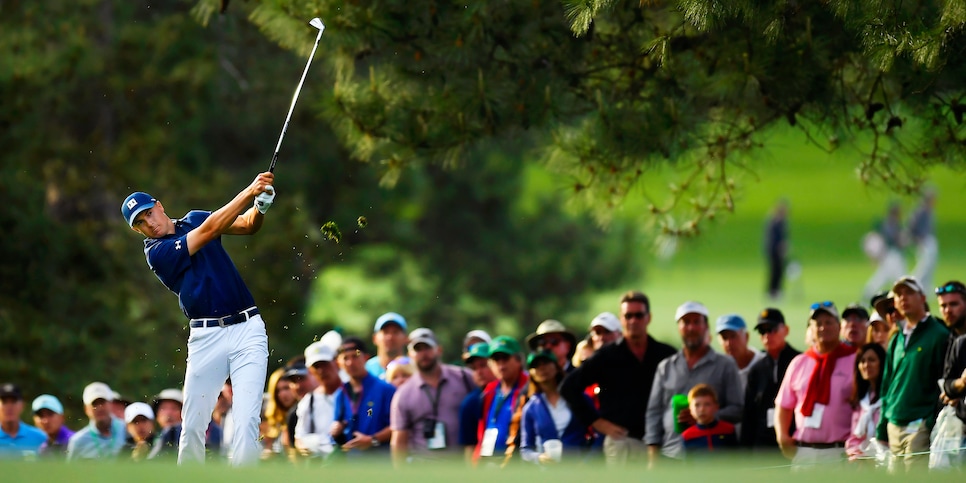 AUGUSTA, Ga. — You knew something special was brewing by his demeanor on the 13th. Jordan Spieth had piped his drive on the world's most famous hole, leaving 170 yards and change. Yet what makes this hole so daunting is not the distance but its demand, requiring precision or else. So Spieth stood over his second, looking upward to judge the wind, and after a short delay, struck his shot.
As the ball sailed, a slight gust arrived from the back of the green, seemingly redirecting the ball to the 13th's tributary. The patrons noticed and yelled in unison, urging the ball to get some extra oomph, and in a hurry. "Go, go," they cried. "GOOOOOO!!!" For Spieth, these feelings may have been running internally, although doubtful. If they had, he would have joined this choir, adding a vicious shoulder turn or wave for good measure. Spieth is, after all, famous—sometimes notorious—for outward expression.
But on this shot, on this day, he was stoic, assured. No need for body English when you know where the ball's going, when you're in control. In a year in which he's looked decidedly not, Spieth finds himself atop the Masters leader board after Day 1.
It wasn't a spotless performance; Spieth carded three bogeys and hit just 11 greens on the afternoon. But what matters is what he did on the back, stringing together five consecutive birdies starting on the 13th to vault into the lead. Coupled with two birdies and an eagle on the front, the final total was a six-under 66—a number two shots clear of Tony Finau and Matt Kuchar, three better than Rory McIlroy, Henrik Stenson, Patrick Reed and a host of others.
Perhaps we shouldn't be surprised; although he hails from Dallas, Spieth has been at home at Augusta National. In four previous Masters starts, he boasts a win, two runner-ups and an appearance in the penultimate group. Thursday was the ninth time in 17 career rounds he led after play was complete. For context, Tiger Woods, who's had his share of success in these parts, has also led nine times . . . in 79 tries.
The type of results that have made Spieth a perennial Masters favorite. Not that you would know by the talk that surrounded him in the Augusta buildup.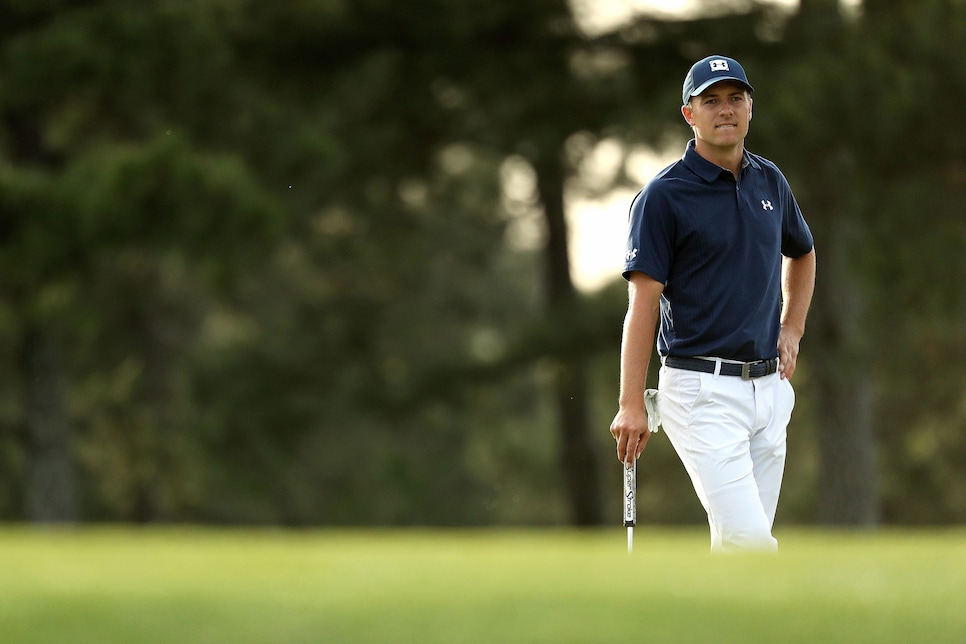 In a season decorated with strong showings from golf's stars, Spieth has been noticeably absent. What attention he has received hasn't always been flattering. Chiefly, wondering what is up with his putter. Spieth's short game, famously praised during his run to prominence, has been problematic, ranking 185th in strokes gained: putting entering the week.
Stats, especially from a sample of just nine tournaments, can be fickle. They do however illustrate a pattern, and that pattern has been consistent struggle. He's recorded a negative strokes gained: putting mark in six of eight accounted events (figures weren't kept for the WGC-Match Play). Transparent even in Houston: though he finished T-3, he came in 69th in strokes gained: putting out of 75 eligible players.
So what changed from last Sunday to Thursday, when Spieth's 1.33 putts per green were the second-best of the day?
"Lot of secrets that if it propels to anything special I'll write about some day," he grinned.
If he does, it would be a best-seller. While he made the most of the greens he did hit—on the nine holes where a red number was recorded, six were spurred by approaches within 12 feet—Spieth chalked up two of his best shots to the flat stick. An eagle putt on the eighth and, of all things, a five-foot bogey putt on the seventh.
"It was a very difficult putt, and I could have dropped to over par," Spieth said. "And it led to stepping on No. 8 tee feeling like, okay, regrouped, let's grab three coming in."
Like most tests, it's not just what you know the but also the conviction in that knowledge. Self-belief is a powerful tool. Especially at Augusta, particularly when you already have a green jacket.
"I'll always have demons out here, but I'll always have a tremendous amount of confidence out here too," he said. "Once you win here, you have an advantage over anybody who hasn't won here."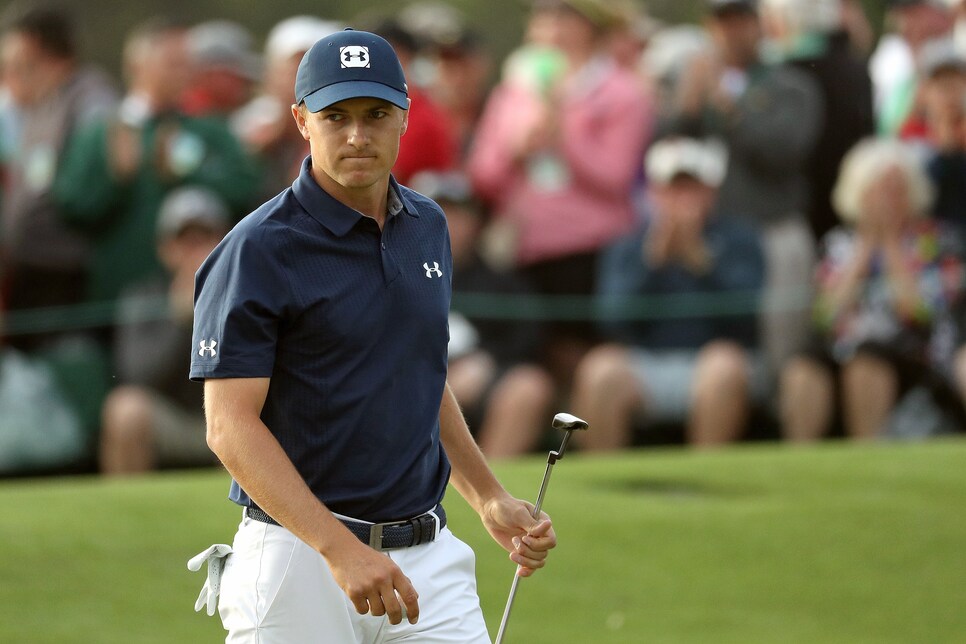 Yes, those demons. If he continues this torrid pace, Spieth's 2016 mishap at Rae's Creek will emerge over the weekend. A storyline that's, frankly, unfair. He came back from another quad last year to get into the Sunday mix, and distanced himself further at Birkdale. Moreover, Spieth mentioned that those memories can be positive.
"It's just about playing the golf course for what you get, recognizing what the tendencies are that this golf course brings and what my own tendencies are when under the gun," Spieth said.
He acknowledged the stress that crept up during his back nine charge. That's a sentiment most non-major winners miss. Spieth recognized and dealt with it.
"I felt the Sunday‑type pressure of leading the Masters on the middle of that back nine," he admitted. "And adjusted extremely well."
There's still work to do over the remaining 54 holes. His driving needs improvement and one round of good putting doesn't erase months of issues. But it's a start, and confidence breeds more confidence.
Which brings us back to the 13th, when his approach—the one that appeared to be fighting a losing battle with the elements—found safety by a precious few feet. The patrons roared, their angst turning into astonishment. Spieth kept looking ahead, nonchalantly waving his hand as he began towards the green. Fans believe this tournament will produce something special. Spieth seems confident he can deliver.