News
Masters 2018: Tony Finau's 68 'Nothing short of a miracle'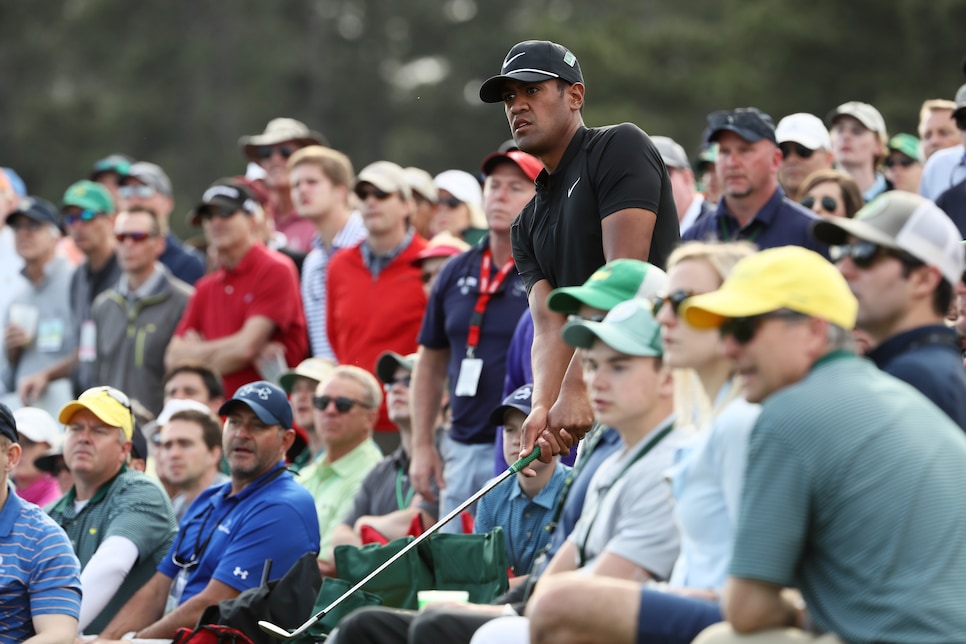 AUGUSTA, Ga. — At 11:27 Thursday morning, as if he didn't belong with the two-footed players, Tony Finau found a spot on the practice range way down at the right end. There he experimented. Could he hit a shot standing on his right foot only? If he made a move to his left side—practically the definition of the golf swing—might that ankle bone come undone from the foot bone once more and nobody could put it together again?
With a curious, even perverse, fascination, a couple dozen people sat in the bleachers watching Finau work. These clearly were people with nothing else to do. The last they'd heard, Finau was headed for an MRI to determine if stuff was broken in there or twisted beyond immediate repair. To see him running through wedge shots up to drivers was to know, OK, he's gonna play and we might as well follow him around to see exactly when he steps sideways on a tree root or slips down a hillside on Augusta National's devilish pine straw.
Who would want to watch Tony Finau, 28 years old, long and lean, 6-foot-4 with khakis sliding off his hips, a renowned bomber but only a one-time winner on the PGA Tour? Hey, Tiger was back! The only story, Tiger. Tiger this, Tiger that. The question all around the place was, what's Tiger doing? The answer came quietly, for Tiger did a 73, and so did most everybody else with two feet. And while Tiger was still being mortal, what was Tony Finau doing?
He was doing a freakin' miracle.
He began the day not sure he ought to get out of bed. You wouldn't have walked five or six miles on hilly ground in Georgia heat. I wouldn't have walked five or six feet to the john. Tony Finau walked the walk and shot a four-under-par 68 in his first round in his first Masters.
"Embarrassing and scary," he called the pratfall. He had sprinted away from the tee and turned back, waving in first-Masters giddiness, when his left ankle not only gave way, it gave way so badly—torn ligaments—that his foot set at 90 degrees to its former anchor. More grotesquely, even as he sprawled on the ground, he reached down to his ankle and shoved it back in place.
"I saw where it was," he said, "and I knew where it needed to be."
Yikes! Grown-up people watched the video through their fingers.
Yet by 3:21 this afternoon Tony Finau's name had gone up on the leader board. He drove it killer distances, he got it up and down from everywhere, he made six birdies, he one-putted nine times, and even a guy who grew up with him—his brother, Gipper, once a pro golfer himself—saw Finau enjoying the stroll.
"He never limped once all day," the Gipper said. "And he didn't change his game. You don't shoot those numbers while you're making adjustments. He was Tony all day."
Tony's opinion: "It was nothing short of a miracle …"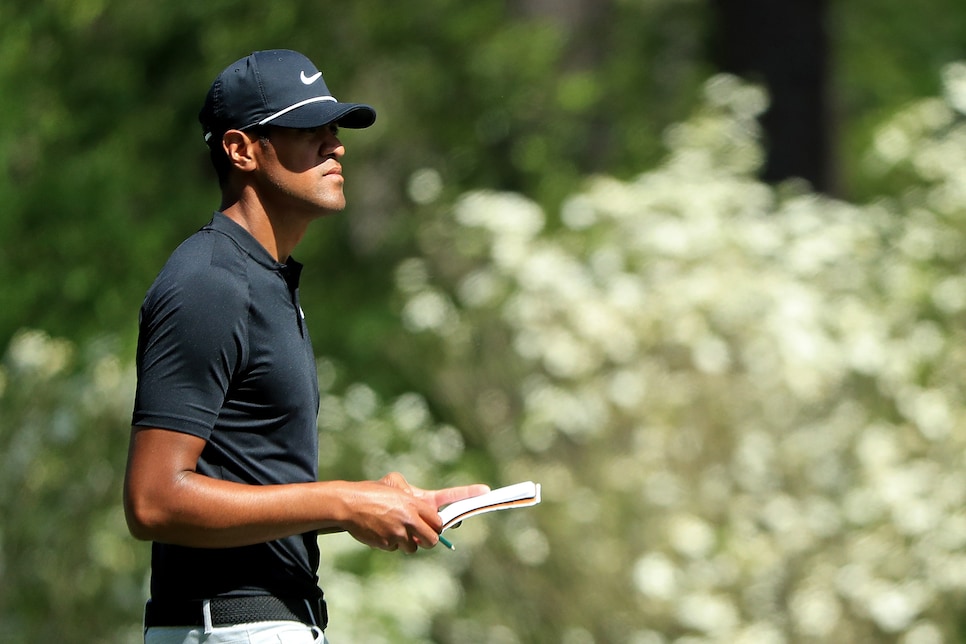 Fuzzy Zoeller, a Masters champion, had a recipe for back pain: "Vodka and Valium." No such juices for Finau, who said he played without medicine, without injections, "just some work and tape, quite a bit of tape" that mostly immobilized the ankle.
He was one-under when he came to the eighth tee. He'd birdied the par-5 second and the par-3 fourth, making short putts each time. Occasionally he walked like a man not all that eager to put a sore foot on the ground. Occasionally he lagged behind his playing partners. Now and then he was cautious walking downhill.
That ended on the eighth tee.
"KILLED TEE SHOT!" My note of that moment. Then: "2d to rt front, short. (No prob walkng so far.) Pitch to 3'. Birdie. -2."
The ninth was proof certain that we were watching Lazarus take a stroll.
"KILLED IT OFF TEE. Langer putt shows line. Makes. 35', 12 steps to hole. No pain now. Floating now. Brk the other one, he wins."
At the 10th, again on Langer's line, Finau made another 30-footer, this time saving par out of the woods along the fairway's right side.
At 4:45 p.m., five hours since he came to the range to see if he could play at all, Finau was tied for the first-round lead. Then he put his second over the 15th green, pitched back to a foot, and as he walked to the 16th tee, at 5 o'clock this afternoon, he led the Masters by a shot. (Jordan Spieth came along later, six under, two in front of Finau and Matt Kuchar.)
Wednesday night, he iced the foot and slept with it elevated.
Tonight, more of the same.
"And hopefully feel better tomorrow," he said.