The Grind
Lydia Ko's stylish comeback, the Cink family's wild tan lines and the craziest golf course fight ever
Welcome to another edition of The Grind, where we love a good comeback story. Just take a look at this photo and tell us what you see: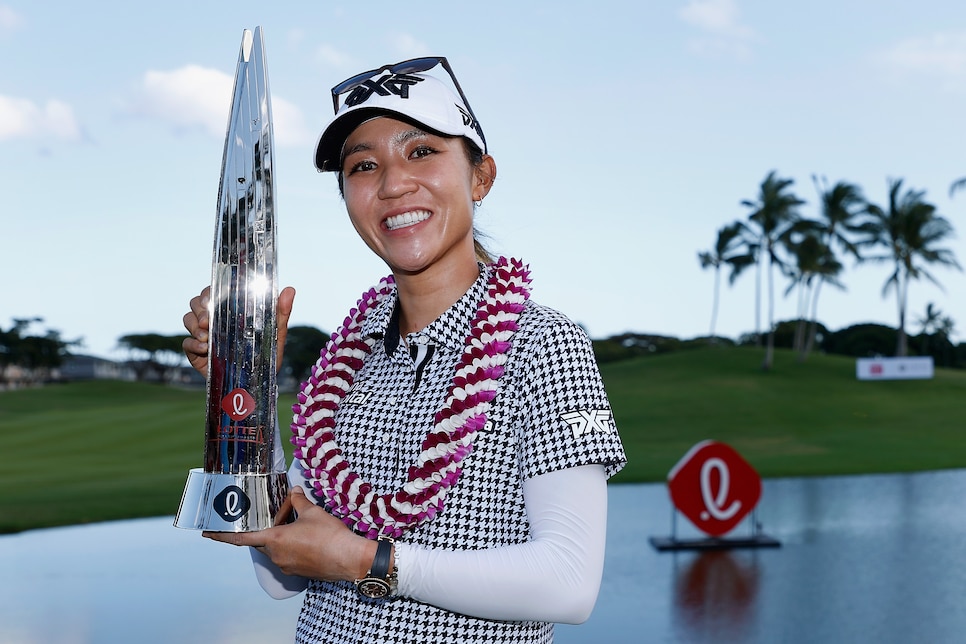 Beautiful, right? It had really been too long. But yep, houndstooth is BACK, baby! And somewhere, Johnny Miller is smiling. Wait, what's that? Oh. Right. Lydia Ko is back, too, and that has everyone REALLY smiling. Let's get into that and everything else happening in the world of golf and on-course apparel patterns.
Lydia Ko: Seriously, what a terrific sight to see Ko lighting up the screen with her smile and low scores. Unless you're a fellow LPGA Tour player, of course. The former phenom is suddenly playing as well as ever after shooting 28 under at the Lotte Championship to win by seven shots. Combine that with Ko's closing 62 at the ANA Inspiration and she's now an absurd 38(!) under in her past five rounds.
She's also got an absurd 16 career LPGA titles despite just snapping that three-year winless drought and only turning 24 this coming week. By the way, this is the third week in a row (Jordan Spieth at the Valero and Hideki Matsuyama at the Masters) in which a pro golfer has ended a long slump. But this is the first in which any did a hula dance to celebrate:
In other words, it's comeback szn, y'all. Or is it "all y'all." I'm still confused after spending Masters week in Georgia.
Stewart Cink: What a golfer. What a dad. It's one thing to help a kid get a job, but to just flat-out employ one? In this economy? You love to see it. But what a pair Stewart and Reagan have become. After Mr. Cink went more than 11 years without winning, he's now won twice in seven months with the 24-year-old toting his bag, the latest of which was a dominating performance at the RBC Heritage. All while tugging on Jim Nantz and everyone watching's heartstrings.
You love seeing that too. By the way, Cink, 47, and Bryson DeChambeau, 27, are the only two players with two PGA Tour wins this season. As someone who is fully on #TeamDadBod, thanks for the inspiration, Stewart. Also, thank you for not dancing.
Billy Horschel's boldness: How about Billy calling for a ban on arm-lock putting at a tournament where he's playing with someone (Will Zalatoris) who uses the popular putting method? Because that's not awkward at all! But I'm with Billy on this. Somehow jamming a long putter into your forearm is legal, but doing the same to your chest or stomach isn't? It doesn't make sense. And this just doesn't look natural.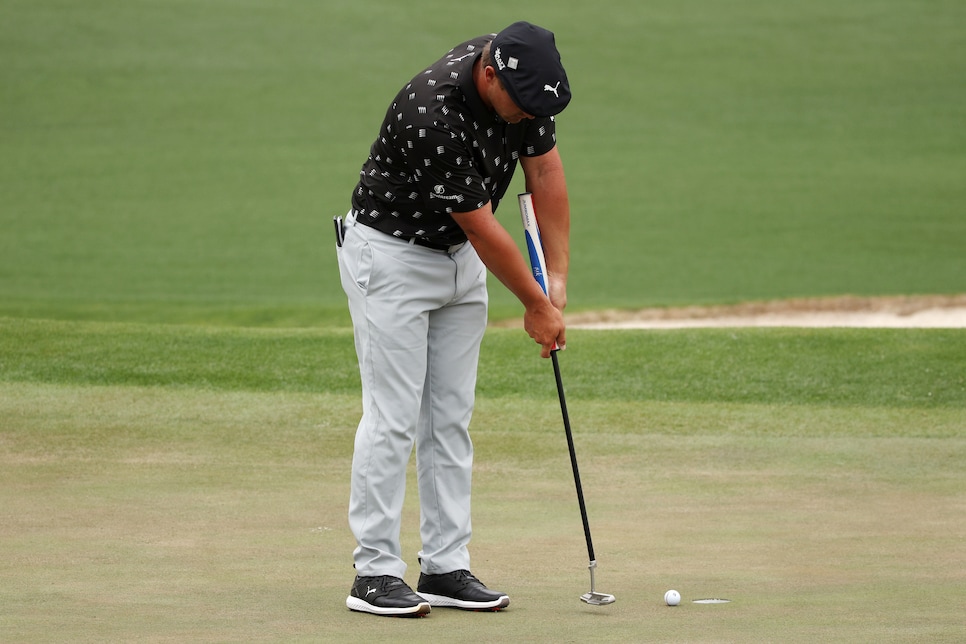 OK, I should probably go into hiding now …
This hustling cameraman: Shout-out to all the hard-working men and women behind the cameras that bring our beloved sport into our houses every weekend, but a special shout-out to this guy:
That's the kind of hustle that high school football coaches dream about. Also, it was good to see that those doing this demanding job were rewarded during the event:
Si Woo Kim's "birdie": If there are two rules every golfer knows it's the five-second rule when you drop food on the floor and the 10-second rule when your golf ball is hanging on the edge of the cup. And yet somehow this three-time PGA Tour winner thought he was allowed to wait a minute for his ball to fall into the cup:
Nice try, but sorry. The rules official got this right. And I shudder to think how long Kim would let food stay on the floor before putting it in his mouth.
Playing a tour pro at Topgolf: Move over, Lydia and Stewart, the most dominant performance of the week belonged to Greg Chalmers at Topgolf. This is just a total beat down:
And the latest reminder that these guys aren't just good. They're on a different planet.
The Cink family tan lines: We loved seeing all the family stuff, but unfortunately for Reagan, the apple doesn't fall far from the tree when it comes to wild dome tan lines:
The PGA Tour heads to New Orleans for the Zurich Classic, AKA that one where they play in two-man teams. You may have forgotten about it because it was a COVID-19 scheduling casualty last year, but it's back. And there are some pretty sporty squads, most notably defending champs Jon Rahm and Ryan Palmer, SoCal super team Xander Schauffele and Patrick Cantlay, and the Where Have They Gone Boys Hunter Mahan and Bill Haas. Should be a fun week. And on the Korn Ferry Tour, Tony Romo is playing solo in the Veritex Bank Championship at Texas Rangers Golf Club. Wait, the Texas Rangers have their own golf club? And Texas has no state income tax? How do they not attract the best free agents every year?!
Random tournament fact: Billy Horschel and Scott Piercy won the Zurich Classic in 2018, but are both competing with different partners this year. Did Scott switch to arm-lock putting?
RANDOM PROP BETS OF THE WEEK
—Reagan Cink would be making more at a 9-to-5 job: 1 MILLION-to-1 odds
—Tony Romo will make the cut: 10-to-1 (actual odds)
—Tony Romo will be a target of Golf Twitter if he plays poorly: LOCK
Yep, he's a dad alright. Date night is prime material for making dad jokes. Sadly, I know.
Thankfully, it appeared that neither of these guys got hurt. Despite the, you know, flagstick. It also turns out this fight in South Africa had nothing to do with golf, but involved one dude accusing the other of stealing his cell phone. What a wild scene–especially for an elementary school fundraiser.
THIS WEEK IN PUBLIC DISPLAYS OF AFFECTION
It's a family aff-ahhhh-air. It's a family aff-ahhh-air.
THIS WEEK IN PUBLIC DISPLAYS OF FRUSTRATION
In a slightly less touching display, this Sung Kang putter kick was spectacular:
Great form. Great execution.
"He's old and he's kicking everyone's ass." —Harold Varner III on Stewart Cink. Well said.
Congrats to Peter Uihlein (remember him) for winning the Korn Ferry Tour's MGM Resorts Championship. Although winning a golf tournament in Vegas is always dangerous. … Congrats to John Catlan for winning the Austrian Golf Open, his third win in his last 13 European Tour starts. I haven't seen an American dominate abroad like this since former colleague Jaime Diaz's 2016 parallel parking performance at Troon. … The opposite of congrats to a golfer named Connor Murphy, who somehow got into a Korn Ferry Tour Monday qualifier and did this:
Something tells me that's his last Monday qualifier. … At least he got to play somewhere, though. I finally found a window to play golf go to the range and this was the scene that greeted me: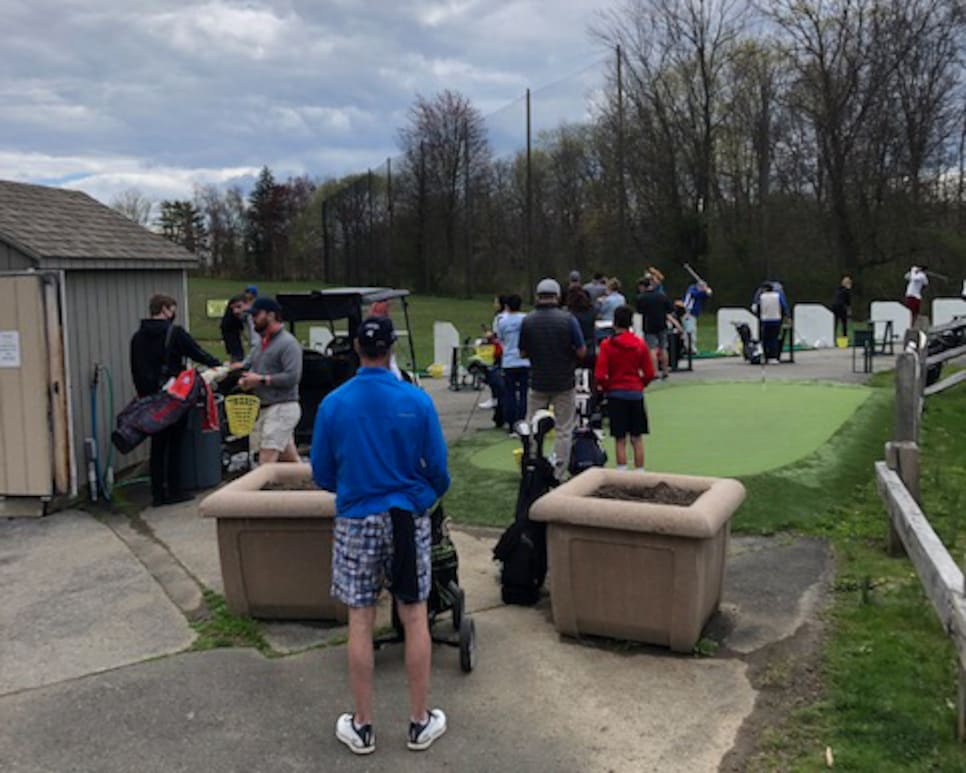 A waiting list of at least 10 deep for a range with maybe 20 stalls. In case you didn't know, public golf in New York is the absolute worst.
RANDOM QUESTIONS TO PONDER
What would I shoot in a Monday qualifier?
Why do I still live in New York?
Why do I not own any houndstooth?