DP World Tour
Europe's Ryder Cup contenders start strong in Abu Dhabi, but captain Luke Donald is who everyone is chasing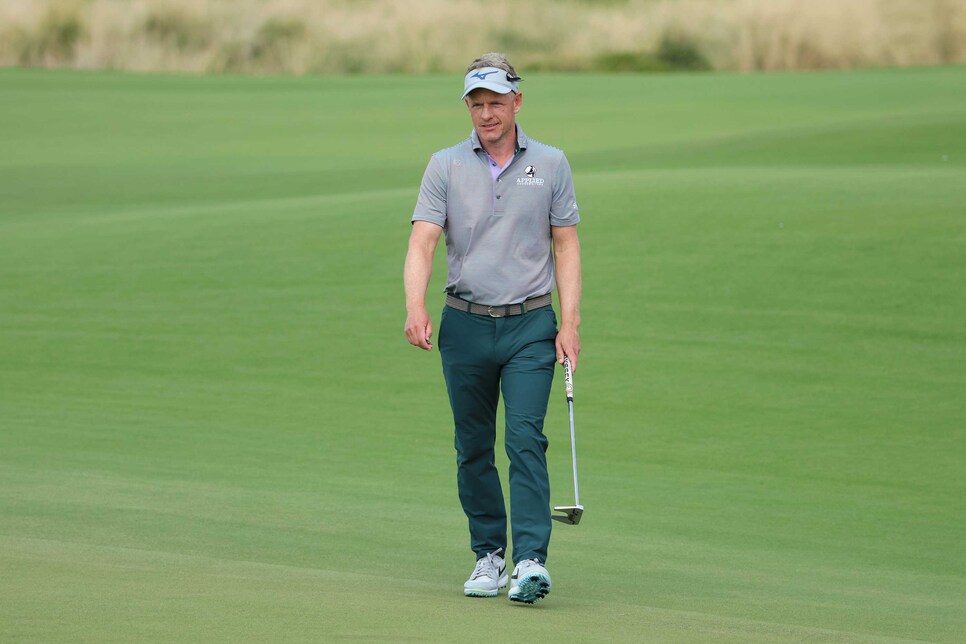 Luke Donald jumped to the opening-round lead at the Abu Dhabi HSBC Championship with a eight-under 64.
Warren Little
ABU DHABI — His tongue was firmly in his cheek, but European Ryder Cup captain Luke Donald just couldn't resist after shooting an eight-under-par 64 to grab the lead in the opening round of the Abu Dhabi HSBC Championship.
"I'm just making myself the aim [target] for the guys that are trying to make the team," said the former World No 1, who is now ranked 540 places lower. "If they can't beat me, then what the hell are they doing?"
Actually, on this day at least, not too badly. A number of those who will surely be in contention for a spot of team match-play golf in Italy come September opened their stroke-play seasons on the DP World Tour with performances almost as good as Donald's.
French Open champion Guido Migliozzi nipped round the picturesque Yas Links course in 65. Seamus Power, the man currently atop the PGA Tour's FedEx Cup rankings, shot 66. One of Donald's vice captains, Edoardo Molinari counted seven birdies in his 67, a score matched by two former Open champions, Shane Lowry and the "other Molinari," Francesco. Lowry's playing partner, Tommy Fleetwood, like the Irishman, neglected to drop a shot in his 68.
Indeed, watching all of the above during last week's Hero Cup match between Great Britain & Ireland and the Continent of Europe was apparently a contributing factor in Donald's fine performance, one that included a run of five straight birdies as he made nine on the day offset by a lone bogey.
"I never think it's bad to be surrounded by a lot of good players," said the 45-year-old Englishman, who hadn't shot this low a round in a DP World Tour start since the Alfred Dunhill Links Championship in September 2019. "The competitiveness of last week was inspiring. The guys all played their hearts out. They really wanted to win. And both teams wanted to beat each other. All of that rubbed off on me a little. I do think my game has been in a pretty good spot though. I've worked hard on it over the winter. I didn't get to practice a lot last week, but I'm obviously very happy. I was playing well in practice but you never know what will happen under the gun."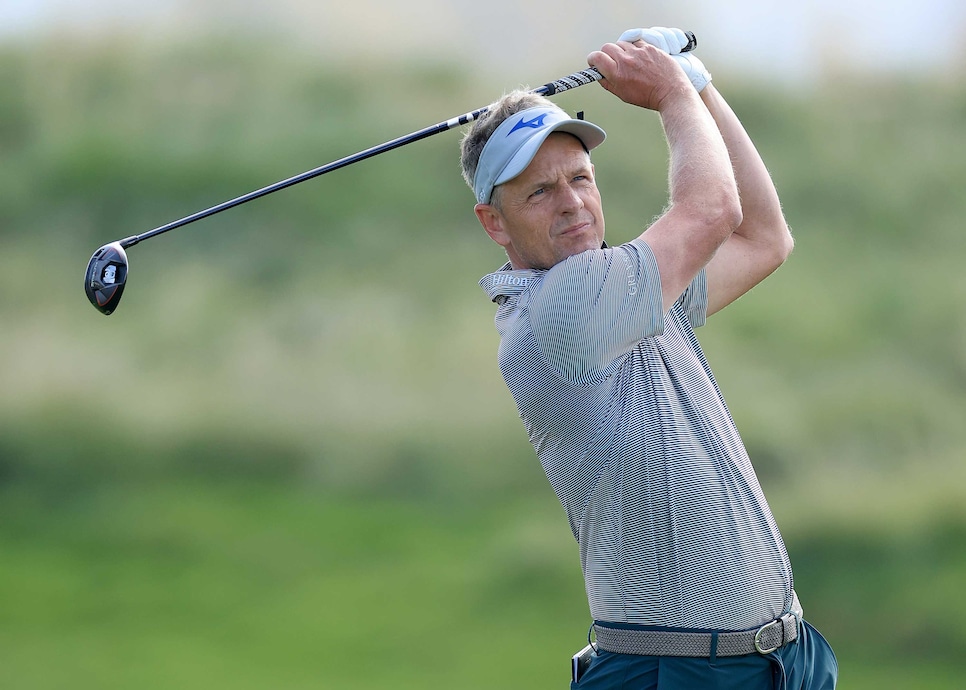 Luke Donald hadn't shot a 64 in a DP World Tour event since the third round of the Alfred Dunhill Links Championship in September 2019.
David Cannon
Adding to Donald's comfort on the 7,425-yard layout is the fact that the course, one he likened to another Kyle Phillips-design, Kingsbarns in Scotland, "suits his eye."
"I've played some great rounds there," he said. "It's always been that certain courses favor certain players. So this is a fun course for me, one where you are nearly always going to hit a lot of fairways and greens. If the putter is 'on' as it was for me today, I feel like I can go low. Which I did.
So how can he keep it going beyond merely one round? "I've just got to concentrate on what I do best," he continued. "Hitting more fairways is a good key for me. When I'm in play my strengths kick in. I still think I have a good enough game to win. It comes down to me putting like I know I can. I don't hit it as far as some of these guys. But I'm hitting it straighter so that I don't have to play defense out there. That's what I was feeling when my driving wasn't great. I was chipping out on a couple of holes most days. So it was hard to build momentum. If I can drive like I have the last few months and my putter behaves I'm in a good spot."
The temporary presence of Donald's old caddie, Johnny "Long Socks" McLaren, on the bag wasn't hurting either.
"John and I obviously have great memories together," said Donald, who also cited his work with swing coach, Jamie Gough, as being influential in this sudden return to former form. "We had seven years together, which was the best period of my career. He knows my game. He knows how to react with me. And I know how to react with him. It's a good mix. So it was a bit like the old days out there. I made some nice putts, which is a key for me. I need to continue that this week."
Inevitably given the quality of his play, Donald's post-round chat with the media closed with the hypothetical "Would you be a playing captain at the Ryder Cup if you qualified?" question. It's been a while since anyone tried to fill both roles. Arnold Palmer in 1975 at Laurel Valley was the last playing skipper on either side in the match.
"It would be tough to be a playing captain," said Donald, employing a predictably straight bat to the query. "I've been a vice captain twice. I've been around other captains. There's a lot going on during the Ryder Cup. It's early days and 64 is a nice start to the week. But nothing more than that."