Money
Ludvig Aberg's PGA Tour exemption is an interesting case study in the PGA Tour's response to LIV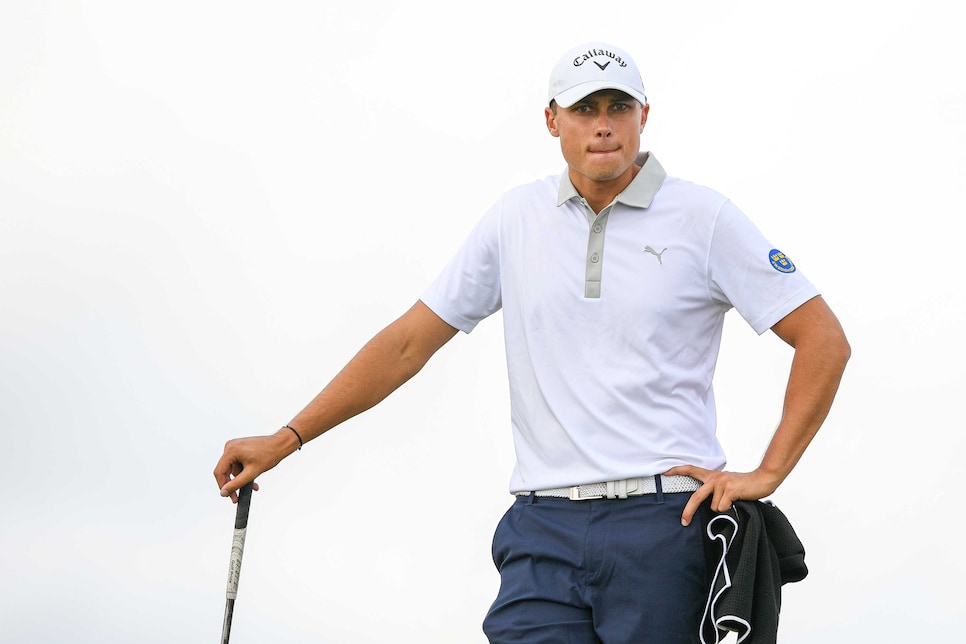 Ludvig Aberg is in line for low seven figures in combined club and clothing deals when he tees it up at next week's RBC Canadian Open.
Octavio Passos
Ludvig Aberg is the Bryce Young of the PGA Tour: After earning the first-ever automatic PGA Tour membership for his college play, the 23-year-old Texas Tech star and two-time Ben Hogan Award winner will debut as a professional next week at the RBC Canadian Open, but one place Aberg doesn't compare to the No. 1 overall NFL draft pick and new Carolina Panthers quarterback (yet) is in the wallet.
Young will earn about $40 million on his four-year rookie deal—$25 million of it paid up-front—and cash in on local and national endorsement deals. Conversely, Aberg is in line for low seven figures in combined club and clothing deals, so he'll be a millionaire when he tees it up in Toronto, but he'll have to earn his prize money the old-fashioned way—on the course.
The two recent college players (and fellow 23-year-olds) with similar profiles to Aberg's are interesting case studies in the comparative pay structures of professional golf. Chris Gotterup won the Haskins Award last year at Oklahoma and earned Korn Ferry status with his college performance. Without the automatic PGA Tour exemption Aberg got, Gotterup has gotten into three PGA Tour fall series events, made three cuts and earned $83,689. On the Korn Ferry, he has made nine cuts and another $103,895.
The other player, Eugenio Lopez Chacarra, had a 2022 season that must be one of the prime reasons the PGA Tour added the automatic membership slot Aberg got to its PGA Tour U program. Lopez Chacarra was an All-American at Oklahoma State and No. 2 in the amateur golf rankings last spring. He took an offer from LIV and won his fifth start on that tour. Over seven events, he won $7 million and finished in the top 50 in Golf Digest's ranking of the highest earners in the sport. Gotterup is eating at Chipotle. Lopez Chacarra is flying private.
The potential for guaranteed money can be a powerful draw, even if it comes with the prospect of missing out on majors. "Five years ago, the first call you'd make after signing a player would be to secure ball, club or clothing money," one agent who has represented multiple first-team All-Americans told Golf Digest for the rankings story. "Now, the first calls go to LIV and the PGA Tour. What will LIV pay? Will the PGA Tour figure out a path beyond going to Q school to get the kid out there?"
The players who finished second through fifth in the PGA Tour U rankings received automatic exemptions onto the Korn Ferry Tour. It'll be interesting to see if that's enough to satisfy the likes of 2023 NCAA individual champion Fred Biondi or Masters low amateur Sam Bennett—or if LIV will continue to try to pick off young risers to go with its roster of mostly mid- and late-career stars.