Golf Digest 50
LIV Golf's $800-million spending spree shakes up our ranking of the game's highest earners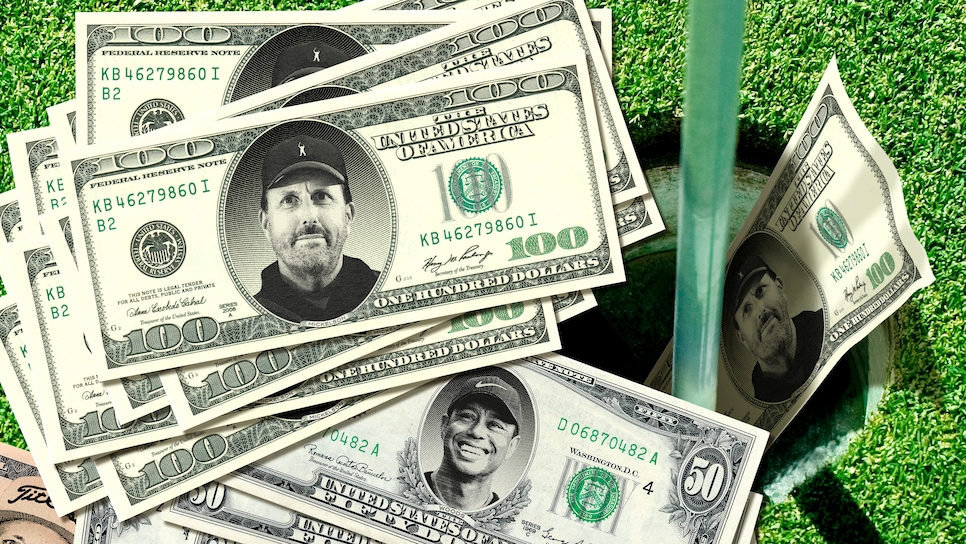 The $800 million of opaque spending into men's professional golf by a secretive regime has transformed the Golf Digest 50—our periodic look at the game's highest earners—and made the data behind the rankings harder to parse. It has always been a scavenger hunt to back-channel accurate estimates for things like how much a player such as Rory McIlroy or Jon Rahm receives for a logo on his sleeve or the headcover on his driver—or how much a player like LPGA Tour star Minjee Lee is worth in the market compared to Collin Morikawa, both 26 and two-time major champions.
Regardless of whether Phil Mickelson collected half or a third of his estimated $210-million LIV Golf "player participation agreement" fee in 2022, the impact on the financial structure of professional golf has been profound. Take something as ubiquitous as the contract between player and agent, or the relationship between a player and a main sponsor. The parameters of these deals have been relatively consistent for the past 30 years: Agents collected approximately 20 percent on any off-course deals for logos, equipment or clothing and nothing for what a player made on the course. Off the course, a player's star power—and ability to move merchandise—coincided with endorsement earnings.
However, what happens when a league makes direct payments, as LIV did for a cavalcade of players like Mickelson, Dustin Johnson, Cam Smith, Brooks Koepka, Sergio Garcia, Ian Poulter, Henrik Stenson and Bryson DeChambeau? What happens when the economics of funding the ultimate cash-burning startup turns pro golf's payroll on its head? Golf Digest spoke with multiple agents representing players on every major professional tour, both on the record and off, to better understand this most peculiar year.
For the players who went to LIV, the prospect of big up-front money was obviously an enticement, but even players who cashed enormous checks had deceptively complex decisions to make.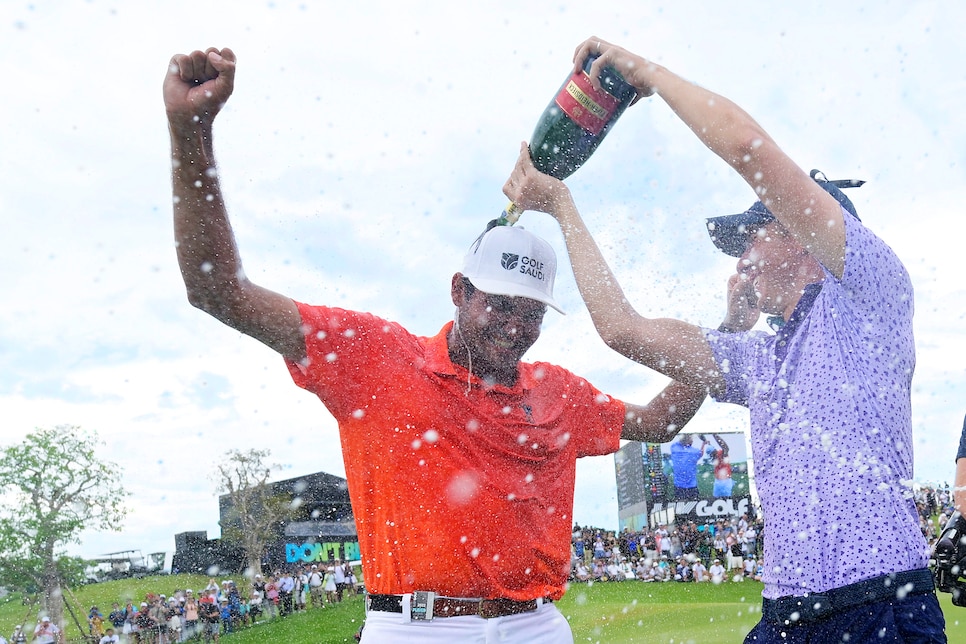 Eugenio Lopez-Chacarra, No. 44 on our money list, went straight from Oklahoma State to LIV and won in his fifth start. Photograph courtesy of Getty Images
Charles Laberge/LIV Golf
"We've seen players lose shirt, hat and club deals, which doesn't mean as much when you're getting from LIV what Bryson DeChambeau is," says one agent. Players are re-evaluating the sponsor and one-off days where the biggest stars can make a minimum of $100,000 by playing golf with corporate clients, shaking hands at meet-and-greets or hitting balls at clinics. "Why give up the time and subject yourself to that travel?" adds the agent. "But when you net it out for taxes and sort out what it could potentially do to you when it comes to your corporate relationships, you're taking, say, $100 million, and could be leaving $10 or $12 million on the table for the next 10 years. You don't know if LIV is going to be a thing in two years, so what does that math look like? It's all a guess at this point."
Even though the Public Investment Fund (PIF)—Saudi Arabia's $700-billion sovereign wealth entity—could bankroll LIV Golf forever if it wanted, many of the risks are the same as those faced by any early-stage startup employee. "LIV is still very new and generating very little revenue—but that isn't currently an issue because of the deep pockets of the PIF," says Daniel Harraghy, a sports-business analyst from Ampere Analysis, a Londonbased consulting firm. "If it's no longer seen as a worthwhile investment, players run the risk of committing to a failing enterprise while burning bridges with the PGA Tour."
The salary band that unquestionably came out a winner was the fading tour semi-hero. The Golf Digest 50 is studded with players who were staples of the last era of televised golf before high definition. A player entering the twilight stage of his regular tour career essentially is getting pre-paid for that descent path—and insurance against poor performance or injury. Pat Perez, Charles Howell and Kevin Na combined for 11 wins and $110 million in career PGA Tour prize money. They could make that much in two seasons on LIV. Perez never finished higher than 16th in 2022 and still earned $8 million in LIV prize money, thanks to his team's performance. Na shot over par in three events and withdrew from another and made $2 million.
Richard Bland won for the first time on the European Tour at age 48, in 2021. He took the LIV money and was unabashed about why. "Most of my career is behind me in regard to playing at the very highest level," he said. "I have an opportunity to play these events and secure my future, and I'd be pretty foolish to turn that down."
Players like Sergio Garcia, Lee Westwood, Graeme McDowell and deposed Ryder Cup captain Henrik Stenson almost certainly did the same calculations. "Take DJ. He's 38. What tends to happen after that age? It's not great. Every downswing is like a car wreck now," says one agent, referring to the potentially career-shortening speed and violence of the modern power game. "What if you were his agent? What would you say?"
Even the math for the deals a player makes with his team—agent, caddie, coach and trainer—has changed. The agent's cut of one of those large LIV pre-payments? "I've heard everything from players paying the full 20 percent to paying something in the middle to paying nothing at all," says one agent, who has represented multiple major champions. "Those negotiations are complex, and they have tremendous ramifications on what happens to a player in the coming years. It would be hard to argue that a player's representative isn't entitled to a share of that income. No matter what, whatever new agreement gets signed is going to have to be much more specific about how things are allocated."
ACROSS THE TOURS, SPONSOR CASH HAS BEEN TILTING TOWARD THE TOP 25 PLAYERS IN THE WORLD.
LIV's investment has had a domino effect on the PGA Tour, which increased its prize money by $150 million for 2023 and reduced the number of fully exempt players from 125 to 70. That means the players at the top of the rankings will be making a lot more money on the course and off, in the form of endorsements and bonuses like the PGA Tour's Player Impact Program. With all the different income streams (and their changing volumes) it's likely that representation deals will fundamentally change.
One possible scenario involves golf contracts that look more like those in baseball or basketball, where agents collect a smaller, set percentage on all player revenue. Those same conversations are happening with caddies and coaches, who have traditionally collected a percentage of a player's on-course earnings in addition to a stipend to cover expenses. In a world where Johnson made $37.2 million on course, Cameron Smith made $18.9 million and Scottie Scheffler $14 million, there has never been a better time to be a top-level caddie or coach.
As much money as the top players have collected, they aren't in new tax brackets. Recent college stars Eugenio Lopez- Chacarra and James Piot very much are. Both looked at the prospect of navigating the PGA Tour's paths toward membership—the season-long PGA Tour University program for college players or Korn Ferry Q school—and decided to take LIV's money and instant promotion to the big leagues.
Lopez-Chacarra was an All-American at Oklahoma State and ranked as high as second in the World Amateur Golf Rankings. Piot was a less heralded prospect but still earned all-conference honors at Michigan State and was the surprise winner of the 2021 U.S. Amateur. Lopez-Chacarra won his fifth start on LIV, in Bangkok, and earned $6.9 million in prize money for the year in only seven starts. Piot went from having no status on any tour to collecting $2 million on course in eight LIV events. Justin Suh led the Korn Ferry Tour in prize money in 2022 with $500,000. He played 24 events, won once and had 10 top-10 finishes. Which is better? That depends on how one defines "better." Lopez- Chacarra and Piot teed it up with former major champions and secured financial stability. Suh got far more reps, felt more pressure, financial and otherwise, and is arguably better prepared for the long haul of competitive golf.
To say that the path to a lucrative career in professional golf is fundamentally disrupted would be an understatement. The PGA Tour is scrambling to provide a consistent pathway for young stars to get starts in main events while changing the complexion of fields by stratifying some events as "designated" and making them for top-ranked players only. "Five years ago, the first call you'd make after signing a player would be to secure ball, club or clothing money," says one agent, who has represented multiple first-team All-Americans. "Now, the first calls go to LIV and the PGA Tour. What will LIV pay? Will the PGA Tour figure out a path beyond going to Q school to get the kid out there?"
Lopez- Chacarra became one of the 50 highest earners in the game before playing his 10th event as a professional—a trajectory much more common in team sports like the NFL and NBA.
Making the decision to join LIV comes with competitive risk. The PGA Tour has amended its regulations to say that any player—even a nonmember, like a departing college star—who plays in an "unauthorized" event is ineligible to try to qualify for the PGA Tour for a year. One agent, who has represented players on both the PGA Tour and with LIV, is critical of how the situation has been handled by the leadership in Ponte Vedra. "On the one hand, you refuse to negotiate with LIV to create a massive influx of cash that would benefit members. Then you change the rules to block players from making their best living unless they leave. It's not just the potential prize money but also sponsor conflicts. Want to be sponsored by somebody like UPS? Good luck. The PGA Tour has a deal with FedEx, and you won't get very far. Now it's even extending to nonmembers."
The list of golf 's top women earners isn't remotely as balanced as that of professional tennis, where Serena Williams, Naomi Osaka, Iga Swiatek and Emma Raducanu are all among the top 10 in the sport. Some of the social forces reshaping sports as a whole— from the U.S. Women's National Soccer Team winning pay equal to their male counterparts to female NCAA athletes like LSU gymnast Olivia Dunne dominating the name-image-likeness market—are working their way into golf. "Brands are asking questions about their entire business, and if they've traditionally worked with mostly male athletes, they are asking themselves why they aren't doing more with women," says one agent, who has represented players on the PGA and LPGA tours. "The big difference between tennis and golf is the television exposure. There's so much coverage at tennis majors where men and women are playing at the same time. That television value is worth a ton, and that just doesn't exist in golf yet."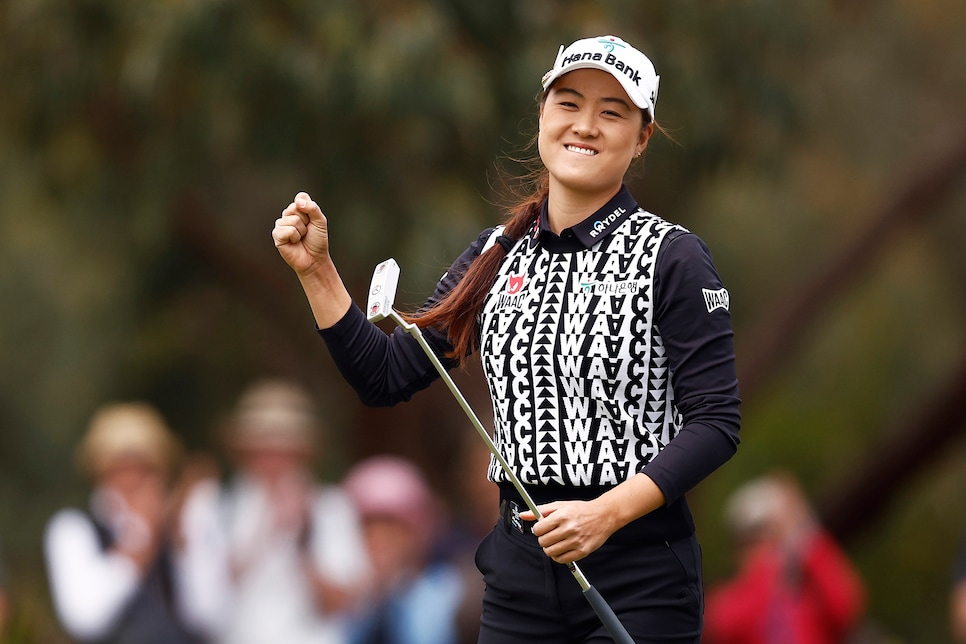 Minjee Lee made $10.4 million in 2022 to rank 48th on our money list, two spots ahead of World No. 1 Lydia Ko. Photograph by Getty Images
Daniel Pockett
Still, the reshuffling of endorsement dollars as club manufacturers pause relationships with players like Mickelson (Callaway) and DeChambeau (Cobra) leaves more budget to spend on a variety of players. It's too simple to say Nelly Korda and Brooke Henderson signed with TaylorMade because Dustin Johnson's role with the company has, at the least, been temporarily reduced, but marketing is marketing, and TaylorMade wants eyeballs. Korda's deal with TaylorMade came the day after she signed an apparel deal with Nike, making her the highest profile female golfer since Michelle Wie West.
The agents interviewed for this story almost universally say it will take at least another year or two for things to become clear and the money to reach some kind of equilibrium. There's no consensus on how LIV contracts ultimately will affect the overall endorsement market beyond the visual cues we have seen so far: For LIV players, team logos have taken the place of some logos players used to be paid by outside companies to display.
Across the tours, sponsor cash is tilting toward the top of the sport. "The real needle-movers, the top-25 players in the world, they're getting paid," says one agent who has represented multiple players who have been in the top 10 in the world. "The farther you go down the list, the sparser it gets. It used to be that getting into the top 125 automatically got you an equipment deal. Now they're picking and choosing."
LIV's business model is built around team play, but the effect of the PGA Tour's move to "designated" events—and the attention stars like Rory McIlroy and Jordan Spieth are getting in the new Netflix "Full Swing" documentary—might close some of the short-term revenue gap LIV created with its signing bonuses. "[Formula 1 series] 'Drive to Survive' has definitely shown there are financial benefits for a sport to having a successful documentary to engage new audience," Harraghy says. "ESPN paid a reported $5 million a season to broadcast F1 through 2022. The new deal, capitalizing on the increased viewership of the sport, is valued at $85 million per season, and that kind of ancillary content is likely to provide branding and business opportunities for golfers should the series find a wide enough audience."
Those new economic realities are likely to create even more growing—and shrinking—pains for the haves and have nots. "We just hope everything survives, and it doesn't turn into a situation where whatever is left is a substandard version of what we have," says one agent who has more than two decades of experience representing top-50 players. "Nobody has ever seen anything like this. For anybody to say they know for sure what's going to happen next, they're selling you something or they're bluffing."