They were heralded junior golfers who found themselves in the sport's spotlight before they could even brag about being teenagers. Lucy Li and Alexa Pano made multiple appearances at Augusta National in the Drive, Chip and Putt, represented the U.S. on Junior Ryder Cup and Solheim Cup teams and played in U.S. Women's Opens as amateurs. They both chose to forgo college to pursue their pro ambitions and now begin a new chapter of their careers at this week's Drive On Championship, playing their first official event as LPGA Tour members.
"I feel like it's been really long time since I played my first LPGA event. But I'm just super excited," Li said on Tuesday at Superstition Mountain Golf Club in Gold Canyon, Ariz. "This has been my goal for such a long time. To be finally out here, I'm just soaking in the moment and really excited to get going."
Li made her first LPGA start on the major stage of the 2014 U.S. Women's Open in Pinehurst. At 11, she was the youngest player to ever qualifier for the championship, leaving a memorable impression as she ate ice cream during her pre-tournament press conference. Now, the 20-year-old San Francisco native rolls into her rookie season after an impressive third-place showing on the 2022 Epson Tour money list, alongside four top-25 finishes in eight starts on the LPGA.
While Li hasn't played in a pro event since the Mediheal Championship last October—she's simultaneously taking a course toward her soon-to-be-declared double major in data analytics and psychology as a junior at the University of Pennsylvania—her success in 2022 serves as the bedrock of Li's confidence entering this year. Discussing her approach to her maiden season, she sounded like a multiple-year veteran.
"I know that my game is really good, so as long as I stay patient, the results will take care of themselves," Li said.
Pano's emergence also started at Pinehurst in 2013 when she was only 7 and one a handful of golfers competing at the U.S. Kids World Golf Championship who were showcased in the Netflix documentary "The Short Game." Ten years later, the 18-year-old Lake Forest, Fla., native is anxious to make her first official LPGA start after earning a card via Q-Series at the end of 2022.
"It kind of feels like I've been working towards this for a really long time, so been a very long time coming," she said.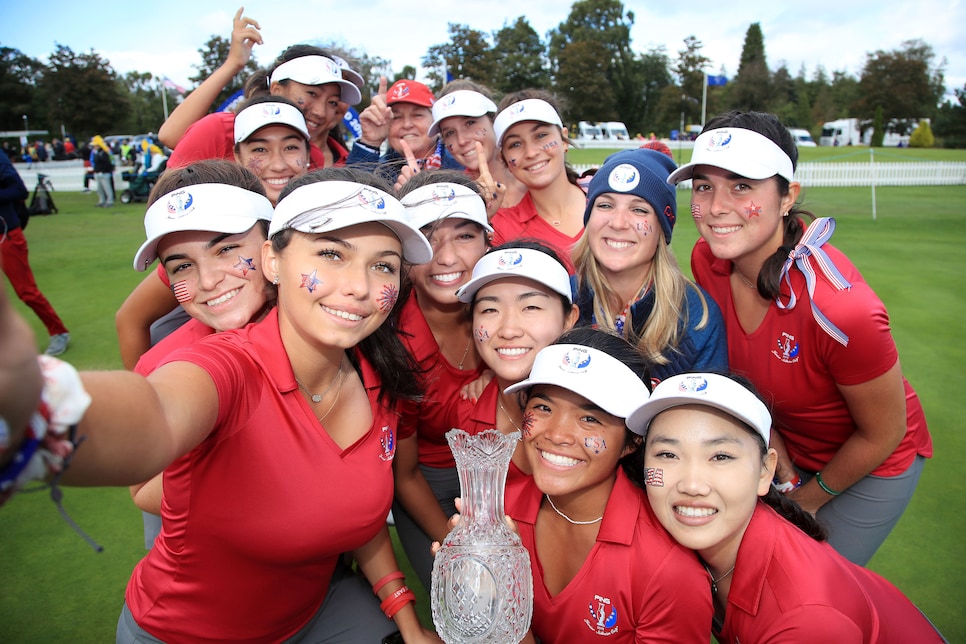 Alexa Pano (front left) and Lucy Li (front right) were teammates on the 2019 Junior Solheim Cup team that competed in Scotland.
Andrew Redington/WME IMG
Indeed, the past decade featured multiple appearances as an amateur on professional tours. Pano made her first start on the Japan LPGA Tour at 11 in the 2016 Yonex Ladies Open. Two years later she played her first LPGA event at the 2018 Thornberry Creek Classic. She turned pro last April following her third appearance at the Augusta National Women's Amateur, having earned a card on the LPGA's developmental Epson Tour.
Despite having missed the first four events on the 2022 Epson schedule, Pano almost eked out LPGA status via the tour's money list. Needing to finish in the top 10, she came in 13th, piling up five top-10s over 18 starts. But she made up for that with her T-21 performance at Q-Series last December.
Pano brings a constant throughout her golf career to her LPGA rookie debut: her father, Rick Pano, will be caddieing for her this week. They've worked together in two starts events already this year on the Epson Tour, most recently missing the cut at the Carlisle Arizona Women's Golf Classic last week.
That result might rattle some as they begin their first year on the LPGA Tour, but Pano's time on the developmental tour taught her patience. It's a key virtue she wants to bring into her LPGA approach starting this week in the Arizona desert.
"I think staying focused week to week on what I can control, and a little bit of what Lucy said is not being too hard on yourself and being really patient is a big deal out here," she said.
The potential for Li and Pano to break out early in the 2023 season is real, and something that others are watching for, notably U.S. Solheim Cup captain Stacy Lewis. Li and Pano shared that they have had conversations with Lewis about their potential prospects toward making the American team that will compete in Spain in September.
A first step to accomplishing that would be playing their way into the first major, the Chevron Championship, in late April. While they both acknowledge that's a goal for them, Pano and Li are instead each preaching a long-horizon view of the season developed from their lengthy tenure under the spotlight.
"I'm here to compete and want to do my best, and I have big goals in that aspect, but still just want to learn something every week and learn about myself more and experience things like I did last year," Pano said.