U.S. Women's Open
The 'ice cream girl' Lucy Li is all grown up for this U.S. Women's Open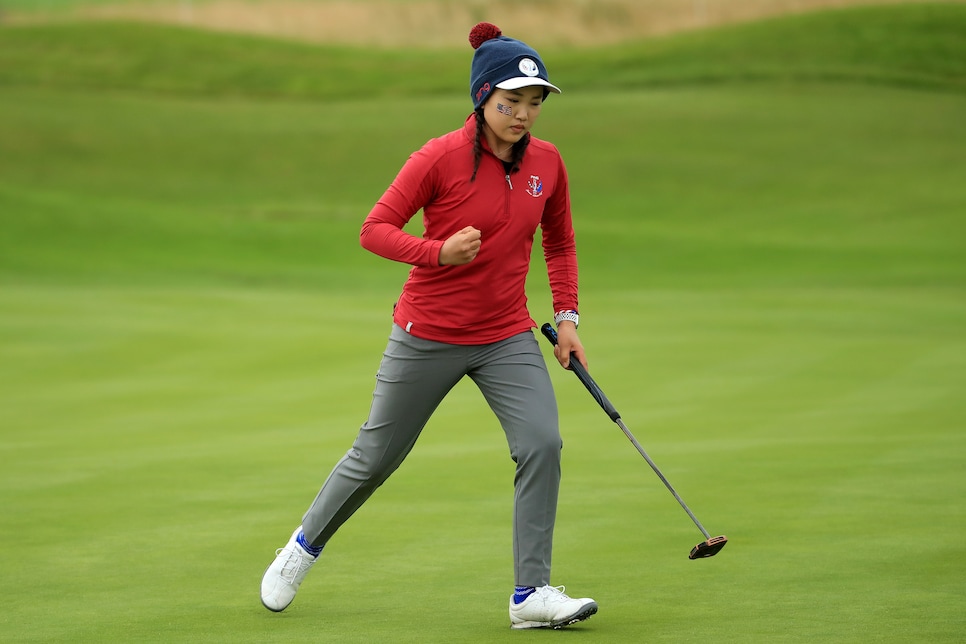 The 2014 U.S. Women's Open at Pinehurst No. 2 had more than its share of intrigue. For the first time in history, the USGA staged the U.S. Open and U.S. Women's Open back-to-back at the same venue. And after Martin Kaymer's impressive but drama-free eight-shot win in the first week, the women fashioned a more thrilling affair, with Michelle Wie seizing her first and so far only major championship title.
But let us not forget the girl and her ice cream.
On June 19, 2014—the first day of the U.S. Women's Open—Northern California native Lucy Li was 11 years, 8 months and 19 days old. By emerging the previous month from a qualifier at Half Moon Bay with scores of 74-68, she was the youngest player to ever qualify for the national championship, a distinction she still holds. She'd already made USGA history the previous August when she reached the 2013 U.S. Women's Amateur at 10 years old. That's also still the record.
Li was a prodigy, to be sure, but she hardly seemed burdened by the experience of competing against the best players in the world. She showed up for the first round at Pinehurst with her hair in pigtails and wore a red, white and blue blouse adorned with stars and stripes and matching skirt.
Then, after she'd shot a 78 (she'd miss the cut on Friday following another 78), Li locked up the championship's popularity contest with one of the most endearing scenes in the history of majors. Li bounced up to the podium in front of a horde of cameras and reporters with a pink Starburst ice cream bar in her left hand. Asked what she planned to do the rest of the day, she quipped with a grin, "Eat some more ice cream."
That did it. Even among those who possibly looked askance at such a young child being even allowed to play in such a prestigious event, hearts melted, just as the sticky stuff dripped down the girl's fingers as she spoke.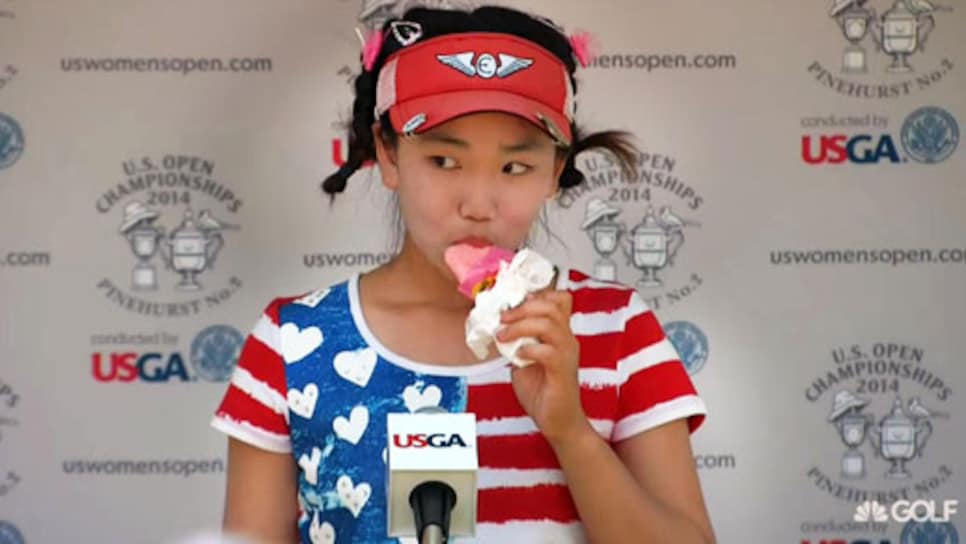 Lucy Li brought an ice cream to her press conference after the first round of the 2014 U.S. Women's Open.
People were going to remember Lucy Li.
The name will be recognizable again in the coming week when fans watch coverage of the 76th U.S. Women's Open, which visits The Olympic Club's Lake Course for the first time after the course has hosted five U.S. Opens. Once again emerging from a sectional qualifier at Half Moon Bay, Li will play in her third Women's Open at the venue only 20 miles north of her home in Redwood Shores. She is 18 now, and after deciding not to pursue college golf and turning pro in November 2019, she competes on the LPGA's second-level Symetra Tour.
"From the time it was announced [in 2016] that they were going to Olympic Club, this has been on my radar as something I wanted to play in," Li said on the phone this week.
Life is very different for Li, of course. Her amateur career ended a bit awkwardly when the USGA gave her a one-time warning in early 2019 for breaking amateur rules by participating in an Apple Watch ad (she received no payment). She's playing for checks now and grinding away at giving her game the nuances she couldn't possess as a grade-schooler. But anytime she sees a USGA flag flying, the memories are freshened.
"When I look back, it seems pretty crazy to me. It does seem a bit overwhelming," Li said. "When I was eating that ice cream, I was carefree. I was genuinely having a good time. I don't think I fully comprehended all of it.
"At the time we ended up turning down a ton of media," she added, noting that when her parents asked her if she wanted to be flown to New York to appear on "Good Morning America," she begged off, saying, "I'm too tired for all of this.
"My family just wanted to focus on me being a kid," she recalled. "That experience was kind of on my own terms. I just remember it being really fun, and obviously it gave me a big confidence boost for my career."
Morgan Pressel, the LPGA Tour player who is working the Women's Open as a commentator for Golf Channel and NBC, recalled seeing Li during the week at Pinehurst and chuckling to herself.
"I just remember looking at her and thinking, Oh my gosh, was I that small when I was that young?" Pressel said this week on a call with reporters. "And it was cool to see her out there, and her spunk, and her passion, and all of the fun, youthful energy she brought to the Open then."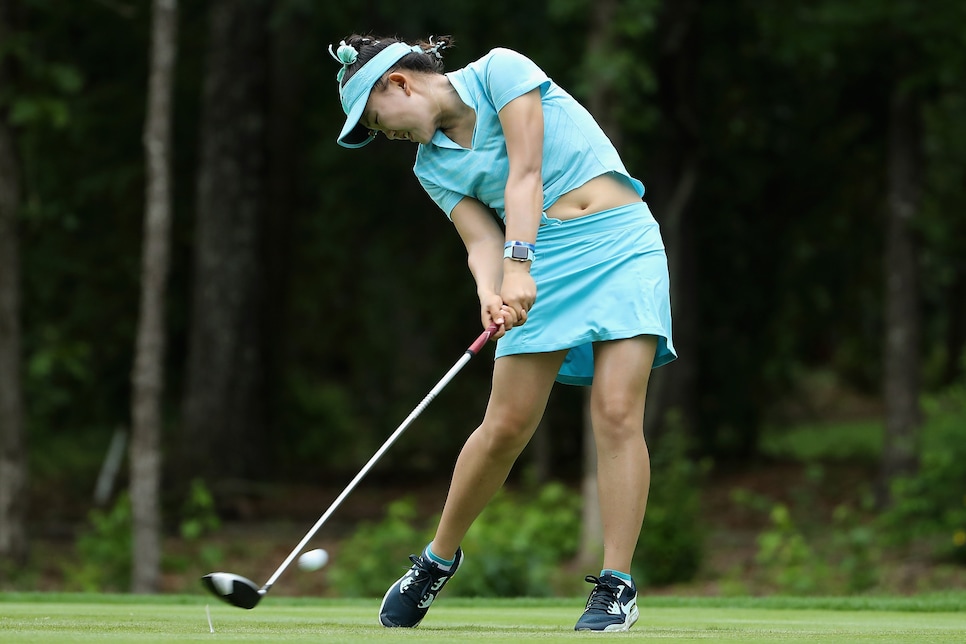 Lucy Li hits a drive during the 2018 U.S. Women's Open.
Christian Petersen
More than most, Pressel could put herself in Li's tiny golf shoes. In 2001, Pressel was then the youngest, at 12, to qualify for the Women's Open.
Like Pressel, who skipped college, turned pro and has notched five LPGA wins (including a major at the ANA in 2007) over 16 years, Li has always been precocious. In addition to her USGA achievements, she won her age-group division in the inaugural National Drive, Chip & Putt at Augusta National in 2014, captured the 2016 PGA Junior Championship, earned low-amateur honors in the 2017 ANA Inspiration and, at 15, contributed heavily to the U.S. team's rout in the 2018 Curtis Cup. Also in '18, Li played in her second Women's Open, finishing T-55 at Shoal Creek.
Most of the members of the Curtis Cup squad have moved on to professional golf, including Jennifer Kupcho, Andrea Lee and Lauren Stephenson. Fellow Californian Lilia Vu is a friend, and she and Li are on the Symetra together. They are certainly paying their dues. The COVID-19 pandemic wiped out much of the 2020 Symetra season and eliminated any opportunity to advance to the LPGA Tour though either the money list or LPGA Q-Series.
"It's been disappointing for everyone," Li said, "but I think I'm the type of person who just rolls with the punches. I just accepted it and moved on."
Moved on—that phrase took on a new meaning in the last year, with Li and her family members—mom, dad and aunt—traveling around the country in a Mercedes SUV to Symetra events, for which her father, Warren, served as caddie. The car was packed to the headliner. "I'm a girl," Lucy said. "I have a lot of stuff."
At one point, Lucy recalled, they drove from Florida to pick up her brother in New York and then across the country to San Francisco with few stops other than to eat and go to the bathroom.
"It ended up being a fun experience," Li said with a laugh, "but our car has too many miles on it."
Li got off to a good start last fall, finishing T-11 in the Symetra Tour Championship and runner-up in the Symetra Classic. By the year's end, she'd banked four top-10s and hadn't missed a cut. But the new year has been more challenging. In five starts, her best finish is T-10 and she's 33rd on the money list at $10,863. Only the top 10 money winners at season's end earn an LPGA Tour card. Beyond that, there's a return to the Q-Series.
"When I look back, it seems pretty crazy to me. It does seem a bit overwhelming. When I was eating that ice cream, I was carefree. I was genuinely having a good time. I don't think I fully comprehended all of it."
—Lucy Li recalling her start in the 2014 U.S. Women's Open at age 11
"There's definitely been an adjustment," Li said. "When I was playing amateur and junior golf, it was different, and I realized that there's probably some sort of internal pressure [now], or a sense of urgency. I'm not someone who plays well running hot.
"There are a lot of great players out there. You have to wait for your week to come, to be patient. And I remember getting really frustrated toward the end of tournaments last year. It's something I've definitely learned and grown from. I don't get quite as frustrated when I'm not playing well or putting well. I'm happy about that."
Women's pro golf has seen younger and younger players, particularly from other countries, attempt to make the top tours. That will always stir debate by those who weigh the value of experience and personal growth gained at a university versus both the courage and strain of competing against the best right away.
"When you're talking about such a gifted player, I don't think there's a playbook. I don't think there's a path or the right way to do it," said former LPGA player Paige Mackenzie, who is part of the Golf Channel broadcast team.
Kay Cockerill, a Northern California native and former pro who has mentored players on how to approach The Olympic Club for the championship, hasn't played golf with Li, but did help her find a caddie for the week. She is well aware of Li's story, and while she's a "big proponent" of athletes attending college, she lauds Li's intelligence and drive. There's a twinge of concern, too.
"It's a tough grind to jump to professional golf at a young age," Cockerill said. "And I think even those that have won everything around them and then transition into professional golf, there's no guarantee that they're going to succeed.
"Who knows? Maybe she's peaked at 14, 15. Maybe her peak days are up ahead. But she's a nice young kid and she has a passion for the game. She's choosing to follow it. I wish her the best, but it's not going to be an easy road."
Yet it's one Li hopes she can navigate successfully, starting with some solid play in a championship where she'll long be remembered as the ice cream girl.