The Loop
Why Drive, Chip and Putt was such a big win
Is anyone surprised Augusta National pulled off a rousing success?
Oh sure, the PGA of America's members and USGA staffers contributed much of the dirty work in getting the 88 amazing kids from around the country through all-day qualifiers and into the Drive, Chip and Putt finals. And they pulled it off on short notice, piecing together a national qualifier system following last year's Masters Wednesday announcement. But for the Drive, Chip and Putt to have an impact on the game, the finals had to feel like a legitimate competition, not just another slick ad campaign.
Make no mistake, this was an Augusta National operation from the start and succeeded thanks to the club showcasing golf as only it can do.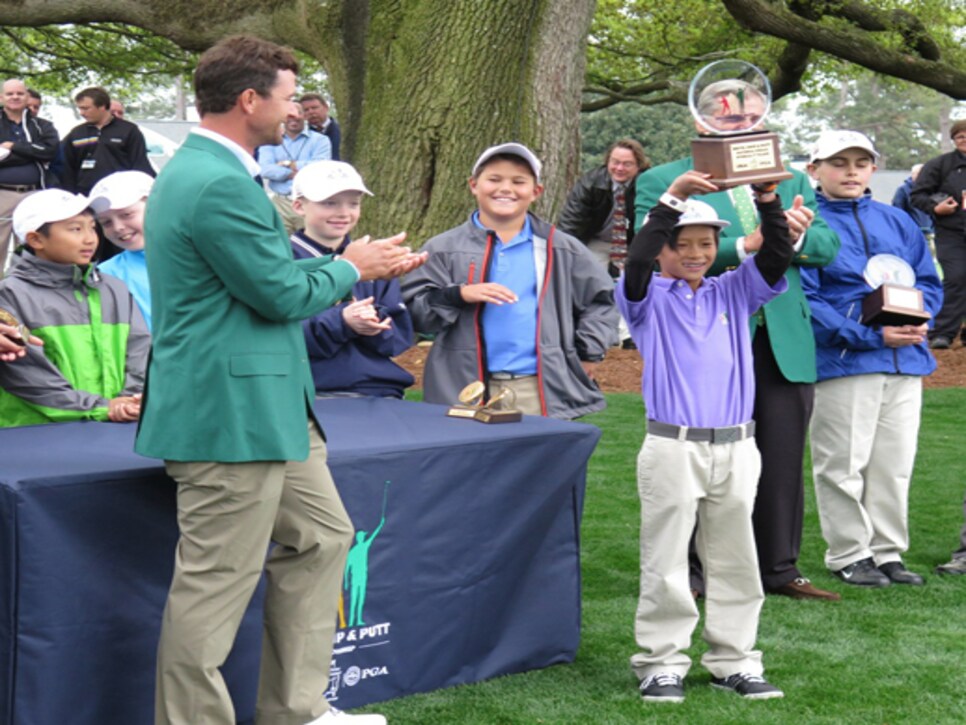 Even Augusta National chairman Billy Payne admitted afterwards that it was "hard to be sure" what to expect. But early on in Sunday's DCP, it was clear this was the kind of genuine campaign poster golf has been waiting for.
Yes, there were the well-produced pre-packaged features by Golf Channel telling us the contestant backstories, a necessary component to humanizing the contestants. (Payne called Golf Channel's coverage effort "remarkable.") Ultimately though, as hoped, it was the high-definition skills competition contested on the storied property that any golfer could enjoy watching. There were kids of all shapes and sizes -- even cross-handed players Logan Medcalf and Patrick Welch -- competing with stunning dignity under what most of us would think of as unimaginable pressure. Yet for all of their nerves, the air at Augusta National's practice areas and 18th green was one of dignified joy at the site of young people demonstrating hard-earned skill.
Adding to the scene was the unexpected interest of past champions and contestants. There was Darren Clark warming up on the range, stopping between shots to watch 9-year-olds drive it 200 yards. Jordan Spieth high-fived competitors rotating through the drive, chip and putt stations, appearing genuinely tickled at the sight of it all. Fred Couples leaned on his putter as only the 1992 Masters champion could, genuinely fascinated to watch young boys and girls trying to make putts. So did Mark O'Meara and Vijay Singh. Sprinkled throughout the stations or in the galleries were club members in their green jackets, including Comcast CEO Brian Roberts helming a microphone to announce players on the 18th green.
Best of all was defending champion Adam Scott, who happened to walk out of the locker room and right into the Boys 10-11 trophy ceremony. Scott shook hands with the group, then agreed to pose for photos. His Green Jacket was sent for. Scott ended up handing out trophies to the first and second place winners in each category, along with the overall trophy to 11-year-old Leo Cheng, whose father had packed a dark green sports coat that Leo dawned.‿‿
"I thought the ceremonial duties would come later on in my career," Scott joked after spending 20 minutes with the kids.‿‿
These beautiful images and the contestants' rave reviews ensures the Drive, Chip and Putt is only going to get bigger and maybe even explode into something more massive than the three entities driving this could have dreamed. A USGA source says registration for the 2015 version, opened during the five-hour Golf Channel telecast, had already signed up 1,000 in the first hour. A cap of 50,000, up from 17,500 in 2014, has been put in place with local qualifiers at 256 host sites, new sub-regionals at 50 eye-catching sites, followed by 80 talented children reaching Augusta next year (down from 88 this year due to the new structure). ‿‿
As for the inevitable "tweaks," the greatest compliment to this year's event may be that few changes are needed. The 10-11 and 9-and-under categories were the most fun to watch. Nothing against the blossoming teenagers, but flipping the order next year to finish the day with the youngest, sweetest, most impressive wee ones would make better television and end the day on an even more resounding note.‿‿
Also helpful would be a golf manufacturer stepping forward to partner with the allied associations to sell Drive, Chip and Putt branded starter sets. A sleeve of balls, a putter, a wedge and a driver at an affordable price could be the next component in the "growth" part of the DCP that Billy Payne, PGA of America president Ted Bishop and then USGA president Glen Nager envisioned a year ago when announcing the event.‿‿
After sitting in the audience to listen to the winners of the eight categories field questions in the same Masters press room where Adam Scott held course 12 months ago, Payne's enthusiasm for the inaugural event and its first-time winners was hard to miss.
"Judging by the swings we saw today," he said, "we're going to be hearing from them again."‿‿
And judging by year one of the Drive, Chip and Putt, Augusta National and its allied friends at the USGA and PGA of America will be hearing from a whole lot of junior golfers.