LPGA Tour
LPGA players react to tour's new gambling deals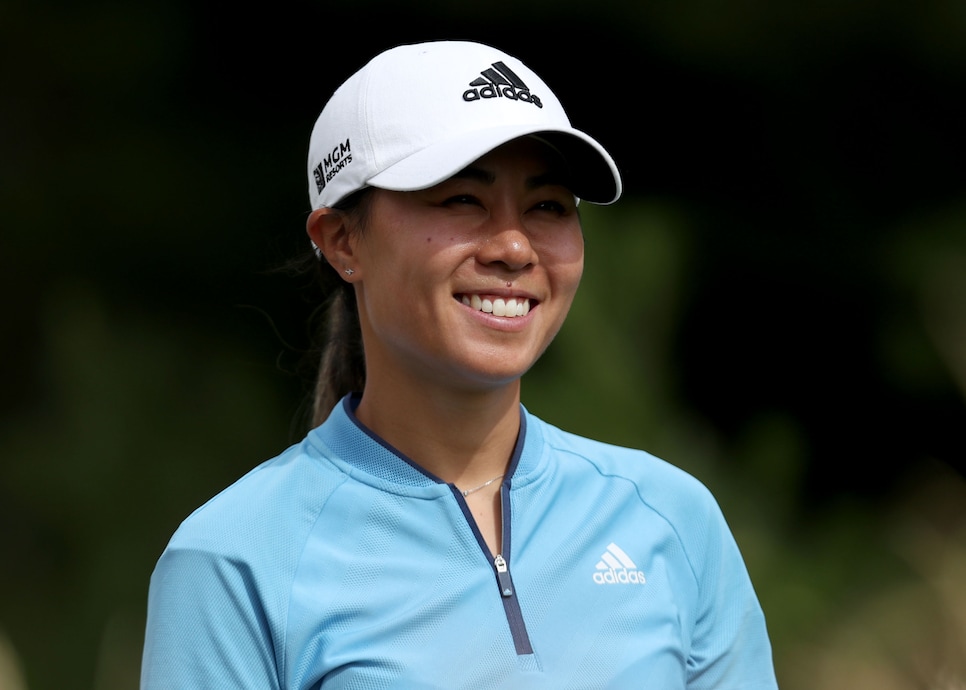 Danielle Kang of the United States smiles after holing out on the 11th hole during Saturday's action at the Bank of Hope Match-Play at Shadow Creek.
Jed Jacobsohn
"I believe it'll definitely help because it's a huge part of golf. Golf itself is a gambling sport," Danielle Kang, who's sponsored by MGM Resorts, told Golf Digest.
"I do believe that we need to promote gambling because the golf game itself is gambling. I want people to have fun playing one on one, head to head, bet on people they want to bet on, and I think that'll bring more interest into the game."
Mel Reid, an avid bettor who plays with Brooks Koepka for money games in Florida, is also all-in on the LPGA's move. "People love to bet. They'll bet on anything. They'll bet on horses, dogs. Hopefully, we're not the bottom of the food chain," Reid said.
"It would be nice if people bet on women's golf, especially a tournament like this. I think it's really fun to bet on match play."
Golf Channel began incorporating odds and other sports betting integrations like odds for players to emerge from their groups into its broadcast this weekend, like it has for the PGA Tour with its deals with official betting operators. The increase in focus does increase the possibility of fans—who have placed bets and are on-site—looking to affect outcomes, as Justin Thomas noted in February. It's a concern that seven-time winner Angela Stanford knows needs to be taken care of with a substantial punishment.
"If there's an incident like that, if somebody gets rowdy, it's on the players and the caddies in the group to call security and have that person thrown out for good. I think it has to be something like that and to never come back to an LPGA tournament," Stanford said.
Stanford also voiced thoughts on the possibility of those inside the LPGA ropes betting.
"I don't think there's anything wrong with people outside of LPGA, just a fan," Stanford said. "I don't see anything wrong with them betting. It makes them watch us. It makes them pay attention. As long as nobody inside of the LPGA is betting on ourselves or on the tour, I don't see a problem with it."
The LPGA Tour put its players through sports betting integrity services in a partnership with Genius Sports in June 2019 to ensure Stanford's scenario doesn't happen internally.
Kang also believes it'll make the action more relatable for fans. "That's what golf is. You always play for something. If you don't play for anything, that's just practice by yourself. If you're not playing for anything, what are you playing for?"