A LIV golfer has won a major championship, others have contended, and now there's a chance LIV and the PGA Tour could one day join forces. But one sticky detail remains: LIV Golf is no closer to earning accreditation from the Official World Golf Ranking.
A little more than a year after the upstart circuit applied for accreditation from the OWGR committee, the review process has been gummed up by two key points of contention, one in which the subject of cheating was broached.
The OWGR board of directors met Tuesday at Royal Liverpool, and while it was confirmed that LIV Golf was discussed both among the board of directors and the smaller LIV application committee—formed in December and comprised of the representatives from the four major championships—no decisions were made. According to sources from both LIV and OWGR, no decisions can be made.
Well, OK, there has been one recent development. But it had the effect of ensuring that the wheels keep spinning while nothing moves. When the PGA Tour announced in early June that it and the DP World Tour had reached a framework agreement to join forces with the Saudi Public Investment Fund, which underwrites LIV Golf, the OWGR suggested pausing LIV's application because of "uncertainties" with the deal. The framework agreement includes a provision in which LIV and the future of team golf will be evaluated by the new partnership, which is to be led by PGA Tour commissioner Jay Monahan.
"We went back and said, 'Absolutely not.' We would like to continue pressing forward," said one LIV executive who spoke on condition of anonymity. "As far as we are concerned, we've got multi-year agreements with venues, with players, with broadcasters, with suppliers. There isn't any uncertainty from our point of view."
That was the last substantive communication between LIV and OWGR.
The two sides have reached an impasse on two issues: the integrity of the individual competition amid a simultaneous team contest; and the apparent lack of a merit-based qualifying system, one that has neither a Q School nor Monday qualifying, but rewards tour spots via invitation. As to the latter item, LIV Golf created a relegation and promotion plan in February that it believes addresses that issue, giving three spots in a November "promotion" tournament and another to the winner of the Asian Tour's International Series. But OWGR counters that relegation doesn't appear to be based solely on merit if certain players have contracts that insulate them from the process. Meanwhile, other players can be simply added through recruitment.
LIV insists its 48-man field will see a 25-percent turnover for 2024. OWGR doesn't see how that's possible. "They can't define that system for us, so therefore we can't put a number on that," said one OWGR official with knowledge of the communications between the sides.
Rewinding the tape a bit to December, the LIV application committee was formed when Monahan, Keith Pelley from the DP World Tour, and European Tour official Keith Waters recused themselves from decisions pertaining to LIV. Those moves also removed the OWGR technical committee from the application process.
Until recently, there had been dozens of exchanges between LIV and OWGR, with LIV answering "100 to 200 questions" about its operations and format.
In May, in separate interviews, Mike Whan of the USGA and Seth Waugh of the PGA of America, members of the board and the LIV application committee, provided insight into where things stand, noting that progress had been made and that certain issues "can be addressed mathematically." By that they mean that elements of the LIV Golf model, such as 48-man fields and 54-hole tournaments, might compel the OWGR to devise a formula for awarding LIV events a fraction of the points that would be allocated to other tours.
The OWGR last sent a letter to LIV in late April. LIV officials said they had responded both in oral and written fashion by the end of May. Other than the brief communication in June about potentially pausing the application, each side is waiting to hear more from the other how to resolve the aforementioned sticking points.
The most vexing issue relates to competitive integrity. LIV officials said any such claims are fallacious and reportedly went so far as to ask if OWGR representatives were accusing its players of cheating. LIV contends that it hasn't found a scenario where "team play impacts individual play in a meaningful way." And according to sources, LIV's response to that line of questioning was, "If you've got a concern that they're gonna throw a score because of their team, you're effectively calling them cheats."
For its part, the OWGR has a curiosity about results based on the "Sebastian Munoz conundrum" at the LIV Golf Orlando event leading into the Masters. Brooks Koepka beat Munoz by a stroke after the latter player cautiously two-putted for par when a birdie would have forced a playoff. In the aftermath, Munoz admitted playing conservatively to preserve a victory for his Torque GC team. "It's weird, because I knew we were one stroke ahead on the team, so I couldn't go extra. I knew I couldn't be too aggressive," the Colombian golfer said.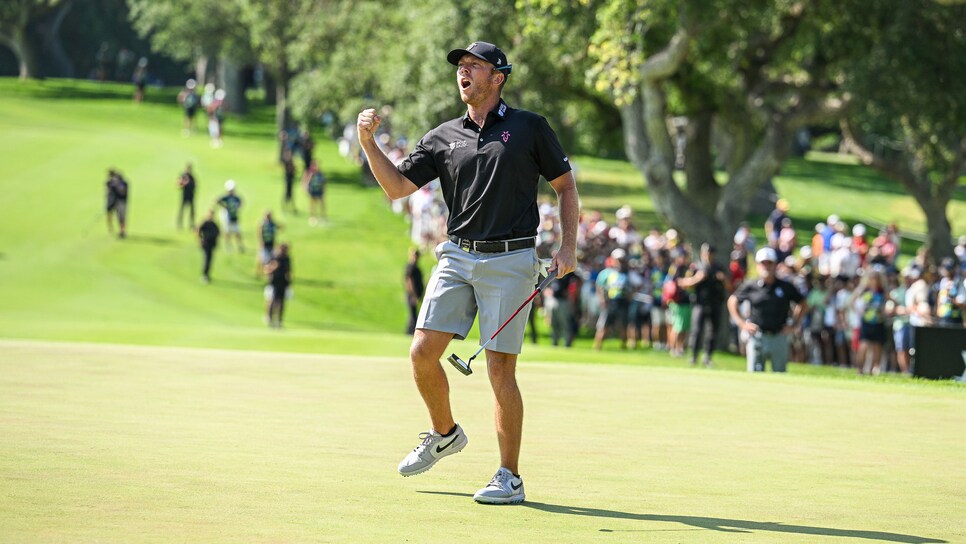 Talor Gooch celebrates after sinking a birdie putt on the 18th hole during Day 3 of the 2023 LIV Golf Andalucia.
Octavio Passos
To the OWGR, ranking players on a tour in which some of its competitors might occasionally prioritize team success ahead of their individual standing presents a thorny problem. It's not an exaggeration to say this is the crux of the impasse between the two sides.
LIV argues that its omission from the OWGR renders the world rankings as fundamentally flawed and inaccurate. The OWGR counters that the inclusion of LIV might distort the rankings as a whole if the league's team component potentially compromises individual results.
"They're relying on the integrity of their players, and we respect that," an OWGR official said. "We have an equal trust in their integrity. It's not really an integrity issue, it's a conflict issue. All credit to Sebastian for being a team player. That's commendable. But he was conflicted. And that very clearly weighed on the final results."
Martin Slumbers, CEO of the R&A and a member of the OWGR board and the LIV application committee, fielded a general question on the eve of the 151st Open Championship about the accuracy of the rankings. A revised ranking formula was introduced last August and among the changes was putting more emphasis on winning. The Orlando result raises a huge red flag.
"I think except for that situation [the omission of LIV in the rankings], the new model is working well," Slumbers said. "It is mathematically correct. It works on strength of field, and it works on ability and benefit from winning."
In reference to LIV specifically, Slumbers said: "What we're trying to work through is rankings, is trying to rank eligible tours. I think a lot of people get confused that rankings is trying to rank individual players. It's eligible tours that are comparable, and then we rank the players within that. It is a complex problem, and it may be that the world has to change. But at the moment, that's still under work in progress and being reviewed."
LIV applied for OWGR accreditation on July 12, 2022. A few days later, Cameron Smith won the Open at St. Andrews and rose to No. 2 in the world. The Australian left for LIV at the end of the PGA Tour season and has managed to remain in the top 10 thanks to a victory in the Australian PGA and top-10 finishes in the PGA Championship (T-9) and U.S. Open (fourth). The only other LIV player in the top 20 is Brooks Koepka, winner of the PGA and runner-up at the Masters. He has risen from 78th to 12th after his T-17 finish at the U.S. Open. No. 47 Joaquin Niemann rounds out the list of top-50 LIV golfers.
LIV resumes its schedule next week at The Greenbrier (a former PGA Tour site) in White Sulphur Springs, W.Va., its 10th event of the year.
"We have to ask," said one LIV spokesman, "at what point does it stop mattering? We're not far away from that. We might actually be past it already if it's going to take another 12 to 18 months. How can anyone argue that the rankings are reflective of the overall quality of play around the world.
"It's really in the interest of the OWGR probably more than it is LIV for LIV players to have world ranking points. The longer it goes, the more it reflects negatively on the rankings."
Countered an OWGR spokesman: "We are doing everything we are supposed to be doing and what we always have done in ranking tours. We'd like to get this done. We've asked questions and gotten answers except on two very fundamental things. These are existential items. They're binary. They either work or they don't. The best thing might be to hit pause, see what gets sorted out in golf over the next however many months rather than all of us gnashing teeth over it."
For all intents and purposes, the matter at hand already has hit pause.