LIV Golf
LIV Golf says Greg Norman has not been fired as CEO amid reports that he could be replaced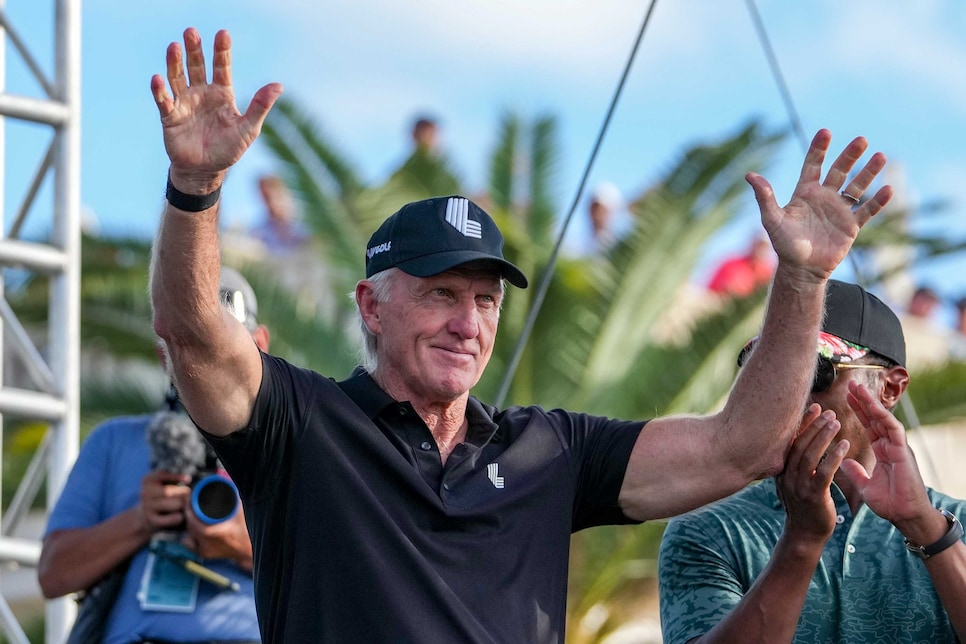 Amid reports that Greg Norman is on the outs with LIV Golf, the Saudi-backed circuit insists he remains with the organization.
Earlier this week the Telegraph reported that Norman may be outed as LIV Golf CEO in favor of Taco Bell executive and former TaylorMade CEO Mark King. It is a rumor that has existed in some iteration since the summer; that Norman has often been incapable of putting one foot forward without tripping over the other has not quieted whispers that the fate of the league may be better off in someone else's hands.
However, LIV Golf Managing Director Majed Al-Sorour has issued a response to the Telegraph's report, saying that Norman is not going anywhere.
"Greg Norman is our CEO and Commissioner. Any suggestion that changes are being made to Greg's title or role is patently false," Al-Sorour said.
Since being named the CEO of LIV Golf last fall, Norman has made numerous speaking gaffes, including downplaying Washington Post Jamal Khashoggi's murder by Saudi Arabian authorities by saying, "We all make mistakes." His open letter threatening PGA Tour Commissioner Jay Monahan was widely ridiculed, and depending on the day, he vacillates between wanting to battle the PGA Tour over the fate of professional golf and wanting to work with them. Norman's also been prone to making grand promises regarding his league or player moves, and most of those promises have not come to fruition.
Conversely, in spite of his public failings, a number of LIV Golf members remain in Norman's corner, sources have told Golf Digest, believing Norman has provided them proper cover from backlash for joining an entity with numerous human-rights issues attached.
King spent over 30 years with TaylorMade, along with brief stints at Callaway and Honma. He was noted for relentless innovation and equally relentless product launches, eventually reaching more than 50 percent market share in metalwoods at one time with TaylorMade and launching four new drivers in one 12-month span.
LIV Golf's inaugural season finished in October. Its 2023 schedule is expected to have 14 tournaments, although a schedule has yet to be released.