Latin America Amateur Championship
Argentina's de Oliveira ties LAAC scoring record with 63 to take big lead into most important round of his life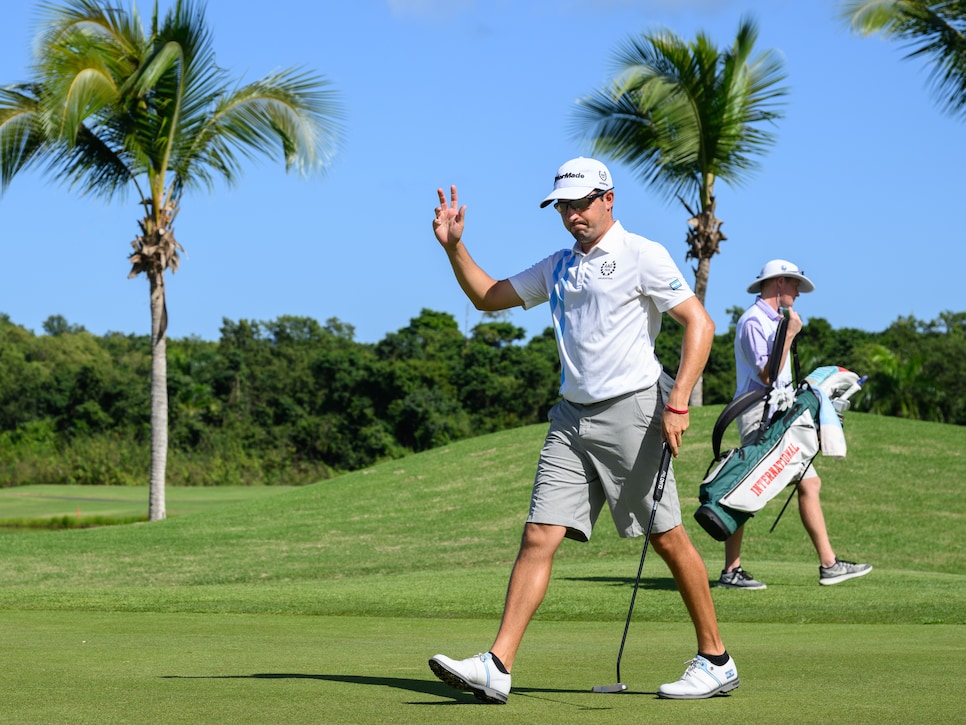 Mateo Fernandez de Oliveira of Argentina celebrates on the 15th hole during the third round of the 2023 Latin America Amateur Championship.
Charles Laberge
RIO GRANDE, Puerto Rico — There were, perhaps, a few hints that Mateo Fernandez de Oliveira might be a player of destiny this weekend at Grande Reserve Golf Club on the north coast of Puerto Rico, where this year's Latin America Amateur Championship will culminate on Sunday.
First, of course, was his skill—he's the second-highest ranked player in the field (at No. 34) in the World Amateur Golf Rankings, behind only Brazil's Fred Biondi. Second, is the brimming confidence of everyone around him after de Oliveira shot 67 to sit one shot outside the lead. Third, this tournament means everything to him, starting with the first-ever installment in 2015, when he worked as a volunteer in scoring at Pilar Golf Club in Buenos Aires. And fourth, if you believe in cosmic trends, is the interesting fact that two former champions, Alvaro Ortiz and Joaquin Niemann, won the LAAC after finishing second the year before—just as de Oliveira was runner-up in 2022 after failing to birdie the last hole.
None of that, however, gave any indication as to the fireworks that he'd unleash on Saturday. On a hot, sunny day, the birdies came early and often for de Oliveira, and when it was all over, he posted a bogey-free, nine-under 63, which tied for the best score in LAAC history with his countryman Niemann. De Oliveira's 18-under total also ties the best 54-hole score at the Puerto Rico Open, played on the same course, set by Viktor Hovland—possibly a good sign for his future professional ambitions.
De Oliveira, 22, will take a four-shot lead into Sunday, joined by Mexico's Luis Carrera (14 under) and Argentina's Vicente Marzillo (13 under) in the final group. For the first time this week, de Oliveira will be separated from playing with his University of Arkansas teammate Julian Perico, whose 67 left him in a tie for third (13 under), but just out of the last threesome.
Perhaps the name that will resonate the most, though, is the one who isn't here: Niemann himself. On Saturday, de Oliveira wore a white shirt with two light blue stripes running down the right side, a tribute to Argentina, and for players of his generation, Niemann is the measuring stick for global success.
"Well, I grew up playing a couple tournaments with him when I was younger," de Oliveira said. "I remember the first time we played together I was 16 and he was 18 ... what he has contributed to the game of golf in South American and Latin America is huge. So, it's good to have a guy like him that is a role model for us."
De Oliveira made birdie on his very first hole with a pinpoint approach, struck again on 3 and 4 with more terrific iron play (he pointed to his 8-iron into the wind on 4, leaving him a 12-foot birdie putt, as one of his better shots), and then went into a dormant stretch. On the 10th hole, though, he made a good scrambling par, and from there the floodgates opened. Shot after shot targeted the pin with precision, and five straight birdies fell. With a final salvo on 18, de Oliveira reached his gaudy number and put the critical distance between himself and the chase pack. Through it all, though, the physical excellence wasn't what he perceived as his greatest strength.
"I think the mental game was very good," he said. "In the middle I had a stretch where putts were not dropping and I was not taking advantage of the par 5s, but I kept myself patient."
De Oliveira was also asked about last year, and whether that might haunt him in some way as he tries to secure the title without letting the stakes get to him—the winner here gets automatic entry into the Masters, the Open Championship, and now, the U.S. Open. As he pointed out, though, the situation is quite different. He was seven shots off the lead on that Sunday morning and had to turn in a superb effort to have even a remote shot. Now, he's leading, and he likes being a frontrunner. It will be up to everyone else to catch him, and after close calls both at last year's LAAC, the Western Amateur, and the 2022 NCAA Championships, it's a good bet that he'll be ready to close the door and claim the biggest title of his life.
"I will try to make it as a normal Sunday," he said. "I know it's not going to be like that. Probably, I will have a hard time sleeping, a hard time eating breakfast, eating dinner as well ... but I'll just try to keep enjoying the week."