The Loop
Lamar Jackson's pregame meal is straight out of the Michael Scott carbo-load playbook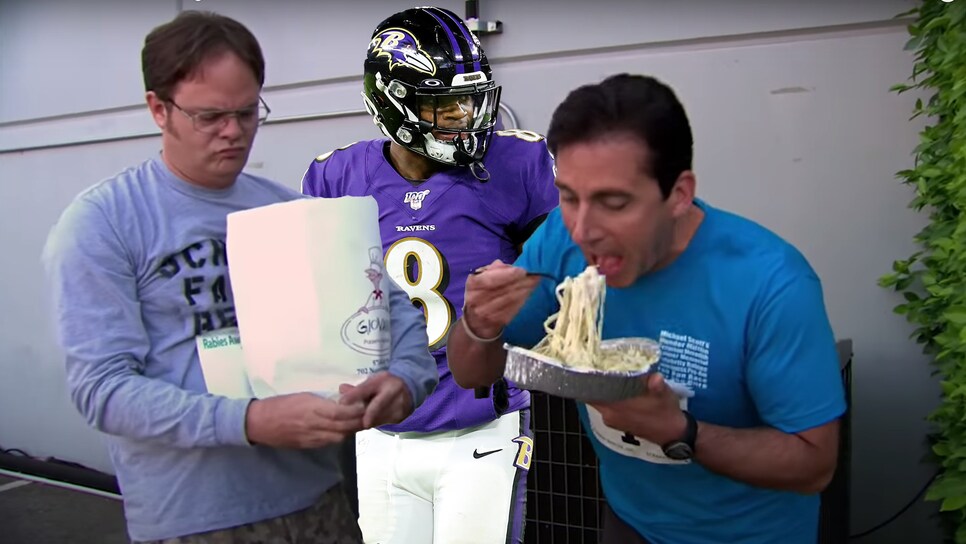 Folks, Lamar Jackson is a professional athlete. Actually, scratch that. Lamar Jackson is an ELITE professional athlete. Say what you want about his ability to put a 15-yard out where only his guy can get it or his lack of success in the playoffs (so far), but the guy won an NFL MVP last year. That takes some doing.
All of which is to say, we were pretty surprised to hear Jackson dish on his favorite pregame meal in a recent interview with CNBC, saying, "Shrimp Alfredo, that's my meal before the game. They say [pasta] helps your brain. I feel like I go out with a level head and I can think."
Somewhere Tom Brady just purged.
Now we don't know about the effects of shrimp alfredo on the brain, but we are familiar with its impact on the ol' gastrointestinal system. Prevailing wisdom suggests that if it ain't date food, it ain't pregame food either, but hey, if it's good enough for Michael Scott and the Palmer Memorial Celebrity Rabies Awareness Pro-Am Fun Run Race for the Cure, then who are we to say otherwise?
Suffice to say, if Jackson's 36 touchdowns, 3,127 passing yards and 1,206 rushing yards weren't impressive enough for you on their own, just consider the fact he did all of that with belly of shellfish and cream sauce.
Somewhere Tom Brady just purged again.