An ace for the ages
Tour pro who lived in his car makes a hole-in-one to add to an incredible week in KFT event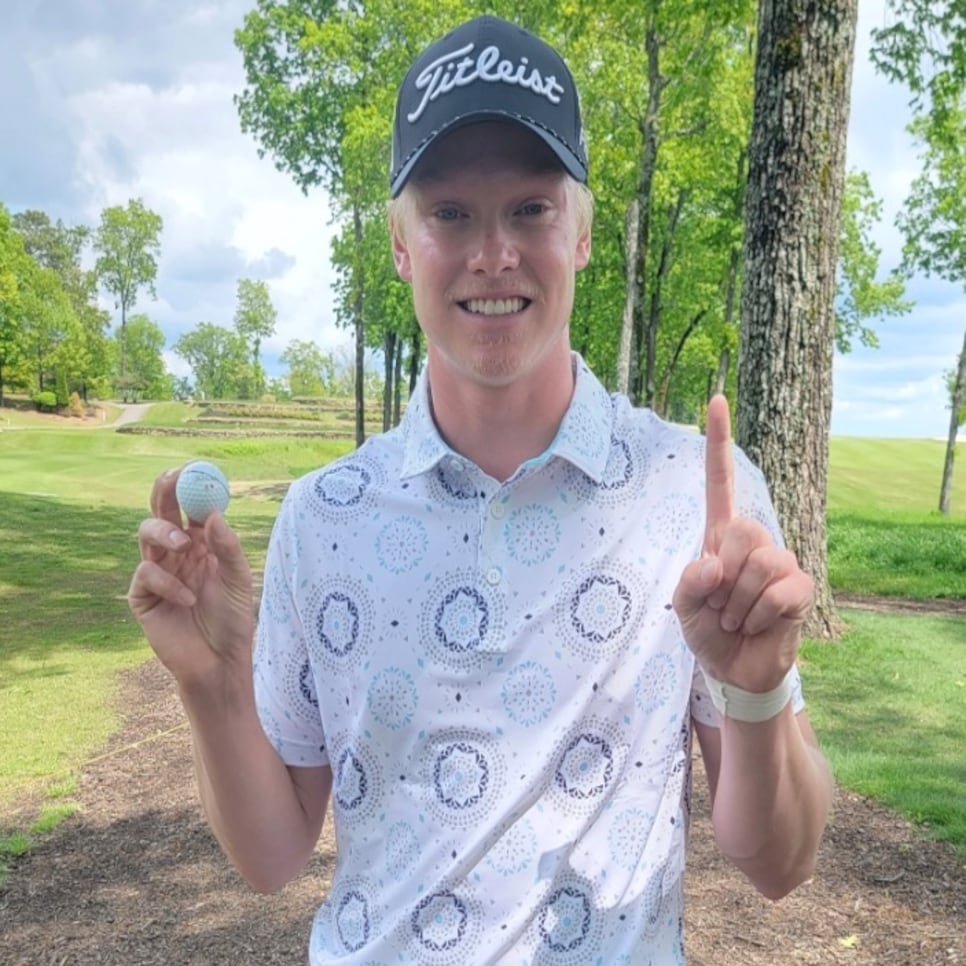 Mike Sweeney celebrates the hole-in-one he made in the Korn Ferry Tour's the HomeTown Lenders Championship. (Photo courtesy of Korn Ferry Tour Twitter)
These are the guys you root for, golfers such as Mike Sweeney, who will do just about everything to stay on the path toward earning a career on the PGA Tour.
As documented by Golf Digest and numerous other outlets this week, Sweeney is a Connecticut native who didn't play college golf, came off his dad's bankroll a couple of years ago, lived in his car for several month, and now works in the cart barn at The Florida Club in Stuart, Fla.
He Monday qualified for this week's Korn Ferry Tour HomeTown Lenders Championship in remarkable fashion—holing out a bunker shot for eagle on the 18th hole to shoot 64 and then emerge from a playoff. "Golf is such a wave of emotions," Sweeney said. "You'll have so many ups and so many downs, just try to ride the ups and stay positive during the downs."
There was yet another "up" for Sweeney on Friday at The Ledges in Huntsville, Ala., where the HomeTown Lenders Championship has been reduced to 54 holes because of fog and bad weather on Thursday. After starting his first round on the 10th hole with a birdie, Sweeney arrived at the muscular, 230-yard 13th, pulled a 3-iron, and made an ace.
Thankfully, it was caught by somebody with a phone from the tee box, because there doesn't appear to be a soul by the green. At least, not until Sweeney arrived to retrieve his ball from the cup. On the video, we can hear somebody say in a heavy Southern drawl, "We missed it; got to go back and do it again!"
Good stuff, and at the time, Sweeney was tied for the lead at three under after only five holes. Alas, he'd come back down to earth on the rest of the front nine at the time of this post, with a double bogey at 17 and bogey at 18. Those would be the "downs," but Sweeney already has his share of stories to tell from this week.