What The ... ?
This is it, this is the strangest pre-round routine in pre-round routine history
Walk down a PGA Tour driving range or meander around a practice green at a tour event and you're bound to see all sorts of odd-looking training aids. Alignment sticks, beach balls, balls you wrap around your feet for better balance on putts (a real thing) and other assorted "Tin Cup"-like contraptions tour players have convinced themselves are helpful are all commonplace.
Despite having quite literally seen it all when it comes to this stuff, we've never seen the type of training aid that was being used by Argentina's Alejandro Tosti on Friday ahead of his second round at the Mexico Open. Tosti, the 444th-ranked golfer in the world who is in on a sponsor's exemption this week, opened with a two-under 69 on Thursday. He returned Friday morning for an early tee time and was caught by PGA Tour Live cameras getting insanely dialed in pre-round. Check out this utterly bizarre warmup routine:
In the original viral clip shared by Matt Gannon on Twitter, there was no sound, which made what Tosti was trying to accomplish 10 times as confusing as it already was. But the analyst in the above clip offered up some strong insight, claiming this is an exercise to train his eyes to focus, comparing it to something Michael Campbell similarly did at the 2005 U.S. Open at Pinehurst. That seemed to work out OK for him that week, no?
Tosti's exercise appears to be taking Campbell's strategy to an extra degree with all these little symbols on the stick he's holding up: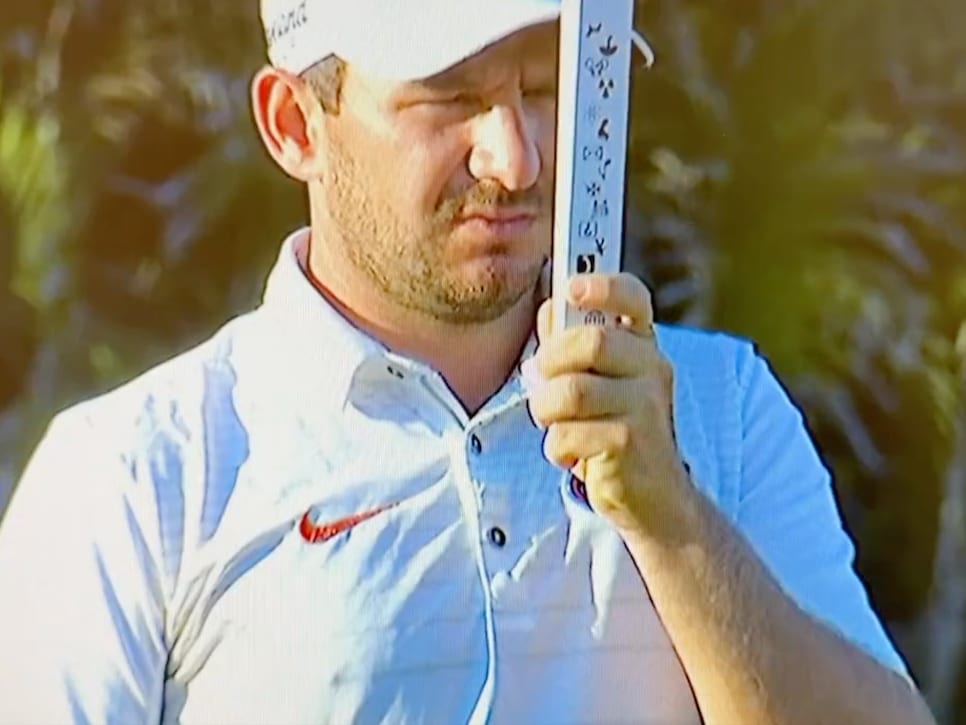 Hey, if it works, it works. It's not all that different from a hockey goalie juggling a bunch of tennis balls to get his eyes to focus on each one in preparation to take on a bunch of pucks. Of course, that's a little different from putting and playing a sport that doesn't require getting hit with a 100-mph clapper from a D-man, but you get the point.
All that said, it's still a hilarious image, one only the dumbest sport imaginable like golf could provide. If you showed this to a non-golf person, their first two guesses as to what this was would probably be an eye exam or a sobriety test. "Pre-round routine by a tour player?" wouldn't be mentioned until about 1,000 guesses in.