News
Ko returns to winner's circle, a PGA-LPGA event on the horizon, and one heck of a walk-off celebration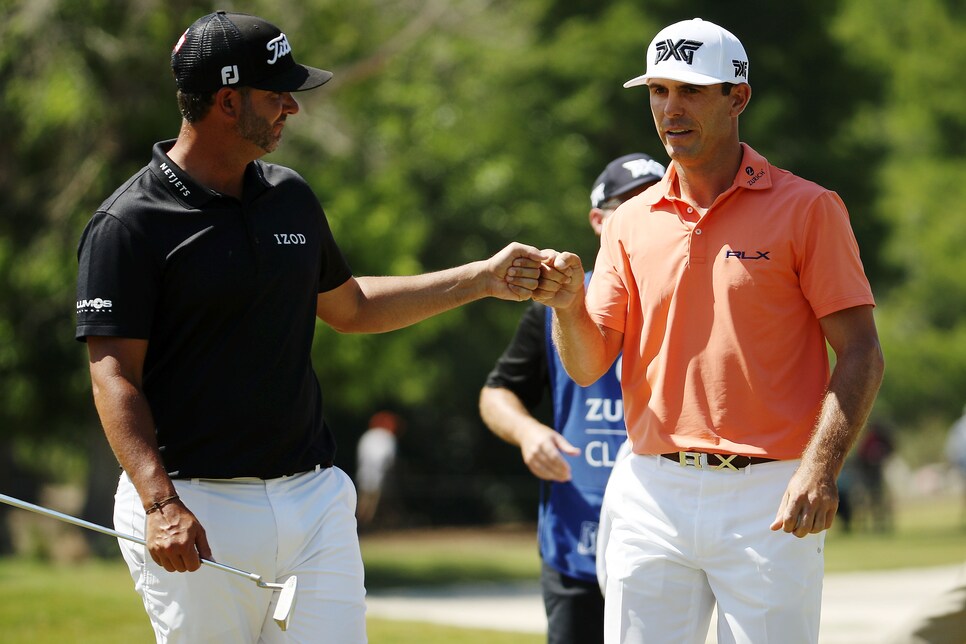 Welcome to the Dew Sweeper, your one-stop shop to catch up on the weekend action from the golf world. From the professional tours, trending news, social media headlines and upcoming events, here's every golf-related thing you need to know for the morning of April 30.
Piercy, Horschel find harmony in NOLA
The PGA Tour's first foray with walk-up music was a bit out of sync in New Orleans, but Billy Horschel and Scott Piercy hit the right notes. The duo shot a Sunday-best five-under 67 to win the Zurich Classic by one shot over Jason Dufner and Pat Perez.
Officials slightly tweaked the format in Year 2 of the team event, switching the final day to foursomes in hopes of producing drama down the closing stretch. In terms of red numbers, that aspiration fell short: the top three groups posted just one birdie in the final six holes (on the 13th, no less, from bronze medalists Charl Schwartzel and Louis Oosthuizen). But the proceedings did come down to the 18th, as a missed 14-footer from Dufner bestowed the title to Horschel and Piercy.
"It means a lot," Horschel said. "You know Scott's had injuries the last year that he's had to overcome. My game hasn't been great in the last year even though I did win at the Byron, so, we've both put in a lot of hard work on our game. So it's nice to see the validation."
Although the Zurich does not count towards the world rankings or reward Masters invites, those shortcomings are atoned by each player receiving $1.04 million and 400 FedEx Cup points. It is Piercy's fourth career win and Horschel's fifth, and his second at the Zurich Classic.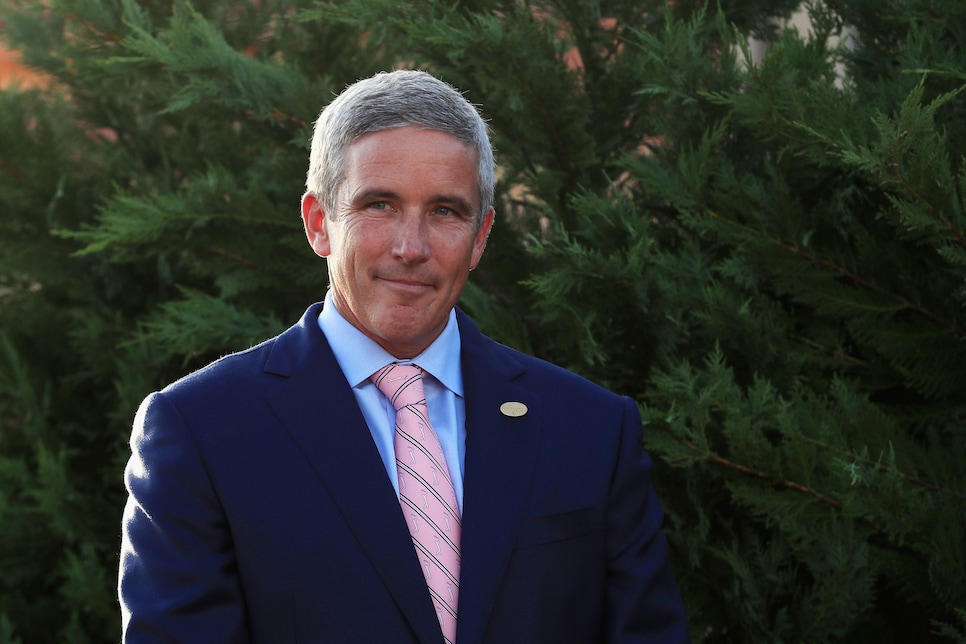 PGA-LPGA event on the horizon?
The Zurich's success last spring spurred conversation regarding other outside-the-box tournaments the tour should implement, chief among them a mixed competition of PGA Tour and LPGA players. This talk arose again last week, its prospects advocated by LPGA commissioner Mike Whan. That Whan would proselytize on the matter is not surprising; the LPGA would greatly benefit from the heightened spotlight of the PGA Tour's platforms. However, the idea received further endorsement on Sunday, from a particularly influential voice.
"We're very interested in getting the men and women together inside the ropes in the same week and in the same competition," PGA Tour commissioner Jay Monahan told media members on Sunday. "I think that's something you'll see in the future. It's just a matter of time. That's really exciting and interesting."
The PGA Tour's revamped schedule is coming out shortly, but sources told Golf Digest that a mixed event is not currently on the table for next season. Conversely, both Monahan and Whan floated the theoretical tournament as an offseason possibility, one that could be happening in relative short order.
"They're partners of ours," Monahan said. "Generally speaking, that's something we'd like to see."
Ko returns to winner's circle
Despite an inauspicious start, Lydia Ko's birthday week ended in celebratory fashion. Ko, who's experienced a tumultuous two-year span on and off the course, returned to the winner's circle for the first time since July 2016 with a playoff victory at the MEDIHEAL Championship.
"My whole team and my family, they've worked really hard for this moment," Ko said. "I'm happy that a few of them are here and we can celebrate together."
Ko, who came this close to ending it on the 72nd hole with a chip-in, met Minjee Lee in sudden death at Lake Merced following a final-round 71 (to Lee's 68). On the par-5 18th, Ko almost jarred her approach for albatross:
Lee's second stopped just shy of a greenside bunker, and though she made a 10-footer for birdie, it was not enough to beat Ko's tap-in eagle.
The win breaks a 43-tournament winless drought for Ko, who captured 12 tournaments from 2014 to 2016. The former No. 1 was denied a drink upon turning 21 on Thursday night. We're guessing she found herself a libation or two following Sunday's triumph.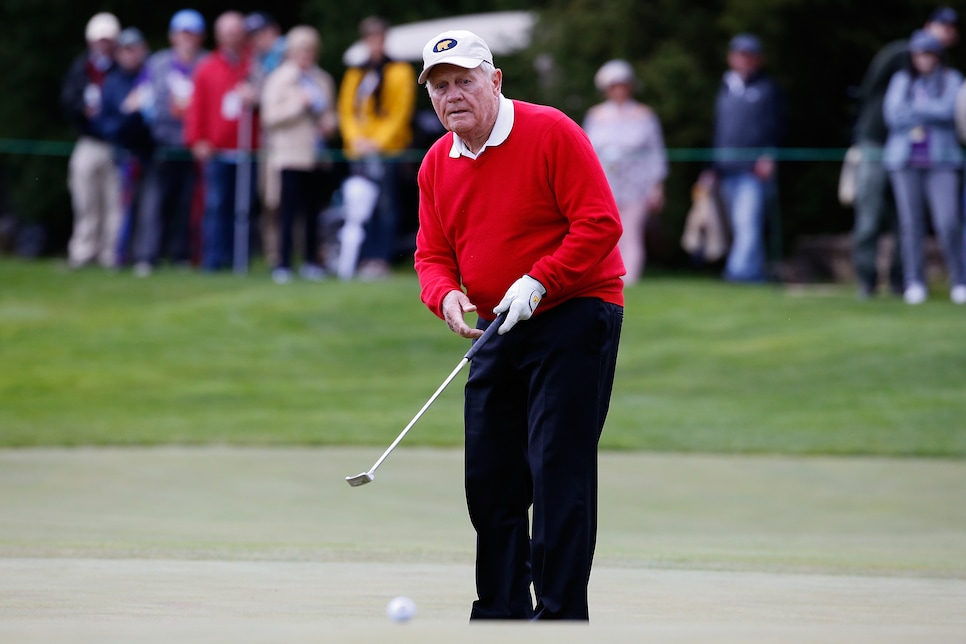 Nicklaus reveals stem cell therapy
Jack Nicklaus, in a conversation with CNN, revealed he underwent experimental stem cell therapy for his back in 2016. The Golden Bear has long battled back issues, and said the procedure has produced positive results.
"I'm not a doctor, but I think that stem cell is going to change...the direction of orthopedics, totally," Nicklaus said. "As long as my stem cells allow me...Golf is a game of a lifetime, I hope to play for my lifetime."
His procedure involved liposuction around his abdomen area, extracting cells from three ounces of fat. This was strained with an enzyme, the slurry mix spun and then injected into 14 different spots throughout his back and neck. While he did not sense immediate relief, Nicklaus noticed the pain had subsided dramatically in the ensuing months, particularly after playing golf.
As for why he kept it a secret?
"I didn't keep it private, no one asked me about it," Nicklaus said.
Auburn defeats Alabama in dramatic fashion
As our own Christopher Powers noted, it wasn't as spectacular as the Pick-Six. Yet, despite no Verne Lundquist on the call, it was pretty damn stirring.
Alabama and Auburn met in the SEC Championship on Sunday at Sea Island, with the title coming down to the final match. Down 1 heading into the 17th, Crimson Tide senior Jonathan Hardee tied things up by nearly acing the par-3 17th:
Sadly for Hardee, it would be for naught, as Tigers freshman Wells Padgett dropped the hammer on the final hole with this 20-footer/Gilbert Arenas walk-off:
I know it's still April but, save for Patrick Reed chopping down the Eiffel Tower with a pitching wedge, no chance that celebration is getting topped in 2018.
Padgett's putt gave Auburn its first SEC men's golf title since 2002, and its fourth in program history.