News
Watch this Auburn freshman drain a clutch walk-off putt to stun rival Alabama and win SEC Championship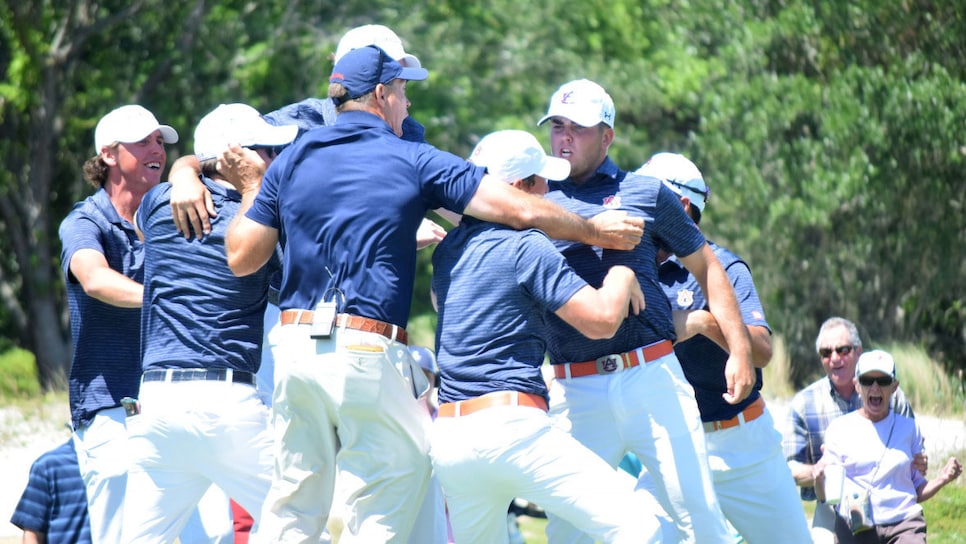 Courtesy of Auburn University
It wasn't exactly as stunning as the "Kick Six", but Auburn's SEC Championship-winning putt on Sunday was a dagger in its own right for the Alabama faithful hoping to see the Tide win their first men's conference title since 2014.
After both schools dominated their semifinals matches, Auburn defeating top-seed LSU, 4-1, and Alabama besting Florida, 3-1-1, the Iron Bowl matchup was set for the finals in the second season that the SEC has decided the team title via match play. The Tide took a 2-1 lead in the first three matches at Sea Island Golf Club in St. Simons Island, Ga., before the Tigers were able to tie it up at 2 when freshman Brandon Mancheno won his match over Alabama freshman Wilson Furr, 2 and 1. That set up an exciting, SEC Championship-deciding match between another Auburn freshman, Wells Padgett, and Crimson Tide senior Jonathan Hardee.
Hardee squared their match at the par-3 17th, nearly acing it and tapping in for birdie. All tied up on the 18th green, Hardee faced a six-footer for par while Padgett had a 20-footer for birdie to win the title, and the freshman delivered in stunning fashion:
As clutch as it gets, and it appeared he knew it was in when the ball was still about five feet from the cup. All kinds of confidence for a freshman. Here's another look from someone on site:
"That was the biggest putt I've ever made in my life," Padgett said. "It was great being able to do it for my team. To do it as an individual in a tournament is cool, but doing it for your team is the greatest feeling."
"Wells was the anchor all week in match play," said Auburn coach Nick Clinard said. "We had him in that hole because we knew his confidence level in that spot, and we knew that he could come through in the clutch and, boy, did he ever."
Padgett's putt gives Auburn its first SEC men's golf title since 2002, and there fourth in program history, something alum Jason Dufner is very happy about:
For Alabama, the No. 6 ranked team in the country, it's the school's seventh SEC Championship runner-up finish.