The Loop
Kirk Herbstreit on why the Big Ten is just ahead of the SEC, and how he's turned Twitter into a sport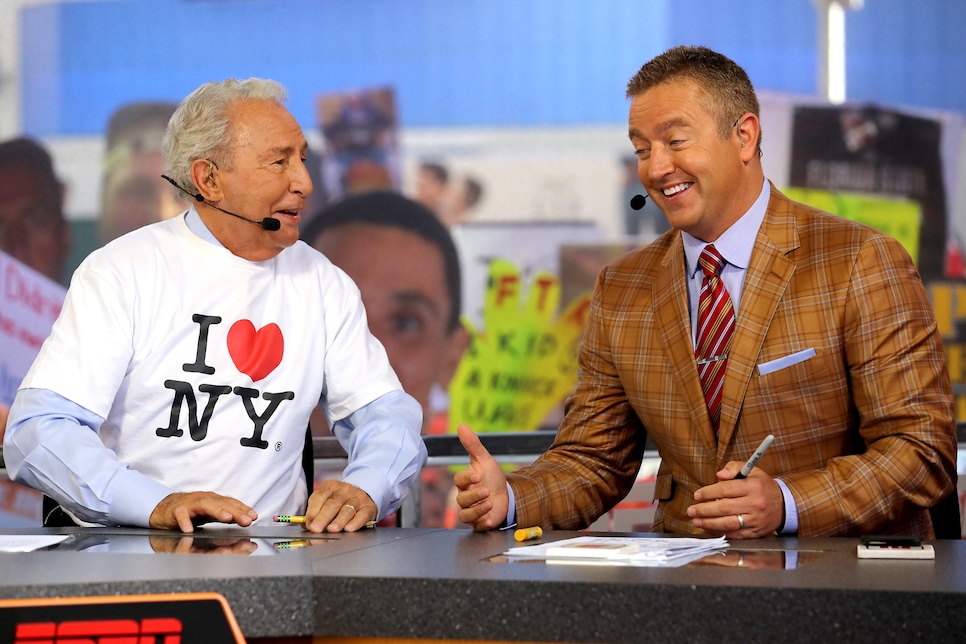 On Saturday, our long suffering will come to an end when college football returns. Well, it already came to an end this past Saturday, or will this Thursday, if you're into Hawaii vs. Colorado State and Purdue vs. Northwestern (shoutout to all my fellow degenerates out there).
But Saturday, it starts for real, specifically when College Gameday makes its return at 9 a.m. EDT in South Bend, Indiana, as Rece Davis, Desmond Howard, Lee Corso and Kirk Herbstreit kick off the season live from the much-anticipated Michigan vs. Notre Dame game. While that's the marquee matchup, Week 1 is littered with must-see games, including Washington vs. Auburn, Louisville vs. Alabama, Miami vs. LSU and Virginia Tech at Florida State. We say it every year, but this truly does have the potential to be the best season yet, just like 2019 and 2020 will be. Can't wait!
With a host of great storylines to unpack, we called on Herbstreit to give us his best takes on the upcoming year. Herbie, who is working with Allstate once again to not only embrace the mayhem that ensues on the field each week, but to also highlight the good happening off the field, has been on Gameday as an analyst since 1997, and has been the lead analyst for the Saturday Night Football game of the week since 2006. His opinions are some of the most-respected in the sport, and he came out firing early and often when we chatted with him on Tuesday morning.
So let's get right into it. How excited are you for the 2018 season (stupid question)?
Kirk Herbstreit: Oh man, this is a great time of year. Everybody's excited, everybody thinks their team is going to have a magical year. This is the time to communicate with people, that's for sure. After this week, you can kind of go underground.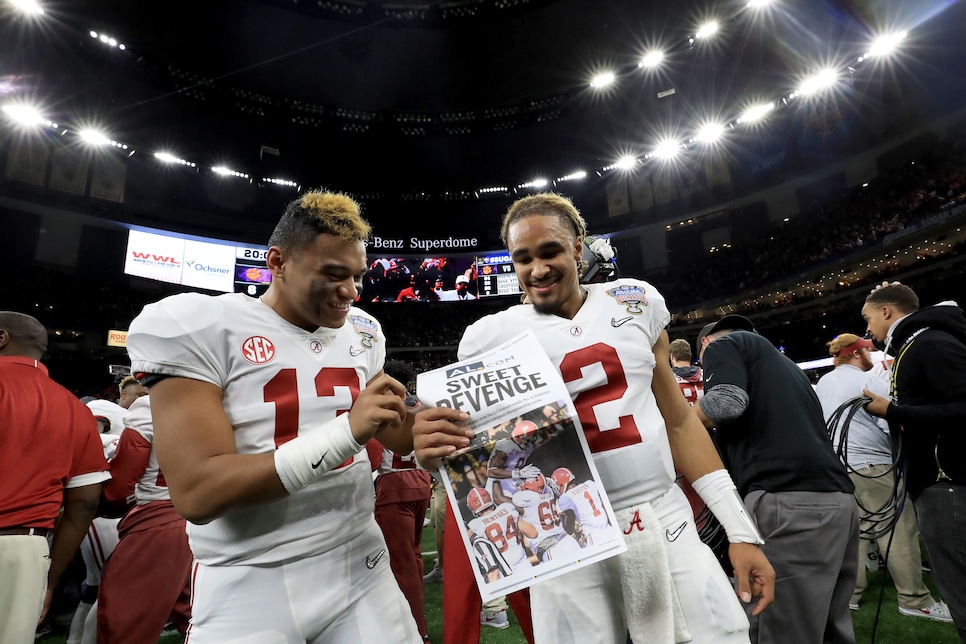 We've got to start with the biggest storyline of the offseason, which is the quarterback situation at Alabama. If you were Nick Saban, who would you start under center on Saturday when the Crimson Tide take on Louisville? Tua Tagavailoa or Jalen Hurts? (Saban has listed them as co-starters for Week 1)
KH: I mean, without knowing what's going on behind closed doors, as he (Saban) says "winning the team," you've heard the same reports I've heard, that Jalen looks really good in camp and he's done really well in these scrimmages. If you just go by what we saw last year, the way the season ended and the way the team played, not just Tua coming in, but Jalen — who I've been a huge fan of his whole career, how could you not be, 26-2 (Hurts' record as a starter) — I just felt from about the middle of the season on he started to struggle with working through his progressions throwing the football. That's why they started building up the idea behind closed doors "should we go to Tua if we get into a jam," and then it finally played itself out in the championship in the second half.
So, if you go based on that I think it's easy to say that Tua would be the right fit for what they have with the receivers and tight ends and running backs, I mean, they're loaded around that spot. With an asterisk and not knowing yet what happened throughout the weight room time in winter and spring and what's happened over the scrimmages, if you go just by the way they played last year (in the title game) I would say Tua should be the guy.
Is Notre Dame as overrated as they usually are? They seem to get a pity top-15 ranking each year, when maybe they should start in the 20-25 range.
KH: Are they? You think they're overrated every year? I think that used to be the case. I think last year I don't even know if they were ranked when the season started (Kirk is correct on this, hence why he gets paid to talk about it), and then I think they inched their way up into the high 20s and then by the end of the year they were up in the top 10. What are they ranked this year? (ND is ranked 12th in the preseason AP Poll) Yeah, I'll say that's a little overrated, only because until Brandon (Wimbush, ND's starting QB for Week 1) takes that next step at quarterback, that's the big mystery. He's got so much potential. I would say let's see how Brandon has developed, and if he's not improved from where he was last year then I would say that number is a little overrated.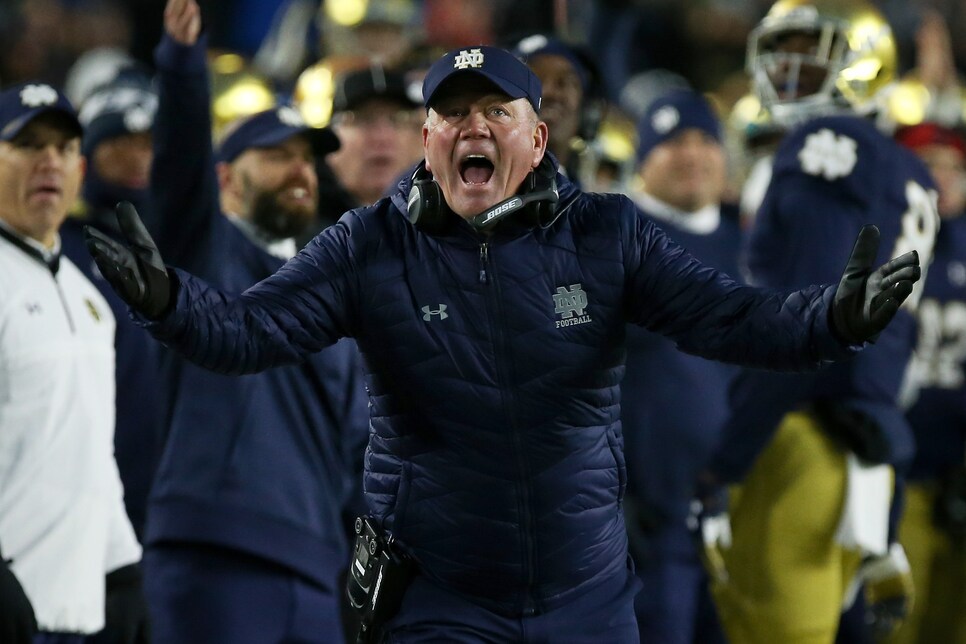 Let's say the Irish lose on Saturday at home against Michigan. How hot does Brian Kelly's seat get?
KH: I don't think so, you know, he won 10 games last year. They beat LSU in a bowl game, they almost beat Georgia. I don't sense, like if you asked me to name a couple coaches that might be on the hot seat, he isn't one that comes to mind, and neither is Jim Harbaugh by the way. I don't really buy into that if you flip the script and say Jim Harbugh loses to Notre Dame, that might be more of a question that you might get from people, because even his own fans at the end of the year kind of turned on Harbaugh. For him to start 0-1 with a loss to another powerhouse program, a traditional rivalry, because he's struggled so far against Ohio State and Michigan State, what would be the response in Ann Arbor?
I think that people that question Jim Harbaugh at Michigan are crazy. You couldn't have a better fit. Now, they haven't caught a break at quarterback and they just had another injury to Tarik Black (one of Michigan's top receivers), but I don't look at the loser of that game as "oh boy, they're on the hot seat."
Speaking of Michigan, there has been a lot of hype surrounding Ole Miss transfer Shea Patterson (Patterson will start on Saturday against Notre Dame). Is it warranted?
KH: I'm part of that hype. I've watched this kid since he was in high school and watched him his first couple years at Ole Miss. I think he's got a chance to give Michigan what they've needed. Jim Harbaugh, his first three years, (Wilton) Speight was pretty good a couple years ago when they were ranked top five in the country in 2016. But they haven't had a guy that could make plays with his feet and I think even though he (Harbaugh) runs a pro system, Shea Patterson is a dual guy and I think people in Ann Arbor will fall in love with his creativity because they just haven't seen it in awhile. They'll run the pro stuff and he'll throw from the pocket, but on third-and-six if things aren't there he's going to pick up a first down with his feet, which, again, they have not had. So I'm anxious to see how he does, but that loss of Tarik Black is big, he's their best receiver and to lose him for the second year in a row, that's not good news.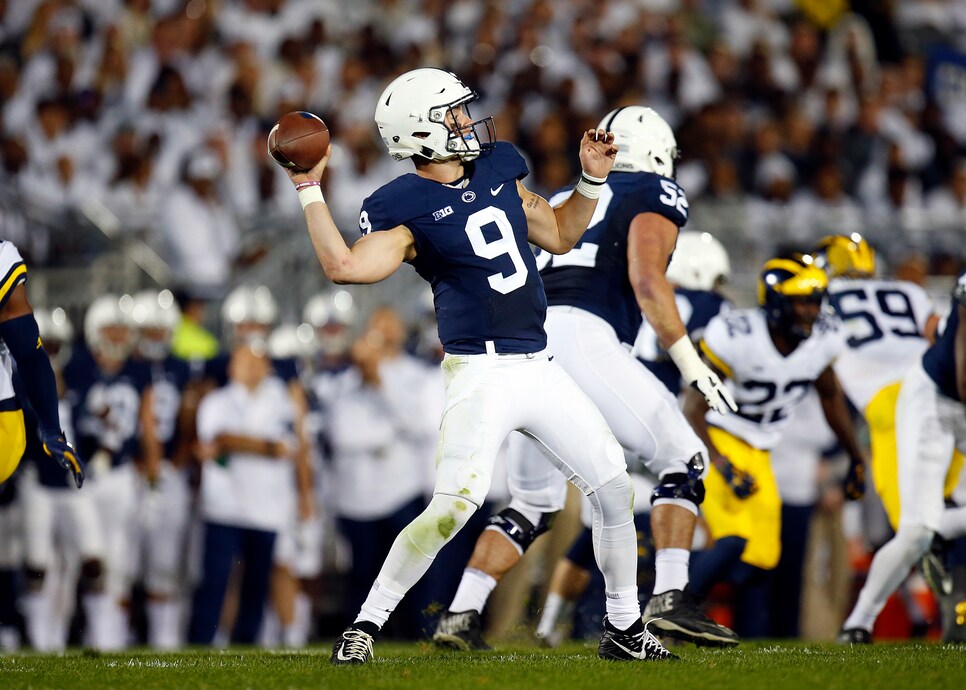 I was watching the College Gameday preview show on Saturday and noticed you were pretty high on Penn State (Kirk's playoff picks were 1. Alabama 2. Clemson 3. Penn State 4. Washington). Is that because of the situation at Ohio State or are you just all in on the Nittany Lions?
KH: No, it really has nothing to do with Ohio State. If Penn State were going to Columbus, I'd probably flip that and go with Ohio State. I have a lot of respect for Penn State when they play at home, especially at night, and it takes a really really good team with a really good quarterback and offensive line to be able to survive that trip. So that has more to do with where Penn State and Ohio State are playing than anything, and also the fact that Trace McSorley is back yet again for another year to quarterback.
I also think collectively this team has a bit of a chip on their shoulder because I think they think the narrative out there is that "Well, Saquon Barkley's not there, so they're not going to be any good." And I think they want to prove to people that they're more than Saquon Barkley, and so that probably has as much to do with it as Penn State (playing) Ohio State at home, McSorley being back and the fact that I think this whole group has a lot of motivation and a chip on their shoulder about Saquon leaving and that means they're going to go away, I think those three things have me picking Penn State.
Is there a team outside the AP preseason top 10, a dark horse if you will, that could potentially crash the College Football Playoff?
KH: Where is Michigan State? (Sparty is 11th in the AP Poll) I guess that's not a real daring pick, it's not like they are that far out. I think, as always, that they kind of get forgotten. I think they have everything back that gives them a chance to be a threat. They're one of those teams that things need to come together and gel, and if they do, the intangibles are there, they could become a really dangerous team. They have great leaders, this kid Joe Bachie (Michigan State's junior linebacker) is one of the better linebackers in the country, they've always got a linebacker that's a great player and Bachie is that kid this year for them.
If I were to go besides them, I might say Mississippi State (18th in the AP Poll) if you're throwing like a real wild card out there. I think Joe Moorhead, the new head coach coming over from Penn State, inherits a team that has a chance defensively to be really good, and I think his offense, what they return, fits Moorhead's scheme really well. So I would say super, super wild card would be Mississippi State.
Strongest conference this season will be ... ?
KH: I'm impressed that the SEC made a lot of changes, what is it, five or six new head coaches if you include Matt Luke at Ole Miss. I think the SEC is in a little bit of a transition period, let's give those coaches like Dan Mullen (Florida) and Joe Moorhead and Jeremy Pruitt (Tennessee) and Luke at Ole Miss and I'm missing one or two (Jimbo Fisher at Texas A+M, Chad Morris at Arkansas), let's give these guys a little bit of time. I still think that the Big Ten is at the top, and it has everything to do with the Big Ten being where the SEC was about three years ago when they had a lot of changes, and if you look at what those new coaches have done, they've really improved the conference to top to bottom. And now you bring in Scott Frost (Nebraska's new head coach), who has a chance to do even better things for the Big Ten, so I think the Big Ten is just ahead of the SEC and the ACC.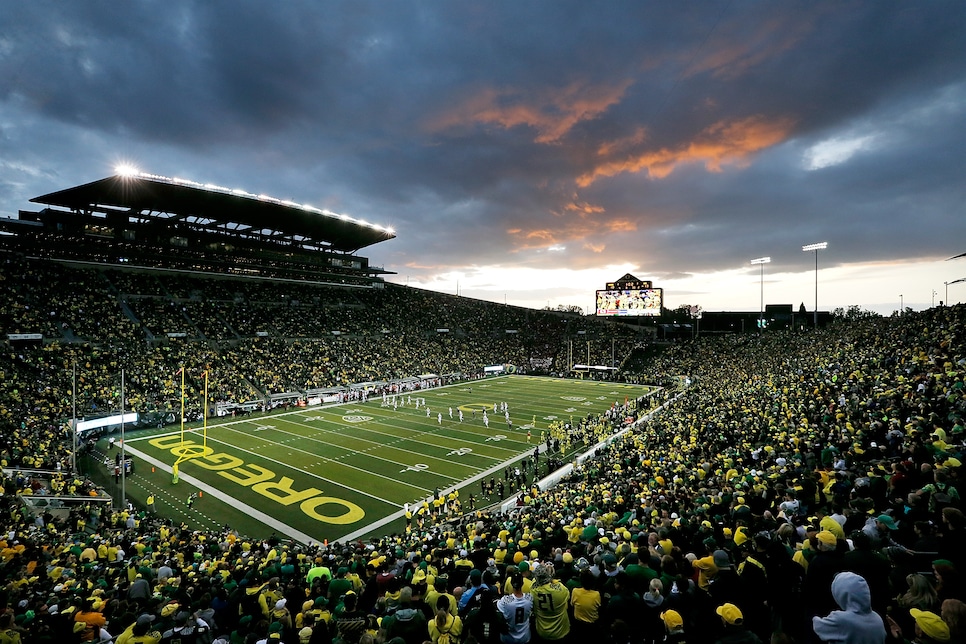 Best College Gameday location?
KH: Oh man, I would probably say Eugene, Oregon. I always love when they're winning and we get a chance to go up to Eugene, beautiful area of the country, their fans are electric and over the years we're always amazed out how many people come out to the show up in Eugene, when the show starts it's six in the morning out there and it's dark out and cold and you think we might just have a handful of people out there and there's thousands and thousands that show up to support the Ducks. I'd have to put Eugene up near the top for sure.
We'll let you go on everyone's favorite topic: Twitter trolls. I've noticed you take on all comers (great examples here, here and here) which is a difficult thing to do on as level-headed a website as Twitter. How do you handle all the biased fans that think everything is a slight against their team?
KH: Well, at first, because I'm human, I didn't understand Twitter when I first started to do it. And I'm one of these, by nature, I'm a pleaser. As a kid I wanted my teacher to be happy with me, I wanted my coaches to be happy with me, I wanted my parents to be happy with me, my friends. It's just innate, I can't help that. So, when you're a pleaser and you go on Twitter, that's probably a bad place for you to go. At first you want to reason with every single one of them and say "wait, no, you don't understand," and what you soon find out is, this is not a "me" problem, this is a "them" problem. Some of these people, they just hate everybody. When you can tweet out "Hey everybody, have a good Tuesday!" and people cuss you out for saying that, you know somebody's got a problem (Laughs).
So, after six months or a year of it, like anything else I've kind of become callous to it. I actually turn it into a sport, I try to shed some light on these people who are really unhinged and make sure their parents and their employer and their friends see how they talk on social media. Somebody could cuss me out and I'll say "hey, have a great week, good talk," or something like that, and I let other people judge that person how they choose to. But I'll never cuss a person back, I try to kill them with kindness typically. It's kind of scary, but I've stared to actually enjoy it, it's become a sport for me.