The Loop
The 8 funniest Lee Corso moments on *College Gameday*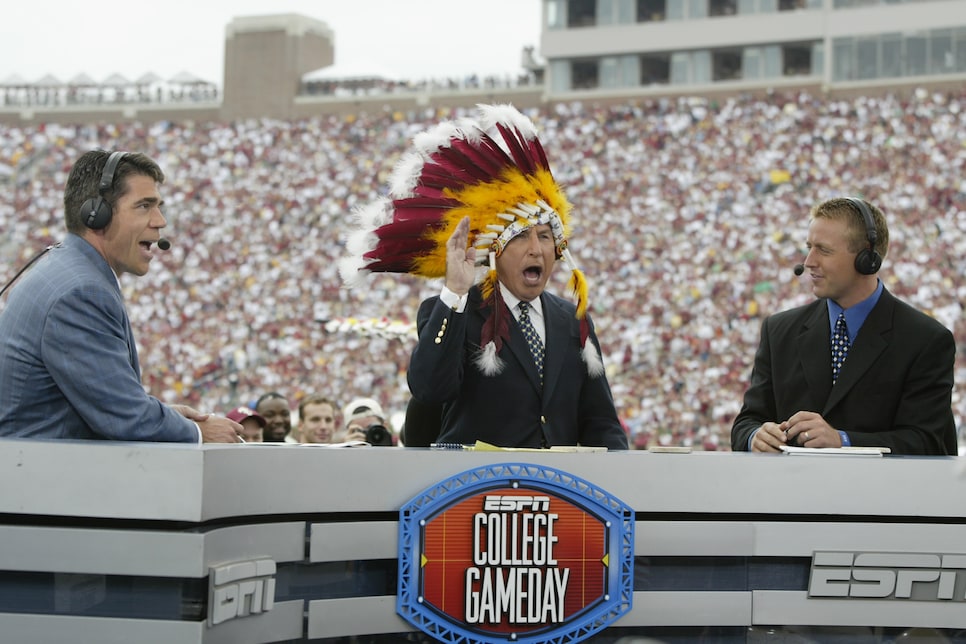 Twenty games have already been played, four involving ranked teams, but it doesn't really feel like college football season has begun. Saturday's slate of games will immediately quell that notion, featuring matchups like Michigan vs. Florida, BYU vs. LSU and the game-of-the-weekend, Alabama vs. Florida State.
But only one thing can truly kick off the season, and that's the GOAT of sports pre-game shows: College Gameday. There's just something about four dudes shouting over a couple hundred morning-drunk fans outside of a football stadium that's been entertaining enough for the show to last 30 years.
On Saturday, the crew will open the season live outside Mercedes-Benz Stadium in Atlanta, new home of the NFL's Falcons and host site of the aforementioned Bama-FSU game. After approximately two hours and 58 minutes of all the college football talk you can handle, the time will come for College Gameday's No. 1 tradition of Lee Corso making his headgear pick. The former coach and his mascot heads have produced some hilarious moments over the years. Below are some of the best.
The time he first put on headgear
When this whole tradition began, in October 1996. Corso went with Brutus, Kirk Herbstreit laughed like a little child (he still does) and the rest is history.
The time he faked out the whole crowd
Rarely will Corso go against the home crowd, but exceptions are made when heavy favorites roll into town. This LSU-West Virginia matchup in 2011 was one of those exceptions. After getting the fans in Morgantown all riled up, the coach faked them out and donned the tiger head. Savage.
The time he scared the sh*t out of Kirk Herbstreit
Bob Knight tried to steal the show with his "beat their ass" comment as guest picker, but Corso wouldn't allow it and literally started firing guns, nearly sending Herbstreit under the table to cower in fear.
The other time he scared the sh*t out of Herbstreit
Thank God these aren't real guns.
The time he called a 5-year-old child a midget
You thought faking out the West Virginia crowd was a savage move? This kid will never be the same.
The time Bill Murray tackled him
So many dangerous things occurring in this video, most notably Corso holding a weapon … again.
The time he used a questionable phrase
Kirk Herbstreit is all of us in this video. Wondering if "shot their wad" is OK to say on TV, but laughing hysterically at it anyway.
The time he literally said 'F*ck it'
Without a doubt the funniest moment in the show's history, much to the chagrin of ESPN producers, who made him apologize live on TV a few hours after. Sometimes in life, you gotta just say 'f*ck it.'