History
PGA Championship 2021: 'Why are we here?' The intriguing origin story to Pete Dye's Ocean Course at Kiawah Island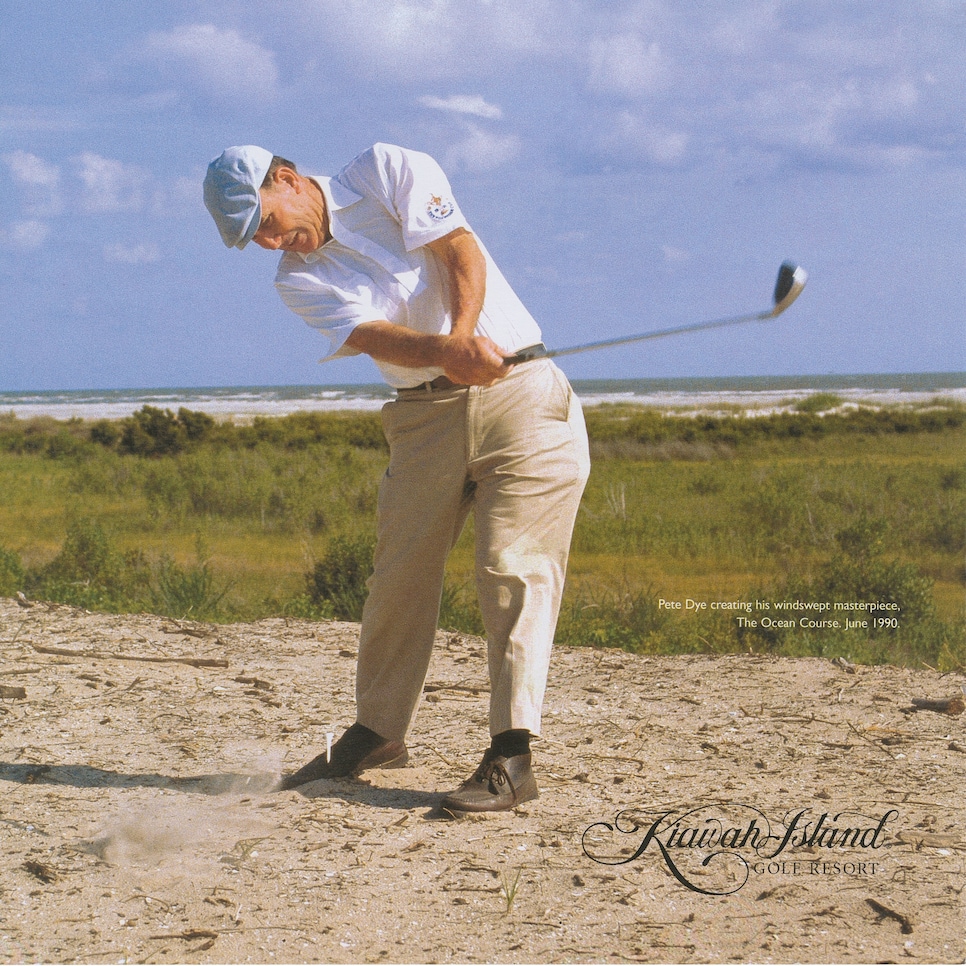 The first seeds of what would become the Ocean Course at Kiawah Island, the famed Pete Dye layout that next week hosts the PGA Championship for the second time in nine years, weren't planted in South Carolina but rather 2,405 miles away in La Quinta, Calif., nearly the expanse of the mid-south of the continental United States.
You can just about connect the two points with a horizontal line, their respective latitudes less than one minute apart. Coincidental though this is, it happens to be fitting. One directly begat the other.
Site of the 1991 Ryder Cup—the so-called "War by the Shore"—the Ocean Course at Kiawah Island had an introduction to the world no other golf course has ever received. Thirty years ago, the Ryder Cup wasn't the blockbuster event it is today, but it no longer was a sleepy little exhibition, either. Its popularity was in ascension in 1991 after Europe—led by the likes of Seve Ballesteros, Nick Faldo, Ian Woosnam and Bernhard Langer—ended decades of American domination in the biennial match-play event and kept Samuel Ryder's cherished trophy out of U.S. hands for going on six years. It had become a legitimate competition. And an increasingly valuable television property.
Viewership reached 200 million in 26 countries for the 1989 matches in England, which ended in a tie after consecutive European wins in 1985 and '87. The 1991 matches were expected to draw far more interest. Combined live coverage on USA Network and NBC Sports in the U.S. totaled a record 22 hours—massive, especially considering that less than a decade earlier the matches largely were shown on tape delay. Included was a nine-hour window on opening day on USA, 9 a.m.-5 p.m., constituting at the time the longest stretch of continuous golf coverage in history.
Suffice it to say that no previous Ryder Cup had been more highly anticipated and more hyped, not to mention more overtly intense and contentious and bombastic. And this drama all was about to be played out on a golf course open for only a few months, was not familiar to or favored either side, and was designed specifically to engender fits of acute angst among the game's best players.
"I want to punish these pros if they don't hit the proper shots," Dye said when his course was unveiled to the world the week of Sept. 23-29.
And punish them, he did, although not without an assist from the elements. Prevailing winds strafed fairways that had been elevated more than six feet to offer views of the Atlantic throughout the property. And a new course without time to settle means a firm course with hard greens.
In recent years the PGA of America has held the 2007 Senior PGA Championship at the Ocean Course, won by Denis Watson, and the 2012 PGA Championship, which Rory McIlroy captured with a record eight-stroke victory. Parenthetically, in 2000, the course was featured in the motion picture, "The Legend of Bagger Vance."
Though still an arduous test of golf, the Ocean Course has undergone modifications in its 30 years to make it more playable. In 1991, it was a rough-hewn enigma, a typical Pete Dye torture chamber. "At the time, the opinion was you could never hold a medal-play tournament there because you would never finish," said retired CBS broadcaster Peter Kostis, who as swing coach for Mark Calcavecchia played several practice rounds with some of the American players prior to Ryder Cup week. "Seriously, the guys were so relieved it was match play."
"I remember everyone asking, 'Why are we going there?' And then when we got there, everybody was asking, 'Why are we here?'" recalled Roger Maltbie, who was still a tour player but worked his first Ryder Cup for NBC that year.
"You have to wonder," wrote one magazine columnist in the run-up to the matches, "why in the world the PGA of America would take the Ryder Cup to an unfinished golf course in a mosquito-infested swampland designed by an architect that players universally despise."
That was the essential question.
The answer could be found, for starters, in the California desert.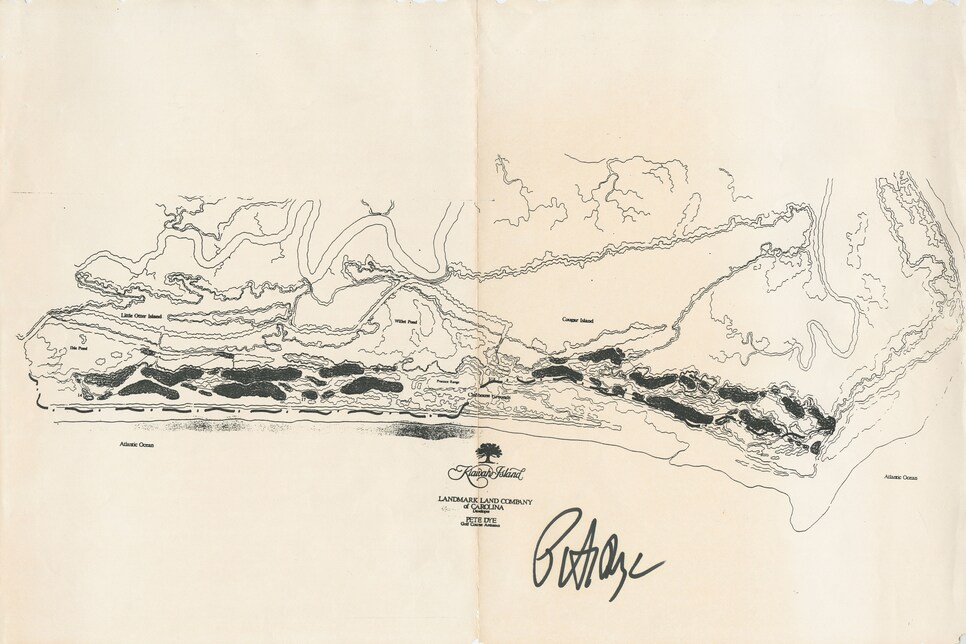 An original routing map of the Ocean Course signed by Pete Dye. (Courtesy of Kiawah Island Resort)
On Aug. 7, 1985, the PGA of America announced that it had awarded the 29th Ryder Cup to its western outpost, PGA West, and the yet-to-be-opened Stadium Course. It was to be the third Ryder Cup held in the Coachella Valley of California and the first since the 1959 matches at Eldorado Country Club in Indian Wells.
Dye's latest design, which opened in early 1986, immediately was utilized for the fourth edition of the Skins Game, won by Fuzzy Zoeller, and the following year it became the host venue for the Bob Hope Classic, one of two 90-hole tournaments on the PGA Tour. Corey Pavin went on to win the title. The rest of the field went on a rampage.
Already notorious for his design of the Stadium Course at TPC Sawgrass, Dye drew sharp criticism for another Stadium Course that was, basically, "just too damn hard," according to one competitor. Players didn't just hate it; they hated the thought of it. They wanted nothing more to do with it, and about 100 tour members eventually signed a petition demanding that commissioner Deane Beman remove it from the rotation.
Ben Crenshaw referred to player outrage as "all out mutiny," and he was in full support. PGA West was an affront to his architectural sensibilities, even though he had yet to establish his design bona fides. But face it, when you have lost Gentle Ben, you probably have lost the war. "PGA West is something from another planet," he said.
Zoeller at least kept the criticism light. "The big bugaboo about PGA West is that it's not fun for the amateurs," he said. "It's depressing to see guys leaving the course crying."
"That was exactly the point I was trying to make, and I got in trouble for some of my comments," said Maltbie, who at the time was a member of the PGA Tour Player Advisory Council. "My job in a pro-am format, along with trying to play well, is to make sure that my amateur partners have a nice day and enjoy the experience. That's what they paid for is to enjoy the golf to whatever level they can. Forget the high scores we were shooting. The amateurs couldn't play it at all. It just didn't work."
The owner and developer of PGA West was Landmark Land Co., run by former tour pros from Oklahoma, Ernie Vossler and Joe Walser. They had a thing for Dye's design concepts and had first hired the Ohio native to build Oak Tree National in Edmond, Okla., in 1976. They also had strong relationships with the PGA of America, which led to the making of PGA West and its selection for the 1991 Ryder Cup as well as securing the '88 PGA Championship at Oak Tree.
There was, however, no getting around the fact that disdain for the Stadium Course was nearly universal. Beman dutifully dumped it in favor of a return to the friendly Arnold Palmer Private Course, though the Stadium returned to the rotation in the desert's PGA Tour event starting in 2016.
Now, what to do about the Ryder Cup?
No problem. A solution soon presented itself on the eastern-most point of a small island with the richest zip code in South Carolina.
Citing the growing popularity of the Ryder Cup and wanting to make it more accessible to television viewers in Europe, PGA of America officials and Landmark's principals announced in May 1989 that it was moving the matches to a course at Kiawah Island not yet built, which was, ahem, a groundbreaking decision. Walser further cited the fact that the Coachella Valley golf calendar was rather congested with the Hope, the Skins Game, two senior events and the LPGA's Nabisco Dinah Shore (now known as the ANA Inspiration) at Mission Hills.
Legitimate rationales, each of them. No one had to mention petitions and such, so no one did.
Now, it just so happened that two months earlier, Landmark Land had purchased for an estimated $285 million the Kiawah Island Golf and Tennis Club, situated on 10,000 prime acres that not only included three existing golf courses but also a two-mile stretch of gorgeous oceanside real estate ready to be transformed into a links-style layout.
An island once owned by pirates had pilfered golf's newest shiny gem from one of the game's recognized hotbeds, the Palm Springs area.
The local newspaper, The Desert Sun, called it "a lose-lose decision." But those Oak Tree boys at Landmark Land knew a good investment when they saw it. There was nothing to boost real estate sales quite like a new golf course presented to an international audience upon which the game's top players had just been competing.
"There was no mystery to how it ended up at Kiawah Island," said Kostis, who worked his second Ryder Cup that week as an analyst for USA Network. "The question was, what kind of golf course was going to get built? You had the same guy who designed PGA West, which the players hated, designing the Ocean Course, so there was, understandably, a lot of apprehension."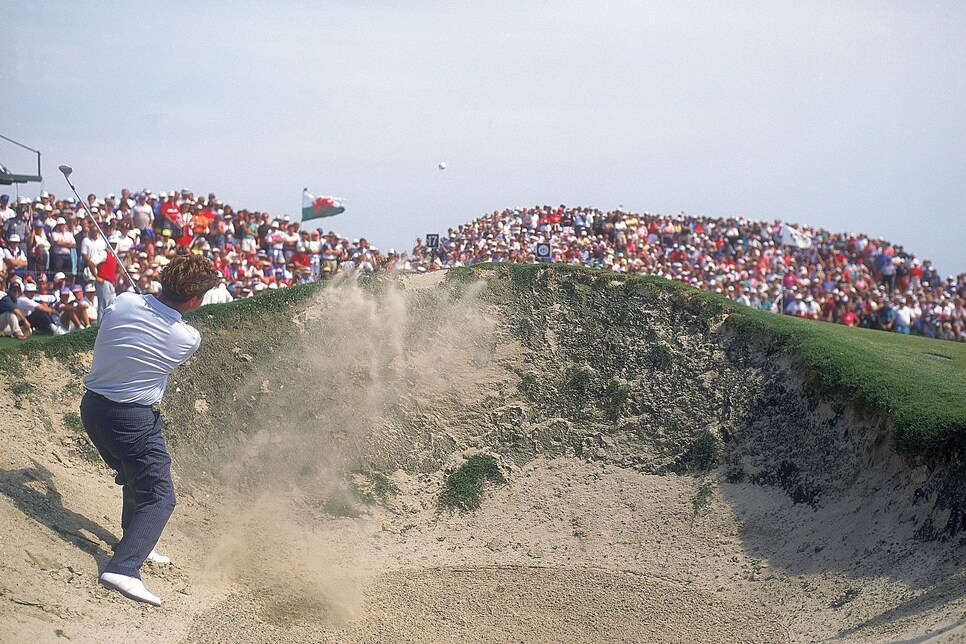 The Ocean Course's bunkering and dunes were first considered extreme by the participants at the 1991 Ryder Cup.
Stephen Munday
American players harbored additional concerns. If Dye was building a links-style layout, wouldn't that tend to favor the European team? And going a step further, why move the Ryder Cup to a new layout that was as unfamiliar to the home team as to the visitors? Was it only the Europeans who understood the concept of home-course advantage?
"We had a chance to play the course before Ryder Cup week, and we hated it. Everybody hated it," said Paul Azinger, one of the stalwarts of the U.S. team. "We kept asking, 'What are we doing here?' And we kept asking it. I use the word hate, and you can't say that about too many courses. But that's not too strong of a sentiment. Then, the wind blew, and it made it nearly impossible. So that didn't help our disposition, either."
Appearing in his only Ryder Cup, Northern Ireland's David Feherty, who like Azinger now works for NBC Sports, made headlines when he remarked rather succinctly that the Ocean Course, "is not like something from Ireland or Scotland, it's like something from Mars."
Bet that made Crenshaw smile.
Granted, Dye and the grounds crew and everyone involved in the project performed nothing short of a miracle in having the course ready. Hurricane Hugo, which hit during the week of the '89 Ryder Cup in England, wiped clean all of the initial work Dye and his wife and sidekick, Alice, had done to that point. It wasn't much, but they not only had to start over but oversee a burdensome cleanup of the site.
There was tremendous pressure to get it done, but little known is that there was a backup plan. Osprey Point, a Tom Fazio layout, was designated as the alternate site at Kiawah should the Ocean Course not be available.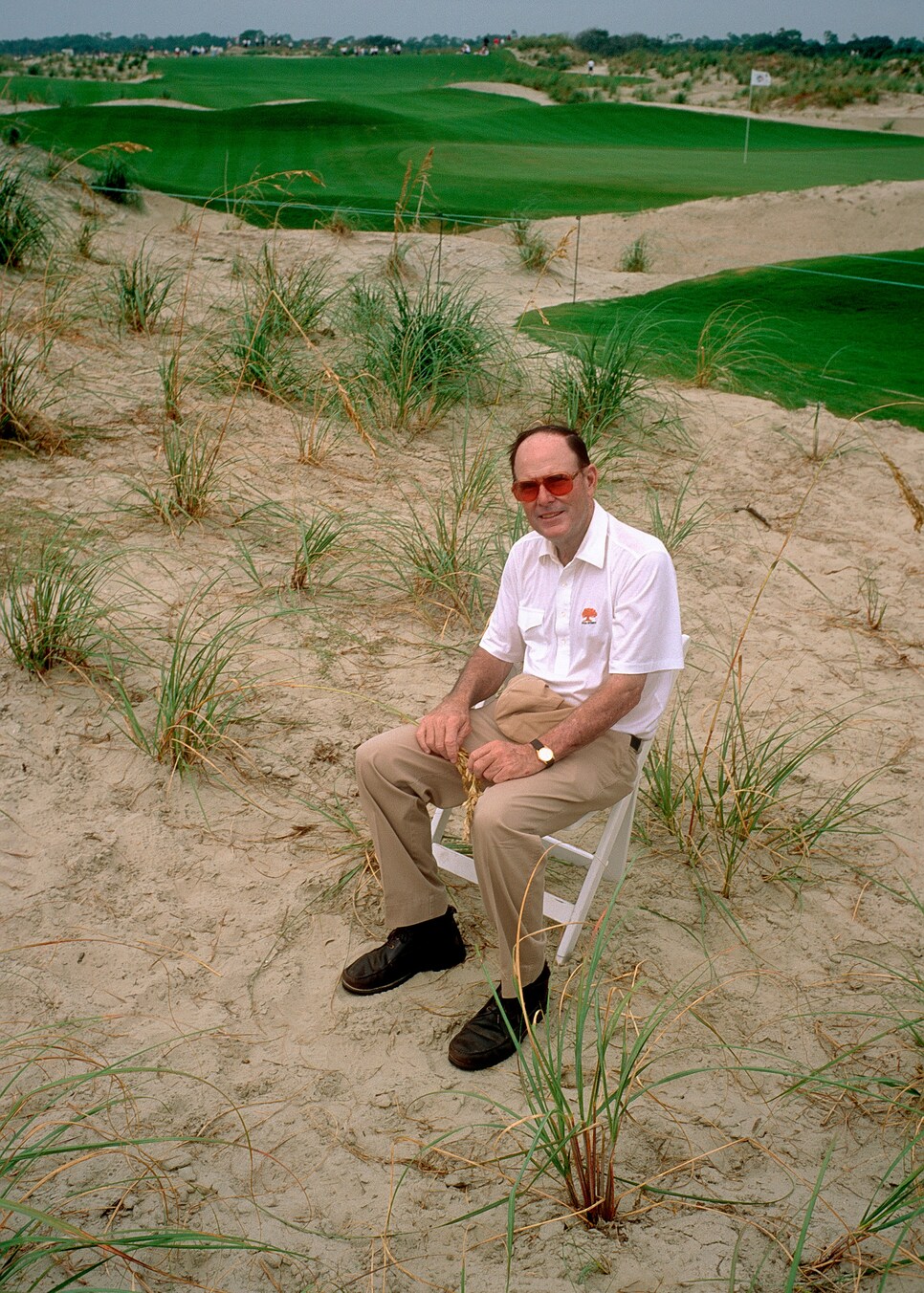 Pete Dye takes in play at the Ocean Course during the 1991 Ryder Cup.
Phil Sheldon/Popperfoto
But according to Curt Sampson's book on the '91 Ryder Cup, which appropriated for its title, "The War by the Shore," Hurricane Hugo provided a freedom for Dye he wouldn't have otherwise enjoyed. "Hugo made it easier to build the Ocean Course," George Frye, director of golf maintenance at Kiawah, was quoted as saying in the book. "We only had a general permit. Pete went out and did what he wanted. No one had time to worry about what was going on at the Ocean Course. The whole county was torn all to hell."
In the final accounting, about 90 percent of what became the Ocean Course was Dye-created—not unlike the Straits Course at Whistling Straits in Wisconsin where the 43rd Ryder Cup will be staged this fall after the pandemic forced a one-year postponement. The dunes astride the fairways at the Ocean Course were among his additions, and they proved nearly impossible to traverse without significant exertion. Raymond Floyd nearly teetered off one of the dunes while playing foursomes with Fred Couples on Friday morning.
"If you weren't out playing it was even less fun to be out there," Feherty said. "The course was hard. It was like 7,500 yards and we had persimmon drivers. [The official scorecard listed the par-72 layout at 7,303 yards.] The walk around it was even harder."
Whether it was the actors or the stage—undoubtedly a combination of both—few could object to the drama that unfolded at Kiawah Island that fall. It was crazy and controversial, but it was also riveting theater full of emotion and extraordinary golf execution.
"It was probably one of the most maddening golf courses I have ever played," Colin Montgomerie said. "It was the kind of course you never again wanted to see. But you couldn't say it wasn't memorable."
"I might have hated it, but on Friday afternoon with Chip Beck I made seven or eight birdies on my own ball—and still got beat by Seve and Jose Maria [Olazabal]," Azinger recalled. "You know, it still rewarded good shots. And by the end of the week, when the competition was over, I looked at that course and really thought about what was there and found a lot of genius in it. At first, I was like, 'Here we go, Pete Dye, going to be ridiculous.' But you break that course down with a little bit of hindsight, and you could see a lot of shot values there. It made me see Pete Dye differently."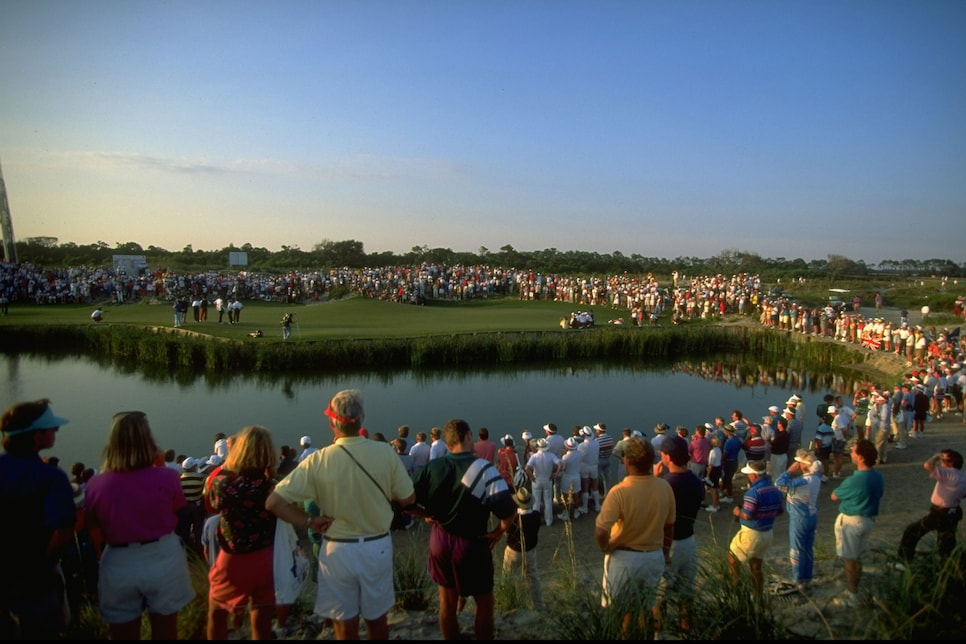 Pete Dye created many of the hills and valleys throughout the course, making it easy for spectators to take in the action.
David Cannon
Standing on a dune above the green at the formidable par-3 17th hole, the architect watched a foursome of European golfers finishing up a practice round on Wednesday afternoon. Woosnam, then the top-ranked player in the world and reigning Masters champion, found the water that separated the tee and the green. So did Feherty. Montgomerie blasted his tee shot through the green into a waste area. Faldo saved face for the group by getting his tee shot on the putting surface some 20 feet below the hole.
Dye turned to a fellow observer and said with his wry, thin smile, "What do we have, two in? I'd say it's playing just about perfectly. I'd say we're ready."