The Loop
Kevin Na's amazing shirt logo, Justin Thomas' awkward clothing situation and Kevin Kisner's all-time candid quote
Welcome to another edition of The Grind, where we knew the player is a LOT more important than the coach way before Tom Brady took the Tampa Bay Bucs to the NFC Championship game. No offense to Butch Harmon or Hank Haney, but Tiger Woods would have done just fine working with anyone outside of Club Pro Guy. And no offense to Bill Belichick, but Brady would have become a winner in the NFL no matter who was guiding him. Well, once he avoided being drafted by the Jets, of course. GOATS gonna GOAT.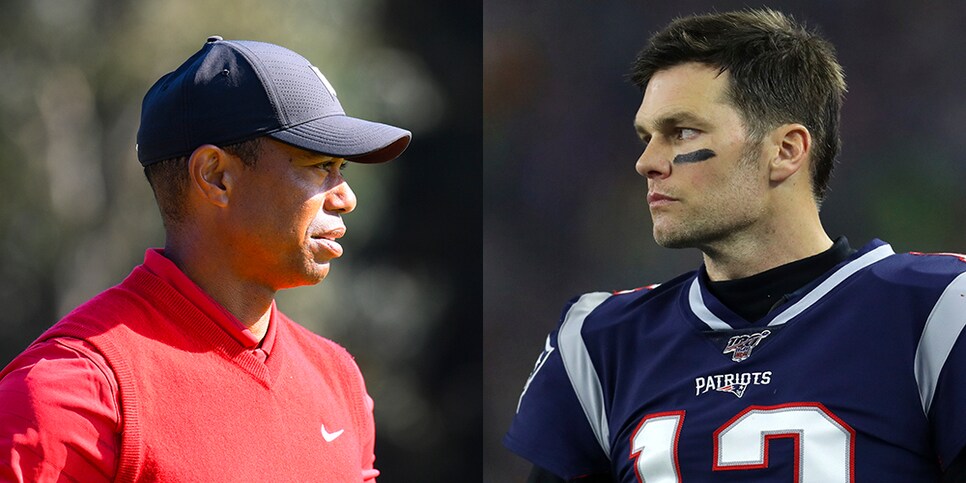 That being said, Belichick might win another six Super Bowls if he's able to land Deshaun Watson. Don't let this happen, NFL. Please. A 20-year dynasty was enough. Anyway, let's get to the golf news that has us talking, including a surprisingly new dominant force in the game and an MLB star with some serious skills on the course.
Kevin Na: What a difference a few years makes, huh? Na was once known mainly for holding up golf courses with his pace of play. But few victories have drawn the kind of praise he got from Golf Twitter on Sunday after taking the Sony Open title. Sure, Na has overcome some demons, but this ball of nervous energy is also just plain fun to watch. Case in point, a Phil Mickelson-esque play from a cart path with a fairway wood during the final round:
Pretty sporty. And it doesn't hurt your popularity to have an adorable daughter running around. Literally.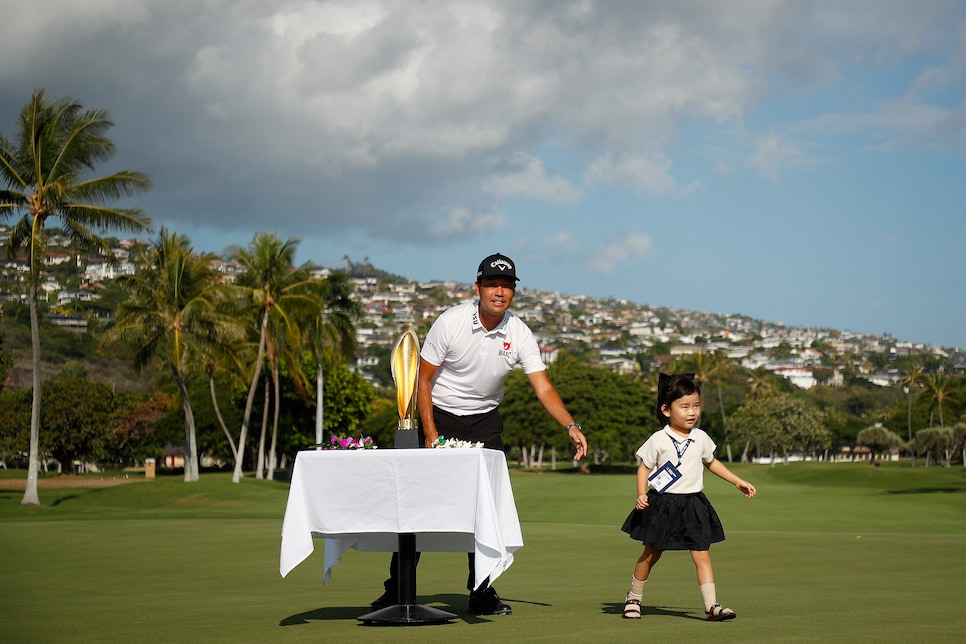 Incredibly, with his Sony title, Na has four wins in his past 55 starts after winning just once in his first 369 starts. And only Dustin Johnson, Justin Thomas and Bryson DeChambeau have longer current streaks than Na's four consecutive PGA Tour seasons with a victory. Pretty amazing for a guy who infamously couldn't even pull the trigger on shots down the stretch at the 2012 Players Championship. Now, as one of the game's best closers all of a sudden, could Na make a first Team USA appearance at this year's Ryder Cup? We'd love to see it.
Kevin Na's logo: I mean, seriously, how good is this?
I thought it would be tough to top Phil Mickelson's jump logo, but this might do it.
Chris Kirk: Kirk's inspiring road back to the tour from battling alcoholism and depression has been well chronicled, but he showed even more guts at the Sony Open. Playing in his last start of a major medical extension, Kirk needed a T-3 or better to keep his card. All he did was finish T-2 to get the job done. Golf clap. And please read our Shane Ryan on both Kirk and Na. Golf clap to Shane as well.
Aaron Hicks: Last week, we featured this New York Yankee hitting a golf ball out of the park at Topgolf. This week, he managed to do something much more impressive, making a hole-in-one. On a par 4! And Cheyenne Woods, Tiger's niece, was there to document it:
Man, I love this guy. What a stud. I just wish the injury-prone outfielder stayed on the field more. At least, it seems like he spends his time away from the team well.
Brendan Steele on Sunday at Waialae: Two years in a row with a back-nine lead in the final round at the Sony Open. Two years in a row with a tough finish. Some might say he doesn't exactly have nerves of Steele down the stretch there. Sorry, Brendan, that was bad. Even by my standards.
Joaquin Niemann's Hawaii fate: This dude just shot 45 under for two golf tournaments and yet he left the Aloha State without a trophy.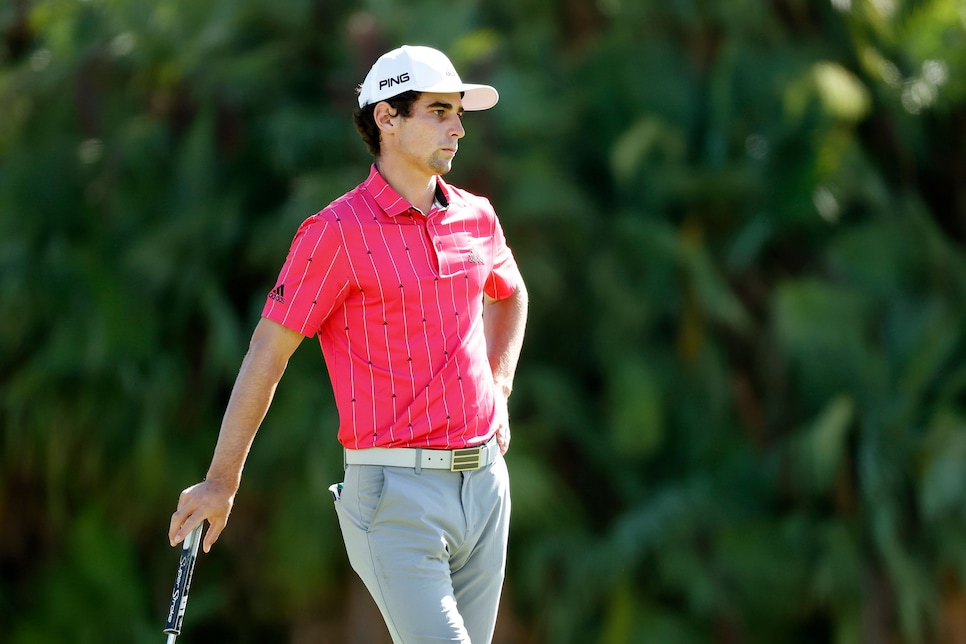 That just doesn't seem fair. The only two players who ever shot lower in those two tournaments (Justin Thomas in 2017 and Ernie Els in 2003) won both of those events that year. The 22-year-old Chilean still earned nearly $1.4 million for his efforts, though, so he didn't come away totally empty handed.
Being a celebrity golfer this year: We already knew The American Express this week wouldn't have its usual pro-am format, but now the AT&T Pebble Beach Pro-Am won't either. Tough times for the likes of Larry the Cable Guy, Gary Mule Deer and Kenny G. On the flip side, it's never been better to be a PGA Tour pro playing in those two events. In any matter, no need for Larry Fitzgerald to fluff up his handicap this year.
Doing this: Whatever this is. You've heard of a bull in a china shop, but here's a cart in a pro shop:
Yikes. That's almost as bad as the time my mom backed the old Ford Taurus wagon through our garage door. Sorry, mom.
The PGA Tour returns to the mainland for The American Express AKA the Desert Classic AKA the CareerBuilder Challenge AKA Humana Challenge AKA the old Bob Hope Classic. But the better field might actually be in Abu Dhabi as the European Tour kicks off 2021 with the likes of Rory McIlroy, Justin Thomas, Tyrrell Hatton and Tommy Fleetwood teeing it up. If you're keeping track at home, I believe this is the seventh consecutive year in which pundits have predicted it to be the YEAR OF RORY so that's exciting.
Random tournament fact: Bill Haas is one of seven players to win this PGA Tour event twice and only Arnold Palmer has more with five victories. Just a couple of Wake Forest legends. Man, I miss Bill Haas being good.
RANDOM PROP BETS OF THE WEEK
—Bill Haas will win this week: 600-to-1 odds (Actual odds. Sigh.)
—Aaron Hicks will ever play on the senior tour: 100-to-1 odds
—Aaron Hicks will ever play a full season: 1 MILLION-to-1 odds (Also sigh)
Justin Thomas arrived in Abu Dhabi still wearing Ralph Lauren after being dropped by the company in an all-time Friday night news dump. Awkward. Then again, it's hard to imagine he has many clothes that aren't Ralph Lauren at this point. In fact, I picture JT wearing Polo onesies exclusively as a baby.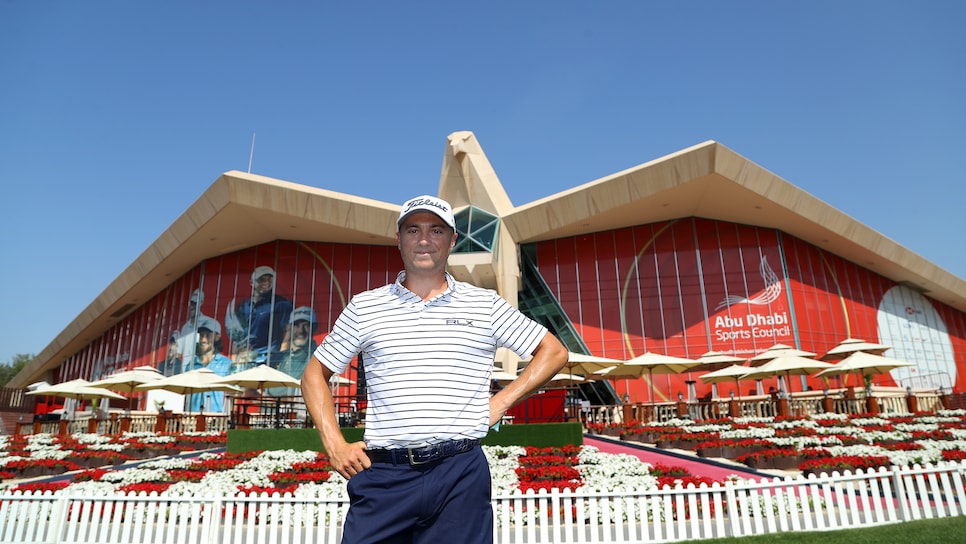 Hey, he could always swap that horse for Kevin Na's new logo.
Rory McIlroy and Brad Faxon found out that if you play golf with Gary Player, be prepared to do some push-ups:
Sneaky-good "combined 13 majors" caption from Faxon. Yes, GP's form isn't great—and neither is the fact that none are wearing masks that close to one another—but the guy is 85(!) so I'm cutting him some slack. If I'm even alive at 85, I'll be happy to be able to pick up the remote control from the couch.
VIRAL VIDEO OF THE WEEK (TRICK-SHOT DIVISION)
Tania Tanare is still doing her thing:
Well done, Tania. Also, kudos to the guy willing to stand-in for that. Then again, it's better than standing in for one of those driver-through-the-legs attempts.
Kevin Kisner with the most honest answer you'll hear this year:
Classic. Oh, and by the way, This PGA Tour ATM eagled his final hole on Friday to make the cut on the number. He then climbed the leader board the final two rounds to finish T-32 and make another $34,576.67. Dude is an earner.
THIS WEEK IN TOUR PRO PUBLIC DISPLAYS OF AFFECTION
THIS WEEK IN BRYSON BEING BRYSON
Bryson DeChambeau thinks he's figured out what was causing him to feel off during the Masters in November. And it's actually quite simple:
"I actually went to multiple doctors, multiple people, trying to figure out what this was," DeChambeau said Friday, speaking ahead of his appearance next month at the Saudi International on the European Tour. "I got a couple MRIs. Went to an inner ear doctor, eye tests, eye pressure, ear pressure, even did ultrasound on my heart, ultrasounds on my neck to see the blood flow and how things were moving through the different areas of my body, and everything came back really, really well.
"The one thing I will tell you is that I've done a lot of brain training with Neuropeak, and the frontal lobe of my brain was working really, really hard and that's kind of what gave me some weird symptoms, like crazy overworking."
Congrats to Lt. Col. Dan Rooney for being honored with the NCAA Silver Slugger Award for all his work with Folds of Honor. Well deserved. … Michael and Chris Keiser plan to resurrect Lido Golf Club, a long-lost Long Island track. In Wisconsin. As if you needed another example of how much real estate costs in New York. … Happy 30th birthday to Tommy Fleetwood. Now's the time in your life you start to look around at your friends and really appreciate how lucky your hair situation is. … Jon Rahm withdrew from this week's American Express on Monday, giving no reason why. He also posted this photo shortly after so we're guessing he's OK:
And finally, I start my root-canal retreatment process on Wednesday. Now that's a good reason for a WD. Anyway, wish me luck.
RANDOM QUESTIONS TO PONDER
How many pushups can Rory McIlroy do in a row?
How many majors would Tiger win with Tom Brady's back?
When will I be able to chew on the right side of my mouth again?