News
Kevin Na, now a five-time PGA Tour winner, has become a bona fide closer
It was no Brady vs. Brees, but the Sony Open had its fair share of drama on the back nine Sunday.
This was a pleasant surprise for viewers, who may have changed the channel after Brendan Steele made eagle on the par-5 ninth, opening up a three-shot lead. While it felt over, it was far from over, much of that due to Steele's struggles coming down the stretch. Unfortunately, the three-time tour winner let the Sony Open slip away for a second straight season, allowing Kevin Na to claim his fourth PGA Tour victory since July of 2018, and the fifth of his career.
Kevin Na has become a bona fide closer
It took Kevin Na 10 years on the PGA Tour to earn his first victory in 2011. It's taken him less than three to earn four more, a remarkable achievement for a player most remember as the guy who had the swing yips at the 2012 Players Championship. That guy is now a distant memory. The new, current version of Na is a bona fide closer.
The 37-year-old's latest victory came Sunday at Waialae, where he birdied the 72nd hole to finish off a 61-65 weekend and beat Chris Kirk and Joaquin Niemann by one stroke. He's now won once in each of the last four seasons, which he was quick to remind Golf Channel's Todd Lewis about with a big smile during his post-round interview. Na's career shift from guy who couldn't get it done to guy who gets it done regularly, and the swagger he has about it (yes, he walked in many a birdie putt on Sunday), has been fascinating to watch.
"I got out here so young and it took me forever to win," Na said. "It took me forever to validate. I'm so happy at home with my family now, my lovely daughter Sophia, my son Leo and my wife is a very supportive wife. I'm just so happy at home, and that's showing up on the golf course, that's been the key."
That, and slamming the door shut when it matters most: Sundays. At the 2018 Greenbrier, Na shot a final-round 64 to win by five strokes. Less than a year later at Colonial, he closed with a 66 to win the Charles Schwab Challenge by four. The following fall, Na needed extra holes to beat Patrick Cantlay for his second Shriners Hospitals for Children Open victory. He's become one of the true clutch players on the PGA Tour, which was an unfathomable thought on that one Sunday at TPC Sawgrass almost nine years ago. Golf remains a mystery, as Na's wild, and wildly long career has shown us.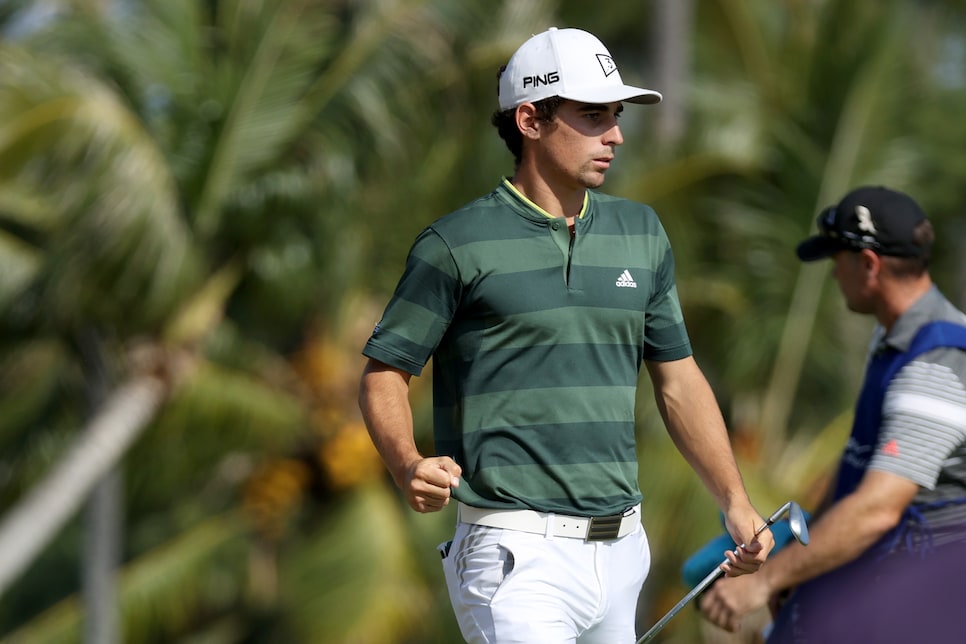 The Joaquin Niemann win is coming soon to a theater near you
Unlike Na, it did not take Joaquin Niemann 10 years to capture his first tour win (2019 Greenbrier). And it certainly won't take him that long to get No. 2. Hell, it might not take 10 weeks. Last week, he lost in a playoff at the Sentry Tournament of Champions, and this week he nearly played his way into another playoff with some late-round heroics. After looking like he'd be a Sunday no-show for much of the day, the 22-year-old Chilean shot a back-nine 31, highlighted by an incredible birdie chip-in at the par-3 17th. Another birdie at 18 put him at 20 under, one shot shy of Na. As my colleague Daniel Rapaport has pointed out multiple times this week, he's quite literally making "the leap" before our eyes. Would not be the least shocked to see him contend at majors this season. He has that much game, and, more importantly, the proverbial "mental makeup."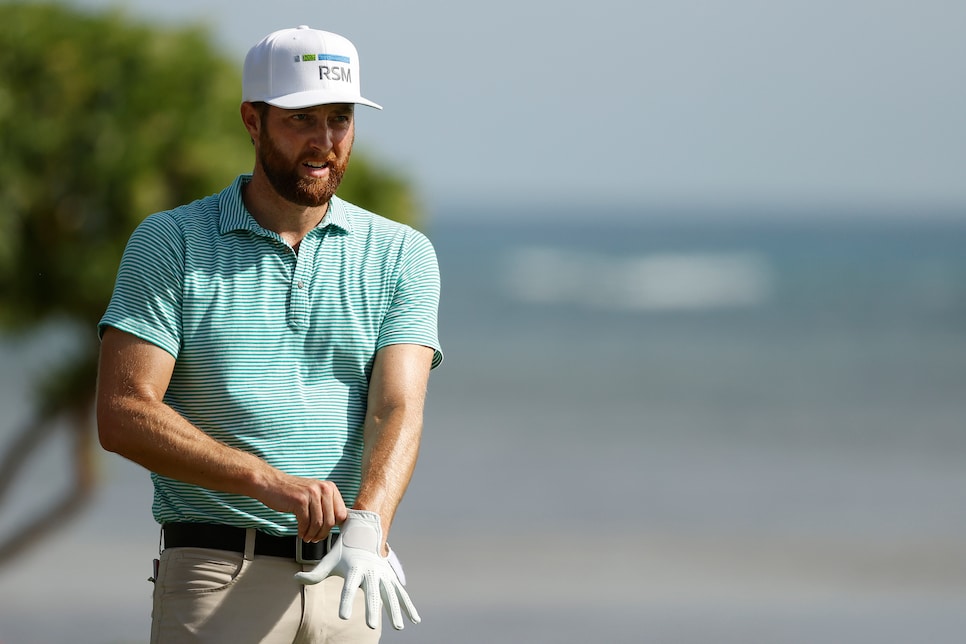 Chris Kirk didn't win, but he also did win in a big way
As we wrote prior to the final round, Chris Kirk didn't have to win to have a very productive day on Sunday. Starting at T-4, all he needed to do was finish in a two-way tie for third to retain his PGA Tour card. If he wasn't able to do that, a top 12 finish would have at least gotten him conditional status.
Both those outcomes appeared to be in jeopardy when Kirk began his day two over through three holes. This was particularly tough to watch given how far Kirk has come. In November 2019, the four-time tour winner took a leave of absence from the game, citing alcoholism and depression issues. Thirteen months later, he won for the first time in five years at the Korn Ferry Tour's King and Bear Classic. While that was a big step, Kirk needed to make the most of his limited starts on his Major Medical Extension on the big tour, and he hadn't been doing that up until this week.
Luckily, there is a happy ending to this story. Kirk fought back after the ugly start, playing his final 15 holes in seven under and finishing in a tie for second, thus retaining his tour card. The result will move him from outside the top 130 in the FedEx Cup standings to inside the top 40, giving him a legitimate shot at the FedEx Cup Playoffs. You may recall, Kirk won a FedEx Cup Playoff event in 2014, the Deutsche Bank Championship. A month later, he played a key role on the winning U.S. Presidents Cup team. Safe to say everyone is rooting for the former Georgia Bulldog to reach those career heights again. Sunday was a key moment in getting his career back on track.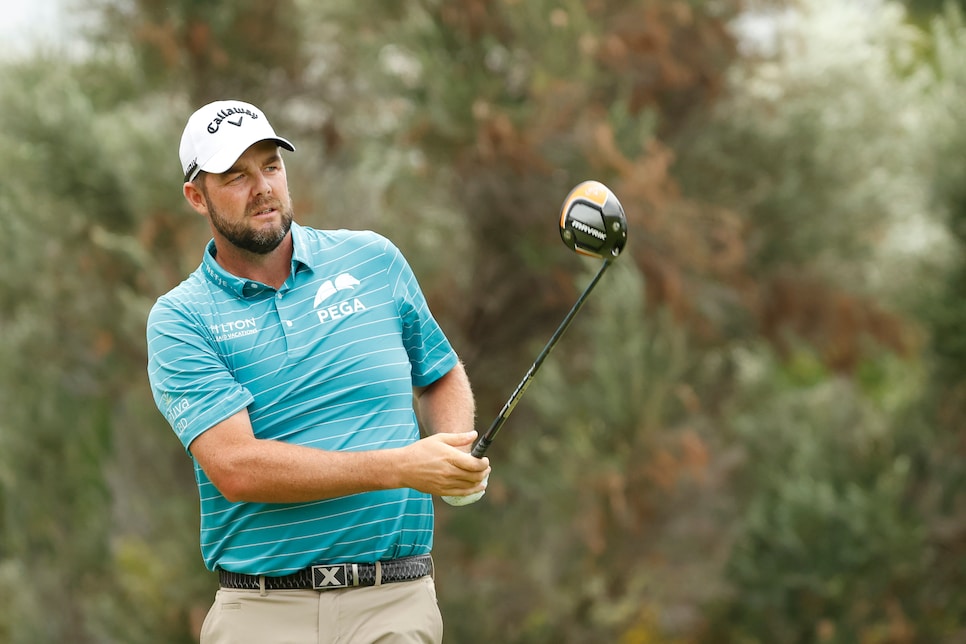 Marc Leishman has fixed his game in record time
We touched on this Friday evening, but it's worth repeating just how terrible Marc Leishman was post-restart, and just how quickly he's turned it back around. He was about as bad as a tour pro could be between June and October, like horrifically bad in every area of his game. Then, in the fall, he tied for 13th at Augusta National and has been a different player ever since.
On Sunday, after a very poor start to his front nine, he clawed back to post an even-par 35 and then came home in 30, giving him a third straight 65. It could easily have been a 63 too, which would have gotten him into a playoff. To be as bad as he was for multiple months and to already look like his normal self again is no small task. He'll be a guy to watch in the coming months, specifically at courses he loves like Torrey Pines and Bay Hill.