News
The two most compelling stories from the Sony Open have more in common than you'd first think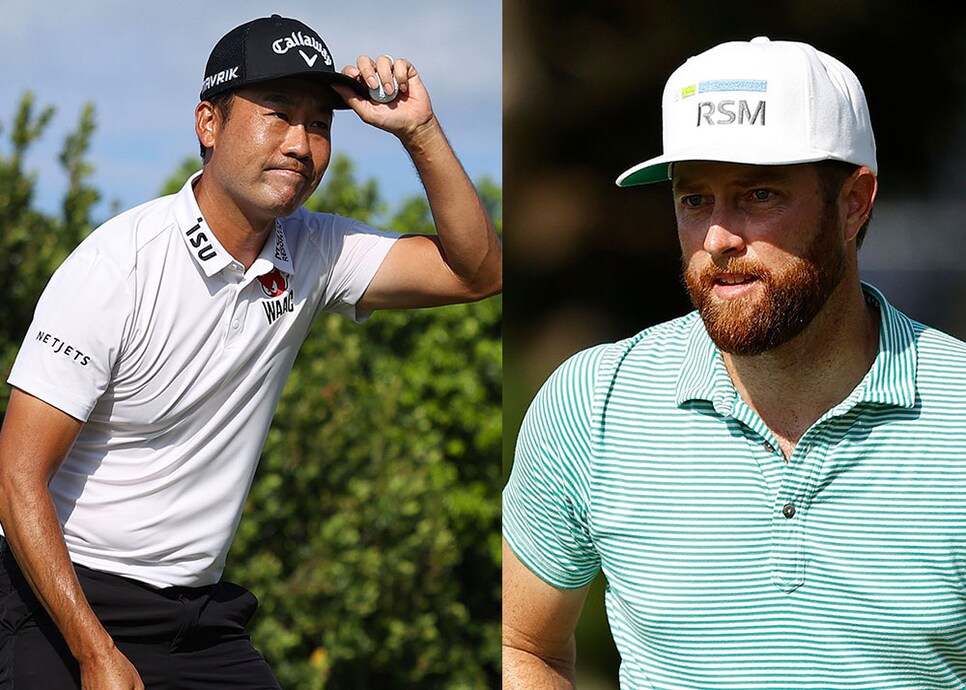 This weekend in Hawaii, Kevin Na (left) and Chris Kirk were both rewarded for their mental resilience after battling issues from early in their careers. (Photos: Getty Images)
The first time I saw Kevin Na at a press conference came in 2014 on Saturday at the Valspar Championship. I didn't know a lot about him at the time and hadn't really thought much about him, either. The extent of my knowledge was his infamous performance at the 2012 Players Championship, when he became a punching bag for writers everywhere because of the endless waggles and false starts that saw him take up to a minute over a ball before hitting it. Even at the time, the treatment of him felt cruel—he was clearly under mental duress and understood all too well how frustrating the spectacle must have been for viewers and his playing partners.
The broad term for this is the "yips," a punchy, comical word that paints a poor picture of the psychological strain of the athletes who suffer from the affliction. It's also incredibly difficult to understand for those who have never experienced anything like it and can't count empathy among their strong suits. And it certainly didn't help that Na led going into the final round, heightening the intense spotlight on his balky swing. At one point, he yelled at himself to "pull the trigger!" and reportedly was near tears by the end of Sunday's round after a glut of heckling accompanied his ugly 76.
By 2014, he had done everything he could to speed up his play, even though by then he knew he'd likely be dealing with some form of his particular mental quirk forever. At the Valspar, his sincerity surprised me, as did his openness about the pain of his reputation.
"It just put a stamp on me," he said. "It's not fair. I've had a lot of guys come up to me and say, 'You know, you really changed.' Even Louis Oosthuizen said to me, he and his caddie looked at me, 'Kevin, you're not slow.' I said, 'Well, thank you.' But doesn't mean the viewer is going to change what they think about me."
We spoke for 20 minutes at the driving range of the Colonial later that year. After an awkward beginning—he told me he would take practice swings while we talked, and when I joked that this was an old Tiger technique to keep journalists at a distance, he didn't seem to appreciate the humor, perhaps because it's exactly why he was doing it—he was open about his background, and the chat was pleasant if not profound. At one point, an agent approached him hoping to recruit him as a client since Na was, as far as I could tell, the only major player on tour without representation. (He's represented today by Pro-Sport Management.) He declined politely, and aside from the details of the conversation, the impression I left with was one of polish over a sublayer of intensity. He was affable, but you couldn't miss the underlying tension, a familiar tautness of being that made his seemingly eternal optimism all the more impressive.
Despite his improvement, the struggles and the drama would continue. Steve Williams would call him a "bad movie you watch over and over" to his face in late 2014, he'd endure a nightmarish broken engagement with a Korean fiancee and, despite turning pro at age 17, he'd continue to struggle under pressure. The golfer who was supposed to be a phenom was instead a competent-yet-tormented professional, and by age 35 had only one PGA Tour victory.
After his win Sunday at the Sony Open, Na has now won an event in four straight seasons, has found domestic contentment with his wife and two children, and seems, against the odds, to have endured and emerged from the heavy trials of what we can charitably call a difficult brain. Now the 37-year-old believes he can win, and now he's able to play his best in a crowded field with final-round pressure. And as he said in his championship presser, he's "hungry for more."
If Na hadn't birdied the 18th on Sunday—if the rogue blade of Bermuda grass on his final chip had led to a humiliating mis-hit, as he feared—then he would have found himself in a playoff with Chris Kirk. For Kirk to be in a position to win was itself a story of resilience, and though he didn't ring the bell, Kirk accomplished the improbable anyway. As Christopher Powers wrote, he needed to finish in a two-way tie for third place to keep his full PGA Tour status after his leave of absence, and to say that's asking a lot is an understatement for the ages, particularly for someone without a top-10 PGA Tour finish in three years. And yet, he pulled it off, posting a Sunday 65 after bogeying two of his first three holes to finish in a tie for second with Joaquin Niemann.
As Kirk revealed in an excellent interview with the PGA Tour's Helen Ross in the fall of 2019, his absence stemmed from alcohol abuse and depression. "Everybody has issues," he said at the time. "Everybody has stuff that is bothering them that they need to work on. This just happens to be my thing."
Kirk drank to stave off his own anxiety and depression, and when he stopped, those demons came roaring back—a horrific Catch-22 familiar to many addicts. The process of recovery entailed staying home, going on medication and therapy.
When I covered the tour in the 2013-14 season, Kirk won the first tournament I attended, known then as the McGladrey in Sea Island, defeating Briny Baird in a playoff. As proof that you can't judge a book by its cover, Kirk would have been the last person I'd expect to struggle as he did. He was a serious, motivated and disciplined golfer who seemed poised to join the best American players of his generation, and those traits had been with him since childhood. When we spoke on the phone the next year, he was playing Legos with his son at their home in Atlanta, and he spoke about his ability to play his best golf under pressure after blowing a tournament in Australia to Jim Herman early in his career—an ability that hasn't diminished with time.
It goes to show that you can't tell how an anxious disposition will manifest itself over time. Kevin Na and Chris Kirk have very different struggles on the surface, but the psychological roots of what they've endured are nothing if not thematic. Their respective triumphs in Hawaii represent something better, and more lasting, than mere victory. They represent resilience in the face of a life that doesn't go according to plan.