Takeaways
Denny McCarthy's incredibly close call at history, Keegan Bradley's unusual prep pays off, and Justin Thomas' bounceback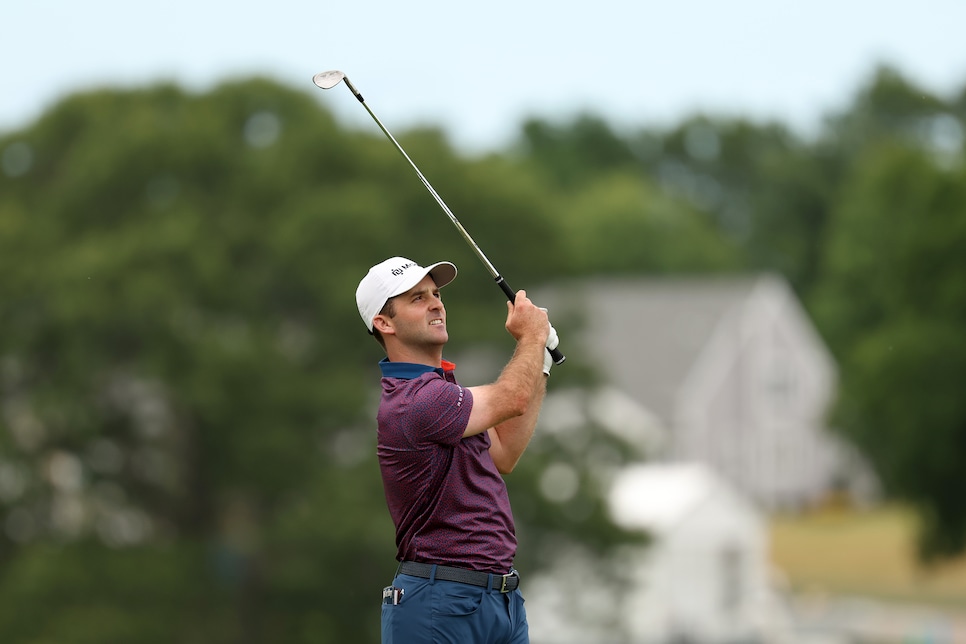 CROMWELL, Conn. — For a second consecutive week, there were a pair of opening 62s shot on the PGA Tour. Only this time, they were actually topped.
Of course, low scoring is expected at the Travelers Championship and not so much at a U.S. Open. But Thursday's fireworks were impressive even by this tournament's standards as Keegan Bradley set the pace with a morning eight-under 62 that was matched in the afternoon by Adam Scott. Denny McCarthy didn't only go lower, though, he narrowly missed history.
McCarthy sat at nine under, having come up about a rotation short with a lengthy birdie try on No. 8, his 17th hole. So his shooting a 59—or even a 58 like Jim Furyk shot at the 2016 Travelers—seemed be dashed … until he nearly holed his approach on the par-4 ninth hole. Watch just how close he came to a walk-off eagle for 59:
Amazing. Slow it down and he literally missed the hole by an inch. Moments later, he settled for birdie and a 60 to grab the lead after a wild Day 1 at TPC River Highlands.
"We were just going off the crowd's reaction at that point," said McCarthy, who hit a 7-iron from 170 yards. "Obviously it came pretty close to going in. In the air I wasn't expecting it to be anywhere close to going in, but obviously it was exciting that it had a chance."
There have been 12 sub-60s in PGA Tour history, the last of which was Scottie Scheffler's at the 2020 Northern Trust. But while McCarthy couldn't quite get there, it's been a hot run for arguably the PGA Tour's best putter. The 30-year-old is up to a career-best 33rd in the Official World Golf Ranking thanks in large part to a runner-up at last month's Memorial. But he's still looking for that elusive maiden PGA Tour title.
"I mean, it sucked that I bogeyed the last hole and bogeyed again in the playoff, but I did a lot of good things down the stretch and I felt really comfortable in that position," McCarthy said of his playoff loss to Viktor Hovland. "I didn't feel—there was some nerves and adrenaline, but I didn't feel shaky. Just kind of felt like I belong in that situation, so I'm hungry to get right back."
Here are our other takeaways from the opening round:
Keegan's unusual prep pays off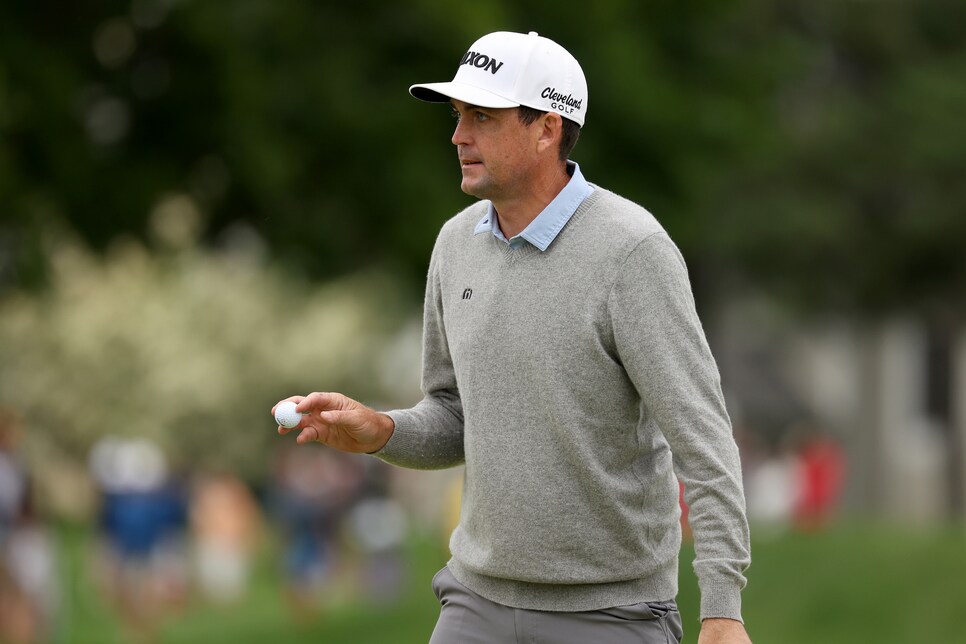 After missing the cut at the U.S. Open, Keegan Bradley spent Father's Day playing mini golf with his boys. It might turn into a regular thing after the way he putted on Thursday.
Bradley was red-hot with the flatstick, even bowing down to it after rolling in a 75-footer from the fringe on No. 17. It was a putt that wasn't struck as he planned, but fortunately, it hit the middle of the flagstick and dropped in. That had Keegan thinking about going sub-60 as well.
"Well, when I made that really long putt on 17 and it was—could have gone in the water. I don't know, crossed my mind," Bradley said. "I wasn't thinking about it a lot, but I certainly was going to try to do it."
Instead, he settled for 62—and potentially some more mini golf with the New England native's family here.
"Oh, yeah, my boy played already this morning," Bradley said with a smile. "Said he wants to go this afternoon. We'll see."
The rest of the field could be in trouble.
Scottie Scheffler lurking … as usual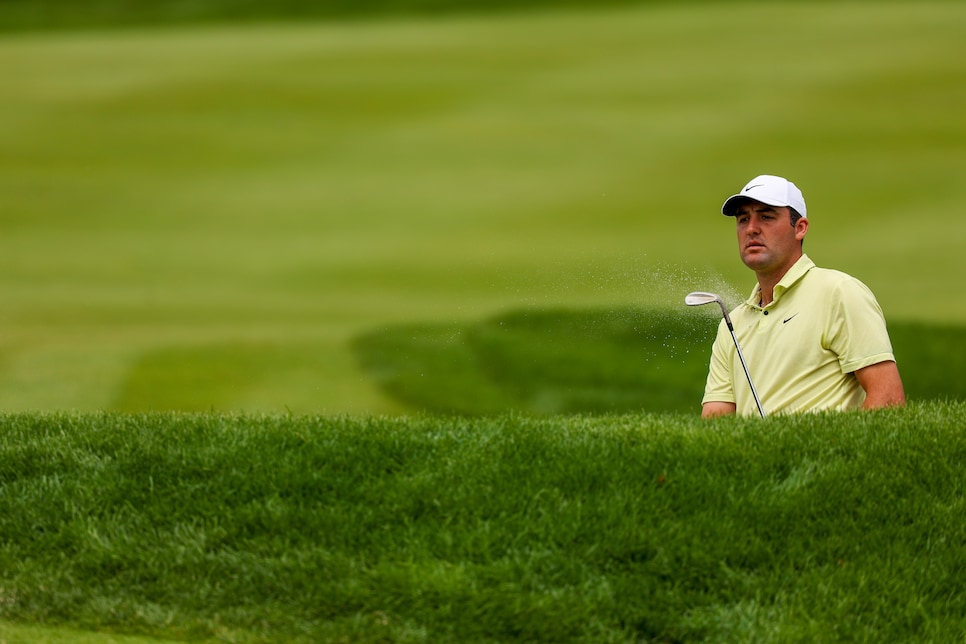 The World No. 1 was up to his usual tricks on Thursday. Scheffler wasn't sharp off the tee, but his otherworldly iron play allowed him to hit 17 greens on his way to an opening 63.
But again, this is just typical stuff from Scottie. Yesterday's birthday boy (he turned 27) entered this week with an incredible string of 17 consecutive top-12 finishes, including five straight top fives.
"I felt good out there," Scheffler said. "Like I said, I didn't drive it great but it's not U.S. Open rough out there, so you can kind of manage your way around the golf course as long as you avoid the bunkers."
Min Woo Lee's apology to his sister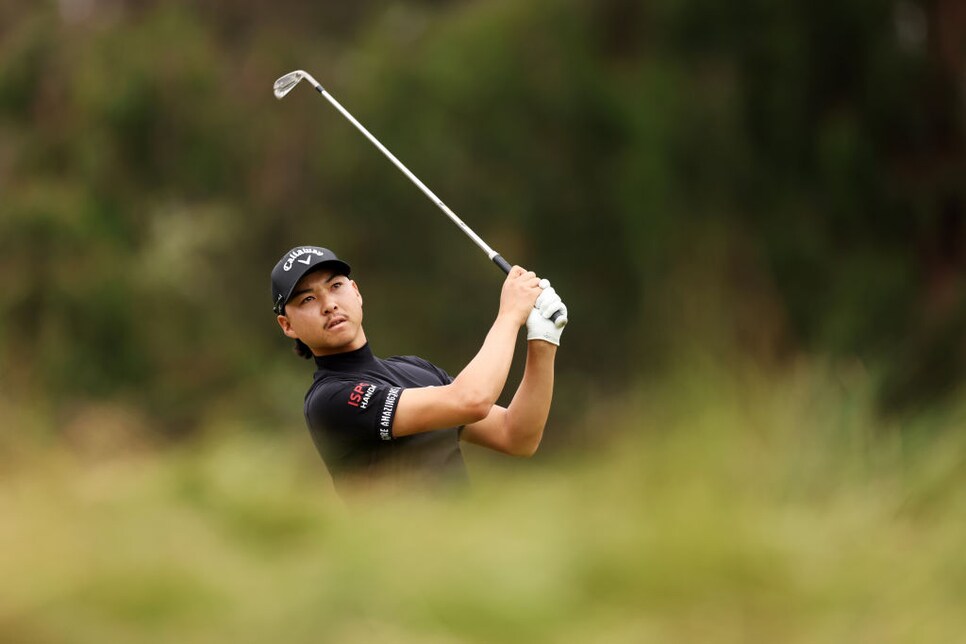 The rising star wasn't supposed to play in this tournament, but got in thanks to a top-10 finish at the U.S. Open—and a pep talk from fellow Aussie Adam Scott. The only problem is that he had to tell his sister, Minjee, that he wasn't coming to Baltusrol to watch at the KPMG Women's PGA Championship.
"Yeah, I was supposed to go," Lee said. "Everything was booked. Booked a house and media stuff, too, for this week at the KPMG, and obviously ended up Top 10ing into this tournament. Sorry, sis. Had to come play here."
But Minjee will certainly understand—especially if younger bro, who opened with 66 at TPC River Highlands, continues his rise in the Official World Golf Ranking. Oh, and it sounds like it might be for the best anyway.
"She's probably happy," Lee said. "I annoy her too much."
Justin Thomas' bounceback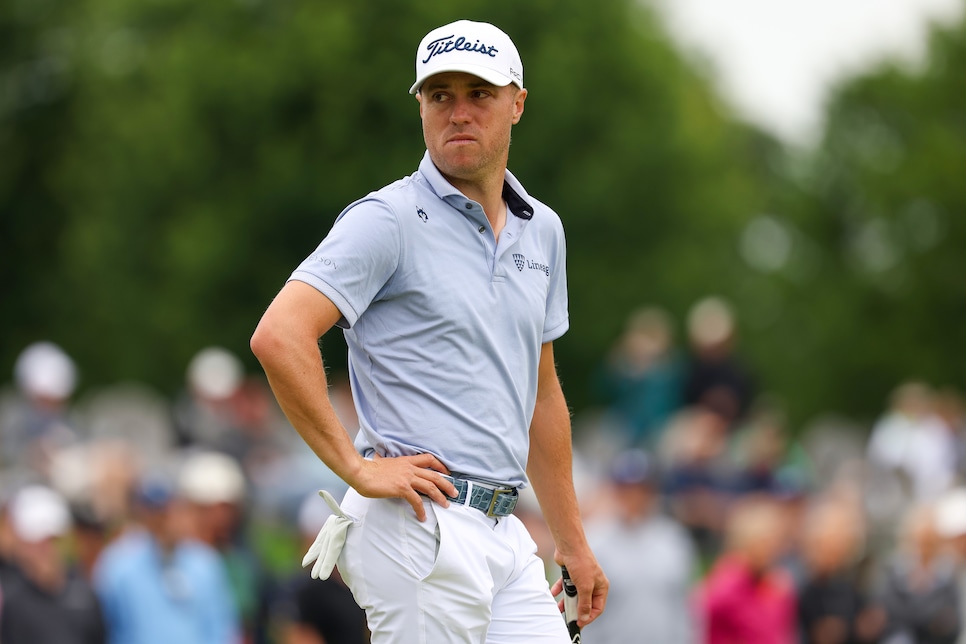 After an 81 on Friday at the U.S. Open left the former World No. 1 the "lowest I've felt" in his career, things didn't start well on Thursday. Thomas bogeyed two of his first five holes then found the water with his tee shot on the drivable par-4 15th.
At that point, the Thomas train was officially headed off the tracks as he was tied for dead last among the morning wave. But the two-time major champ continued fighting.
After taking a penalty drop, Thomas got up and down for par. Then he made two birdies and no bogeys the rest of the way to shoot an even-par 70. It's still not where the 15-time PGA Tour winner wants to be at 10 shots off the pace, but he's got to feel at least a bit better heading into Friday.