Rolling The Rock
This Keegan Bradley quote is some next-level putter worship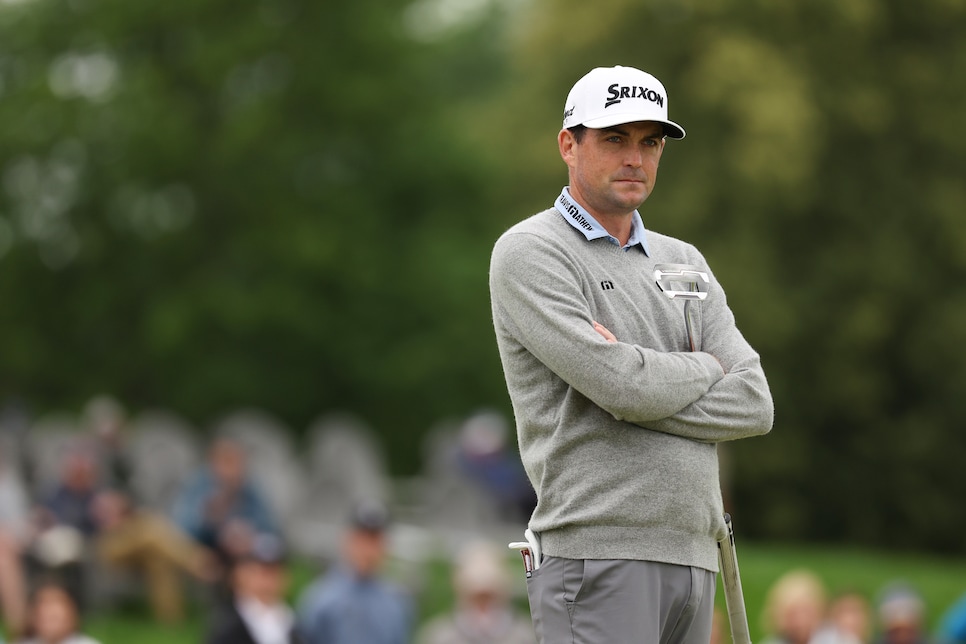 If the string of five consecutive birdies to begin his opening round of the Travelers Championship wasn't enough proof that Keegan Bradley was COOKING in Connecticut, the 74-foot, from-the-fringe bomb at the par-4 17th really drove the point home:
In a rare narrative shift, the flat stick has actually been quite kind to Keegs of late. It's normally the club that holds him back, Bradley often gaining a boatload of strokes in the ball-striking department and then turning 66s into 71s on the greens. But he's currently ranked inside the top 50 in strokes-gained/putting this season, and he's been a plus player on the greens in four of his last five starts.
Bradley, a Vermont native playing a "home game" this week at TPC River Highlands, kept rolling the rock on the back nine, too. He made three more birdies from 16 feet, two feet and 21 feet on his way home, dropping just one shot at the par-3 fifth. The former PGA champ finished with an eight-under 62, currently good enough for the solo lead. As of this writing, he's ninth in the field in SG/putting.
This putt, for par at No. 4, is how you knew it was just simply his day:
By the way, your eyes are not deceiving you. That is the same model of putter Rickie Fowler and Wyndham Clark made famous last week at the U.S. Open at LACC. To pay his respects, Bradley was bowing to it on Thursday, a celebration that there is unfortunately no video evidence of. One reporter on hand noticed it, though, and asked Bradley what the backstory was.
"I don't know," Bradley said. "We bow to the putter. When it's working, that's our God."
Amen to that, literally. Who among us hasn't rolled in a few 20 footers and wondered if it was the work of a higher power? When the putter is hot, you treat it like a newborn child. Sleep with it. Eat with it. Shower with it (OK, maybe too much). Whatever it takes to keep it happy. And then, one day, very likely the next day, it goes cold again and you consider throwing it into the woods.
Good news is, it sounds like Bradley is going to get in some extra putting work post-round to stay sharp. On the mini golf course, that is.
"Oh, yeah, my boy played [mini golf] already this morning," he said. "Said he wants to go this afternoon. We'll see. Any time I get to hang out with my boys, and this week in particular with my entire family, is really special."