The Grind
Keegan Bradley's fitting celebration, John Daly's amazing entrance and Paulina Gretzky's golf swing gets topped by another WAG
Welcome to another edition of The Grind, where we need to start incorporating more mini golf into our lives to help our golf games. Well, that and bowing to our putter. A week after Keegan Bradley played putt-putt with his kids on U.S. Open Sunday after failing to make the cut, he was rolling in much longer putts from everywhere—and showing appreciation to his flatstick—on his way to a "dream" win at the Travelers Championship.
Apparently, Keegan would do anything to improve—including a crazy diet that saw him shed 30 pounds in five months—and I'm the same. Well, other than the diet part. I won't do that. No I won't do that. Anyway, here's what else has us talking this week.
Keegan Bradley: If it looked like Keegan had just won a major championship with his winning reaction at the Travelers Championship, that's because it truly felt like one to him. The Vermont native has been coming to the PGA Tour's annual Connecticut stop since he was 10, or long before it was even called the Travelers—not long enough to say he went when it was still the Sammy Davis Jr.(!) Greater Hartford Open, though. Anyway, this one meant a lot. And a first-place check of $3.6 million is pretty darn major as well.
After pulling out the three-shot win, Bradley said, "This is for all the kids who grew up in New England, gotta sit through the winters and watch everyone else play golf." As a native New Yorker myself, amen to that, Keegan. In fact, I don't know why I still live in this part of the country. Anyway, it didn't take long for Bradley to share a shout-out he got from the Dropkick Murphys and fill his latest prize with some Sam Adams:
It doesn't get much more New England than that.
Ruoning Yin: Moving on to an actual major, a 20-year-old won the 2023 KPMG Women's PGA Championship—it just wasn't the 20-year-old that many were expecting. Phenom Rose Zhang made a nice run Sunday at Baltusrol, but it was Yin who held off everyone by making a birdie on the closing par 5 at the historic venue.
Make no mistake about it, though, the rising Chinese star relied on her ball-striking over her putting to claim her first major. Yin hit her last 37 greens in regulation on her way to a second career LPGA Tour title. Yep, that's 37 GIRs in a row. In a major. At Baltusrol. "I'm glad that I can be the second Chinese player after Shanshan [Feng] won a major. She is the person who inspired me the most," Yin said. "I think it's going to push a lot of kids to play golf."
Getting a nickname from Chris Berman: If you're a British athlete, getting knighted by the Royal Family is the highest honor. But in the U.S., getting a nickname from Chris Berman is tough to top. Such is the case for Xander Schauffele, who got the special treatment while making a special trip to ESPN's headquarters ahead of the Travelers (:37 mark):
And not just any nickname. "Xander Killing Me Schauffele With His Song"? That's an absolute gem. Xander didn't successfully defend his title, but he left Connecticut with something much better than another shiny trophy.
Golf nightmares: I started tracking my golf dreams (good and bad) last year and compiled them in an end-of-the-year piece that I plan on replicating this year, so it's good to know that even the world's best golfers get these. Here's what Keegan Bradley had to say when asked about the challenge of closing out a win he wanted so badly: "Well, it was really difficult. You know, last night I woke up twice to a dream of me hitting bad shots. I mean, this is always a very challenging week for me. To go through something like this is about as tough as it can get." Thanks for admitting that, Keegan, because that makes me feel a lot better that I can overcome the bad golf dreams I've been having lately.
Getting kidney stones: Now this explanation from Mackenzie Hughes of why he had to withdraw from the Travelers Championship is an actual nightmare. We'll let the two-time PGA Tour winner explain:
Yikes. Feel better soon, Mackenzie.
Getting hit in the face with a driver: No one on the planet is hitting the golf ball as well as Scottie Scheffler is right now. Heck, it's possible no one other than Tiger Woods has hit it better in the past quarter century. But that didn't keep the World No. 1 from getting hit back by one of his clubs in one of the biggest bloopers of the season:
That looked like it hurt, too. Of course, I'd rather have that happen to me on every hole for the rest of my life than get kidney stones like Mackenzie Hughes.
The PGA Tour heads to Detroit for the Rocket Mortgage Classic, AKA that one where you constantly see Rickie Fowler commercials. Although, not to be confused with the Farmers Insurance Open, where you also constantly see Rickie Fowler commercials. In any event, it's a big week because you've also got the U.S. Senior Open, the eighth version of Capital One's The Match, and … the 2023 HGGA Championship! That's right, my annual golf trip, which will be headed down to the Pinehurst area (Driving down through the night like real golf sickos) for the third time in the event's prestigious history.
Random tournament fact: Tony Finau and yours truly are the defending champs of the Rocket Mortgage Classic and the HGGA Championship, respectively. But unlike Tony, I don't travel to golf tournaments with my family. I love my girls more than anything, but I need to concentrate!
RANDOM PROP BETS OF THE WEEK
—Tony Finau will successfully defend his title this week: 12-to-1 odds (Favorite)
—I will successfully defend my HGGA title this week: 3-to-1 odds (Arguably the favorite)
—Tony Finau will shoot much, much (much) lower scores than me: LOCK
Love a good story about Tiger dishing out some tough love:
That's about as tough as it gets right there.
CLUB PRO GUY TWEET OF THE WEEK
John Daly showed up for a Kenny Chesney concert during the Dick's Sporting Goods Open … in a golf cart: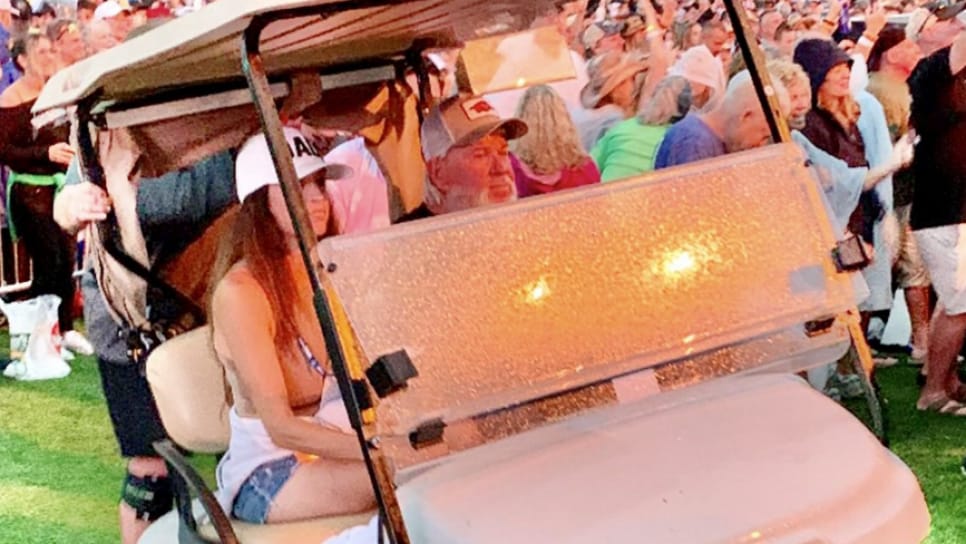 What a king. Padraig Harrington may have won the tournament, but there's no way he had a better time than JD.
PHOTO OF THE WEEK (NON-JOHN DALY DIVISION)
Pardon me for slipping one of my own in here, but I was proud of myself for capturing two U.S. Open champs taking advantage of one pizza truck on the driving range: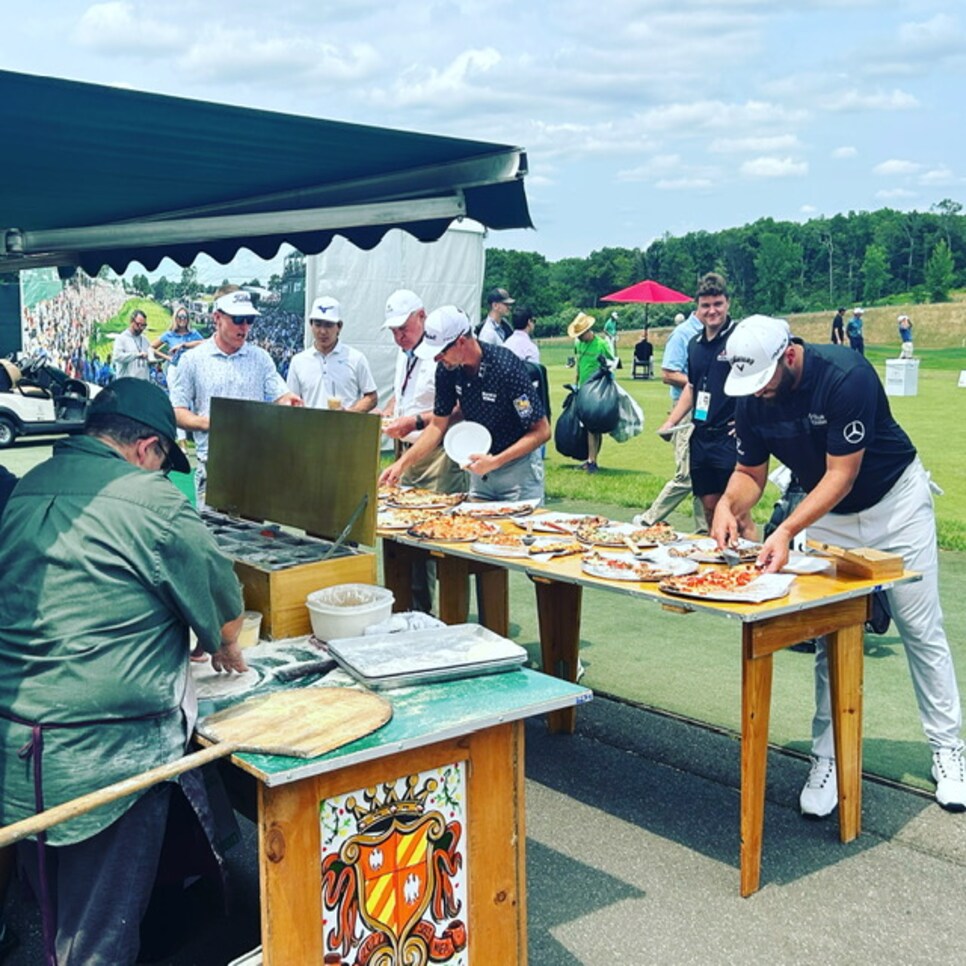 I don't care who you are, you don't turn down free pizza. Pros, they're just like us!
VIRAL VIDEO OF THE WEEK (TOUR PRO DIVISION)
This might be my favorite video of the year. You've got Chez Reavie enjoying watching highlights of his round at a Cheesecake Factory:
More like the Chezcake Factory, am I right? Sorry, I'm a dad. And I love the Cheesecake Factory. And now I have a hankering for their amazing brown bread …
VIRAL VIDEO(S) OF THE WEEK (AMATEUR DIVISION)
Well, they involve tour pros, but they're videos of their wives. First, Paulina Gretzky flashing her much-improved golf swing during a golf outing for Dustin Johnson's birthday:
Paulina might have more pop than Wayne Gretzky had on his slapshot! Well, certainly during his New York Rangers stint. Anyway, looks like those lessons with DJ are paying off! But Paulina would be topped in the WAGs division this week as Billy Horschel shared that his wife, Brittany, made a hole-in-one:
A 4-hybrid from 190 at the Country Club of Fairfield's par-3 ninth?! Player alert! OK, so it's not a fair fight with Brittany having been a former college golfer at Florida like her hubby. Anyway, congrats to Brittany. And for Billy (and others like Keegan who benefitted from playing mini golf with his kids the Sunday prior) this proves again that missing the cut can actually be a blessing in disguise.
VIRAL VIDEO OF THE WEEK (NON-TOUR PRO/TOUR WAG DIVISION)
What a wild scene at Pinehurst's The Cradle as a couple guys from different groups made holes-in-one in a 30-second span:
Good for those dudes. That must be fun. Not that I'd know. Our group of eight didn't sniff one there a few years back.
THIS WEEK IN PUBLIC DISPLAYS OF AFFECTION
What a special week for Keegan Bradley, who won in front of his family. Keegan stopped for a hug during the middle of his first-round 62:
And he was joined on the 18th green by the entire crew on Sunday. Adorable stuff—especially the boys going from mini golf to mini trophies:
Nice touch by the Travelers. As I learned earlier this year when winning one of those bad boys for a closest-to-the-pin contest on Media Day, kids love them.
THIS WEEK IN PUBLIC DISPLAYS OF AFFECTION (BIRTHDAY DIVISION)
Look at this good, clean fun from buddies Scottie Scheffler and Tom Kim, who share a June 21 birthday:
THIS WEEK IN CELEBRITY GOLFERS
As mentioned, Capital One's The Match is this Thursday featuring Stephen Curry and Klay Thompson vs. Patrick Mahomes and Travis Kelce. And the Golden State tandem are even bigger favorites after Curry posted this photo of him working with Butch Harmon (Shout-out to former colleague Claire Rogers for extra-good tweets this week):
Man, Steph just put my pre-trip prep to shame.
"That meant a lot, even though he plays for the Jets now." —Hardcore Patriots fan Keegan Bradley on Aaron Rodgers texting him congrats after his win. Love where your head's at, Keegan.
Congrats to Jin Young Ko for breaking Lorena Ochoa's record for longest stretch at No. 1 in the Rolex World Ranking at 159 consecutive weeks. I'm no math major, but … that's more than three years! … Congrats to Rory McIlroy on making his first PGA Tour hole-in-one. Yep, first. I had to triple-check that. Crazy. Even crazier? He tossed the special ball to the crowd! … Speaking of Rory, a USGA official now says McIlroy dropped in the wrong spot for embedded ball relief during the final round of the U.S. Open. So it's probably for the best that he didn't go on to win. … Keegan Bradley said one of his first thoughts after winning the Travelers was making the U.S. Ryder Cup team, and he's now No. 7 in the standings. It would be his first Team USA appearance in nearly a decade when the Americans try to snap a three-decade drought on foreign soil in Rome this fall. … And, finally, as the defending HGGA champ, I get to host Thursday night's Champions Dinner. Unfortunately, there isn't a Cheesecake Factory in Pinehurst, but there is a Chili's nearby: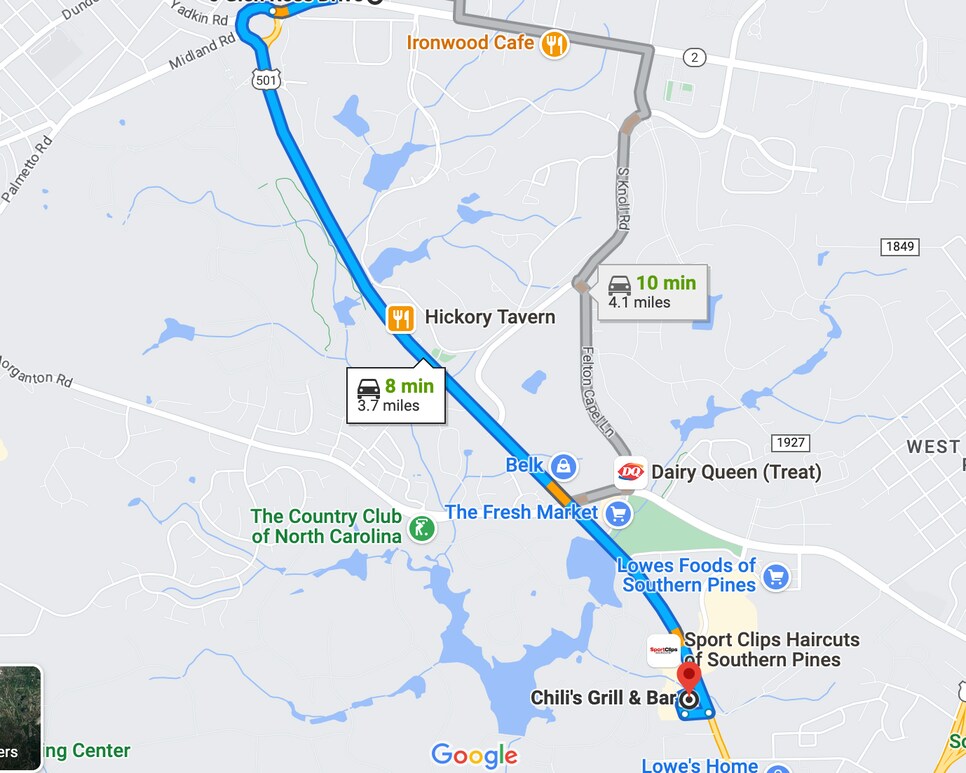 Woo! And for anyone not thrilled about my culinary choice, I'll echo Tiger Woods with these two words: Play better.
RANDOM QUESTIONS TO PONDER
Do they have mini golf in Italy?
Do they still have the Cajun chicken pasta at Chili's?
Is Butch Harmon available for a last-minute tuneup?