SPRINGFIELD, N.J. — All week at the KPMG Women's PGA Championship players spoke about patience. Waiting for opportunities, not forcing them. Ruoning Yin, however, was testing the limits of that mindset at Baltusrol Golf Club. She had gone 71 holes seemingly without a putt of significance dropping. Then, on her 72nd hole, when she watched her ball topple over the front edge of the cup, she raised her fist and let out a sigh of relief.
It was all worth the wait.
With a 10-footer for birdie on the par-5 home hole of the famed Lower Course, the 20-year-old from China closed out a final-round 67 to post an eight-under 276 total, one stroke clear of 2021 U.S. Women's Open champion Yuka Saso. In turn, Yin had claimed her second career LPGA title and her first major championship victory, joining Shanshan Feng (2012 Wegmans LPGA Championship).
"I'm glad that I can be the second Chinese player after Shanshan won a major. She is the person who inspired me the most," Yin said. "I think it's going to push a lot of kids to play golf."
Yin, a second-year LPGA Tour pro who won for the first time in March at the DIO Implant L.A. Open, was statistically the best ball-striker in the field this week. Two of her four rounds were bogey-free, including her Sunday performance, no small accomplishment given the two-hour rain delay that she and the field had to endure. The six bogeys she did make—four in her second round and two in her third—each came on three-putts.
Yin's winning score was largely due to her performance on Baltusrol's nine par 5s, which she played in seven under for the week. That final birdie on the 72nd hole came after her second shot failed to carry the ridge in the middle of the green, sending her ball some backwards some 30 yards short of the green. With Yin's third shot settling 10 feet away, and Saso in the clubhouse at seven under after a closing 66, a playoff look likely.
Until Yin's putt rolled squarely into the middle of the hole.
"I actually kind of felt that I was going to make it, and I made it," she said. "It's a very weird feeling, but I felt it on that putt."
Much like Scottie Scheffler's recent performances on the PGA Tour, it was the kind of hot ball-striking/lukewarm putting display that is often good enough for a high finish, but not necessarily a victory. But you don't win major championships without a bit of luck, the saying goes, and for that Yin had those around her on the leaderboard to thank.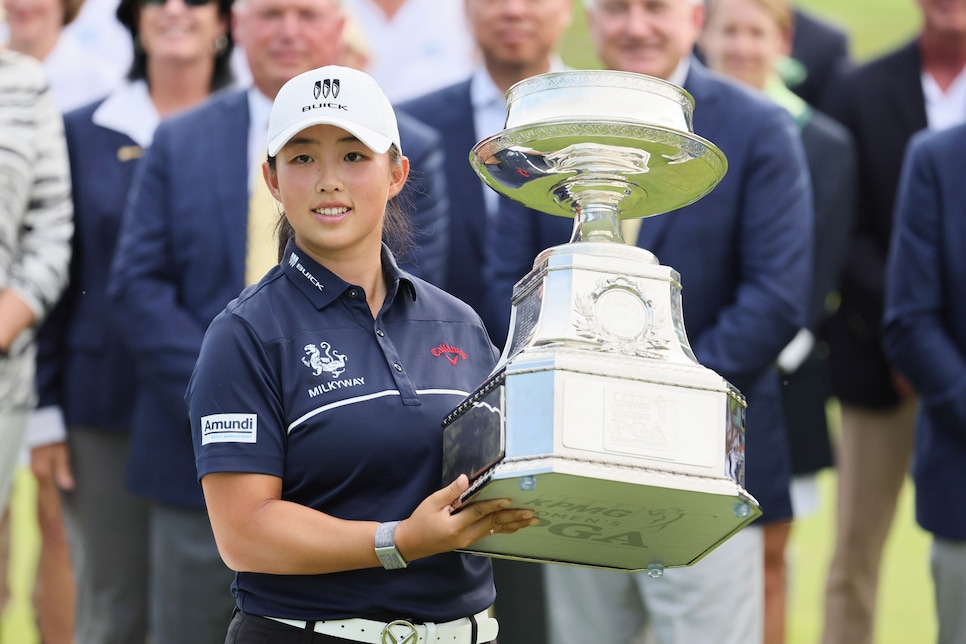 Leona Maguire, who won on the LPGA Tour the week prior, had been leading most of the tournament and took a one-shot advantage into the final round. She had hit 83 percent of her greens in regulation in her previous seven rounds and was the player many expected to capture her first major at Baltusrol. But perhaps suffering under the scrutiny of playing in the final group for the first time of her career, or maybe just tired from a busy two-week stretch, Maguire never got comfortable. Her three-over 74 dropped her to T-11.
Instead it was Maguire's playing partner and longtime friend Stephanie Meadow—"I've known her since she read Harry Potter books," Meadow said of Maguire coming into Sunday—who mounted the more formidable challenge. Meadow has yet to win on the LPGA Tour, but she was flirting with the lead for most of the day after a birdie on the par-5 seventh hole. Another one from off the green on the par-5 17th, and a combination of late blunders from other players, meant Meadow could would match Saso's score with a birdie on th 18th and book her place in the presumed playoff. When Yin's birdie putt drop in the group ahead, Meadow's task became making eagle to tie, and that's where her luck ran out.
"Sometimes the golf gods are in your favor and sometimes they're not," she says. "Obviously it's not the outcome that either Leona or I wanted today, but we fought hard, and we did our best."
Rose Zhang and Xiyu Lin, playing in the group ahead of Yin, each made charges of their own, but both stumbled on the 72nd hole. Needing birdies to post seven and eight under, respectively, both Zhang and Lin pulled their drives into the hazard left.
It was an uncharacteristic mistake for Zhang, in particular, but the player who came into this year's tournament with so much attention managed to save par anyway. Her final round 67 was enough for her first major top 10.
"It's been incredible," she said of the tournament. "I felt so much support and love from the crowds out here. It's super special, and I took it all in for sure."