KPMG Women's PGA
'It happens': Stephanie Meadow had impressive reaction to topped shot on 72nd hole at KPMG Women's PGA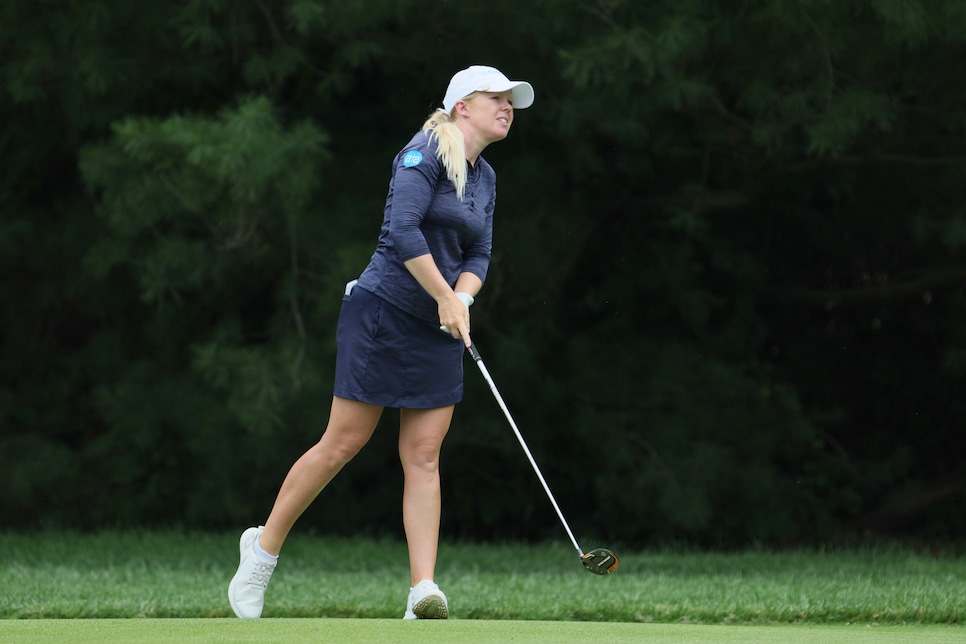 It was a shot for history. Stephanie Meadow, her tee shot on Baltusrol's par-5 18th finding the fairway, was facing the best opportunity of her eight-year career for victory and a chance to become the first woman from Ireland to win an LPGA major. In her 138th career start, Meadow faced a difficult lie trying to reach the elevated green in two. She needed an eagle to match Ruoning Yin's eight-under-par clubhouse lead and get into a playoff at the KPMG Women's PGA Championship.
Meadow, 31, mustered all she could, reaching back beyond parallel. But instead of leaving herself a putt for an opportunity at glory, Meadow topped her shot, delivering a screaming ground ball that fortuitously skimmed across the lake to nestle into the rough and avoid a penalty stroke.
"It was one of those shots where I had to hit it absolutely perfect to get to the front, and I knew that, and I think I tried to swing a little too hard and it was a little bit of a downhill lie," Meadow said. "Yeah, it happens. Best players in the world can do it. I just got really lucky."
Meadow finished with a par to end up with a closing-round 71, finishing at six under par for a T-3 result. It's the second-best major finish of her career, behind a third-place at the 2014 U.S Women's Open. Despite not coming away with a victory, it still proved a landmark day in Meadow's journeywoman career.
That most notably came due to Meadow's payday. Her $423,070 check was more than every individual season total that Meadow has had. No wonder, then, that she entered the media center beaming.
"It's been a long time since I finished tied for third, and the check is not bad," Meadow said, laughing.
Meadow finished in third place two other times in her career, most recently at the 2020 Pelican Women's Championship. She's spent more time on the LPGA on the precipice of losing her card than in contention, fighting to keep her status in every season she has played since her tour debut in 2015.
During Meadow's rookie year, she lost her dad, Robert, to pancreatic cancer, and finished 131st place on the money list. In 2016 and 2017, she battled back issues, resulting in her returning to the then Symetra Tour. Meadow regained status on the LPGA by finishing sixth on the money list. In 2019 and 2021, it came down to her final putt of the season to finish in the top 100 to keep her card. Last year, she gave herself breathing room, finishing 81st on the CME points list.
"To get that again [a top-three finish], it's been a long journey and a lot of ups and downs personally and professionally," Meadow said. "Yeah, I'm proud of myself. It's been a great week."
Meadow vaulted to 46th on the tour's CME points list with the performance, crediting her successful iron game and consistent putting for her scores, 73-68-67-70. Before leaving, she acknowledged the team around her. Meadow's coach was there to help guide her through the Springfield, N.J., test. Her family has been an unwavering foundation of support throughout the challenges. Now, she will take a brief break and a well-earned rest.
"I know that my husband was watching at our country club today with a bunch of people, so I can only imagine the support I had," Meadow said. "I did my best. I laid it all out there, and that's all I can do, and I'm excited to go home for two weeks."