KPMG WOMEN'S PGA
Rose Zhang content with contending at Women's PGA, eager to start prepping for Women's Open at Pebble Beach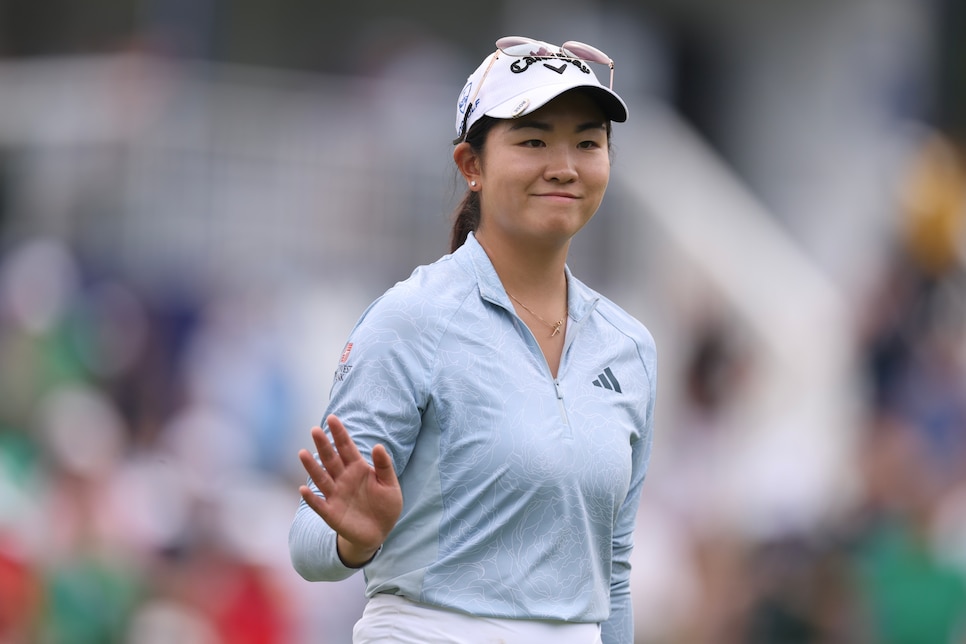 SPRINGFIELD, N.J. — Rose Zhang returned to the Tri-State area this week to compete in the KPMG Women's PGA Championship—just three weeks after her historic first win in her first pro start at LPGA's Mizuho Americas Open.
"​​The week at Mizuho, it felt a little bit just surreal," Zhang said. "I didn't feel like I was a professional. I was straight-up coming from NCAAs, and it was kind of just a trial run in my opinion.
"Even this week, I didn't have any sort of expectations on myself but at the same time, I wanted to see where my game ended up with the professionals and to really see if I am able to be in contention."
Much like the weather at Baltusrol Golf Club, Zhang's performance heated up as Sunday rolled around. The 20-year-old newly minted pro started her final round at one under par—six shots off the lead—but fought her way back into contention with a stellar four-under 31 on the front nine.
Her momentum continued despite a two-hour rain delay coming as Zhang was playing the 11th hole. When play resumed, Zhang stuck her approach close on the green and followed the shot by making the putt for birdie. At that point, Zhang was tied for the lead for the first time in a major championship.
"I've been in position before as an amateur, but this week was pretty special for a little new career start," Zhang said.
Tension grew as Zhang made par on 12 to maintain the lead.
"I knew that the groups in front of me and the groups behind me were playing super well, and alongside me [Xiyu Lin] was playing amazing," Zhang said.
The 20-year-old sensation was coming for the trophy—and she wasn't coming quietly.
Zhang drew quite the gallery all week and Sunday was no exception. The excitement and roars from the crowd grew as Zhang climbed the leaderboard. Some fans began walking immediately after Zhang hit, leaving before her playing partners could finish, in hopes of getting a good spot on the ropes.
"I heard so many cheers and felt so much love and support, it was really incredible," Zhang said.
Ultimately, Zhang's game fell short down the stretch. A bogey on the par-3 16th dropped her back to five under, and an errant tee shot on the par-5 18th found a water and led to a frustrating final par. Still, she shot a final-round 67 to tie for eighth place, three shots behind winner Ruoning Yin. And that didn't stifle cheers from her fans—the "Rose Buds," a name they've given themselves—as she walked off the 18th green.
When asked about her performance, Zhang replied, "I'm content with the result. I'm not content with how I played.
"Losing a little bit of focus causes you to have errors, and that's just something you can't afford at a major championship."
If there was one area of Zhang's game that was undeniably good this week it was her putting.
"I felt really confident with my putter the whole day, and the last couple days I feel like that really saved me this entire week," Zhang said.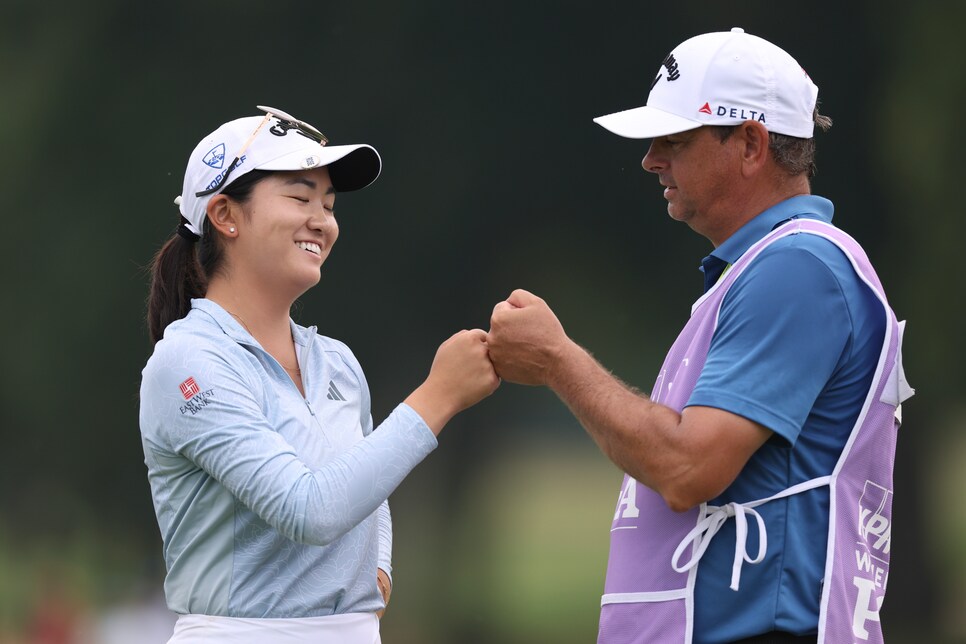 Rose Zhang fist bumps caddie Jason Gilroyed on the 18th green during the final round of the KPMG Women's PGA Championship.
Christian Petersen
When asked about the differences between competing in a major championship as an amateur—which she did eight times, her best finish a tie for 11th at the 2020 ANA—and competing as a professional, Zhang explained that, "it's definitely a different dynamic when you're a professional versus an amateur, and when you're playing your game, you really have to be precise with your numbers, really understand what your swing is doing, and there is no room for error."
Although she's leaving New Jersey without hardware, Zhang remained optimistic after her professional major debut saying, "It was just a really fun experience to be in the hunt, especially at my first major.
"I've been in major weeks before, so I understand that the entire week is just a long game instead of a sprint. Especially being out on these difficult golf courses, you really have to stay in the moment, so I really tried my best to do that."
Zhang looks forward to playing in her next major championship, the U.S. Women's Open, and says that the KPMG Women's PGA helped prepare her for what's to come in two weeks at Pebble Beach, where she holds the women's competitive course record of 63 set during a college event last fall.
"I learned a lot, especially with [caddie Jason Gilroyed] on my bag," Zhang said. "I'm excited to keep working on my game and make sure that it's pristine when I go to the U.S. Women's Open at Pebble."