KPMG Women's PGA Championship
Leona Maguire is on a ball-striking hot streak. Will it end with a major win?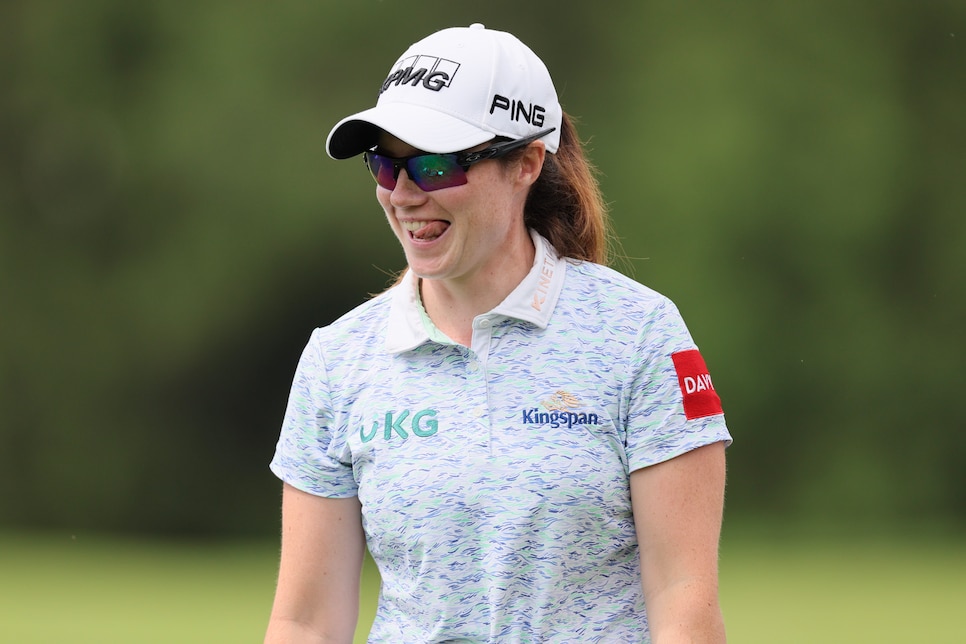 Leona Maguire reacts to a birdie putt on the seventh green during the third round of the KPMG Women's PGA Championship.
Andy Lyons
SPRINGFIELD, N.J. — At the start of the week KPMG, the title sponsor of this week's Women's PGA Championship, unveiled a new slate of advanced statistics that was long overdue for women's professional golf. By any measure, 54-hole leader Leona Maguire has excelled.
But major championships aren't won on paper. They're contested on the green. And if Maguire hopes to convert her first major lead into her first major victory, that'll be where it's decided.
The 28 year-old Maguire came into this week the form player, hoping to follow Nelly Korda's 2021 feat of winning the week before the PGA Championship, and follow with a victory in the major championship itself.
"It's one more round of golf," Maguire says. "Obviously, there's a lot on the line tomorrow, but I'm trying to treat it no different than any other day. It doesn't matter that it's a major. It's really no different than any other day. I'll just enjoy one more walk around this really nice golf course tomorrow."
Maguire's game has been near flawless for the better part of two weeks. She hit every green in regulation during her first round at Baltusrol Golf Club, 17 of 18 on Friday, and 16 of 18 during her third-round 69, which gives her a one-stroke lead over Jenny Shin going into Sunday.
Combine Maguire's four rounds from her victory at the Meijer LPGA Classic last week with her first three at the Women's PGA this week, and she has gained more than four-and-a-half strokes per round over her competitors. She's averaging nearly six birdies per round, and with a scoring average of 67.3.
Though if those chasing can take any solace in Maguire's eighth consecutive round in the 60s, squinting at the numbers just right may reveal some early signs of her putter cooling off.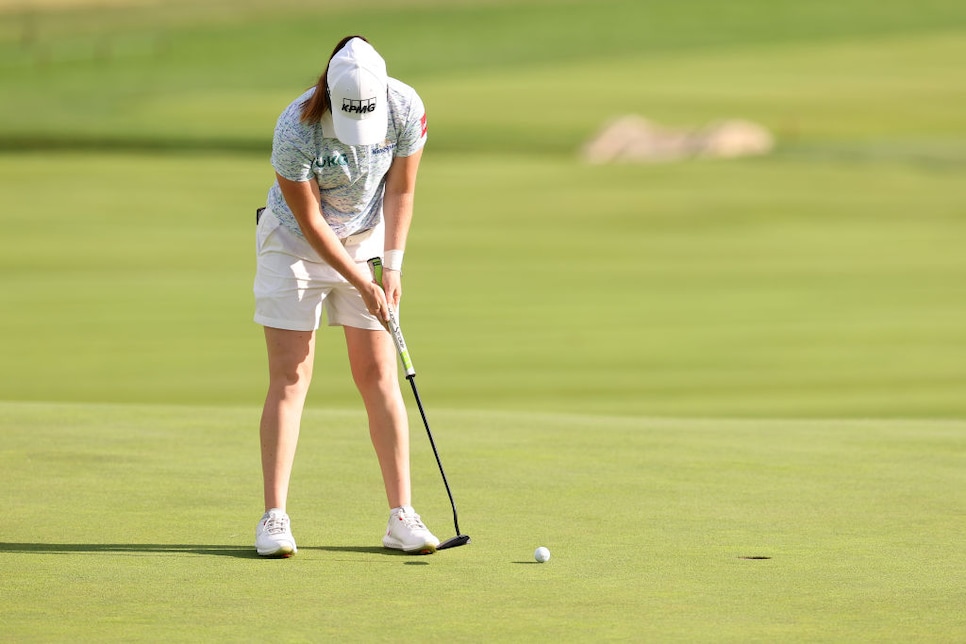 Scott Taetsch/PGA of America
After a two-under opening nine on Saturday gave her a momentary three-shot lead, Maguire missed a birdie putt from inside 10 feet on the 10th hole, and followed by missing a short putt from within five feet resulting in a three-putt bogey on the 11th. Maguire says she has a tendency to rotate her hips open on the through-stroke of short putts, which causes the putter face to open and the ball to miss right. She says it's a product of her not "committing" to her stroke. That's what happened on each of these putts.
"There's a lot of big breaking putts, especially when you get on the wrong side of the hole," she says. "It's hard to commit to there being as much break there as there looks."
An uncharacteristically sloppy third shot into the par-5 17th hole and substandard bunker shot meant she bogeyed Baltusrol's first of two closing par 5s. It dropped her into a co-lead until a two-putt birdie on the par-5 18th hole restored her advantage.
Nevertheless, the fact remains that Maguire is playing the best golf of any player in this field, and it'll be a tall task for those chasing Maguire to catch.
Especially because the scoring opportunities aren't readily apparent. Navigating Baltusrol this week is a challenging, complicated task. The rough is thick, and the greens are undulating. Even those who went low in the softer conditions on Saturday insist the task isn't in chasing birdies, but waiting for them.
"You have to play smart," says Stephanie Meadow, whose third-round 67 leaves her two back of her Irish junior golf rival Maguire. "I keep telling myself. 'don't get too aggressive,' because you get penalized out here for that. Wait for the opportunities when they come.
Rose Zhang, who rose into this week off a wave of headlines, eagled the 18th hole to leave her one under and in T-12. Meanwhile, a stellar, bogey-free five-under round of 66 means Jenny Shin will be playing in the final group with Maguire and Meadow on Sunday.
With a threat of severe weather, the PGA of America moved up the starting times and will send players off both tees. The final group is scheduled to go off at 10:38 a.m. ET.
In some ways, Shin may be the player best suited to challenging Maguire's lead. Her game, as she showed on Saturday, is certainly the key reason why. But if there's one quality that may put her over the edge, it's a newfound perspective on a game that comes with her 13th year competing on tour.
"Before, golf was everything. Golf was life. Now it's just a job, which is quite surprising," she said. "I love my job, and I want to prove myself that I can be really good at this job. Once I realized that, it freed me up. I wasn't as nervous. I wasn't as uptight. I wasn't desperate to leave the golf course."