KPMG Women's PGA Championship
Close friends face potential showdown for Irish history in Women's PGA Championship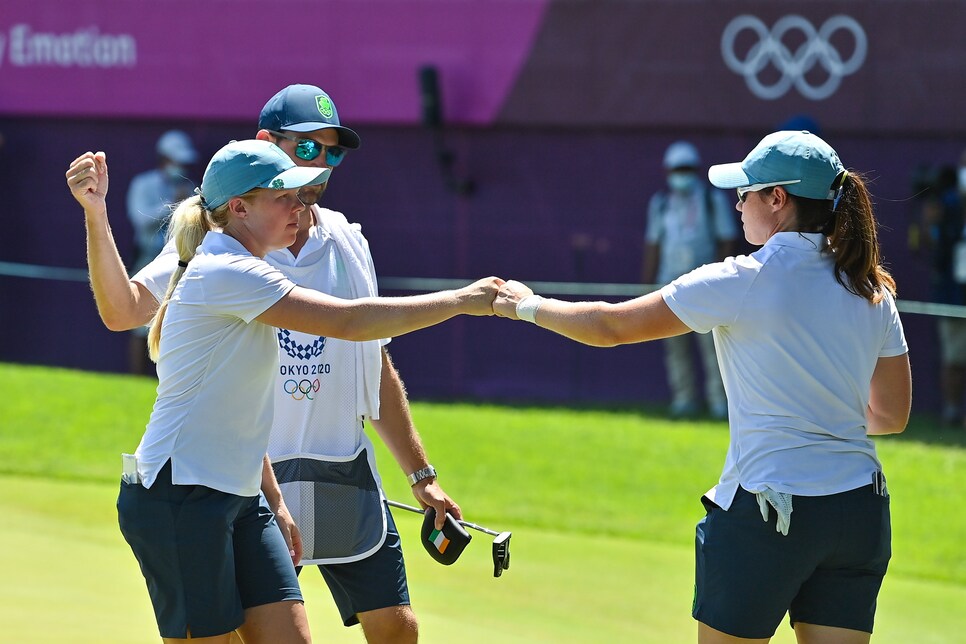 Stephanie Meadow, left, and Leona Maguire of Ireland fist bump after Round 3 of the women's individual stroke play during the Tokyo Olympics in 2021.
Brendan Moran
One day remains at Baltusrol for the KPMG Women's PGA Championship. With Leona Maguire's seven-under-par lead only two strokes better than the first-place score from Day 1, it is proving a perplexing layout for the players to solve. Take it from Rolex Women's World Ranking No. 1 Jin Young Ko, who delivered four straight birdies on the back nine Saturday for a two-under-par 69 that put her four shots back of the leader Maguire.
"No, still I don't know this golf course," Ko laughed.
Should someone solve it, they might have a chance to catch Maguire and deny her back-to-back LPGA Tour victories. She enters the final round one stroke ahead of Jenny Shin (66) and two up on one of her best friends, Stephanie Meadow (67).
Here's the backstory on their friendship and more takeaways from Saturday at Springfield, N.J.
Maguire, Meadow have special friendship
Maguire, 28 and from the Republic of Ireland, and Meadow, 31, from Northern Ireland, have known each other for nearly two decades. When asked about a favorite moment from their friendship on Saturday, Meadow chuckled.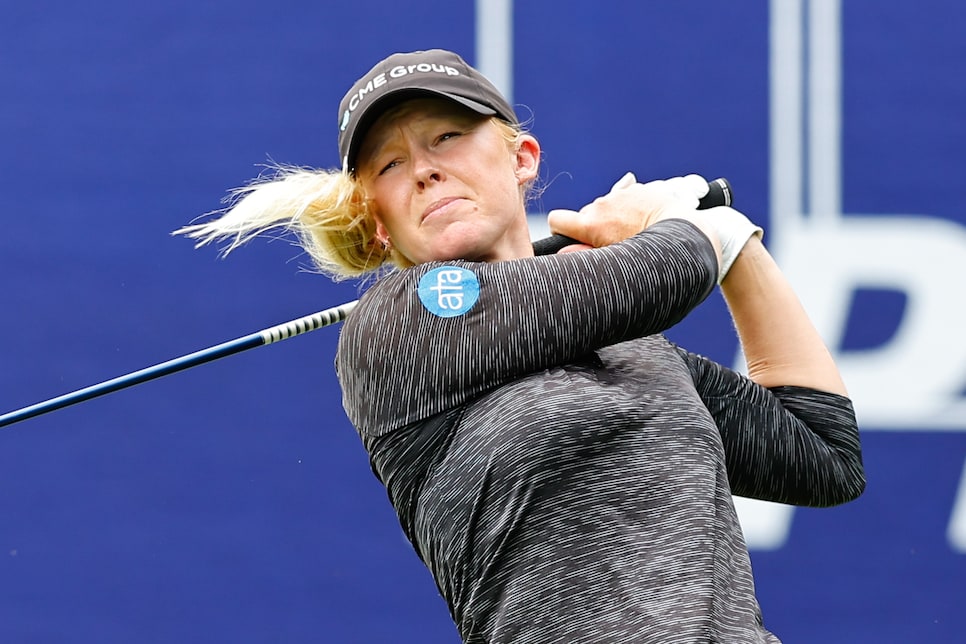 Stephanie Meadow tees off at the 1st tee during the third round of the LPGA KPMG Women's PGA Championship.
Icon Sportswire
"I'll put it this way, I knew her when she was reading Harry Potter books, so that was a long time ago," Meadow said.
Their journeys have been side-by-side since their junior days, rooming together at multiple events. They played on Irish teams together, including as partners in two foursomes matches at the 2014 Curtis Cup.
The two continued the ascension of Irish women's golf since reaching professional ranks. They played in the 2016 and 2021 Olympics together, with Meadow the closest to a medal with a seventh-place finish in Tokyo in '21, four strokes off the podium. Maguire now holds two LPGA victories, becoming the first Irishwoman to win at the 2022 LPGA Drive On Championship alongside the Meijer LPGA Classic last week. Meadow has nearly entered the winner's circle, with two career third-place finishes, in the 2014 U.S. Women's Open and the 2020 Pelican Women's Championship.
Meadow now looks to catch her close friend Sunday for her homeland's first-ever LPGA major title. Maguire isn't backing down from the challenge.
"We've done battle many times before," Maguire said. "It's great to see her playing so well."
Rose Zhang's stable game puts her on verge of contention
Zhang, the Mizuho Americas Open winner in her pro debut, regained her steady-handed play Saturday, posting a three-under-par 68 to move to one under for the championship. Following a bogey on the first, Zhang played bogey-free over the final 17, punctuating moving day with a 219-yard 5-wood to three feet on the par 5 18th to set up an eagle.
"I felt like it was my best shot the entire day," Zhang said. "I felt like my swing was really solid. It was way better than the first couple days. Finally getting in the groove."
Zhang sits T-12 and is one of 17 players under par for the major. With the number of players between the two-time NCAA individual champion and Maguire's seven-under lead, Zhang recognizes it'll take a near-perfect day Sunday to battle into contention.
"Every part of my game needs to be an 'A' game," Zhang said. "We'll see how everything turns out, but hopefully if I put myself in the right positions on the golf course, we'll be able to have a chance."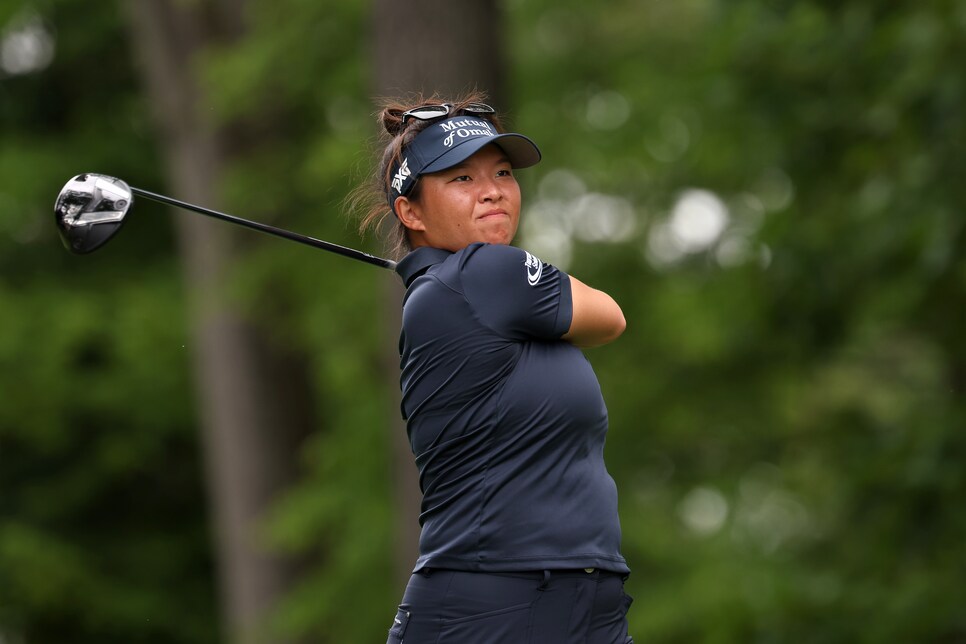 Megan Khang hits her tee shot on the third hole during the third round of the KPMG Women's PGA Championship.
Scott Taetsch/PGA of America
A plaque kiss and a caddie chat steady Megan Khang
Baltusrol is proving an unrelenting test this week, and eight-year LPGA veteran Megan Khang, at two-under par going into the final round after shooting 67 on Saturday, describes the challenge best. "This golf course," she said, "it definitely gives me a heart attack, I swear, every time I get on the tee."
A heart-racing moment came for the American on the 18th Friday. Her second shot barely got two feet above the ground, with Khang believing it was in the face of a hazard. But instead of ending up in the penalty area, the shot became a perfect layup.
Khang thinks she might have had help from the golf gods after she honored the 18th earlier in the week by kneeling down and kissing the plaque in the middle of the fairway that celebrates Jack Nicklaus's 1-iron shot that set up his major championship scoring victory at the 1967 U.S. Open.
"I don't know if I wanted [the plaque kiss] to be on camera, but it's out there," Khang said. "I'm pretty sure someone has it on camera."
Khang ended up birdieing the hole on Friday and parred it on Saturday.
The unyielding nature of the week caught up to Khang early in her round Saturday, which her caddie Jack Fulghum noticed.
"Honestly, out there I kind of was having a mental breakdown," Khang said. "I won't lie. KPMG is tough. They always pick some great golf courses, and like you get out there, and if you're not 100 percent there, it can be tough. But Jack and I kind of had a little heart-to-heart on our third hole, and he said, you need to talk to me."
The chat launched the start of a rally to her score of 67. Khang is finding better answers for Baltusrol each day, as she's improved by at least three strokes each round, posting a 74-70-67.