The Match 8
The 7 best performances in The Match history, ranked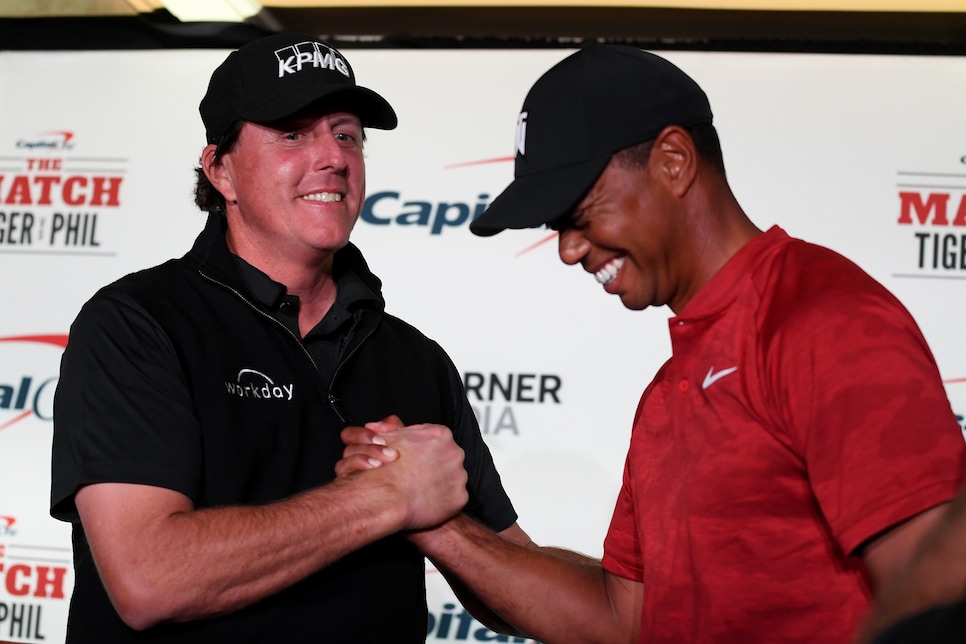 Since its inception in 2018, Capital One's The Match has featured some of golf's greatest players. But the franchise's greatest performances haven't always come from the guys who play with their names on their bags. Actually, most of the celebrities involved probably play with their names on their bags as well, but you know what we mean. Certainly, the tour pros have put up the best scores, but relatively speaking, it's been some of the other guys who have risen to the occasion more. So as we ready for The Match 8—the second one that will featuring four guys who don't play golf for a living—we take a look back at the seven best performances from the previous seven editions.
7. Tiger Woods, The Match 2 (May 2020)
Given the timing of this second iteration, titled "Champions for Charity," this was The Match golf fans needed most. The COVID pandemic had shut down pro sports, but two of the PGA Tour's biggest stars—this was long before Phil Mickelson went to LIV—along with two of the NFL's biggest legends filled the void admirably.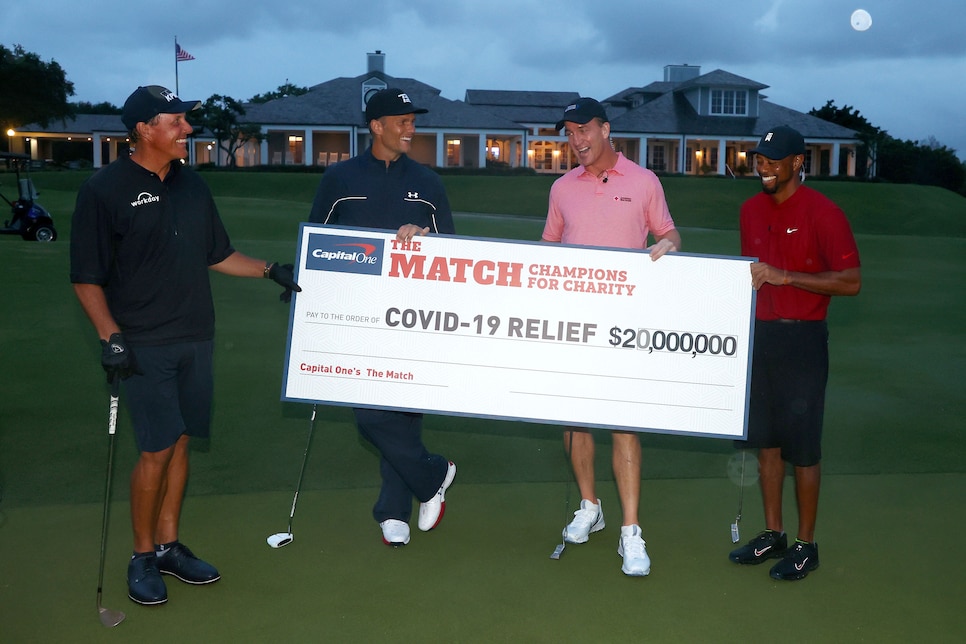 No one played better than Woods, though. With his 2019 Masters win just a year earlier, Tiger striped it off the tee all day to lead himself and Peyton Manning to a 1-up win over Phil Mickelson and Tom Brady (shout-out to Tom for holing a wedge and then ripping a hole in his pants) at Medalist. But then again, he's Tiger Woods. He's supposed to play well. That's why we have to give this next guy even more credit . . .
6. Aaron Rodgers, The Match 4 (July 2021)
In another pro-am four-ball, the then-Green Bay Packers quarterback carried partner Bryson DeChambeau at times in their 3-and-2 win against Phil Mickelson and Tom Brady at the Reserve at Moonlight Basin. During a seven-hole stretch, the duo chose to use six of Rodgers' tee shots, and the NFL star even smoked a 400-yard drive on the course's (very) downhill 777-yard par 5. Downhill or not, that's some serious pop. But he also showed some serious touch on the greens, draining this birdie putt for the win:
Maybe the best part? He refrained from doing his typical "Belt" celebration.
5. Phil Mickelson, The Match 1 (November 2018)
The OG version of The Match didn't quite live up to the hype. Both Tiger Woods and even Phil Mickelson looked a bit uncomfortable throughout and neither played very good golf. There was also that weird made-up finishing par 3 under the lights. But Mickelson still deserves credit for taking down Tiger—and that $9 million prize.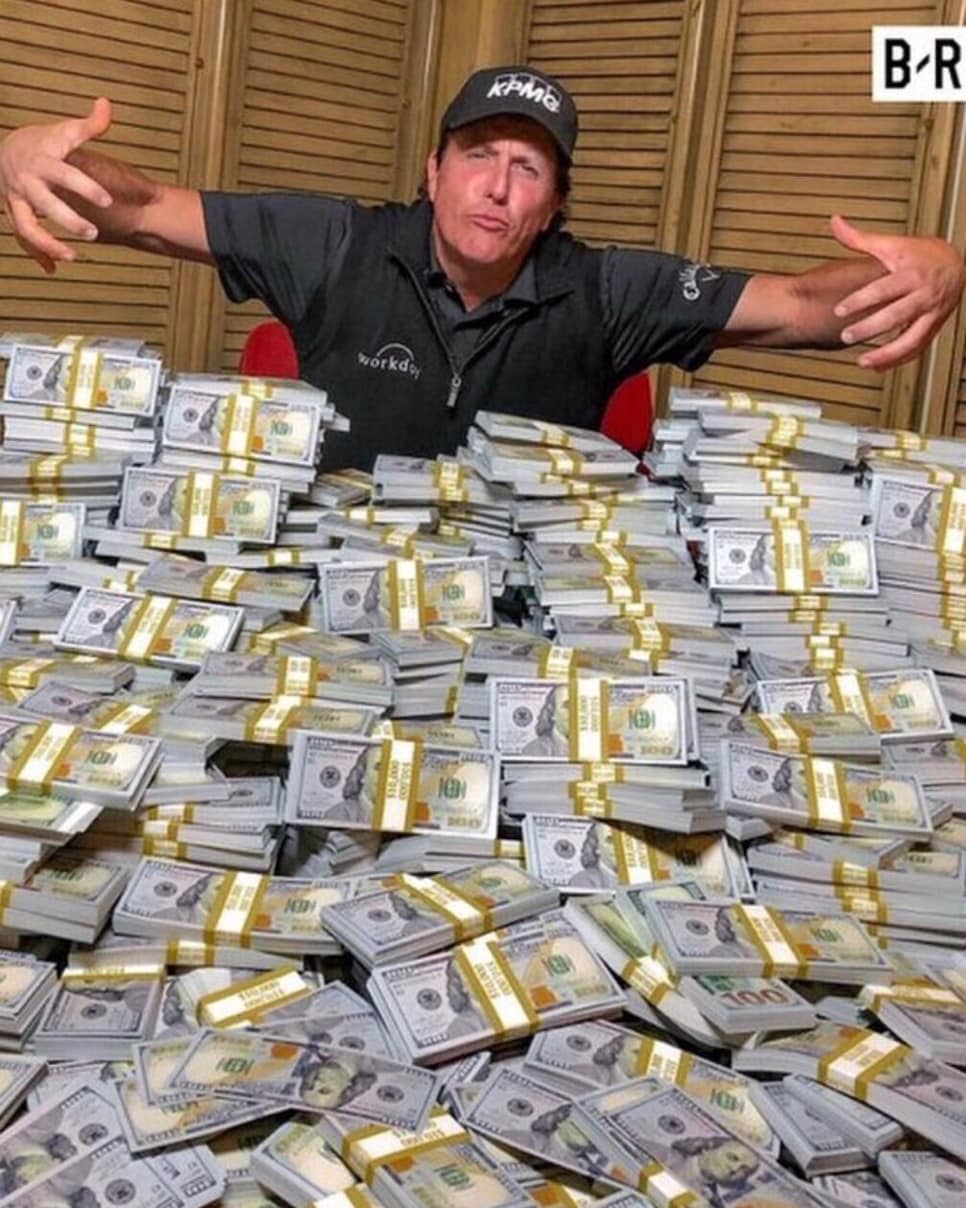 "I know big picture your career is the greatest of all-time," a grinning Mickelson said after. "I've seen you do things that are just remarkable. But just know I will not ever let you live this one down. I will bring it up every time I see you. I will wear this belt buckle every time I see you. It's not the Masters, it's not the U.S. Open, I know, but it's something. It's just nice to have a little something on you."
4. Charles Barkley, The Match 3 (November 2020)
First of all, if we're counting his work as an analyst throughout The Match's history, Barkley would easily be No. 1. The guy is fantastic in the booth and it's no wonder LIV made a run at him. But his performance on the course during The Match 3 at Stone Canyon Golf Club was nearly as impressive. Barkley was considered to be such a bad golfer that he and Phil Mickelson were made underdogs against Steph Curry and Peyton Manning. Yep, the pair with the PGA Tour pro was the underdog. But thanks to swing coach/miracle worker Stan Utley, Barkley's notorious hitch was gone and he hit his first four fairways.
Solid play the rest of the way led to a 4-and-3 win—and the greatest line of the franchise when he and Mickelson took a 4-up lead through seven holes.
3. Brooks Koepka, The Match 5 (November 2021)
Six months after the eyeroll seen 'round the world, Brooks Koepka and Bryson DeChambeau had a literal grudge match at the Wynn. A struggling Koepka came in off consecutive missed cuts and no top-20 finishes in over four months, but he flipped the switch to rout his rival. The 12-hole match only needed nine with Koepka winnging 5 and 3.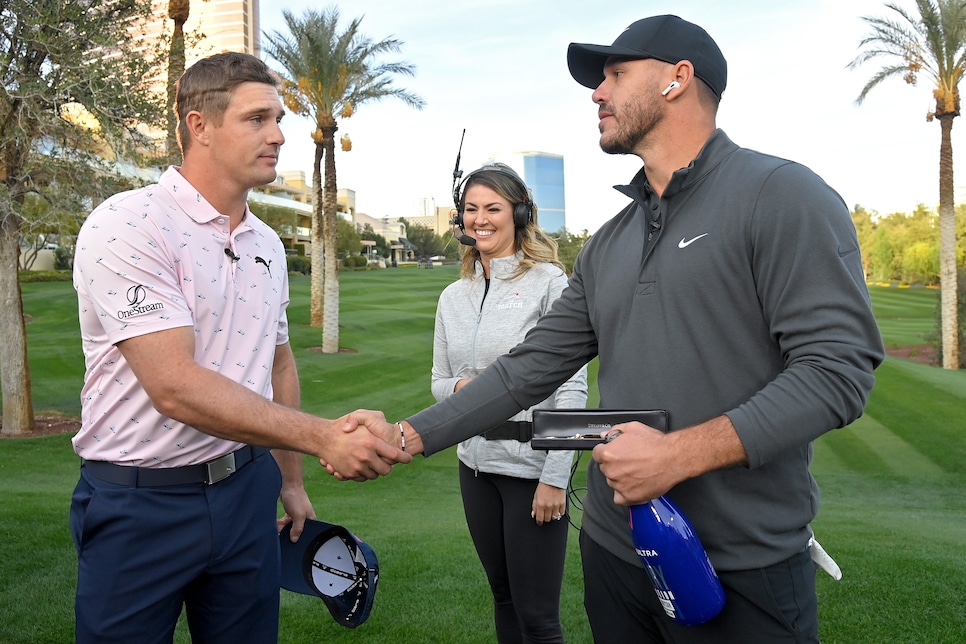 "Not gonna lie," Koepka said after stuffing a clinching approach into 9, "I just wanted to spank him." Mission accomplished.
2. Jordan Spieth/Justin Thomas, The Match 7 (December 2022)
OK, we're cheating a bit here by going with both Jordan and JT, but it's difficult to separate these two friends and teammates. It's also difficult to see why it took until the seventh version of The Match to get these two in the mix (Although, JT had previously been an analyst for The Match 2). They played great golf and were just as entertaining throughout a 3-and-2 victory over Tiger Woods and Rory McIlroy at Pelican Golf Club. And they didn't take it easy with the trash talk afterwards, either.
So much for respecting your elders.
1. Aaron Rodgers, The Match 6 (June 2022)
He's back! Say what you will about the legendary QB's playoff record, but when it comes to The Match, no one has been more clutch. For a second consecutive appearance, Rodgers rolled in the winning birdie putt as he and Tom Brady beat Patrick Mahomes and Josh Allen, 1 up at The Wynn. It was the first edition not featuring a tour pro, but it still featured plenty of good golf—in particular from Rodgers, who began the day with a birdie and then walked in another to end it:
Just more evidence that the 10-handicap he won the 2023 AT&T Pebble Beach Pro-Am with was ridiculous. This guy can play—especially when the cameras are rolling.