CROMWELL, Conn. — Roars don't lie. The same can't be said for shouts and cries and jeers, for while they may be sincere they can also be premeditated. Roars, however, cannot be planned, because they are conjured by a person or performance that warrants such a response. They are spirited, they are visceral, they are earned. For most of the week and almost all of Sunday, the roars belonged to Keegan Bradley, announcing loud and clear that the rest of the field was playing for second.
In a week infatuated with low scores Bradley's was the lowest, his 257 total besting Zac Blair and Brian Harman by three to win the 2023 Travelers Championship.
"My goodness, it's been unbelievable," Bradley said. "I'm so lucky and thankful to be from this New England area. I just can't believe it. This seems like a dream."
What Bradley did to TPC River Highlands and his competition can be told in statistics or sights, but given the voices—so strong in number and volume—that followed and carried him through Cromwell, perhaps Bradley's day is best told by the soundtrack he produced. Starting at the first.
Bradley was born in Vermont, went to school in New Hampshire, Massachusetts and New York, and calls Florida home. So why was this tour stop in Connecticut a home game for the former PGA champ? Because New England is not composed of six states but one soul, and that is something that follows no matter when you go.
This crowd also knows what this tournament means to Bradley. The Greater Hartford Open was the first tour event Bradley attended as a kid; on Saturday evening he recalled how he was so excited to follow David Duval that he camped out at the old range to make sure he could see the then-World No. 1 warm up. Aside from the majors, Bradley said, the Travelers is the trophy he wanted most.
"It's an event my first handful of years on tour I really struggled at, because the pressure of wanting to play well for wow family and the local community was too much," Bradley said. "I had to learn how to do it."
So when Bradley made his way from the range to the first tee on a golf cart Sunday afternoon the fans let him know he wouldn't be alone, showering him with cries of "New England!" and "The local hero!" And while there was plenty of applause at the first for the likes of Rory McIlroy, Rickie Fowler and Scottie Scheffler, the loudest welcome was saved for Bradley. Chez Reavie, paired with Bradley and ostensibly the only player in Bradley's way, was second to the tee and the volume went from 10 to 2. The crowd was still cordial, but the message was clear: Reavie had to win in front of a gallery that didn't want to see him do it.
Bradley started strong, two pars and two birdies, to stretch his lead to three. But starting hasn't been the issue for Bradley. He's held the 54-hole lead four times in his career, and in all four times he left wihtout the victory. Sundays have been especially brutal this season: Despite ranking 32nd in total scoring average, Bradley has gone south on the final day, ranking 123rd in Round 4 scoring.
Maybe that's why, after a small fist pump from Bradley and howl of cheers after his birdie at the fourth, a voice cut through the ovation, telling Bradley to "Keep the pedal down" because "You gotta lock it up!"
Putting. That's what has kept Bradley from rediscovering the heights he reached a decade ago, with golf's anchor ban doing a number on his short game. But he's recently found success on greens thanks to a longer, counterbalanced grip on an Odyssey Versa Jailbird putter, a trend Bradley says he started and has found acolytes in Rickie Fowler and U.S. Open champ Wyndham Clark.
Bradley, up five on Reavie after seven holes, made his first mistake by shortsiding himself at the par-3 eighth, and could only get his second to 12 feet. Normally, that is a distance that would give Bradley the shakes. This Bradley, however, poured it in with conviction, the ball going 360 degrees around the cup before dropping. The man could not be stopped.
"I was playing great," Bradley said. "I didn't look a little many leaderboards because I knew I sort of had control of the tournament if I just played my best. With Chez, who was kind of right behind me who was a little bit back, I knew that I sort of had control."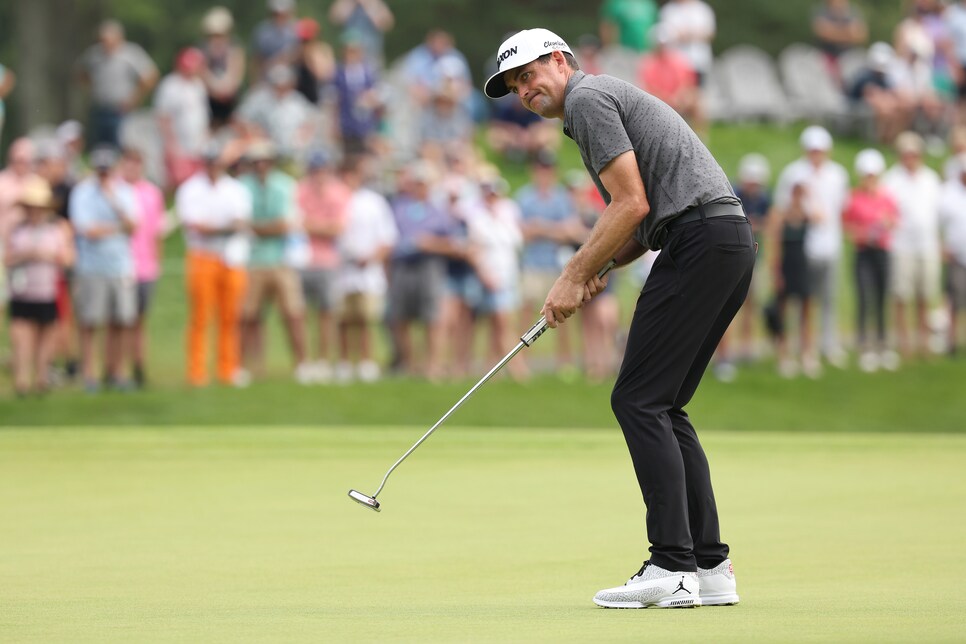 "HE'S PUTTING ON A CLINIC!"
Was he ever. Bradley hit his approach from 260 yards at the par-5 sixth to 20 feet, his tee shot at the par-3 11th to five feet, and his second at the par-4 12th to eight feet. On the week Bradley led the field in SG/approach, gaining a whopping eight strokes on the field. Turns out putting is pretty easy when you don't have to putt that far from the hole.
The birdie at the 12th seemingly put the tournament on ice. "Seemingly" is the operative word, however.
Bradley went 66 holes with just one bogey. He proceeded to make three in his next four, and in ugly fashion. He hit his drive at the 13th in the water. His ball was in a pitchmark by the 14th green and he failed to get up-and-down. His tee shot barely found land at the 16th and his attempt for par didn't come close.
The five-shot lead was down to three over the likes of Blair, Harman and Patrick Cantlay, and a birdie-birdie finish by Cantlay could make things tight. Bradley looked wobbly as he walked to the 17th tee, like he knew things weren't going his way and was unsure how to get right. There were only a few fans scattered around that part of the property, but the ones who were there provided the encouragement Bradley desperately needed. "You're still good!" shouted one fan. "Let's go plug the leak!" Bradley did, finding the tight fairway at the 17th. Cantlay didn't birdie the 17th and made a mess of the final hole. Bradley, after an hour holding his breath, could exhale.
"It was what was going to win or lose me the tournament, so I remember when I won the PGA I made triple on 15 and then my tee shot on 16 was regular tee shot, but, again, I always used to say that was the best shot I've ever hit and not one that anyone would remember," Bradley said. "That 17th hole is for sure up there because you have to take an aggressive line. And I did an interview with Chamblee and he said it played as the second hardest hole on the course, or maybe the first, 44 balls in the water today. What a great shot, one of the best I've ever hit in my life."
"KEE-GAN BRAD-LEY! KEE-GAN BRAD-LEY!"

Bradley is naturally fidgety, forever looking like a kid told not to run by the swimming pool. Yet as he walked up the 18th hole with thousands chanting his name, that frenetic spirit was contagious, Bradley madly pumping his first in the air as the gallery serenaded him with his name.
"You know, I had a bunch of people say they've never heard the 18th hole sound like that. It was just so fun to have a three-shot lead where I could enjoy it and mess up a little bit and still win," Bradley said. "I could let my guard down a little bit."
Those roars died down momentarily so Bradley and Reavie could finish out, and once they did the roars returned.
Whenever a player wins—especially when the tournament is big, which the Travelers now is as a designated event—there's a want to put said win in context or perspective. The victory is now Bradley's second of the year, putting him squarely in contention for a Ryder Cup spot and inside the top five of the FedEx Cup rankings. At 37 he's in the best shape of his career thanks to a radical diet that shed 30 lbs., afforded for more flexibility and refilled his proverbial tank. If he's truly discovered something with his putting perhaps Bradley can be the player we thought he'd be following his stellar run a decade ago.
That is all well and good, and time will tell if it becomes true. Conversely, what happened this week was more than just a victory. It was the culmination of a life-long pursuit, which is why Bradley was brought to tears when he looked at the score board and the score board nodded back, knowing the dream he always wanted had finally come true.
As soon as his ball disappeared Bradley's arms went up. Those arms were soon filled by his wife and children, and you didn't need to be a lip-reader to understand "I love you" was bouncing back-and-forth.
As they made their way up the 18th green, a fan yelled "Can you believe it?" just feet away from Keegan's face. Keegan had his mouth open but just shook his head. Probably for the best; the roars were too loud, and some things are best left unsaid.