The Grind
K.H. Lee's surprising hidden talent, the NCAA's disappointing decision and the feel-good win of the year
Welcome to another edition of The Grind, where we have the next great golf invention to pitch on Shark Tank: Squeegee Daddy. Or if that's going to upset Lori Greiner for being too close to Scrub Daddy, then maybe Squeegee Buddy. Either way, it's got to do with a squeegee and it's a heckuva lot better than FlingGolf, which was on last Friday's episode. If golfers carry umbrellas and even ball retrievers (OK, you shouldn't do this, but some people do), why not a personal squeegee for situations like we saw on Sunday at the AT&T Byron Nelson?
Maybe it even attaches to a golf umbrella so you only have to hold one thing out on the course? Brilliant! We can work out the details, but there's something there to at least get one of those sketchy royalty offers from Mr. Wonderful. In any event, here's what else has us talking this week.
K.H. Lee: The South Korean earned his first PGA Tour title at the AT&T Byron Nelson and he did it in style by birdieing his final two holes to finish at 25(!) under at TPC Birdie Craig Ranch. After, Lee got a nice hug from fellow Korean K.J. Choi before braving an interview with CBS' Amanda Balionis while using his second language.
Well done. And that rock-star comment is more on point than even Amanda may have realized. According to his PGA Tour profile, Lee has some serious pipes away from the golf course. "If not a professional golfer, would be a singer," it reads. "Took lessons in South Korea and considered a career as a singer. While he is shy singing in front of others, has a very good voice." Not sure how he would have had a career as a singer if he's shy singing in front of others (sadly, Lee hasn't posted any singing videos to his social handles), but interesting. Hit me up, K.H. Maybe we can do a duet before next year's Masters.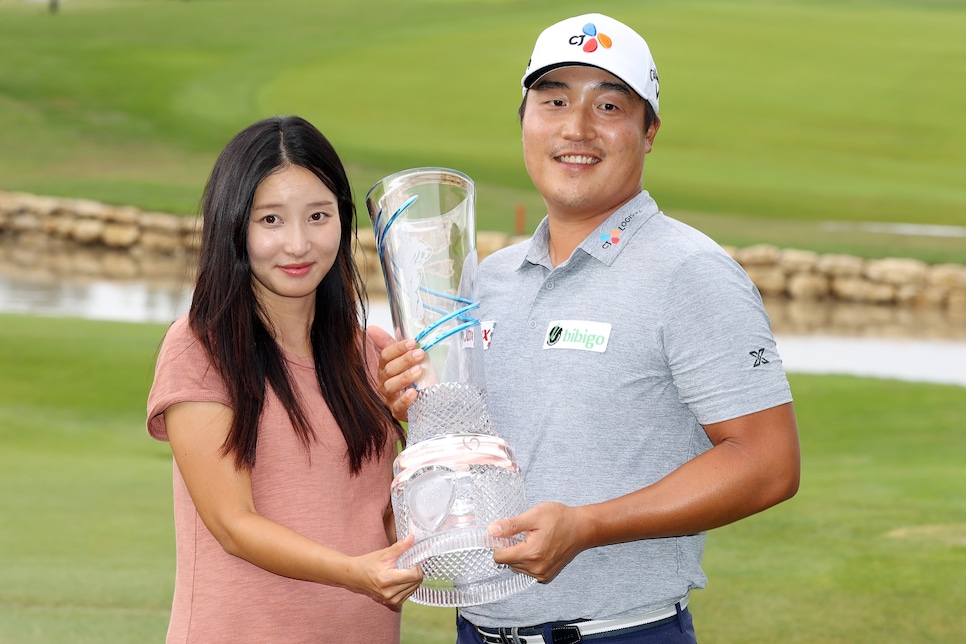 Richard Bland: This is why you never give up, folks. At 48 and in his 478th career start, Bland finally broke through at the British Masters to become the oldest first-time winner in European Tour history.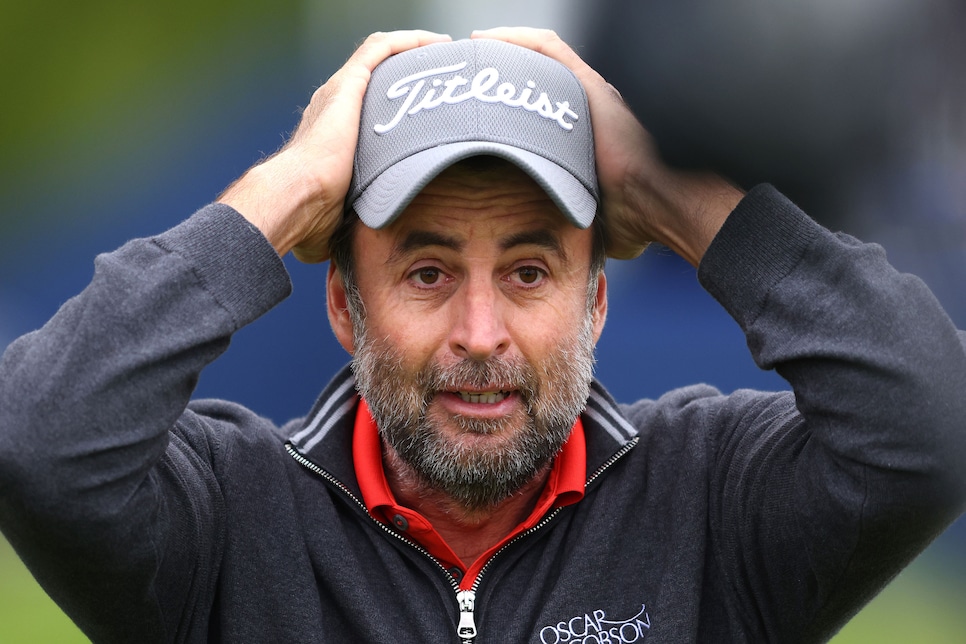 The victory didn't come easy, of course, and involved a couple late close calls before Bland beat Guido Migliozzi in a playoff at The Belfry:
Looks like the golf gods were looking out for Bland. Finally.
Dicky Pride: Keep those tissues handy because we've got another great story of grit and determination. What are the odds that Dick Bland and Dicky Pride would win in the same week?! Pride's victory at the Mitsubishi Electric Classic is even more unlikely because he had to Monday qualify for the PGA Tour Champions event. But it wound up being the 51-year-old's first victory on the senior circuit, and to say he was fired up would be an understatement:
Pride's career is pretty wild having won on the PGA Tour in just his 18th start as a pro back in 1994 and never winning again in 459 additional starts. He's also one of the oldest winners in Korn Ferry Tour history, having won a tournament on that developmental tour in 2015. "Now I've won on all three tours, which is something I always wanted to do and always wanted to say. I put in a lot of hard work. So many helped me. It's a huge deal." Speaking of getting a little help …
Dave Coupland: Richard Bland wasn't the only Brit to achieve a long-awaited first at the British Masters. Thanks to an eagle-birdie finish, the 35-year-old Coupland picked up his first top-five finish on the European Tour. Why do I care? Well, Dave is the golfer I invested in for three years when he was toiling on something called the PGA EuroPro Tour, and it's great to see all his hard work paying off at the highest level now.
Of course, it would be even greater if I was getting a cut of the $127,000 he just earned. Sigh.
Playing in the rain: Squeegees or not, those guys looked pretty miserable out there. Well, other than K.H. Lee, who looked unfazed and is now the PGA Tour's unofficial leader in strokes gained/precipitation. But Jordan Spieth described the conditions as "tough," "a battle," and a "a test" all in the same answer. In other words, it wasn't fun. Again, unless you were Lee and getting to 25 under to make nearly $1.5 million. Then I would play in that stuff. I think.
The NCAA: Then again, playing in the rain is a lot better than not playing at all. Which, for some reason, is what the NCAA decided to do with the Women's Regional in Louisiana. NCAA D-IWomen's Golf Committee representative and Farleigh Dickinson Athletic Director Brad Hurlbut uttered this line that will follow him around forever: "Even though the course is playable, it's not playable at a championship level." I'm sure it was a tough decision (Hurlbut called it "gut-wrenching"), and it's possible the NCAA would have been criticized if squeegees had been needed to get 18 holes in. But it just seems like there could have been a better solution than having the season end for 12 teams (the top six teams advanced to nationals).
Oh, wait! There was a better solution and the people who came up with it were … Barstool Sports? Yep, that's right. Led by Sam Bozoian, AKA Riggs, the Let Them Play Classic was created and it will be held this week.
Matt Wolff's season: Wolff made his major championship debut last summer at the PGA and finished T-4. He was runner-up at the U.S. Open the next month in his second major appearance. Forget about high finishes right now, though, Wolff can't even get started following his latest curious WD in which he didn't provide a reason for not teeing it up at Kiawah. That's his third WD of 2021 to go along with a DQ at the Masters. Let's hope he gets right soon, because he's fun to watch. But if it takes a little longer, that's OK, too. After all, the dude just turned 22.
The PGA Championship heads to Kiawah's Ocean Course, AKA that place that hosted the "War by The Shore" at the 1991 Ryder Cup and the lesser known "Bore by The Shore" when Rory McIlroy won the 2012 PGA Championship by eight shots. Even lesser known is the fact the Ocean Course will join Pinehurst in 2014 as a venue to host TWO majors in the same year with the 2021 HGGA Championship (my annual golf trip) slated for next month. Just a massive year for the Charleston area.
Random tournament fact: Tiger Woods was actually a 36-hole co-leader (with Vijay Singh and Carl Pettersson) at that 2012 PGA, while Rory was actually two shots back. He then shot 11 under on the weekend to blow away the field and win a second major at a younger age than Tiger. And with a lot more hair as well.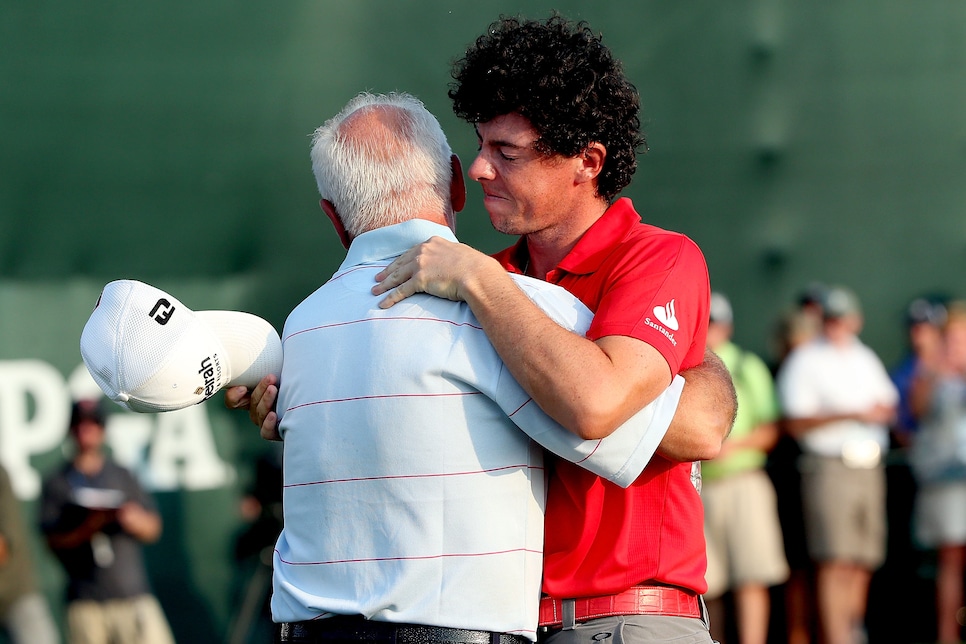 RANDOM PROP BETS OF THE WEEK
—Rory McIlroy will win the PGA this week: 12-to-1 odds (actual odds, favorite)
—Rory McIlroy will win the PGA by eight shots: 12,000-to-1 odds
—Rory McIlroy will beat any of my group's scores by a lot more than that: LOCK
It's not so much a photo as a front page of a newspaper. And it's our fail of the week as well:
"British Open"? Not quite. Also, just uttering that phrase around European golf fans is enough to spark an international incident. Thank goodness this didn't appear in an American paper.
VIRAL VIDEO OF THE WEEK (TOUR PRO DIVISION)
Tyrrell Hatton might be better at the "Happy Gilmore" swing than Happy Gilmore:
I'm liking my 55-to-1 PGA bet on Hatton more and more.
VIRAL VIDEO OF THE WEEK (TOUR CADDIE DIVISION)
Geno Bonnalie is back with another hilarious edition of "Caddie Cribs":
We're really rooting for Joel Dahmen to win a few more PGA Tour titles. For Geno's sake. Although, that might mean the end of videos like these … so … tough call.
THIS WEEK IN PUBLIC DISPLAYS OF AFFECTION EMOTION
Introducing Michael Caan, a 27-year-old teaching pro in Canada who made a walk-off eagle to shoot 59. Make that a jump-off eagle as he immediately took a plunge into a pond guarding the green at Meadow Gardens Golf Club:
What a putt. What a round. What a celebration. Good stuff, Michael.
THIS WEEK IN PHIL BEING PHIL
Another week, another beer ad:
He's getting good at these.
"What was I going to do for the next three, four years? I'm getting fat as it is, and it's only going to get worse. Just get your head down and do the job and get back to where I felt like I belong." —Richard Bland on having to go back to the Challenge Tour at 46. Love this guy.
Phil Mickelson will be back in the U.S. Open—the 30th of his career—after accepting a special exemption from the USGA to play at Torrey Pines next month. You didn't actually think Phil was serious about not accepting one, did you? If so, shame on you. … Sergio Garcia is back with TaylorMade, which he left after winning the 2017 Masters. Yeah, that probably wasn't the best decision of his life. … NFL Commissioner Roger Goodell is reportedly planning to play the top three golf course in Golf Digest's 100 Best Ranking: Pine Valley, Augusta National and Cypress Point. In the same day. I'm not sure how that's even possible, but must be nice. … And finally, if you're looking for some last-minute PGA Championship picks, check out this week's episode of Be Right:
As a bonus, there's also some good agronomy chatter in there.
RANDOM QUESTIONS TO PONDER
Will Phil appear in more U.S. Opens or beer ads?
Will anyone go in with me on this squeegee idea?
Does Roger Goodell need a fourth?