The Grind
Justin Timberlake's ridiculous range session, J.R. Smith's 'buzzy' college debut and an exciting Tiger Woods (?!) sighting
Welcome to another edition of The Grind, where we have never been so excited about a junior golf tournament. And no offense to the kids—we're sure they're all great—but this buzz comes purely from one parent pictured on the range in a familiar pose. Yes, we're talking about the viral photo that's believed to be of Tiger Woods. A very healthy-looking Tiger Woods:
Wow, is that a beautiful sight. Again, we love you too, Charlie—and all the other totally swell kids—but seeing Tiger off crutches (other photos and even a short video showed the same) less than eight months after that horrific car crash is amazing. And if the reaction to all this is any indication, the Internet will truly break if and when video surfaces of Tiger hitting golf balls again. Let's hope that comes soon because golf fans would like nothing more for Christmas. So, keep getting better Tiger, and in the meantime, here's what else has us talking.
Sungjae Im: The South Korean absolutely ran away with the Shriners Children's Open title on Sunday by birdieing nine of his first 13 holes on his way to a final-round 62 and a four-shot win. Im's second PGA Tour title came in his 100th career start after his first victory came in his 50th start. So, yeah, file that little nugget away for whenever he makes start No. 150. Which, knowing this guy, won't be too long from now. After all, he hasn't turned 24 and he's already played in 100 PGA Tour events. Just look at these numbers!
And yes, he has a house in the U.S. now. But it seems his main reason for finally "settling down" in Atlanta last year was so that he'd be close to a major airport.
Jin Young Ko: Another four-shot victory, this of the wire-to-wire variety, by Ko, who earned her third LPGA win of the season and 10th of her career. She also tied the tour's record shared by Annika Sorenstam and So Yeon Ryu with her 14th consecutive round in the 60s on Sunday. But after, she was a lot more concerned about getting something to eat:
Man, sounds like I need to get down to Mountain Ridge Country Club. I might even play some golf while I'm there.
Electric college debuts: In the same week, both Little John Daly and grown-ass man J.R. Smith made their highly anticipated first collegiate starts. Neither disappointed. Little John showed off that trademark Daly volatility playing for Arkansas by following up a first-round 83 with a 68—before finishing with 78. What a wild ride. The 36-year-old Smith, making his college debut a year to the date after celebrating a second NBA title with the Lakers, also opened up with an 83 before bouncing back with rounds of 78 and 81. And instead of shirtless J.R., we got hoodie J.R., and some pretty decent highlights:
When was the last time a college golfer was trending on Twitter during a regular-season college golf tournament? So cool. Forget about the scores, it was a great week for Smith to dip his toe into college golf. Well, other than when he dipped his toe into a beehive on Day 2. The golf gods did J.R. dirty with that. And oh, yeah, apparently Smith showed up in a Bentley:
What a legend. Speaking of legends …
Phil Mickelson's senior winning percentage: The six-time major champ is now batting .750 on the PGA Tour Champions after his latest win at the Constellation Furyk & Friends. Of course, he did it in typical fashion during a final round that began with three birdies before a lost-ball double and a near penalty in the pine straw on the 16th hole when his ball moved. The 51-year-old's still got it!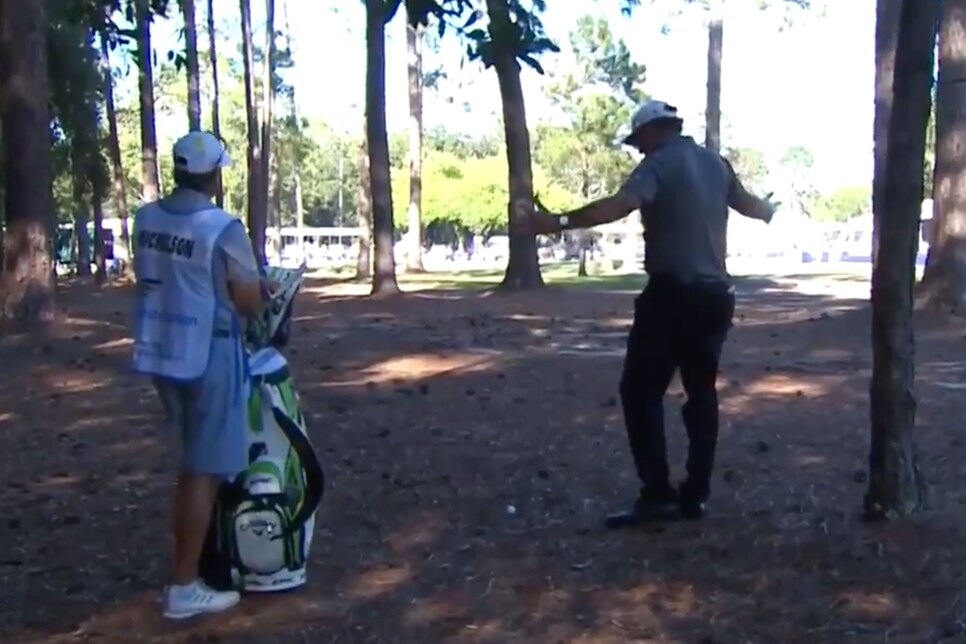 Mickelson became the fourth player to win on the senior circuit and the PGA Tour in the same year (Raymond Floyd, Craig Stadler and Fred Funk), but he's the first to win a PGA Tour Champions event in the same year of winning a MAJOR championship. That one might be tough to top. And so might that Furyk & Friends tournament name.
Harris English's putter grip drama: Turns out there was a (small) bit of drama on Sunday at the Ryder Cup after rules officials deemed English's worn putter grip to be non-conforming. Which means it's possible someone on Team Europe complained since the rules prohibit TV viewer call-ins, and we're doubting one of his U.S. teammates would rat him out over this ratty grip: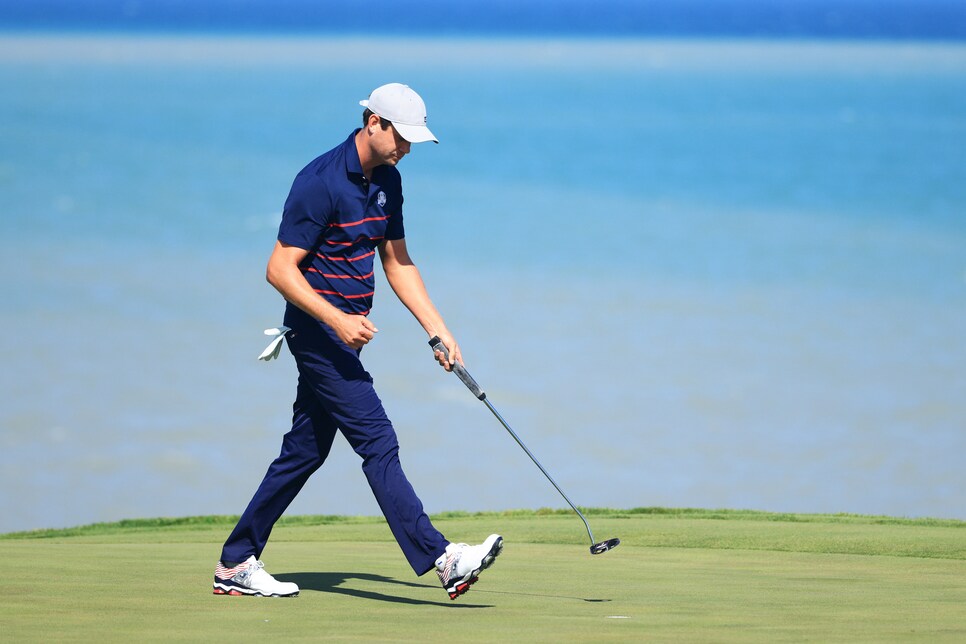 OK, it's hard to see there, but trust us, it's disgusting. The thing is in absolute tatters. So if you want to say it's unbecoming of a PGA Tour pro considering these guys are expected to look sharp out there to the point they wear pants in 100-degree heat, fine. But NON-CONFORMING? As if he's gaining some kind of edge by using this thing? That's ridiculous. Anyway, Davis Love III did some surgery to it before his singles match, the rules officials deemed it CONFORMING, and English played on. He'll probably use that thing until it falls off. Or until the next nosey nelly gets involved.
Harry Higgs' Monday morning: At least, we're guessing it was a rough Monday morning for Higgs following this tweet that solidified him as the people's golfer:
Hey, who wouldn't be ready to party after making $47K for playing some decent golf on a day your favorite football team had a nice comeback victory? But now it's been mor than 40 hours since said tweet was sent and no updates yet from Harry. A pro golfer going missing after going on a bender in Vegas? Sounds like we have the plot for "The Hangover Part IV."
That weird golf dream you've probably had: You know the one. You're playing, but you can't find a place to tee your golf ball up or you can't take a normal, full swing even when you do? Talk about a nightmare. The good news? You're not alone! And after hearing how many other golfers have the same recurring bad dream, I decided to talk to a psychologist to get some answers. Hopefully, this helps put you at ease. And believe it or not, two days after talking to Dr. Goodin, I had a similar dream, only this time, I took a drop from an ant hill and then hit a 60-degree wedge that landed on the back of the green and spun back to gimme range. Talk about making some quick progress!
The PGA Tour wraps up the second and final week of the Las Vegas Swing with the CJ Cup @ Summit, AKA the one that used to be called the CJ Cup @ Nine Bridges and was played in South Korea. Harry Higgs is still listed in the field. For now.
Random tournament fact: Justin Thomas (2017 and 2019) and Brooks Koepka (2018) combined to win the three times this event was held in South Korea. That's a pretty strong (short) list of champions.
RANDOM PROP BETS OF THE WEEK
—Harry Higgs would have made it to South Korea instead: 1 MILLION-to-1 odds
—Harry Higgs will win this week in Vegas: 175-to-1 odds (actual odds)
—Harry Higgs would jump at being in "The Hangover Part IV": LOCK
Justin Rose's trophy room is ridiculous:
Of course, if you have a trophy room in your house to begin with, you're doing OK. But damn, that's pretty spiffy.
VIRAL VIDEO OF THE WEEK (PGA TOUR DIVISION)
Kevin Kisner seems pretty fired up for this PGA Tour season. But the coach he picked to narrate this video is probably fired forever:
So that was some unfortunate timing, huh? And Kisner missed the cut in his first start. But hey, unlike Jon Gruden, he still has a job. And it's a loooong season.
VIRAL VIDEO OF THE WEEK (CELEBRITY DIVISION)
Justin Timberlake put on such a show at Topgolf that he had top golfers like Jordan Spieth and Rickie Fowler giving him props in the comments section:
It's just not fair to be that good at so many things.
THIS WEEK IN CELEBRITIES (NOT NAMED JUSTIN TIMBERLAKE OR J.R. SMITH) PLAYING GOLF
How about former Jacksonville Jaguars kicker Josh Scobee making an albatross on the par-5 ninth hole at TPC Sawgrass? With a 5-wood from 244 yards "against the wind"?
If you watched the NFL on Sunday, Scobee is having a much better week than basically every current kicker.
THIS WEEK IN PUBLIC DISPLAYS OF AFFECTION
How about that big fight between Tyson Fury and Deontay Wilder bringing together a who's who of golf couples from Dustin Johnson and Paulina Gretzky to Brooks Koepka and Jena Sims:
Sadly, they didn't share a group photo. Hmm. Moving on …
"I'll have to swing by to see what it's like, but I have no plans to go to a casino." —Sungjae Im is wise for his age.
Congrats to Harold Varner III and wife Amanda on the birth of their first son. And yes, HV4 was the easiest kid name to predict this year. … The Players Championship purse was increased again and is now at an incredible $20 million with $3.6(!) million going to the winner. Major or not, everyone wants to win at TPC Sawgrass. … Golf's governing bodies have created a local rule that the PGA Tour said it will adopt that limits the length drivers can be to 46 inches down from 48. Sorry, Phil and Bryson, but this doesn't affect any normal golfer. … And finally, happy to report a fundraiser for Tom Roksvold, my friend who died while we were on our annual buddies trip in 2019, finally took place and had a fantastic turnout. Also fantastic was our commissioner, Mark Finegan, emceeing the event while wearing our coveted green jacket as the current champ: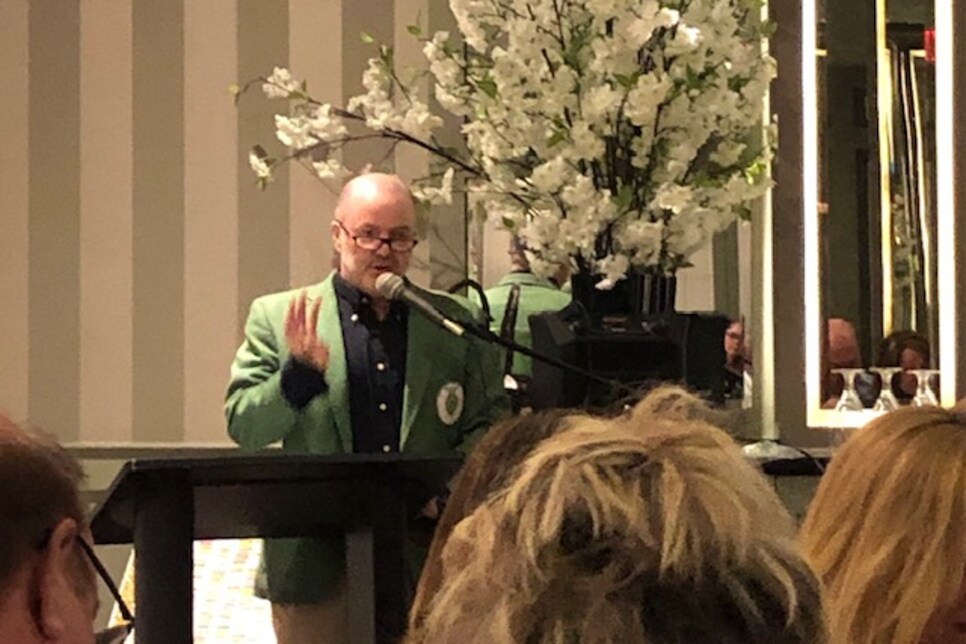 For something that was bought for four bucks at the Salvation Army over a quarter century ago, not too shabby. Just kidding. The inside makes Harris English's putter grip look new.
RANDOM QUESTIONS TO PONDER
How many weekend hackers know their club lengths?
Which golfer would make the best James Bond?
Would getting regular therapy help my golf game?