Takeaways
Justin Thomas' stunning triple bogey, Jordan Spieth's impressive putting stat, and a crazy tale of two nines for a two-time PGA Tour winner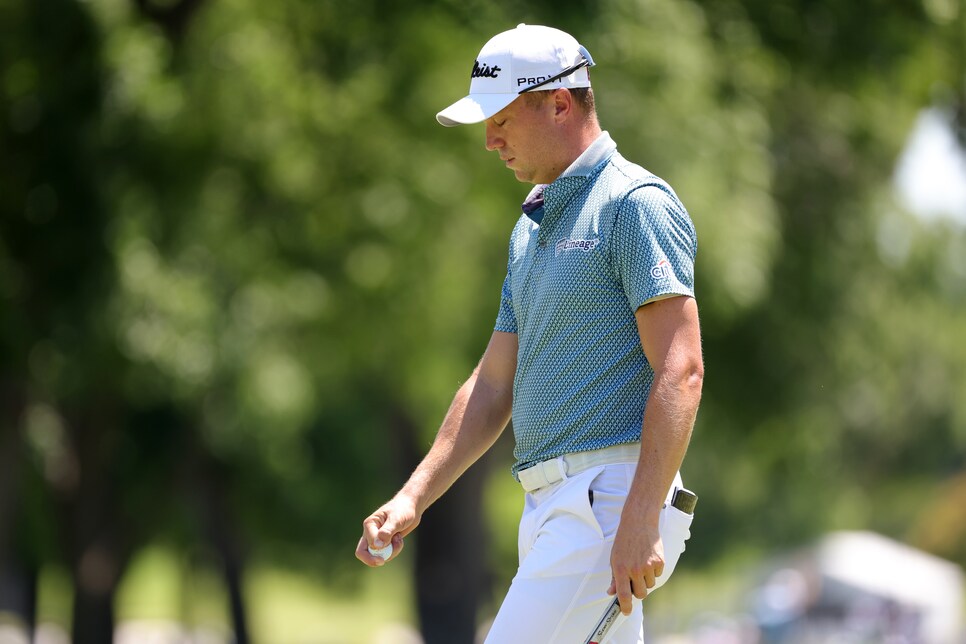 Justin Thomas reacts to his shot from the eighth tee during the second round of the Charles Schwab Challenge.
Carmen Mandato
Justin Thomas' attitude was commendable after winning the PGA Championship in dramatic—and draining—fashion. No one would have faulted the 29-year-old for taking a week off following his playoff win at Southern Hills. Instead, Thomas kept his commitment to play in the Charles Schwab Challenge, referencing the words of his alma mater's football coach, Nick Saban, who doesn't dwell on won titles for too long.
It should be no surprise JT suffered a Southern Hills hangover, but what was shocking was how he played himself (well) outside the cut line at Colonial on Friday. Thomas looked in command of his game following a brilliant birdie from a fairway bunker that moved him into red figures for the week. But then he looked like Saban's Crimson Tide in the fourth quarter of this year's national championship game against Georgia, completely coming apart over a brutal four-hole stretch.
Thomas made back-to-back bogeys on 7 and 8 before making a rare triple bogey on No. 9 in which he needed five shots just to reach the putting surface at the short par 4. Another bogey on No. 10 put him at six over for those four holes, and all but assured the World No. 5 his first missed cut of the 2021-2022 season.
Again, not that we can fault him. Everyone's entitled to a bad day on the golf course—especially someone who was coming off an all-time special one.
Anyway, Thomas won't be around for the weekend at Colonial, where the threesome of Scottie Scheffler, Scott Stallings, and Beau Hossler lead at nine under. Here are four other takeaways from Friday at the 2022 Charles Schwab Challenge.
Scottie Scheffler keeps rolling
Scheffler probably should have been part of this story's headline, but is it really news anymore when he's in the lead? Thomas may be the latest major champ, but Scheffler reminded everyone on Friday that he's still the world's best player.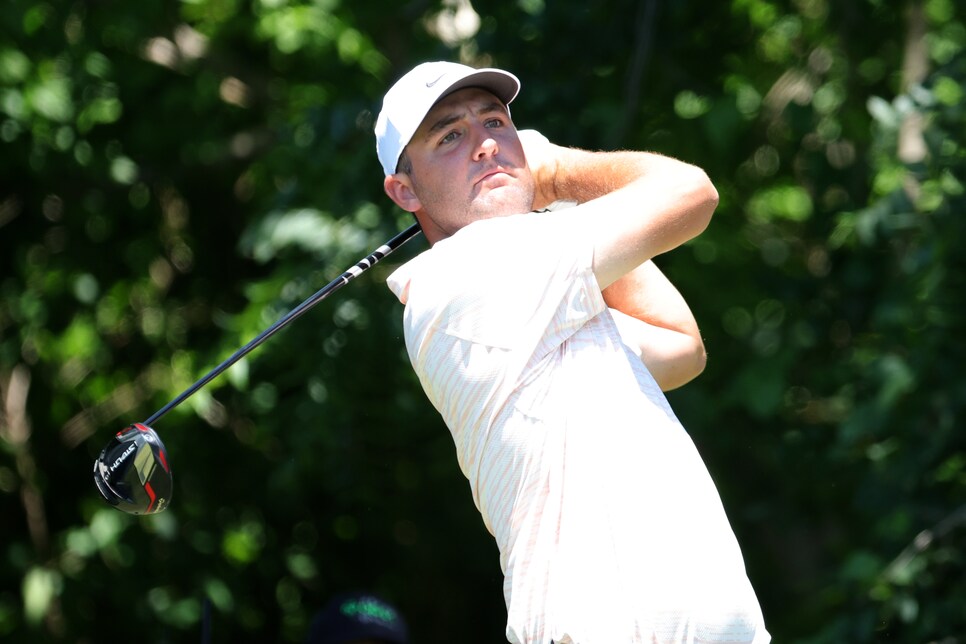 Scottie Scheffler plays his shot from the sixth tee during the second round of the Charles Schwab Challenge.
Carmen Mandato
A week after a disappointing missed cut at the PGA, Scheffler has yet to make a bogey through two days at Colonial. And his nine birdies have been enough to put him in position to win for an incredible fifth time in nine starts.
"Yeah, I love that stat," Scheffler said of being bogey-free thus far. "It's a lot of fun. Today I kept the stress off myself for the most part. My lag putting was really good, and really the only long par putt I made was on No. 7. And outside of that, I really didn't put much stress on myself, which is good. A four-day event having a day where I can take the stress off, especially when the conditions are going to be so hard the next two days is important."
So hard for the rest of the field, that is. This guy is making everything look pretty darn easy these days.
Jordan Spieth's long-range assault
A day after a miserable performance on the greens in which he lost 1.6 strokes to the field, Spieth bounced back to gain more than three strokes. And he did a lot of damage from long range, including this 35-footer for birdie at the last:
As you can see from the PGA Tour's tweet, Spieth made a total of 133 feet of putts for the day. Not surprisingly, he was feeling pretty good about the flatstick after his round.
"I just tried to believe that the putts would go in," Spieth told reporters at Colonial. "I caught kind of the left side of the hole on the first—on No. 10, our first hole today, and I caught the right side on the 11th, and all of a sudden now I go to the 12th hole and it's like, wow, the ball doesn't have to go in in the middle; it can go in on the edges. Just putted beautifully today. Better speed control, left it in the right spots."
Also not surprisingly, Spieth is in contention at Colonial, where he already has a win and three runner-ups. But he's trailing Scheffler by four and another Masters champ by three . . .
Patrick Reed (finally) rounding back into form?
If it feels like it's been a minute since you've seen Reed's name near the top of the leaderboard, that's because it has. The 2018 Masters champ had a runner-up in October in Bermuda, but has yet to even register a top-25 at a full-field event in 2022.
That could change this week, though, following Reed's second consecutive 66 at Colonial to move to eight under heading into the weekend.
Here's how he explained his improved play—and shots like that—after his round.
"Well, I went through a change there earlier this year, and anytime you're making a change or something like that, you get too golf swing on the golf course," Reed said. "You can be as technical as you want on the driving range and in practice, but once you step on the golf course you've got to be a player. You're not out there trying to figure out a golf swing. I feel like I was doing that a lot early on and for a good bit part of this year, and now I feel like I've settled into kind of how I feel, how the swing is supposed to be, and now when I get out on the golf course I'm able to see golf shots rather than trying to see golf swings."
Whatever the reason, this green jacket winner is seeing a lot of red so far this week.
Nick Taylor's tale of two nines
After grabbing a share of that eight-way lead on Thursday, Taylor got to what wound up being the leading score at the end of Friday after just nine holes. Then it all came apart for the Canadian.
After playing Colonial's back nine in five-under 30, the two-time PGA Tour winner struggled to a six-over 41 on the front. Yikes.
The good news is that even with that rough finish, Taylor will be in the top 25 entering the weekend and in good shape to try to record a first top-10 finish of the season. At No. 112 on the FedEx Cup points list heading into this week, he could use one.