Priorities
Even Justin Thomas watches football over golf, as evidenced by this hilarious phone call with Tiger Woods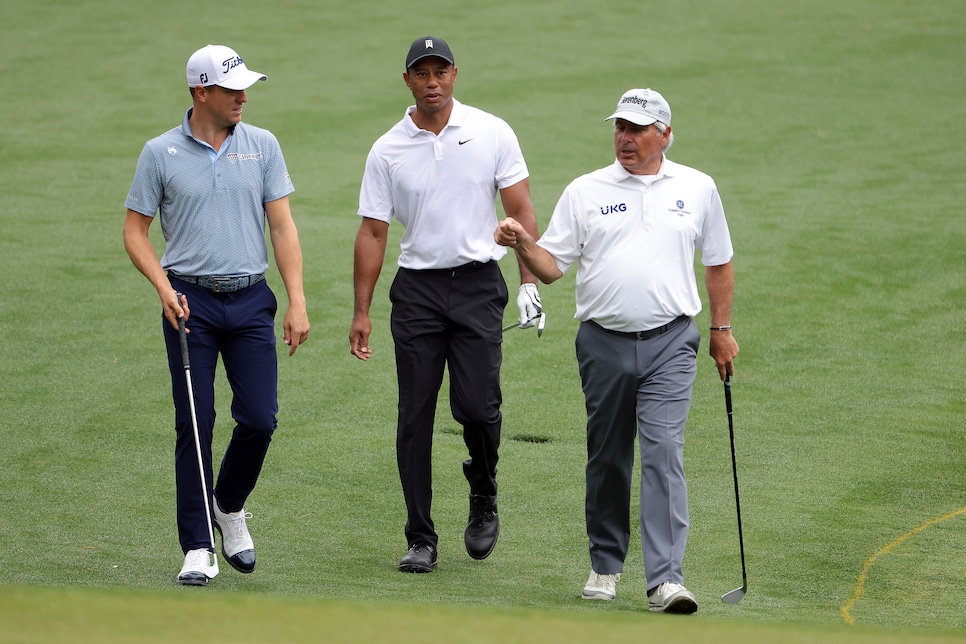 Working at Golf Digest means it's sort of a requirement to be watching the golf at all times, but even we have to admit that on Sundays in the fall, it's NFL RedZone first, Sanderson Farms second. Or, for those of you who have finagled two-screen setups at home, NFL on TV1, Sanderson on TV2.
The same goes for the guys who play golf for a living, including Justin Thomas, who is one of the great sports-watchers of our time (man has the GOAT TV setup). This past Sunday, his best bud Tiger Woods gave him a rin and asked "you watching?", referring to Fred Couples' insane round of 12-under 60 at the SAS Championship that earned him his 14th career PGA Tour Champions win. Apparently, Freddie's flirtation with 59 didn't make one of JT's five TV screens.
"I was following a little bit," Thomas said of Couples' round, adding, "And then was watching the -- that Chiefs-Bills game was on and like I schedule my whole day of practice around it because I couldn't wait to watch it.
"I think [Couples] was on 17 or 18 and Tiger called me and he's like, 'Are you watching this?' I'm like, Yeah, pretty good game," he said. "He's like, 'No, Freddie's 11 under and he's playing 18.' Last I looked he was like 9 or 10 under, he was winning by a million. No offense to Fred, love him to death, but he was going to win. I was more interested in watching the football game. So I turned it on and watched him stripe it off 18 tee, stiff an iron shot and make the putt."
We don't blame ya, JT. These Chiefs-Bills games have become appointment television, and it obviously helped that the game was a highly competitive back-and-forth affair. Like Thomas said, Couples was always going to win that event, so the only drama was in whether or not he'd shoot 59 (Couples birdied the last seven holes to shoot 60).
"Talked to [Couples] some after," Thomas said. "He jokes this is the best putting week of his life. We kept saying to him, you keep playing like that, you'll be just fine at the Masters next year, you'll be able to start playing tour events again."
One last run for Boom Boom at the Masters? Now THAT would be appointment television.