News
Justin Thomas reveals where he smartly stashed his Wanamaker Trophy during Hurricane Irma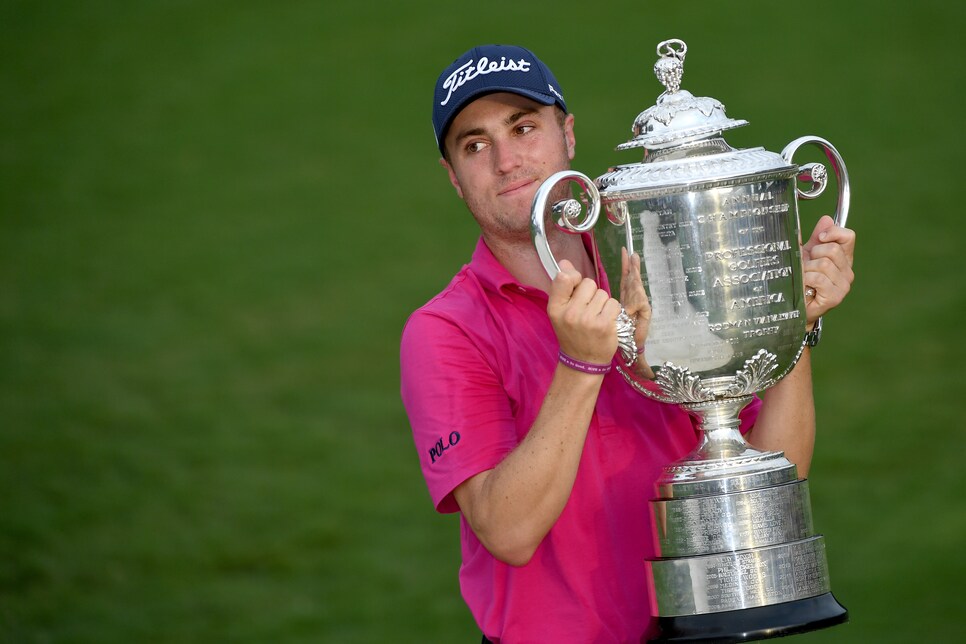 Like many Florida-based PGA Tour pros, Justin Thomas' FedEx Cup Playoffs off week wound up being more stressful than trying to win a postseason event. The Player of the Year front-runner has experienced a series of firsts this season, but none as scary as a mandatory evacuation due to Hurricane Irma bearing down on his Jupiter home.
"We got very, very lucky," Thomas said at his Wednesday press conference at the BMW Championship. "Jupiter -- I shouldn't say we, I mean the State of Florida got hammered and it's awful the last couple of weeks of what the hurricanes have done and growing up Louisville I never had -- never had to deal with anything like this. You just have to deal with the tornado every once in awhile, but even those are usually never anything crazy."
Thomas said he brought a lot of stuff inside his home ahead of the storm, but he turned to friend Rickie Fowler to stash some of his most prized possessions -- including the Wanamaker Trophy he claimed for winning his first major title at last month's PGA Championship.
"I had some valuables that I actually just took to Rickie's house down the street because he has a safe that's kind of -- that's built in the ground and is a little more sturdy than I may have," Thomas said, "and took the Wanamaker, took some watches and some other valuables and put them in there because I figured at least I have those if everything goes."
Smart move. And like the song goes, "For good times, and bad times, you can use my safe forever more. That's what friends are for!" Or. . . something like that.
We're sure Rickie was happy to hold Thomas' major trophy even though he's still searching for his first. But he probably would have preferred JT to keep that info on the down low.