The Loop
Justin Thomas celebrates with Tiger Woods, Louis Oosthuizen lip-syncs & an #SB2K17 member gets engaged
Welcome to another edition of The Grind, where we learned an important lesson this season. If you're going to place a parlay bet on the winner of all four majors, you also should wager on each major individually. Such was the mistake Jordan Baker made by going for the glory of correctly picking all four winners -- literally, a 1 in a MILLION shot -- but not booking backup bets. So even though Justin Thomas' PGA Championship victory gave Baker a remarkable three quarters of the gambling Grand Slam, he walked away with nothing. What. A. Dagger.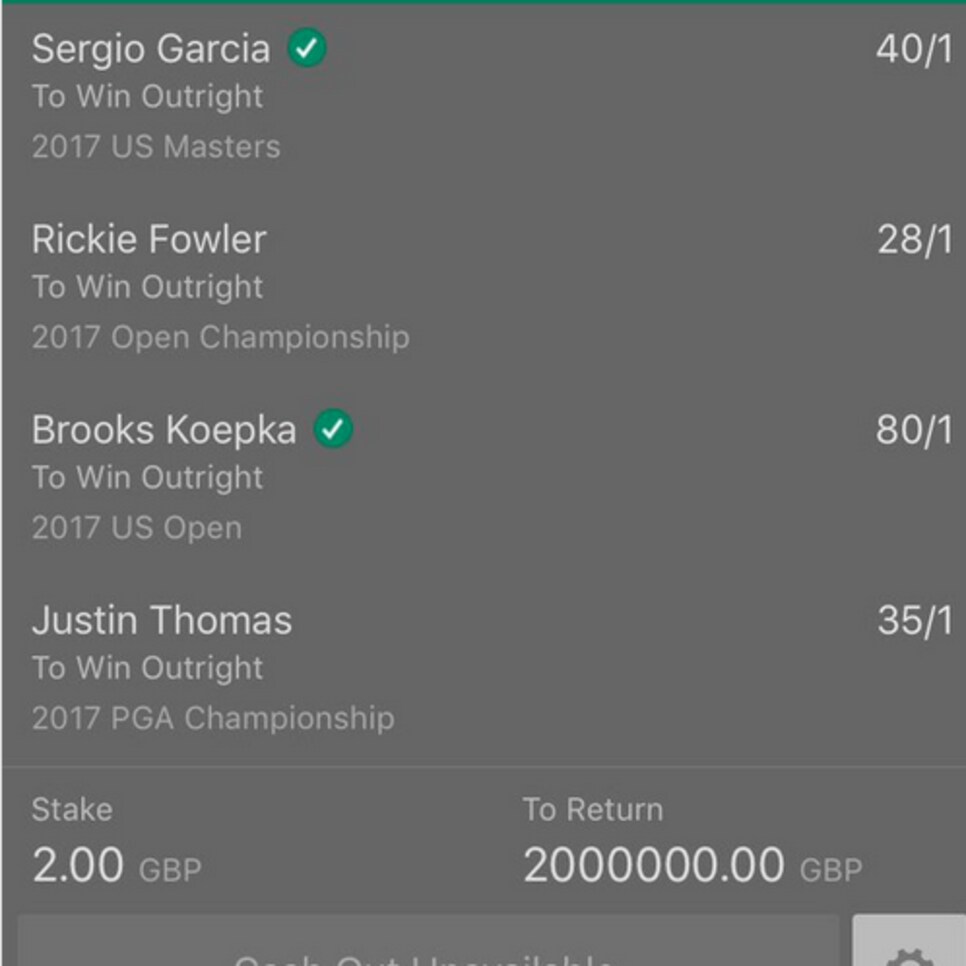 We're not naming names, but, never mind, we're naming names, because you already saw the culprit: It was Rickie Fowler at the British Open with a balky putter who ruined the greatest golf bet ever. Ouch. OK, enough about this guy's gambling near-miss, it's Justin Thomas who we should be talking about. But while we do, if Mr. Baker happens to be reading this, we wouldn't mind getting a heads up on who he's picking to win next year's majors. . .
Justin Thomas: Two months removed from a Sunday letdown at the U.S. Open Thomas seized his next opportunity to win a first major. Usually, a winner has one lasting highlight from the final round, but Thomas had three. On the back nine. There was the hanging birdie putt on No. 10 that prompted an MJ-esque shoulder shrug from JT:
And the brilliant birdie on No. 17, where Thomas was the only player to hit it within a mile of the Green Mile's most dangerous pin.
Well played, Justin, is right. With a first major title, Thomas is now the front-runner for PGA Tour Player of the Year honors. What a season.
The Thomas family: The PGA couldn't have a more perfect winner than the son and grandson of PGA professionals. Congrats to JT's dad, Mike, and his grandfather, Paul, for not only raising a good kid, but grooming one of the best golfers in the world.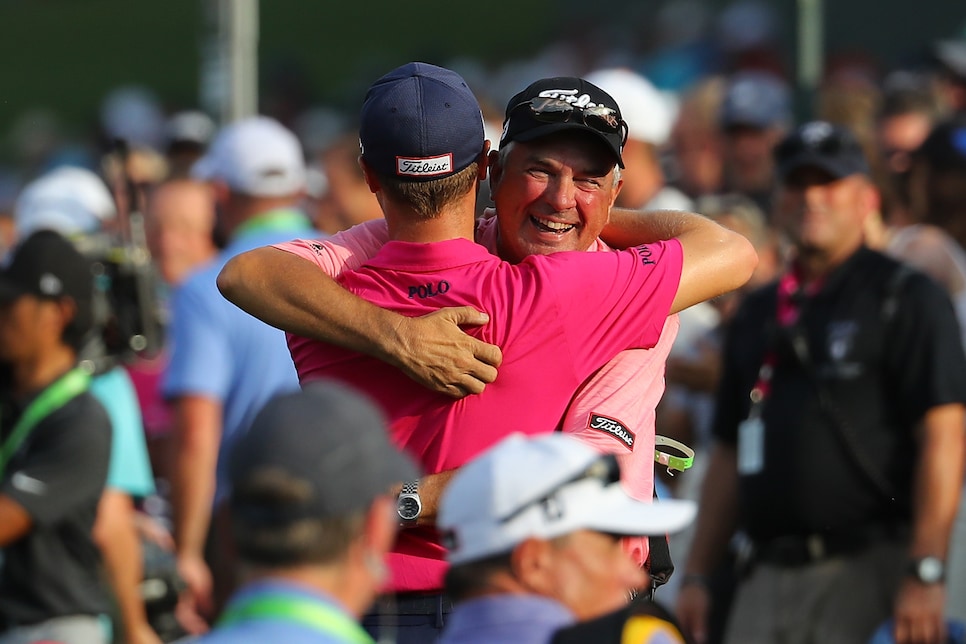 And since one of PGA Championship week's biggest themes is thanking your pro, allow me to thank Rye Golf Club's Mike Rapisarda, who helped me win a green jacket earlier this summer. And it only took one lesson! These guys are good, too.
The Green Mile: If you were playing a drinking game involving this phrase, it's going to be a rough week. But Quail Hollow's closing three-hole stretch lived up to the hype. No player was ever safe from disaster here. Even Thomas bogeyed 18 after his brilliant birdie on 17. But his closest pursuers, Kevin Kisner and Hideki Matsuyama, played 18 in three over. It was like a mini-U.S. Open thrown into the end of a PGA Championship. Spicy!
Louis Oosthuizen: The South African achieved his own sort of career Grand Slam with a T-2 that gives him a runner-up in each of the four major championships. To motivate himself and commemorate the special occasion, Oosthuizen shared this brilliant lip-synching video to Andra Day's "Rise Up":
Tiger Woods' toxicology report: We knew it would be bad, but seeing it all laid out is particularly jarring – even if you have no clue what these drugs do. The 14-time major champ had five drugs (Vicodin, Dilaudid, Xanax, Ambien and THC) in his system at the time of his Memorial Day arrest? Forget about rooting for him to extend his career, let's all hope Woods can straighten things out and extend his life.
Rory McIlroy's putting: McIlroy is single-handedly keeping the "drive for show, putt for dough" expression alive, and another dreadful performance on the greens makes it look more likely that he'll lose his edge in major trophies over Jordan Spieth by next year. McIlroy was last in the field in putts made over 10 feet, converting on just one of 33 attempts. Meanwhile, winner Justin Thomas made putts from the same range at 10 times the clip (30 percent). Oh yeah, McIlroy said after his lingering rib injury may keep him out the rest of the year, so I'm selling his season also -- especially as someone who took him No. 2 in a fantasy draft over Spieth and DJ. Whoops.
Jason Day's decision-making: We were happy to see Day back in the hunt at a major, but seriously, what the heck was he thinking here?!
The Green Mile is tough enough without you trying to forge your own path. By the way, it's a shame Stephen King didn't trademark that phrase. Imagine how rich much richer he'd be?
The PGA Tour heads stays in North Carolina for the Wyndham Championship, aka the last regular-season event of 2016-17 and the last chance to get into the tour's annual big money-grab, aka the FedEx Cup Playoffs.
Random tournament fact: Si Woo Kim won this event last year, setting a tournament scoring record with a 259 total. We're guessing you don't remember that since most golf fans don't even remember that he won the Players earlier this year.
RANDOM PROP BETS OF THE WEEK
-- Tiger Woods will win the 2018 Masters: 100-to-1 odds (Actual bet)
-- Jordan Spieth will win the 2018 Masters: 7-to-1 odds (Actual bet)
-- I will NOT be parlaying Woods winning in any 2018 major bet I make: LOCK
At some point during the tournament, it was pointed out that Justin Thomas is a frequent visitor to Tiger Woods' restaurant. So it should be no surprise that's where he had his celebratory dinner.
Who better to share the moment with than a man who has won four of those bad boys? Here was JT's response about TW, who has morphed into a mentor to the younger generation of golfers in recent years -- and also looks absolutely jacked:
And Rickie Fowler shared a different angle of the photo -- along with a self-deprecating caption:
Perfect. Again, though, that's not going to make Jordan Baker feel any better about coming so close to hitting that monster parlay.
VIRAL VIDEO OF THE WEEK (NOT INVOLVING LOUIS OOSTHUIZEN LIP-SYNCHING)
Chesson Hadley managed to lock both his sets of keys in his car at a Web.com Tour event:
Judging by his failure to break into his own car, police have ruled him a non-suspect in all area vehicular thefts. He fared much better on the course with a solo third.
TRICK-SHOT VIDEO OF THE WEEK (ON-COURSE DIVISION)
In addition to his lip-synching chops, Louis Oosthuizen is an aspiring contortionist:
TRICK-SHOT VIDEO OF THE WEEK (OFF-COURSE DIVISION)
As many times as I've watched this, I'm still speechless at the latest from trick-shot artist Joshua Kelley:
Again, how did he even think of this, let alone pull it off?
"Walking to 17 green, I had some snacks in my bag and I was eating it and I literally almost choked. Like I started coughing and I was like, you've got to be -- like am I really going to choke; is this a sign to come?" – Justin Thomas, who was somehow hungry at a time when even most golf fans' stomachs were in knots. Kids, am I right?
THIS WEEK IN DUSTIN JOHNSON-PAULINA GRETZKY #SB2K17 PUBLIC DISPLAYS OF AFFECTION
What a week for this gang of young golfers, which now boasts the career Grand Slam thanks to Justin Thomas' Wanamaker trophy to go with Jordan Spieth's three majors. Thomas got to give his girlfriend, Jillian Wisniewski, a victory kiss, and Spieth gave him a nice butt slap:
Meanwhile, the one guy who wasn't there, Smylie Kaufman, had quite a week of his own. Kaufman got engaged to his longtime girlfriend, Francie Harris, and he did it (of course) on a golf course. No, it actually looked quite romantic.
Well done, Smylie. And watch out, boys. NBA star J.R. Smith is even predicting who the next one of you to take the plunge will be. . .
THIS WEEK IN CELEBRITIES PLAYING GOLF
Justin Bieber attended the PGA Championship and showed off some impressive juggling skills:
It's almost enough to turn me into a Belieber. Almost.
Justin Thomas' girlfriend was only there to witness his big win because a confident JT told her the night before to change her flight. Good call, JT. . . . It wasn't the finish he wanted, but Chris Stroud's T-9 at the PGA was pretty good for someone who only got into the field at the last minute. Hopefully, he won't wear those pants every Sunday, though. . . . Ben Silverman won his first Web.com Tour event at the Price Cutter Charity Championship, meaning he'll be a rookie on the PGA Tour next season. We could be entering the Golden Era of Canadian Golf! . . . And finally, Masters hero Stewart Hagestad threw out the first pitch at a Dodgers game – wearing golf shoes: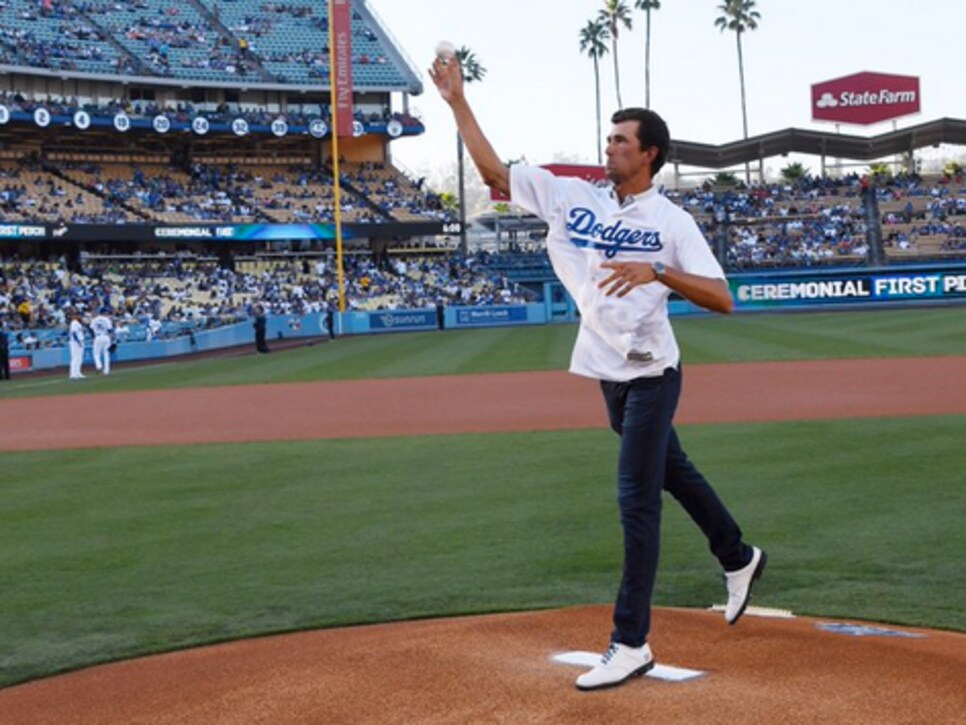 That's not going to help his L.A. street cred.
RANDOM QUESTIONS TO PONDER
Which duo will wind up with more majors?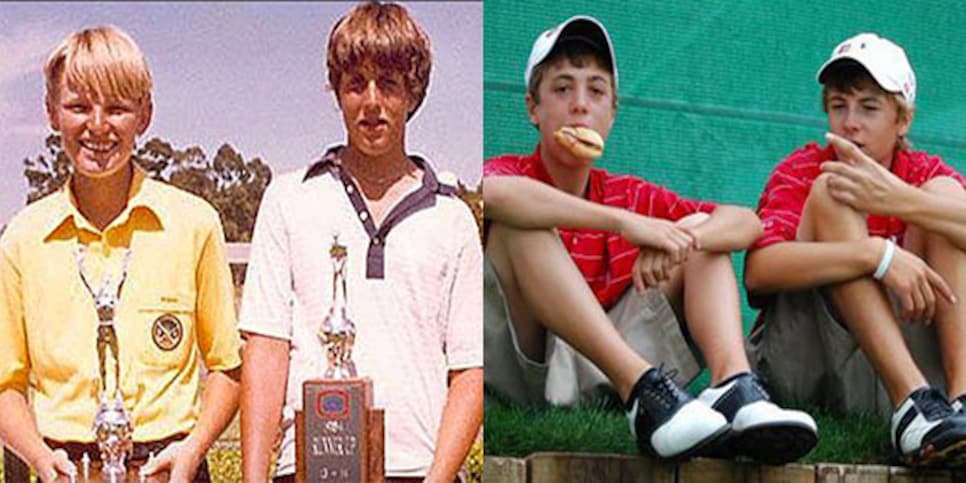 Is Justin Thomas always eating?
What's JT's go-to order at TW's restaurant?