Tiger Watch
Justin Thomas on a possible Tiger Woods comeback: 'I know that he's going to try'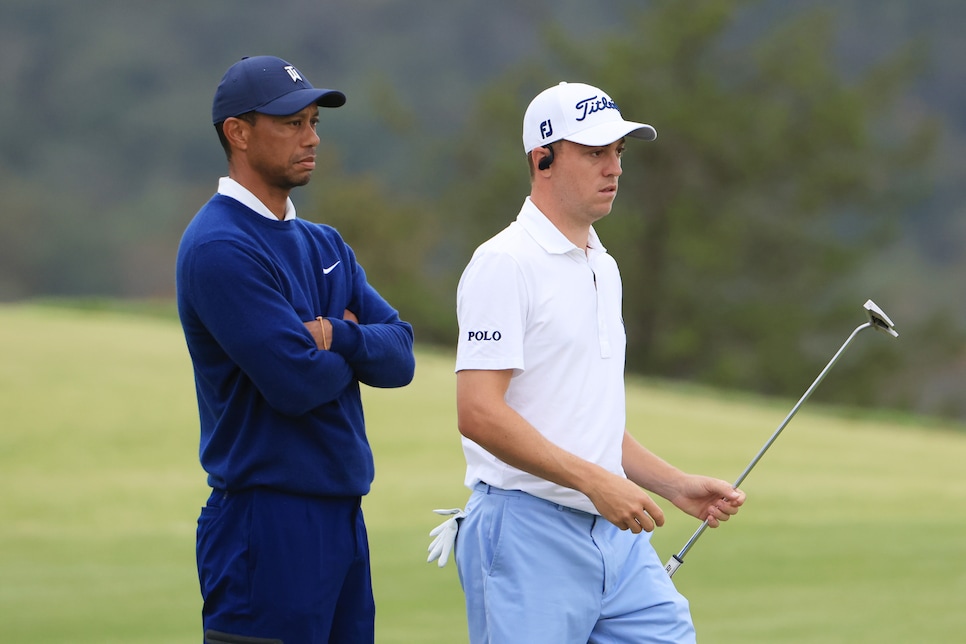 Tiger Woods and Justin Thomas during the Payne's Valley Cup in 2020.
Tom Pennington
Justin Thomas provided the latest Tiger Woods update as the golf world holds out hope on a possible return from the 15-time major champ.
Appearing on this week's No Laying Up podcast, Thomas was asked about Woods' health as the 15-time major winner recovers from a February car crash and his thoughts on a potential comeback by Woods to the PGA Tour.
"I don't know. I know that he's going to try," Thomas told No Laying Up. "I don't see him ever playing if he can't play well. He doesn't strike me as a guy that's going to play at home shooting a bunch of 75s and 76s and he's like, 'All right, I'm gonna go give Augusta a try this year.' That's just not gonna be him.
"But at the same time, I know how determined he is," Thomas continued. "I know he's gonna want to at least try to give something again. Obviously, I hope he does. But at the same time, as long as he can be a normal dad again, that's the No. 1 priority again and the rest is a bonus."
Woods hasn't provided many updates himself since the accident. He shared a photo of himself walking on crutches in April and in May, and he told Golf Digest that his rehab, "is more painful than anything I've ever experienced."
Thomas and Woods have become close friends in recent years. They partnered together in the 2019 Presidents Cup, and the younger tour pro has been a frequent visitor to the Woods house in Jupiter, Fla. Thomas added that Tiger has maintained his trademark sense of humor throughout recovery.
"It's groundhog day—every day is exactly the same for him," Thomas told NLU. "He's able to be a dad again, which is most important. He's still his sarcastic a-hole self, so nothing's really changed there. So I'm glad to see he's as chipper as always."
And we're glad to hear he seems to be doing OK—even if it's still unclear when Woods will make his next appearance. The Hero World Challenge, a tournament Woods hosts and usually plays in, is scheduled for Dec. 2-5 in the Bahamas.